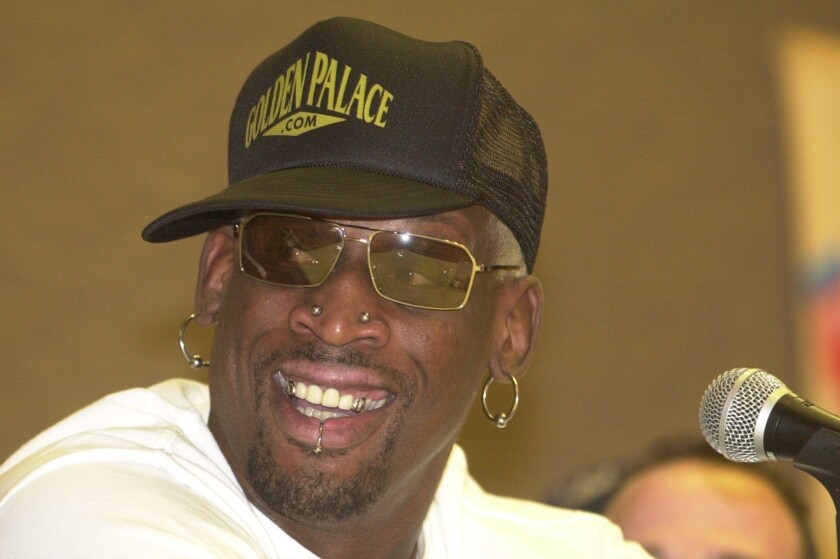 After criticizing President Obama's foreign policy plans and spending time as a faux diplomat chilling with Kim Jung Un, retired NBA star Dennis Rodman has turned his attention to spirits.
Rodman has partnered with Premiere Brands Inc. to launch Bad Boy Vodka. According to a release, the vodka is slated to hit California on July 27.
The bottle features a red top and an illustration of a bull head with the words "Bad Boy premium vodka" underneath in red. Perhaps the logo is a nod to his days as a Chicago Bull, and the name a reference to reinventing himself as the bad boy of basketball.
"A perfect representation of whom and what I am all about," said Rodman in a release.
Rodman, known for his multiple piercings, tattoos, rotating rainbow hair colors and raucous Newport Beach parties, seems to have scaled back on his flair for the dramatic with the bottle design.
Who knows? The vodka venture may prove more fruitful than his failed attempts to win a Nobel Peace Prize by asking the North Korean leader to "do him a solid and cut Kenneth Bae loose" via Twitter.
ALSO:
Paula Deen isn't the first food celebrity to be hit by scandal
Free Slurpees on Thursday at 7-Eleven and learn the Slurpee dance
Another hot addition to the Grand Central Market -- Egg Slut is coming
---