How to keep your wine safe in an earthquake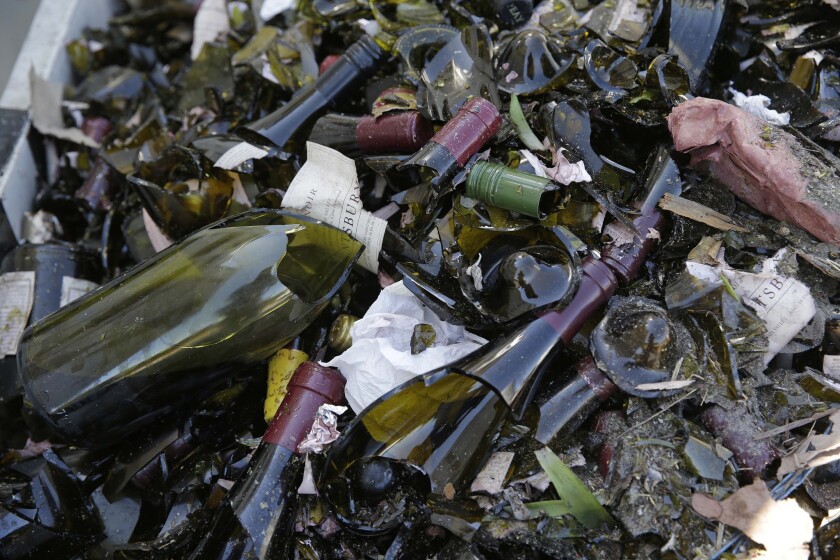 We've seen the photos of Napa wineries after Sunday morning's magnitude 6.0 quake. Wine bottles that flew off shelves lie in a heap in middle of floor. Broken bottles and crushed boxes. Some wineries lost rare older vintages or special blends that are part of their history.
In a violent earthquake where walls collapse, there's not much anyone could do to protect a wine collection. But there are some basic precautions you can take that will help to keep your wines safe during minor temblors.
In the 1994 Northridge earthquake, restaurateur Piero Selvaggio lost 34,000 bottles of wine at Valentino in Santa Monica. We're talking a million dollar's worth. "Once you go through an experience like that, you wise up," says Selvaggio.
At Valentino, he stores wine three different ways. The big wooden cabinets with diamond-shaped openings that hold 12 to 18 loose bottles collapsed and he lost most of that wine. But wines that were housed in racks with individual slots and a lip to hold the neck of each bottle were fine. He also had big losses in his functional wine storage area where he'd stacked cardboard cases of wine six or eight boxes high. Wines in wooden cases mostly survived.
Here's what he learned and what he suggests now: Store wine in wooden boxes, at most two stacks high. Or, if you have racks, keep them low to the ground. Another way to protect your special bottles would be too put them behind wire mesh or thick glass.
Also, Selvaggio is emphatic in suggesting that you photograph the labels of all your wines and keep the receipts. Then you'll have some way to prove what you had in dealing with insurance companies.
Tristen Beamon, co-owner of Best Wines Online in Costa Mesa, says one of the best ways to secure high-end wine is to keep bottles in the wooden boxes they came in.
You can also use transparent but very strong fishing line. "In our high-end wine room, where we have magnums laying down, we essentially take some fishing line and run it around the bottle," he says. "If you have wines in the kind of rack where you're looking at just the bottle necks, run a line underneath the neck to prevent the bottles from slipping out when the earth shakes."
At Best Wines Online, they lay down pretty much everything in the store. That way the center of gravity is lower. And when they stack boxes, they stack at the most three high.
Glen Knight, owner and buyer at the Wine House, learned the hard way. In the 1994 quake, the West Los Angeles store lost more than a million dollars' worth of inventory. Now they don't stack boxes six high as they once did. And in the liquor department, they added metal railings or wire to the shelves and racks so bottles can't topple out.
"Racks are always the most dangerous," Knight says. For an individual's wine collection, "the best would be to store wine in wooden Bordeaux boxes or lay-down style boxes where you can just stack them. But for that you'd need a very large space." Some clients of the shop's wine storage facility have installed kitchen cabinets in their wine lockers, the better to keep bottles from flying off the shelves in the event of an earthquake.
Wine collector Jeff Leve, who blogs at the Wine Cellar Insider, says "the first precaution I take and one that everyone who collects wine needs to take is buying insurance. There are several companies that sell it. Chubb is a very popular one."
Though Leve and his wine collection have been through a number of earthquakes in Southern California, he's never had any damage, he says, because his bottles are individually racked as opposed to diamond-racked, in which bottles are stacked on top of each other.
"In my cellar, the wines are stacked one or two bottles deep and each of those has a secure place for a bottle, so the bottle itself would have to lift one or two inches to move," he explains. "That's really severe shaking, and at that point the wine isn't your fear, but the building coming down."
But he also stores wine in its original wood cases, stacked up to 6 feet high. "They're packed tight enough that they don't jostle," says Leve. "And the ability for those to move is negligible."
Follow @sirenevirbila for more on food and wine.
---
Get our weekly Tasting Notes newsletter for reviews, news and more.
You may occasionally receive promotional content from the Los Angeles Times.