Easy dinner recipes: Three great pizza ideas in under an hour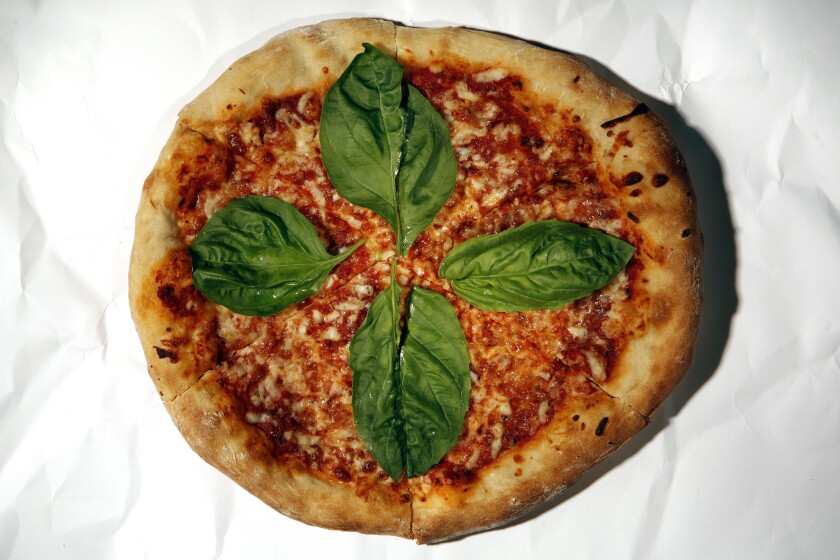 Some nights are made for pizza. But before you reach for the phone to dial up your favorite delivery, consider homemade, or at least semi-homemade. In the time it takes to have a hot pie delivered to your door, you can make a perfectly good custom pie in the comfort of your own kitchen, using ready-made pizza dough (available at most supermarkets) or par-baked crusts. Top as desired and you've got dinner in minutes. Check out these ideas.
Pizza margherita: Sure, you can buy tomato sauce -- and that's fine -- but a basic no-cook tomato sauce comes together in minutes and you can't beat that fresh flavor. Purée a can of chopped tomatoes with a little fresh oregano, basil and garlic. Give the sauce a little depth with some chopped Kalamata olives and season with a touch of salt. For a quick weeknight pizza, buy a package or two of ready pizza dough. Ladle on some sauce and a sprinkling of cheese, and top it to your heart's content. Your pie will be ready to bake as soon as the oven is heated.
Barbecue chicken pizza: This one doesn't even need a formal recipe. Sauté a sliced onion until softened and golden brown. When cool enough to handle, spread over store-bought or prepared pizza dough. Top with a mixture of half barbecue sauce and half marinara sauce, add chopped prepareed chicken (leftovers work great), drizzle over more sauce and top with mozzarella cheese and sliced red onion. Sprinkle chopped parsley over the baked pizza before serving.
Smoked salmon pizza: Love smoked salmon? It doesn't get much easier than this dish from Morton's Steakhouse. Top a prepared pizza crust with a little sour cream and smoked salmon, along with chopped red onion, fresh dill and capers. It takes all of 15 minutes to whip up. You can find the recipe below.
MORTON'S SMOKED SALMON PIZZA

Total time: 15 minutes / Servings: 6 to 8
Note: Adapted from Morton's Steakhouse
1 (12-inch) thin crust prepared pizza crust
1/4 cup sour cream
Scant 3 tablespoons finely chopped red onion
2 tablespoons minced fresh dill
5 ounces smoked salmon, very thinly sliced
1 tablespoon drained capers
1. Heat the oven to 325 degrees. Place the prepared crust directly on the oven rack and heat until the crust is warmed through, about 5 minutes. Transfer the warmed crust to a cutting board.
2. Spread the sour cream over the crust, leaving a one-half-inch border. Sprinkle about half of the red onion over the sour cream and sprinkle half of the dill over the onion.
3. Lay the salmon slices over the pizza to cover the sour cream, onion and dill. Sprinkle the remaining onion and dill over the salmon, then scatter the capers over them. Cut the pizza into wedges and serve at once.
Each of 8 servings: 171 calories; 7 grams protein; 26 grams carbohydrates; 1 gram fiber; 4 grams fat; 2 grams saturated fat; 11 mg cholesterol; 4 grams sugar; 511 mg sodium.
Love cooking as much as I do? Follow me @noellecarter
---
Get our weekly Tasting Notes newsletter for reviews, news and more.
You may occasionally receive promotional content from the Los Angeles Times.