Easy dinner recipes: Three great soups for cheese lovers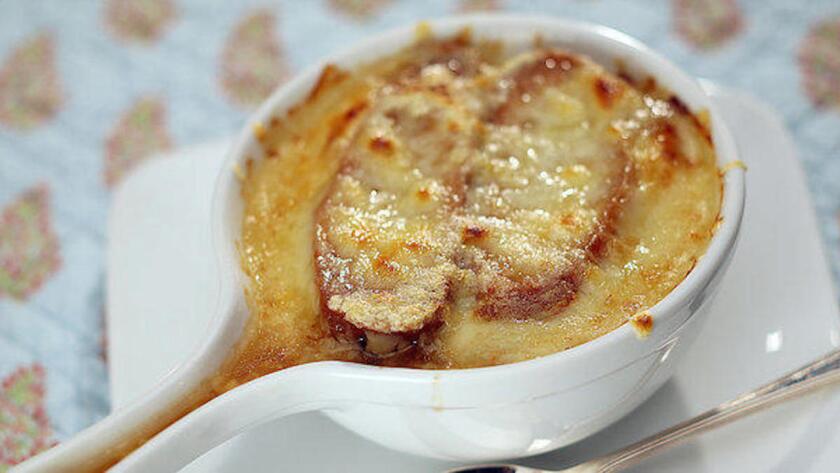 Isn't everything better with cheese? (Unless you're not a cheese person or can't handle dairy, in which case, we're very sorry.) For the rest of us, a there's nothing like a rich and cheesy soup on a cold night. And since it's actually cold outside — check out the dusting of snow on the San Gabriels — for the next day or so, maybe fire up the stove and put on a pot of soup while it's still slipper weather.
French onion soup: This classic doesn't even need a recipe. Start with a generous amount of sliced onions gently softened and browned in a deep pot with a little oil and fresh thyme. Add a touch of sherry, scraping the flavoring from the base of the pot, then fill with rich beef broth and bring to a simmer. Plate each serving in a deep oven-proof bowl, topped with a slice or two of crusty French bread and a layer of sliced or grated Gruyere or good Swiss. Pop each bowl under the broiler to melt and lightly brown the cheese, and dinner is served.
Watercress and Stilton soup: Barely wilted watercress lends a wonderful shade of green to this soup, rich with Stilton cheese and garnished with toasted pecans. It makes a wonderful first course or light meal, and the whole dish comes together in about an hour.
Brie 'n' apple soup: You'll love the simplicity of this recipe and the way the flavors pair so naturally. The tart apple notes brighten the soup, complementing the rich creaminess of the melted Brie for an easy yet wonderfully flavorful dish. You can find the recipe below.
BRIE 'N' APPLE SOUP
Total time: 1 hour
Servings: 4
Note: Adapted from Bistro du Soleil. This soup can be made ahead of time through Step 3 and chilled; reheat the purée before continuing the recipe.
2 tablespoons butter
1 small onion, finely chopped
3 stalks celery with leaves, finely chopped
2 large or 3 medium tart apples, such as Granny Smith, peeled, cored and diced
2 tablespoons flour
3 cups chicken broth, divided
1/2 pound cold Brie, rind removed and cheese cut into 1/2-inch cubes
1/4 cup heavy cream
1/2 teaspoon finely chopped fresh thyme
Salt and pepper
Brown sugar to taste
Parsley for garnish
1. In a large saucepan heated over medium heat, melt the butter. Stir in the onion, celery and apple and reduce the heat to low. Cook, stirring occasionally, until the contents are soft and slightly golden, about 10 minutes.
2. Sprinkle the flour over and stir to coat the contents. Continue to cook, stirring constantly, for 3 minutes to moisten the flour.
3. Whisk in 1 cup of the chicken broth. Increase the heat to medium and continue to whisk until the broth has thickened and begins to bubble, about 3 minutes. Whisk in the remaining broth and bring the contents to a brisk boil, stirring frequently. Reduce the heat to a gentle simmer, cover the saucepan and simmer for 15 minutes. Remove from heat and purée the soup in a blender or with an immersion blender. Strain the purée into a clean saucepan. The soup can be made up to this point and chilled; reheat the purée over low heat before serving.
4. Heat the puree over medium-low heat and stir in the Brie cubes. Cook, stirring occasionally, until the cheese is fully melted, then whisk until the soup is smooth. Whisk in the heavy cream and thyme, and season to taste with salt and pepper and optional brown sugar.
5. Garnish the soup with parsley before serving. This makes about 1 quart soup.
Each serving: 389 calories; 15 grams protein; 22 grams carbohydrates; 3 grams fiber; 27 grams fat; 17 grams saturated fat; 93 mg. cholesterol; 678 mg. sodium.
Love cooking as much as I do? Follow me @noellecarter
---
Get our weekly Tasting Notes newsletter for reviews, news and more.
You may occasionally receive promotional content from the Los Angeles Times.