G&B Coffee is getting torn down -- don't worry, it's temporary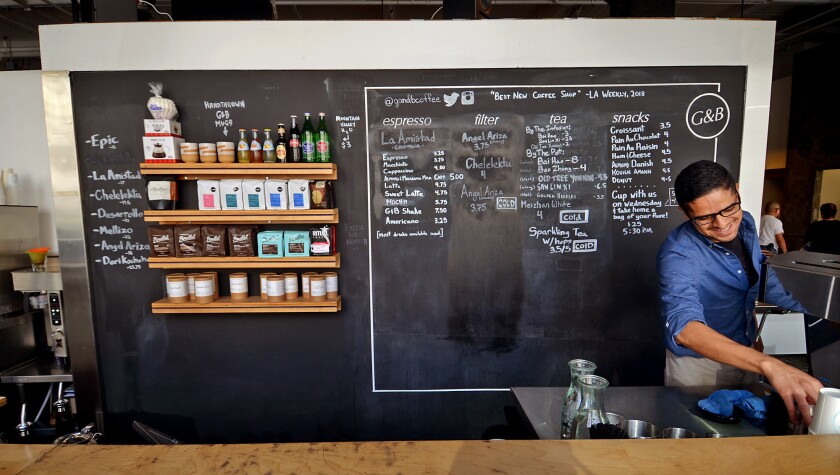 Kyle Glanville is taking a sledgehammer to his popular coffee stand at Grand Central Market. On Monday night, Glanville and his crew are tearing down G&B Coffee.
Calm down. They're not leaving — they're just remodeling. And for the two to three weeks that Glanville says it will take to build the new place, the coffee shop will continue to operate as a stand on the Hill Street side of Grand Central, on the wall near the oyster shop.
"We built this in six days," Glanville, who runs G&B with his partner and fellow coffee man Charles Babinski, said of the original shop, which opened in June 2013 as part of the first wave of the recent market renovation.
"We want to make it more functional," Glanville continued, pointing out that the current shop, which fronts Hill Street, is closed off from most of the market. The new shop will solve that problem — it'll be 360 degrees. There will be an all-marble counter at which you can order the same coffee drinks that made Glanville and Babinski famous, as well as the addition of more fizzy drinks like their fizzy hoppy tea, more creative offerings such as the tumeric tea, and boba. Yes, boba.
The temporary stand will serve everything that the current shop has, so you can drink an excellent cortado or two while you watch the demolition and reconstruction of your favorite downtown coffeeshop.
Because taking pictures of food is almost as much fun as eating it, on Instagram @latimesfood.
---
Get our weekly Tasting Notes newsletter for reviews, news and more.
You may occasionally receive promotional content from the Los Angeles Times.