Gluten-free Girl Scout cookie makes celiac disease sufferers happy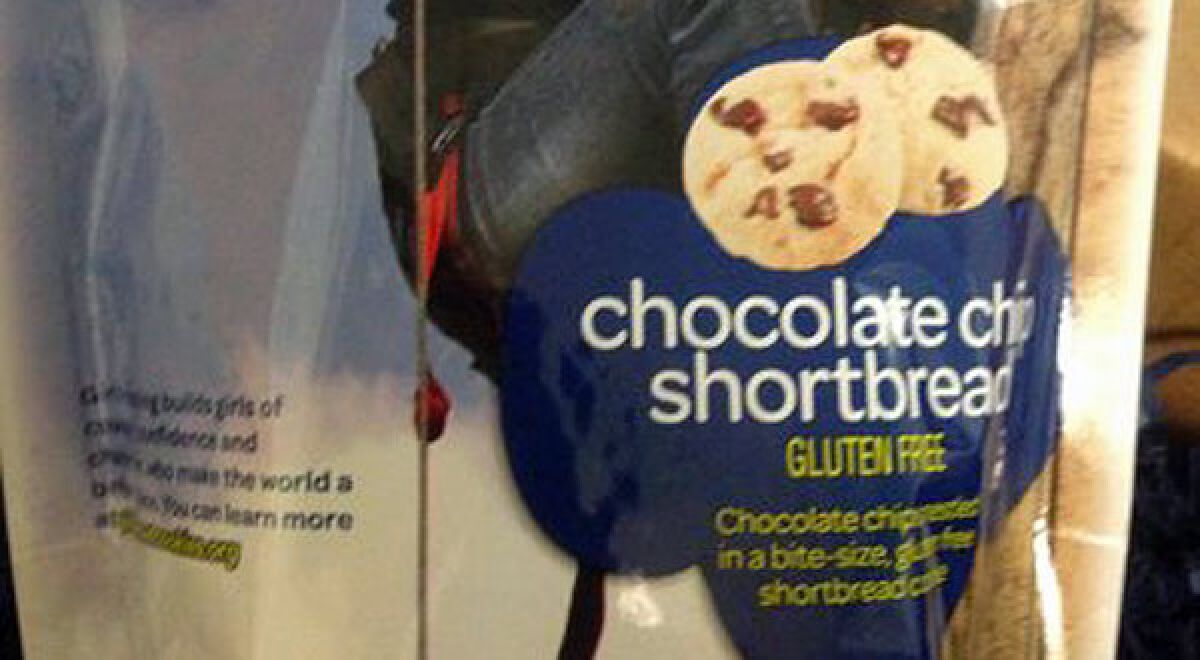 Delaney Paterno has been a Girl Scout for five years, but only this year has she tasted any of the cookies she works so hard to sell.
That's because she was diagnosed with celiac disease as a toddler, and gluten -- found in wheat, barley and rye -- makes her sick. But this year, the Girl Scouts are selling one flavor of gluten-free cookies as a pilot project.
"They're actually very good," Delaney, 9, said Sunday by phone from her home in Doylestown, Pa. Her Girl Scout council, the Girl Scouts of Eastern Pennsylvania, is one of the 20 testing the cookies. Delaney said she hopes to sell 100 boxes of cookies this year, including many of the new gluten-free treats.
Her mother, Jennifer, also has celiac disease and seconds her daughter's opinion of the cookies. "My husband says you can't tell the difference" between these and cookies made with wheat flour, she said.
Girl Scouts in Los Angeles won't be selling the gluten-free cookies, but those in Orange County will, along with several other councils.
The new cookies are bite-sized chocolate chip shortbread and come in a resealable bag with a photo on the front of a girl rock climbing.
For fhis first year, at least, they're being sold only at the tables the scouts set up outside stores, train stations and other highly trafficked spots. National Girl Scouts Cookie Weekend officially kicks off Feb. 7, and Orange County scouts are set to start selling from tables Feb. 16.
The cookies are made by ABC Bakers in Virginia, one of two companies that make the scouts' cookies.
"Considering all the food allergies in children and adults, the Girl Scouts asked the company to consider a gluten-free cookie," said Stewart Goodbody, spokesperson for the Girl Scouts of the U.S.A.
The cookies have 150 calories for four cookies. They're made with butter, sugar, rice and tapioca flour, chocolate chips, and other ingredients.
Generally, the scouts offer one new flavor a year; for most of the 112 councils, that will be a cranberry citrus cookie. The scouts' cookie sales are billed as the world's largest girl-run business, bringing in an estimated $790 million
ALSO:
Still more Oreo flavors on the shelves
mary.macvean@latimes.com
---
Get our L.A. Goes Out newsletter, with the week's best events, to help you explore and experience our city.
You may occasionally receive promotional content from the Los Angeles Times.