Golden Road Brewing opens a brewery, restaurant and beer garden in Orange County
At the end of the month, Golden Road Brewing is opening a new sprawling campus in Anaheim that includes an "innovation brewery," a full-service restaurant and an outsized beer garden with all the trimmings.
First purchased in 2015, before Golden Road was acquired by Anheuser-Busch InBev, the space was to be the long-term home of Golden Road's production facility. But after the acquisition, the course changed. Brewery co-founder Mig Gill said the "partnership" with ABI allowed GRB to expand its production capabilities without investing in an all-new brewing facility, and the Anaheim location was instead re-envisioned as a playground for both drinkers and brewers.
After years in development, and a major pivot in design, phase one of the expansion opens this month with a pub featuring 40 taps of GRB brews, a kitchen offering beer-friendly bites, and a patio that's just a fraction of the planned outdoor drinking space across from Angel Stadium.
"We wanted to take our favorite parts of the Atwater brewery — the lively vibe of people and kids and dogs on the lawn — and bring it to this space," Gill said.
At the center of the space is Golden Road's original brewhouse, and the keys to the comparatively small-batch brewing system were given to lauded Orange County brewer Victor Novak (Taps Fish House). As brewmaster, Novak is tasked with developing the next Golden Road beers with mass-market appeal and keeping the Anaheim location's tap lists filled with a constant flow of different styles and new flavors. He's passionate about classic styles, and his best beers — such as the many award-winning lagers he brewed at Taps — have a strong old-world influence.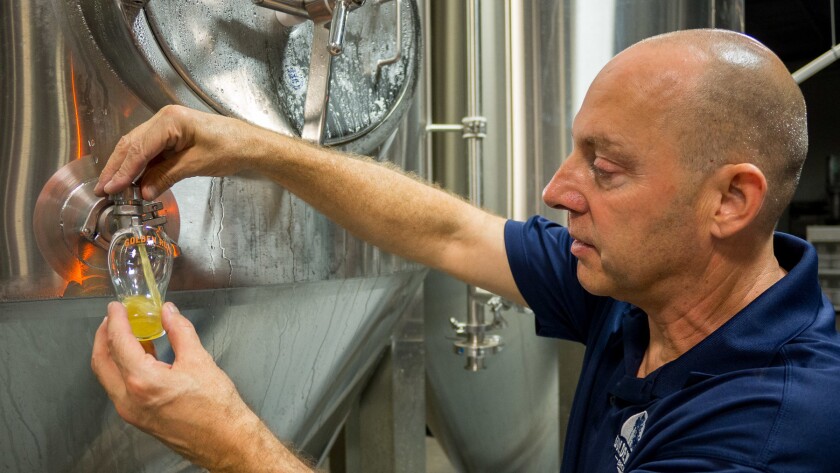 Novak maintains that the corporate parents aren't preventing the brewers from prioritizing flavor over profit, and points to the bags of costly imported grain stacked near the brewhouse as evidence.
The beer list is an amalgamation of Golden Road's core brews (Wolf Pup session IPA, Heal the Bay IPA, Mango Cart), new brews under development (the delicate helles, a more traditional hefeweizen) and one-off experiments often created by brewers visiting from the L.A. production brewery. There's also a barrel-aging facility where Novak is experimenting with cocktail-inspired beers. The first release from the program — a tart raspberry ale aged in tequila barrels — is now available.
The restaurant's menu is in the same mold as the flagship Atwater pub, with plenty of vegetarian- and vegan-friendly options, but head chef Henry Tran (Haven Gastropub, Taps Fish House, Karl Strauss) puts his mark on the food. Dishes — including tater tot poutine smothered in duck confit and duck gravy and dusted with duck cracklings; and shrimp and grits with house-pickled onions and shishito peppers — are hearty and beer-friendly, and a slate of sandwiches, lighter salads and smaller bites fill out the options.
The taproom and restaurant are set to open toward the end of November (the exact date is to be announced), and the phase-one patio — about 5,000 square feet — is only a small fraction of the planned outdoor dining, drinking and playing space. A huge beer garden, covering more than 20,000 square feet and complete with fire pits, a children's play area, a dog park, a hammock lounge and all the outdoor brewery games that go with it, is scheduled to follow in 2018, along with a dedicated retail space for beer to go. 2210 E. Orangewood Ave., Anaheim, (714) 912-4015, goldenroad.la/anaheim#anaheim-2.