7 great chili recipes to warm you up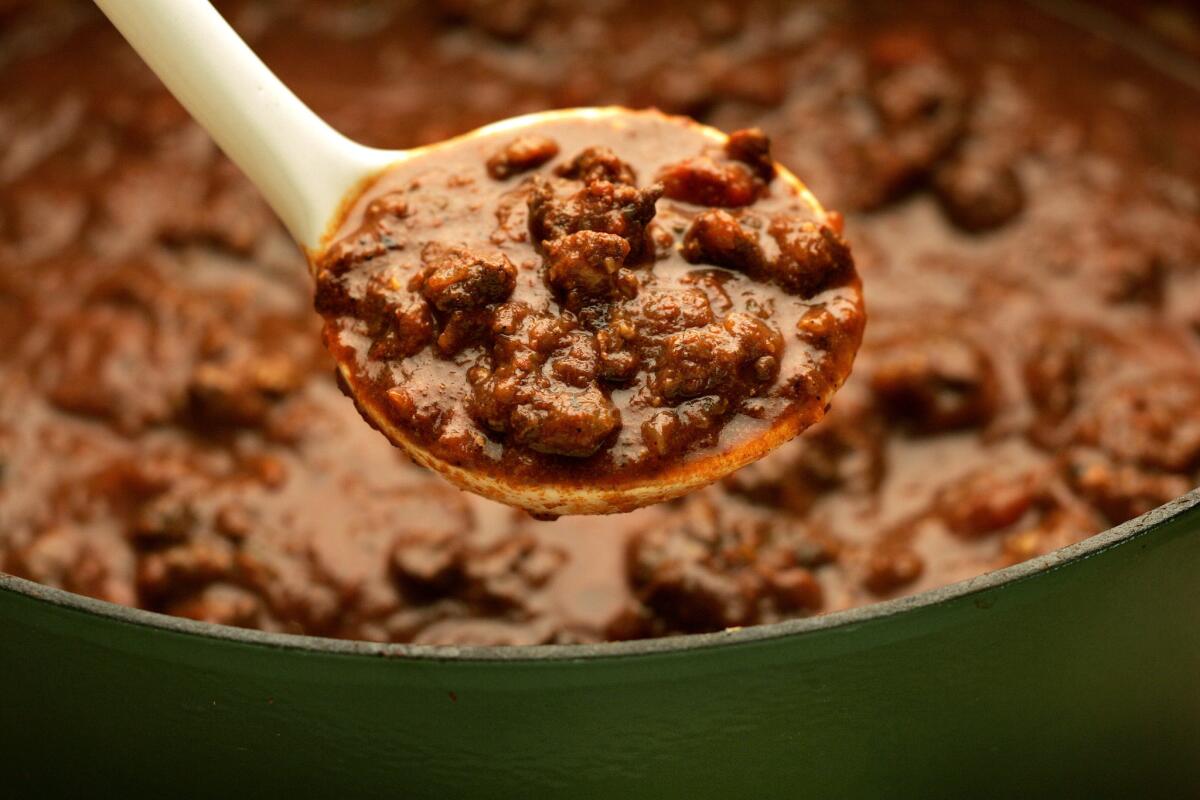 It's been called both a "bowl of blessedness" and the "soup of the Devil," and it's the stuff of legend. We're talking chili, and there's nothing better when you're entertaining a crowd, or simply looking for a creative way to savor a wintry day in the comfort of your kitchen.
Chili is a wonderfully simple, no-fuss dish. Meat, generally a somewhat tough cut of beef or pork, is spiced with chiles and stewed, slowly, with a few choice ingredients. The results are magical: a richly flavored dish — neither soup nor stew, chili is in a category all its own — that only gets better with time. There are all-meat and all-bean varieties; the options are almost endless.
We've compiled several of our favorite variations, whether you're craving a meaty Texas-inspired "bowl of red" or vegetarian, steak, lentil, turkey and more. Make the recipe as-is, or tweak it to suit your tastes.
Big cubes of steak are slow-simmered with a rich blend of spices, onions, garlic and chiles to tenderness in this recipe, which makes a generous 2 1/2 quarts of the stuff. Serve it alongside skillet cornbread.
For this 60-minute chili, shredded rotisserie chicken is simmered with kidney beans, jalapeños, tomatoes, diced peppers, cilantro, garlic and a medley of spices. It makes a great dinner, and even better leftovers.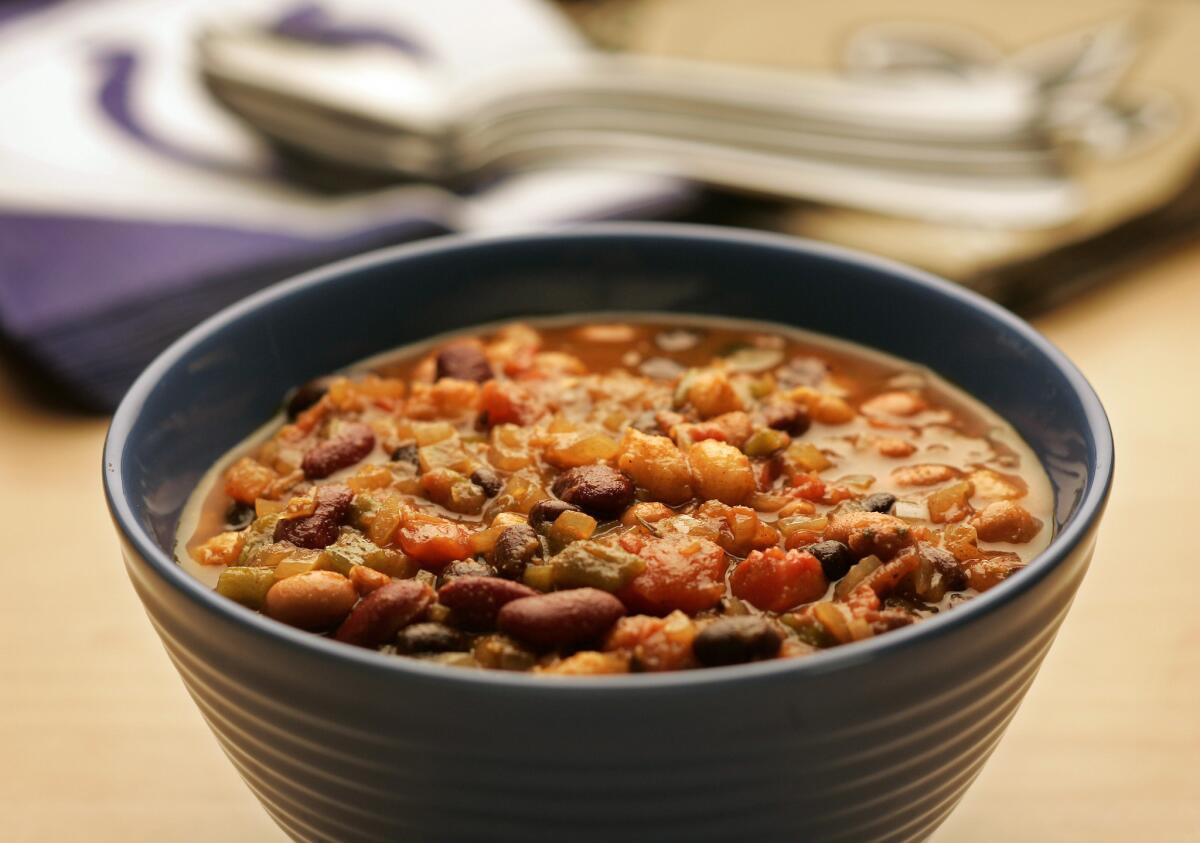 A bean-based chili can be surprisingly rich and full-flavored as well, as with this mixed-bean chili with hominy. It's a colorful dish with a ton of flavor, rich and hearty. And no one would know it's vegetarian unless you tell them.
This popular chili, from Gelson's markets, brings a ton of flavor, whether you're planning for a crowd or a simple dinner at home. Start to finish, the chili is ready in just over an hour.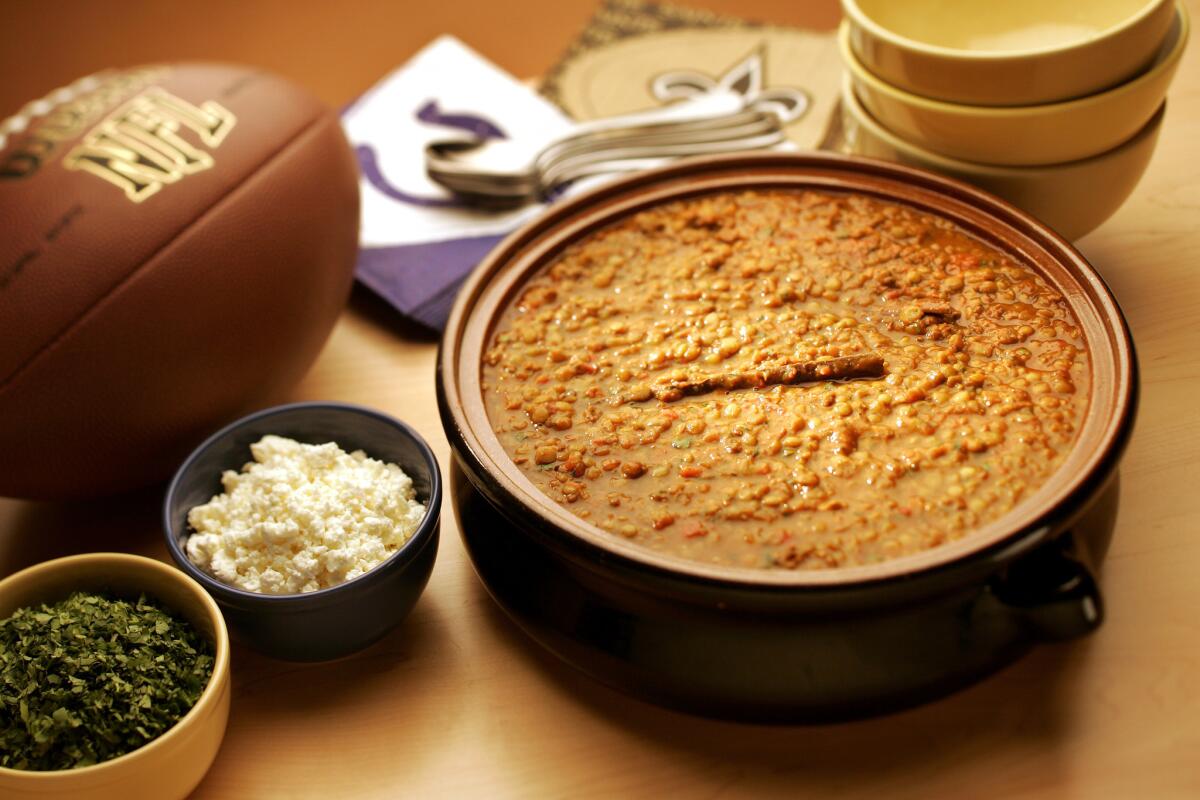 Or you could take the chili method down a different path entirely. This lentil chili draws from a North African inspiration, using merguez sausage and harissa (a hot, North African chile paste) for flavor. Balance the heat with fresh ginger, lemon, cinnamon and turmeric, and finish the chili with chopped fresh parsley and a sprinkling of cilantro.
This recipe, from Coast at Shutters on the Beach in Santa Monica, also brings a lot of bold flavor. The recipe takes a few hours, but they are well worth it. Have your guests garnish their bowls with shredded cheese, avocado, tortilla chips, sliced green onion, cilantro.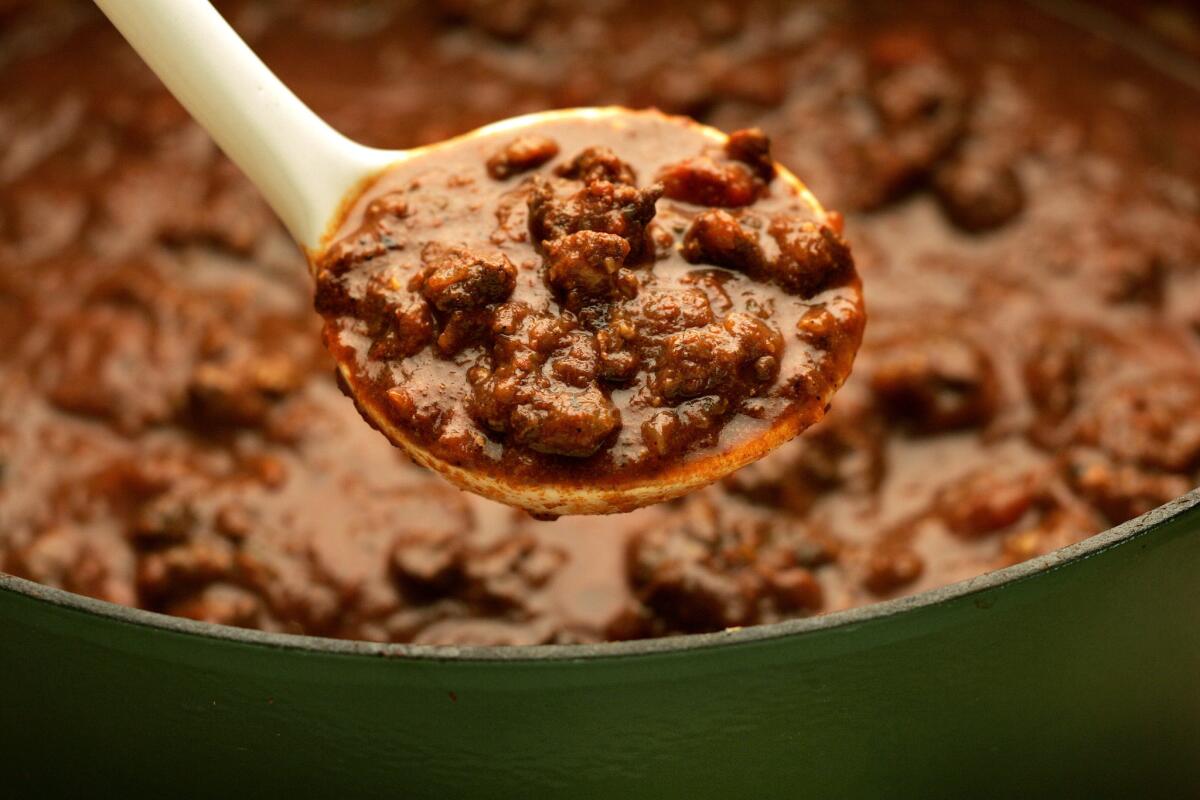 This chili is a project, but the results are worth the work and wait. Pork isn't usually found in Texas red chili, but the bacon in this recipe helps thicken the sauce and lends so much flavor. Stew the chili with onion, garlic and fresh-roasted chiles. Then add tomatoes — that's discouraged in certain schools too, but the acidity helps brighten the chili and focus all those flavors. Finally, throw in a beer, a good dark stout, to lift the flavors a little more.
Love cooking as much as I do? Follow me @noellecarter
ALSO:
Shake Shack to open in downtown Los Angeles
Shrimp for dinner: 4 recipes with fewer than 350 calories
There's a series of aphrodisiac dinners being offered in Beverly Hills
Get our weekly Tasting Notes newsletter for reviews, news and more.
You may occasionally receive promotional content from the Los Angeles Times.