Newsletter: In the kitchen: Artichokes and Korean fried chicken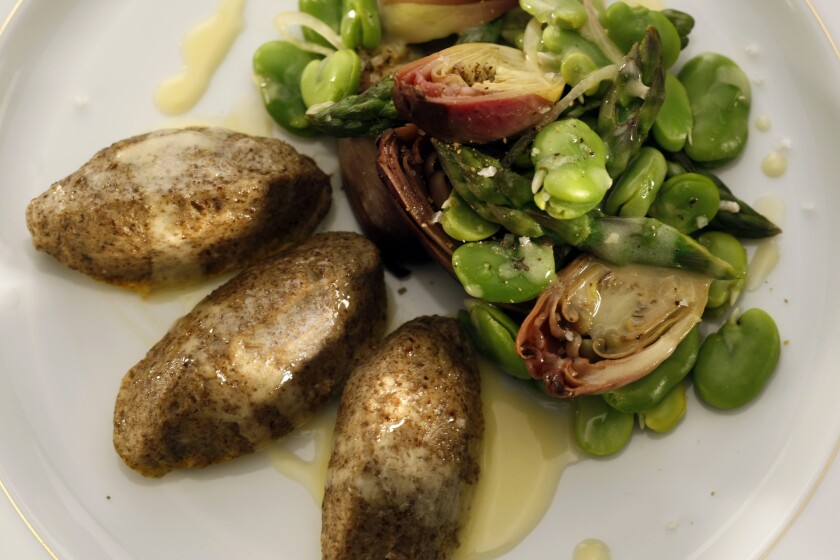 It's kind of hard to believe Easter has already come and gone. (If by chance you still have any leftover dyed eggs hiding out in the fridge, we have 20 great recipes that will inspire you to use them.) Maybe you've noticed the beautiful artichokes in the market, from massive globes to "baby" chokes in vibrant shades of green and purple (we've got recipes for them all). As if we needed another reminder that we're in full spring mode.
We've also been thinking about some of our favorite things. Deputy Food editor Jenn Harris is a fan of KFC — Korean fried chicken — that is. She dishes on Hot n Sweet chicken, which specializes in KFC, and scores a recipe, so you can make your own at home. And while Michael Cimarusti's new Cape Seafood and Provisions is a seafood lover's dream come true, Food editor Amy Scattergood spotted an unexpected item she can't stop thinking about: Magma powder. We also revisit the recipe for coffee doughnut muffins, a reader favorite from our recipe database.
Finally, if you've felt inspired to host a get together, outdoors or not, we've come across a great book on tips for throwing the perfect cocktail party. Because there's always a reason to throw one, and always something to toast.
What to do with all those artichokes showing up in markets now
If you've never tried cooking with an artichoke before, it can understandably come across as more than a little daunting. There are so many ways to enjoy the vegetable — and we're not just talking steamed or boiled and served with aioli. Regardless of the size of the artichoke, get creative with different ways to use them. Tender small artichokes don't even need cooking at all, shaved thinly and added to salads. Check out these ideas.
Have plenty of napkins handy for these Korean fried chicken wings
Think KFC and maybe your thoughts turn to the fried chicken from a certain Southern-style fast-food chain. But at Hot n Sweet chicken in Arcadia, KFC means Korean fried chicken, and the restaurant serves plenty of wings smothered in hot sauce. If you want a little KFC love at home, the restaurant shared a recipe for its soy garlic wings.
Like it hot and spicy? You'll want to try Magma Powder
If you're the type of person who likes a little — or a lot — of heat with your food, you'll want to check out the Magma Powder found at the newly opened Cape Seafood and Provisions. Michael Cimarusti's brother-in-law grows the insanely hot bhut jolokias, also called ghost peppers, as a hobby, smoking the peppers and combining the chile powder with French sea salt. Among other things, Cimarusti recommends sprinkling it over pizza.
Make these coffee doughnut muffins whenever the craving strikes
Take your favorite buttermilk doughnut, bake it in a muffin tin and roll it around in a dusting of sugar flavored with powdered espresso. It's no wonder these coffee doughnut muffins have been a reader favorite since the recipe first ran in 2014. Bake up a batch for breakfast, or whenever you'd like.
Take your cocktail parties to the next level

If you want to throw a cocktail party but you're intimidated by the planning, check out this handy guide. From choosing liquors to figuring out the "little" things — how much ice you'll need — this book has you covered.
Love cooking as much as I do? Follow me @noellecarter
Check us out on Instagram @latimesfood
Counter Intelligence: Sign up for Jonathan Gold's weekly newsletter
Check out the thousands of recipes in our Recipe Database.
Feedback? We'd love to hear from you. Email us at food@latimes.com.
---
Get our weekly Tasting Notes newsletter for reviews, news and more.
You may occasionally receive promotional content from the Los Angeles Times.