What we're into: Magma Powder, insanely hot chiles you'll want to put on everything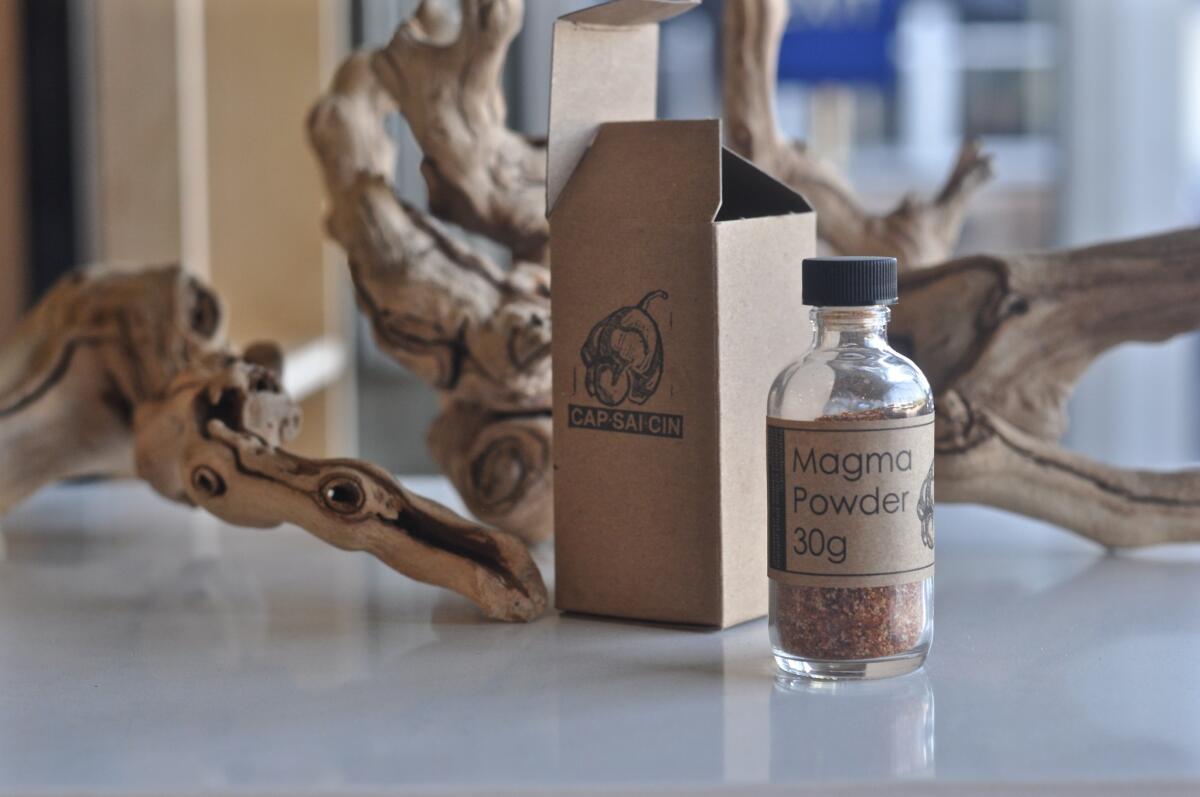 Walk into Cape Seafood and Provisions, the newly opened fish shop from chef Michael Cimarusti (Providence, Connie & Ted's) and his partners, and you'd expect, well, fish. So there are enormous cases filled with king salmon, Spanish mackerel, striped bass, oysters, caviar and all the rest of it. There are also those provisions that fish-minded people like to have on hand (shaved bonito, cedar planks).
What you might not expect to find, though, hidden like absinthe in an apothecary shop, are little jars of Magma Powder.
This isn't some stuff from Cimarusti's secret volcanic rock collection. These vials of fun are a synthesis of smoked bhut jolokia chiles and gray French sea salt, and they come from Cimarusti's brother-in-law Dave Bell, an elementary school teacher in New Jersey who grows the insanely hot chiles as a hobby.
This stuff is not just a little spicy. Bhut jolokias, also called ghost peppers, are among the hottest in the world. At 1 million Scoville units, they're 400 times hotter than the hot sauce on the counter at Du-par's (Tabasco).
That said, the smoking and the sel gris temper the heat a bit, and a light dusting is zingy and flavorful rather than apocalyptic. It might be the best $25 you'll ever spend on a 30-gram jar of powder, at least legally.
Cimarusti has used Magma at Providence, on oysters minionette and other Providence-y dishes, but says: "It's really good on pizza too." It is. But maybe keep this bottle away from children.
Cape Seafood and Provisions: 801 N. Fairfax Ave., Los Angeles.
Because taking pictures of food is almost as much fun as eating it, on Instagram @latimesfood.
ALSO:
What we're into: Really good tahdig, the Persian crispy rice
Mian restaurant has noodles like no one else in the San Gabriel Valley
The 7 sins of eating sushi. (Note: You're probably guilty of all of them)
Get our L.A. Goes Out newsletter, with the week's best events, to help you explore and experience our city.
You may occasionally receive promotional content from the Los Angeles Times.