First Look: Iron Triangle Brewing, the L.A. Arts District's next big brewery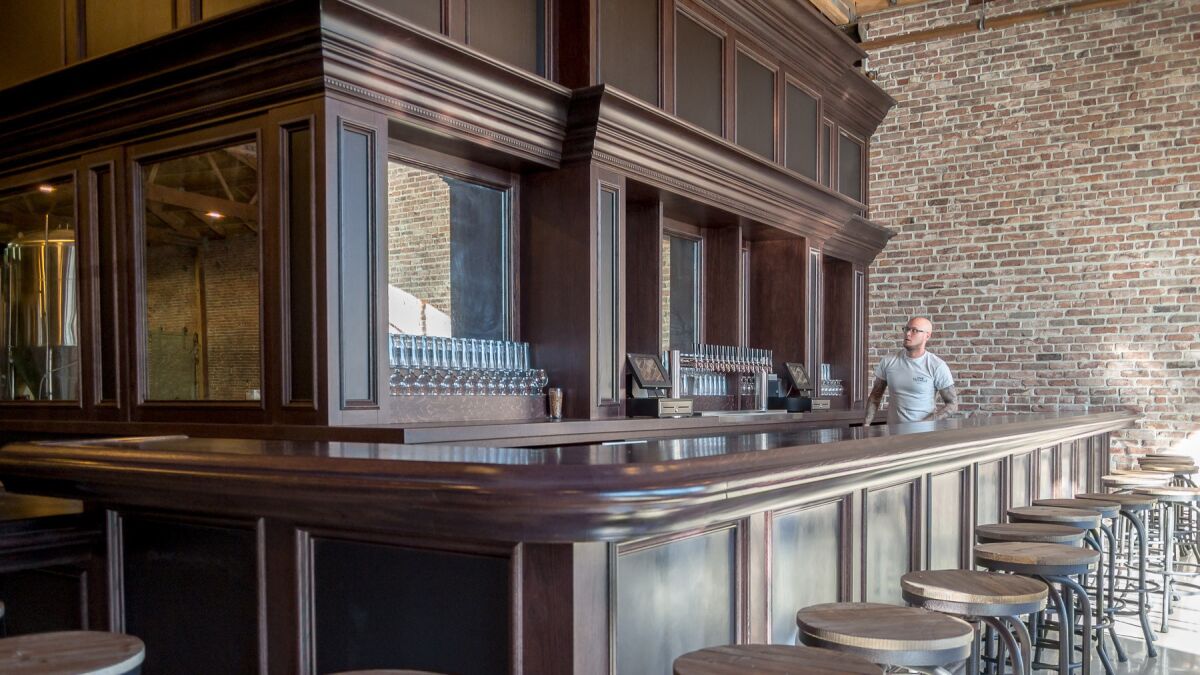 The most ambitious L.A. Arts District craft beer project yet, is Iron Triangle Brewing. The brewery, set to open in January, aims to be the next big thing in L.A.'s craft beer scene.
Occupying a 10,000-square-foot building built in 1904, Iron Triangle brewing is outfitted to produce a lot of beer. The space, first a stable before being converted to a warehouse in the '20s, has a soaring wood trestle roof covering a dozen stainless steel fermenters and a gleaming brewhouse. The equipment was purchased and installed with an eye toward scaling production and growing the brewery, and a lease has already been signed for an additional 22,000 square feet next door that will house more fermentation space and a bottling line.
The new brewery will lead with three core brews, and we had a chance to taste early batches of the beer. The nominal flagship, Iron Triangle Ale, is a golden-hued ale based loosely on the Wisconsin cult-favorite brew Spotted Cow. Built to be accessible yet able to please the beer geeks, this cream ale is light in body with a flavorful balance of cracker-like malts and the floral essence of European hops.
Iron Triangle Dark Ale was envisioned as an "approachable dark beer" that once again won't be off-putting to drinkers still developing their craft beer palate. The ale is fermented to be clean and dry, and it bridges the gap between the light and roasty schwarzbier style of Germany and a dry stout. There's plenty of roasted malts to provide a coffee-like bitterness and hint of acidity, with just enough body to give the brew some weight on the palate.
The obligatory Iron Triangle IPA doesn't try to break new ground; it is a classic West Coast-style IPA built to showcase a resinous pine and pithy citrus hop character. It's clean and bright and tasted more like a dialed-in flagship than the first IPA made at a brand new facility. A craft brewery can live or die by the quality of its IPA, and Iron Triangle IPA should put the startup brewery in a good position to secure draft accounts around town.
The man making the beers is Darren Moser, formerly the director of brewing operations at Maui Brewing Co.
Before his three years overseeing the production of well over a dozen brands at the Hawaiian brewery, Moser brewed at Berkeley's Trumer Brauerei — a brewery that makes only a single beer. He says he's excited to actually brew beer again after years of working as more of a manager than a hands-on brewer.
"I like talking to people, and I like drinking beer," said Moser, who added he's also looking forward to interacting with the customers in the tasting room.
Iron Triangle's founder, Nathan Cole, says he's eager to open the doors to the public after three years of building and permitting. He's seen several breweries open in the Arts District during the time Iron Triangle was being built, and while he was frustrated by the numerous delays and overruns, he's happy to be joining the brewers that are creating a real hub for craft beer in Los Angeles.
The brewery features a tap room styled after downtown's early 20th century architecture, and Cole hopes to fill-out the 16 taps behind the bar with Iron Triangle's core lineup, bolstered by special one-off brews that could be made by anyone on staff. He's encouraging the Iron Triangle team to experiment and help develop recipes to brew on the small pilot batch system.
Iron Triangle Brewing hopes to celebrate a grand opening in mid-January.
1581 Industrial St., Los Angeles, www.irontrianglebrewing.com.
ALSO:
The year in beer: A look back at the big craft-beer boom in L.A.
The one dessert you need to have in L.A. right now is something called a 'brick pastry'
Lodge Bread in Culver City: What you can accomplish with three guys and an Italian deck oven
Get our L.A. Goes Out newsletter, with the week's best events, to help you explore and experience our city.
You may occasionally receive promotional content from the Los Angeles Times.