Working Class Kitchen: Devil's Gulch lamb, Chianina hamburgers, kielbasa corndogs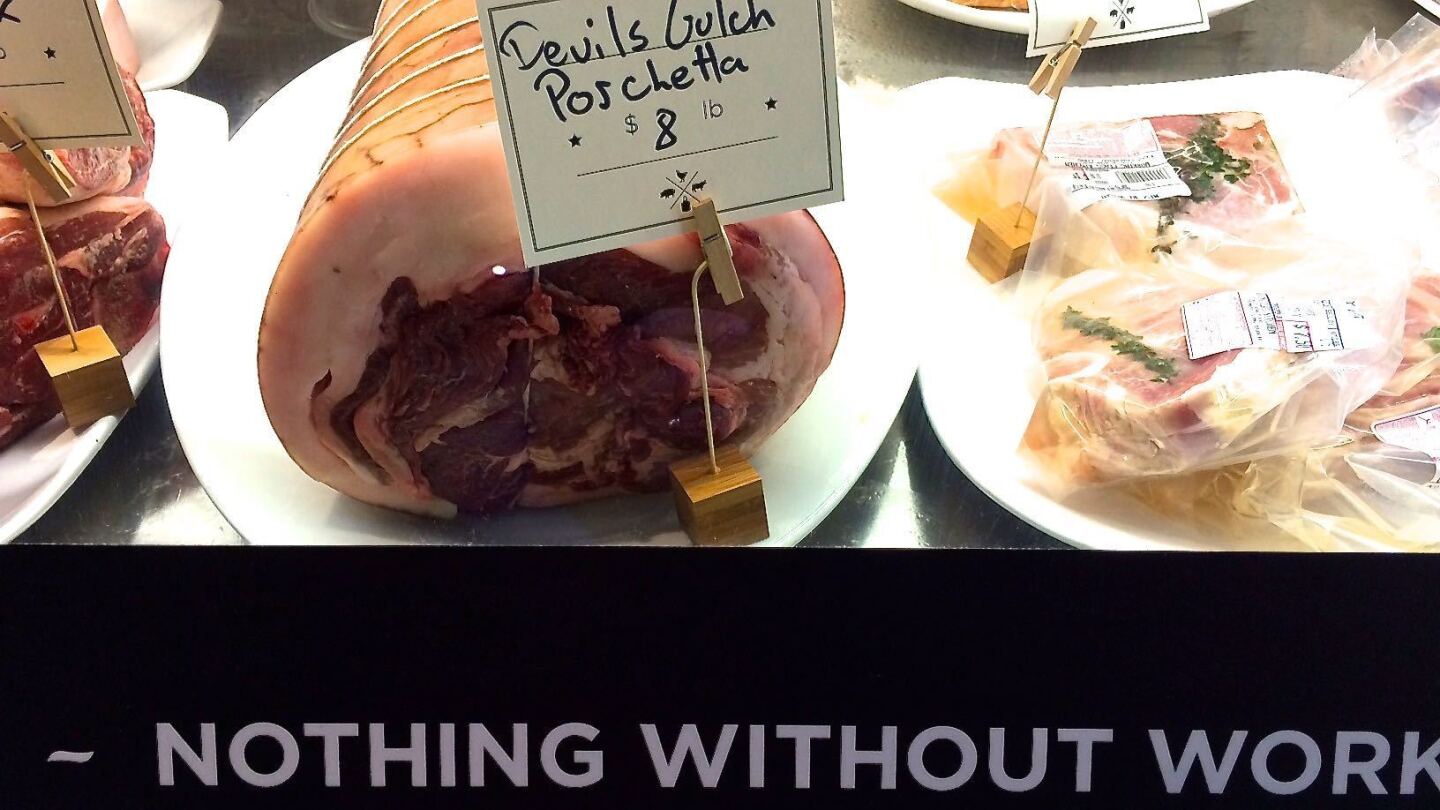 Porchetta from Devil's Gulch pork at Working Class Kitchen in Long Beach, with some sloganeering underneath.
(Russ Parsons / Los Angeles Times)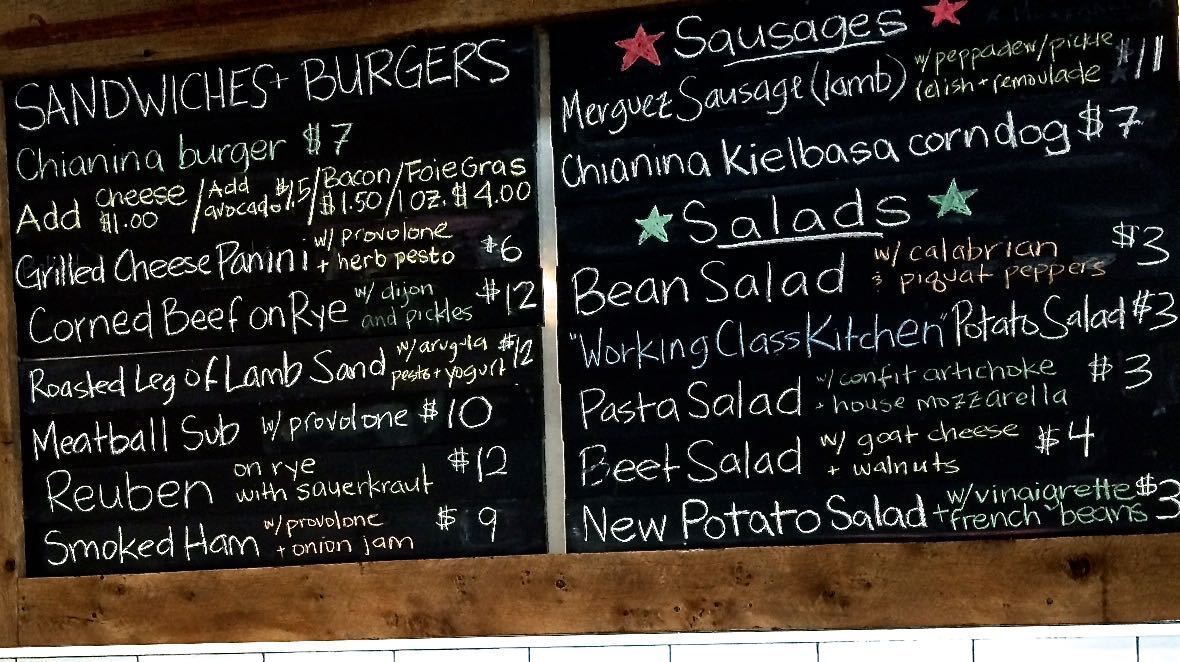 The blackboard menu at Working Class Kitchen in Long Beach changes regularly.
(Russ Parsons / Los Angeles Times)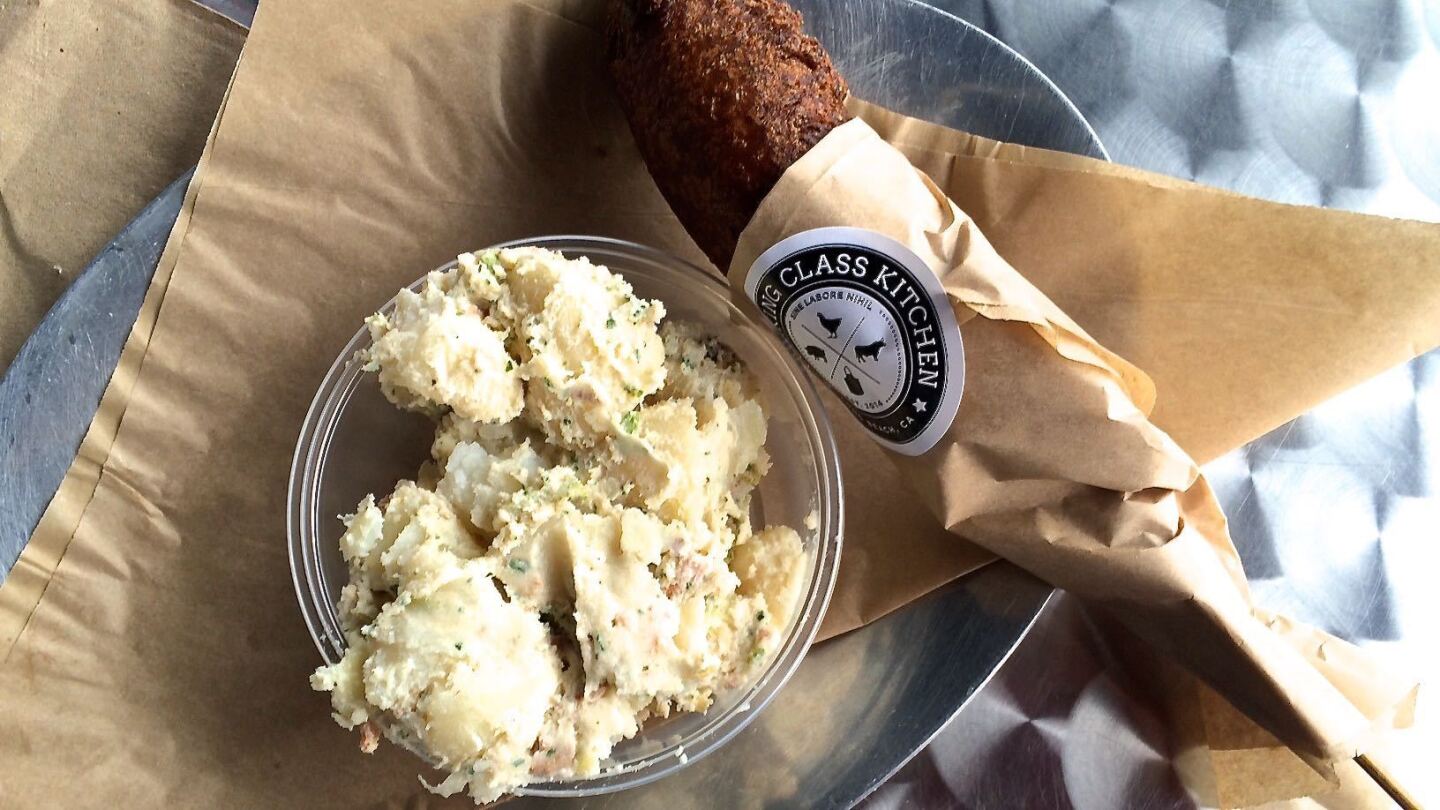 Not just any corndog -- This one's made with kielbasa from Chianina beef at Working Class Kitchen in Long Beach.
(Russ Parsons / Los Angeles Times)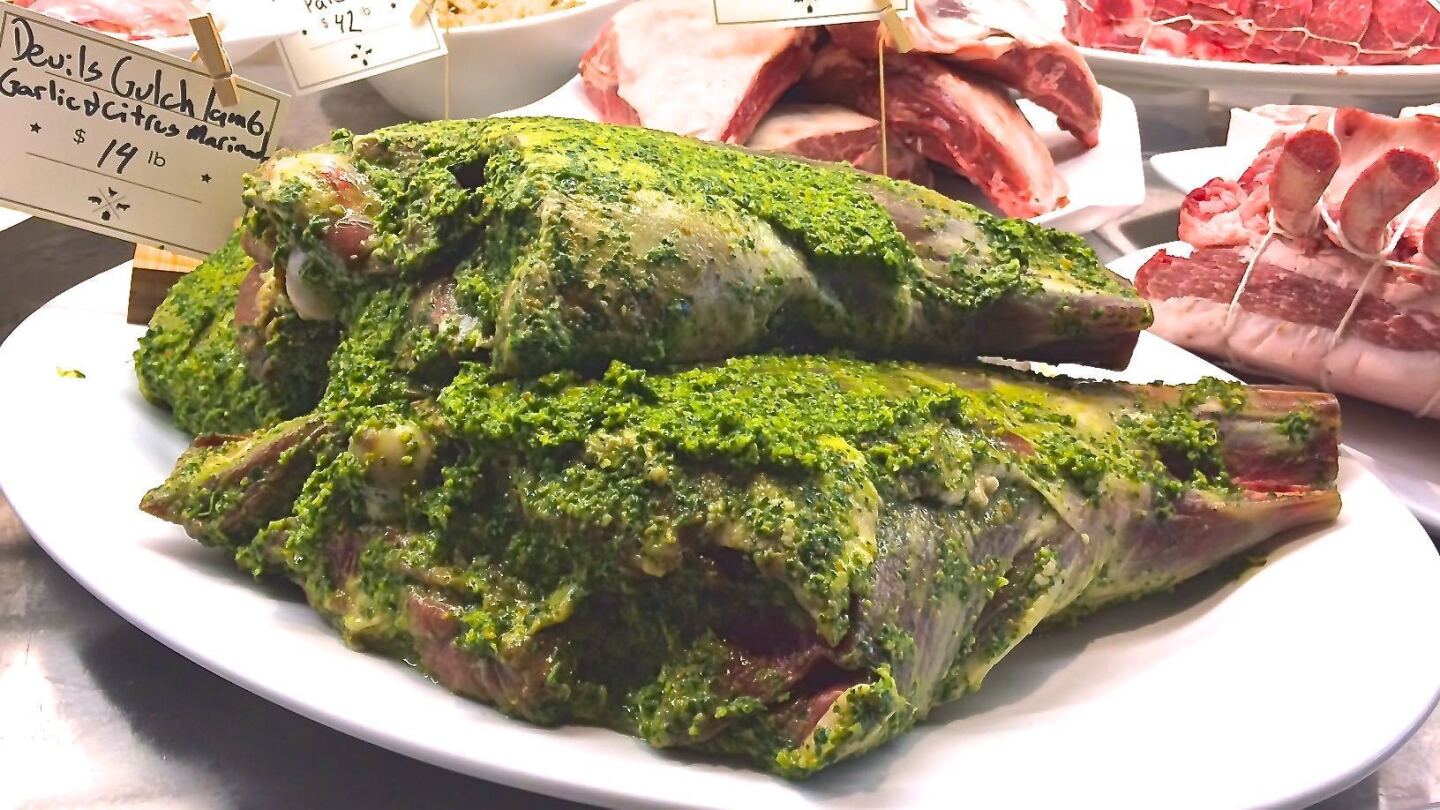 Lamb from Devil's Gulch Ranch, with an herb and citrus marinade at Working Class Kitchen in Long Beach.
(Russ Parsons / Los Angeles Times)
Name of the restaurant: Working Class Kitchen, and that's exactly what it is, a mix of whole-animal butchery and a menu of mostly sandwiches. The restaurant's motto is "Sine Labore Nihil" — Without Work, Nothing.
Chef/owner: This is another venture by owner Michael Dene and executive chef David Coleman. They now have six restaurants, including Chianina Italian steakhouse, Michael's on Naples and two Michael's Pizzerias in Long Beach and one in Rancho Mirage.
Concept: This is a restaurant commissary that grew. Coleman gets in whole pigs and lambs from Devil's Gulch Ranch and quarters of Chianina and Piemontese beef and breaks them down in the back kitchen. You get to enjoy sandwiches from the best quality ingredients and meat to take home if you want. They also do simple cures in-house for corned beef and pastrami and make their own fresh sausages.
What dish best represents the restaurant and why: Coleman says the signature dish is the Chianina hamburger. But maybe the Chianina kielbasa corndog best exemplifies the kitchen's blend of high and low. And yes, it is a very good corndog.
Who's at the next table: Working Class Kitchen is in a somewhat hard-to-find strip of design and architecture studios just off the Anaheim Corridor, but it is right around the corner from some of Long Beach's signature restaurants — Los Compadres Mexican, Pho Hong Phat and the classic beer bar Joe Jost's. So there's a little bit of everybody. It's only been open a few weeks and already it's pretty constantly crowded.
Appropriate for: Strictly a working lunch kind of place. It's small and it's crowded and people come and go quickly.
Uh-oh: With all those popular businesses nearby, parking can be a bit of a problem. But if you cruise long enough, you'll find a place on the street. The only other possible drawback would be the nearly impossible-to-resist urge to pick up one of those gorgeous tied racks of Devil's Gulch Ranch pork when all you stopped for was a quick sandwich.
Service: Really friendly counter service. The staff is enthusiastic about what they're making and selling.
What are you drinking: Soft drinks only.
Info: Working Class Kitchen, 1322 Coronado Ave., Suite A, Long Beach, (562) 494-0306, www.workingclasskitchen.com or you can find them on Facebook.
Are you a food geek? Follow me on Twitter @russ_parsons1
---
Get our L.A. Goes Out newsletter, with the week's best events, to help you explore and experience our city.
You may occasionally receive promotional content from the Los Angeles Times.