Now Serving in Chinatown is the place to go for your chefy holiday shopping needs
Some of the inspiration for Now Serving, the nearly 3-month-old cookbook store in Chinatown's Far East Plaza, is that owners Ken Concepcion and his wife, Michelle Mungcal, considered the absence of such an establishment here an embarrassment. In other words, New York, Seattle and San Francisco have locally owned shops packed with culinary-themed titles. But when celebrated chefs and cookbook authors come to Los Angeles on book tours they often end up at stores like Williams-Sonoma or in a corner of a three-story Barnes & Noble.
"Since Cook's Library closed in 2009, there's been a void," says Concepcion, a former chef de cuisine at Cut, who calls Los Angeles "one of the greatest food cities in the country, if not the world."
"Part of my brain would go, 'There should be enough room for something like Now Serving, where the cookbooks aren't just window dressing,'" says Concepcion, who loves stressing the fact that he learned his trade by reading and re-reading classic cookbooks. "Man, books were such a big part of my training because I didn't go to culinary school."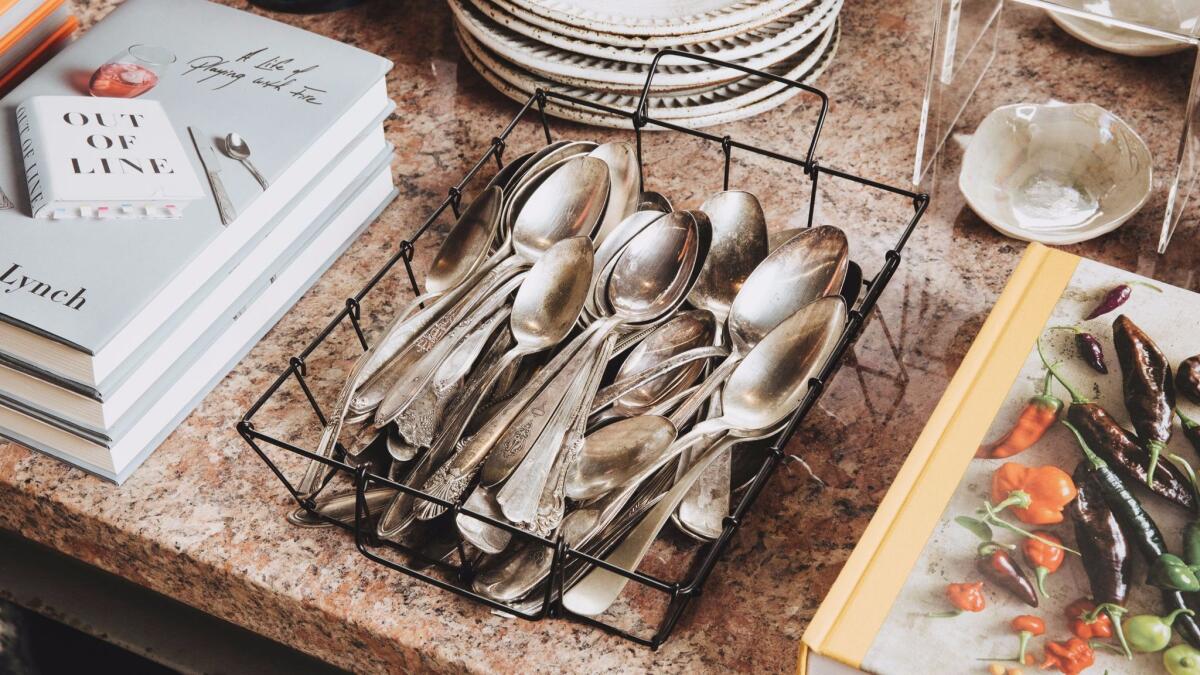 The 450-square-foot jewel box of a cookbook store carries cookbooks, chef's jackets and specialty products such as speckled fermentation crocks and glinting handmade kitchen knives — one of their most popular is a versatile Gesshin 90 mm paring knife — curated by the self-described "knife dorks" at L.A.'s Japanese Knife Imports.
In the nearly three months since the bookstore has been in business, there have been a few book signings, and a screening of Lucy Walker's food documentary, "Wasted." Next year, Concepcion has plans to open a luncheonette in an adjacent space that will marry old-timey Woolworth's counter food with fresh farmers market produce.
"A '90s indie record store vibe" is how Concepcion characterizes the atmosphere at Now Serving, which has low-key blues softly spilling out of the sound system and a rack of hand-crafted food magazines from around the world that could easily swallow up a half hour of leisurely browsing.
If Now Serving stocks hot-off-the-presses cookbooks like Massimo Bottura's "Bread Is Gold" and Martin Morales' new Andes-centric Peruvian cookbook, "Andina," what's just as essential to Concepcion is his inventory of vintage first editions, which includes a couple copies of Jacques Pépin's 1976 classic, "La Technique." "When you walk into most bookstores usually the oldest cookbook they'll have is [Yotam] Ottolenghi's 'Plenty,'" says Concepcion. "There's so much more to unearth and really discover. That's really important."
They also carry tweezers from J.B. Prince and a selection of hand-carved cutting boards. What won't you find at Now Serving? "We don't [sell] gadgets," says Concepcion. "You won't find an avocado slicer here. We want to sell things you can use but still looks beautiful on your kitchen counter."
For the record 3:30 p.m. December 15: An earlier version of this story said the shop screened the Lucy Walker documentary "Waste Land." The correct film is Anthony Bourdain's "Wasted."
ALSO:
For Hanukkah, a celebration of olio nuovo, or new olive oil
This new food truck serves nothing but queso. Lots and lots of queso.
Looking for more craft beer in the South Bay area? Head to the new State Brewing Co.
Get our L.A. Goes Out newsletter, with the week's best events, to help you explore and experience our city.
You may occasionally receive promotional content from the Los Angeles Times.