For Hanukkah, a celebration of <i>olio nuovo</i>, or new olive oil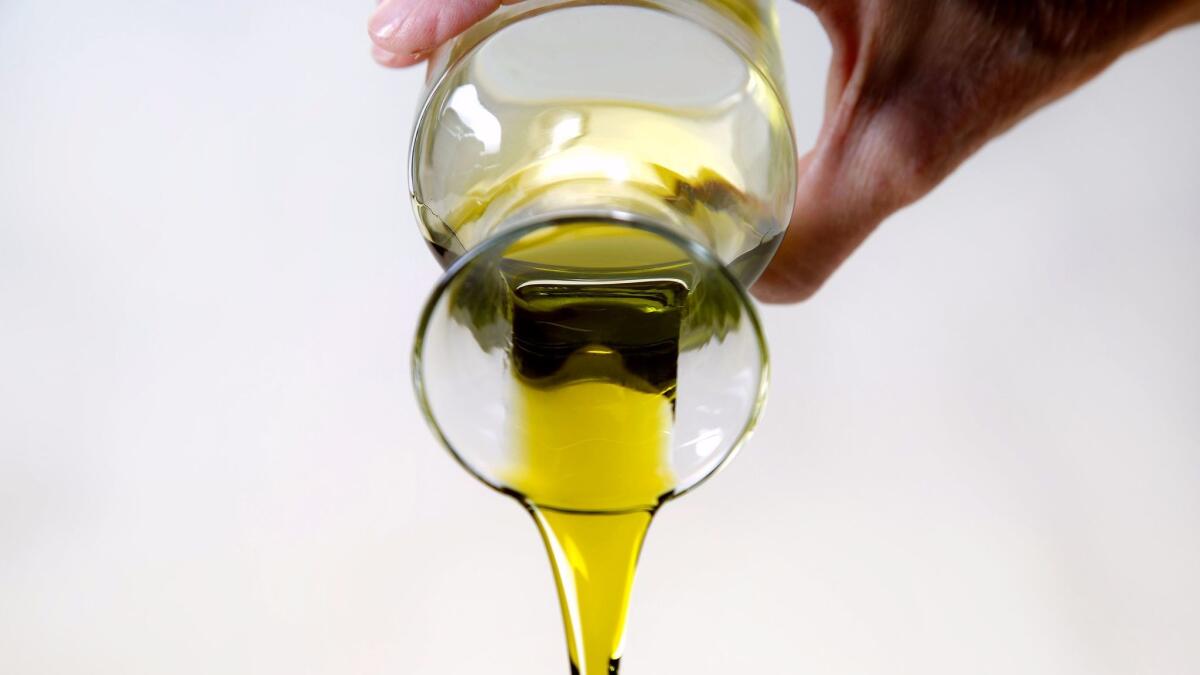 From at least the 14th century, Jews have celebrated Hanukkah by deep-frying pastries — Iraqi zengoula, Indian jalabi, Spanish and Mexican buñuelos, Italian frittelle, Israeli sufganiyot — and, since the 19th century, pan-frying potato latkes. But it's the oil — specifically olive oil — and not the cooking method that's commemorated during the festival of lights. The story of Judah and the Maccabees and the mythical droplets of oil that burned for eight nights is also a thanksgiving for the late-autumn olive harvest and pressing of new oil.
New oil! Fast forward to the moment olive oil aficionados wait for all year: the release of olio nuovo, the ultra-green first bottling of the year's first pressing. Skimmed from the vat before the sediment has settled, olio nuovo has a creamy texture and heightened notes of fruit, grass and pepper. As with the Hanukkah oil, olio nuovo is a fleeting ritual, best savored within a few weeks of its release.
December is peak time for new oil, and a number of Los Angeles chefs and stores, from Eataly to Costco, are showcasing the freshly milled oils from Italian and California producers, making olio nuovo a symbolically and seasonally perfect Hanukkah ingredient — and not a bad holiday gift.
Olio nuovo "is the first expression of the olive harvest," says Albert Katz, producer of award-winning olive oil in eastern Napa County and a co-founder of the California Olive Oil Council.
"There is nothing like the first few days of pressing — that rustic, green, unfiltered oil; those first fresh, fruity, intense, viscous drops," says Katz. Most of the pressing will be left to settle and mellow for several weeks, then "racked off" from perishable solids before bottling to become shelf stable.
The best oils are estate-grown, with fruity, bitter and pungent flavors. There are three styles — light, medium, robust — determined by olive varietals, where and how they were grown, when harvested and the miller's preferences.
Recipe: Orange and olive oil semolina cake with pistachios, chocolate and olio nuovo »
Appreciation for olio nuovo in the U.S. is due in large part to Rolando Beramendi, founder of Manicaretti, importer of Italian delicacies, who first introduced the Tenuta di Capezzana from Tuscany to influential California chefs Judy Rogers, Paul Bertolli and Nancy Silverton in the early 1990s.
Once you open your bottle, "use immediately; pour abundantly," Beramendi writes in the cookbook "Autentico: Cooking Italian, the Authentic Way," published in October. Use it raw as a "gliding" oil and keep dishes simple to showcase the oil.
The purest taste experience is on grilled bread, with just a sprinkle of good salt. Instead of chopped liver, begin your Hanukkah festivities with crusty bread and olio nuovo to recall the holiday's origin story. Humble boiled potatoes dressed with olio nuovo become a substitute for latkes, and the oil turns a simple bean and escarole soup into a showstopper. And then there is olive oil cake, a refreshing finish to a latke-and-brisket dinner when made with semolina and oranges and finished with pistachios and chocolate — and more olio nuovo.
Recipe: White bean and escarole soup with olio nuovo »
So this year, don't fry all the Hanukkah oil. The method may have changed — neither people nor animals power the mill — but today's oil production is essentially the same as in ancient times: crush, press, separate. Now that's something to celebrate.
Two upcoming Los Angeles olio nuovo events:
Nancy Silverton is celebrating the launch of Rolando Beramendi's "Autentico: Cooking Italian, the Authentic Way" (St. Martin's Press, 2017), with a lunch featuring olio nuovo at noon Dec.10 at Chi Spacca. 6610 Melrose Ave, Los Angeles,(323) 297- 1133, chispacca.com.
Akasha Richmond of AR Cucina is featuring Sicilian olio nuovos throughout the season, including Hanukkah specials and a Christmas Eve Feast of Seven Fishes. 9531 Culver Blvd., Culver City, (310) 558-8800, arcucina.com.
Italy
Tenuta di Capezzana. Region: Carmignano, Tuscany. Olive cultivars: Moraiolo, Frantoio, Pendolino, Leccino. Grassy, "spring in a bottle," elegantly robust, marries instantly and harmoniously with food. $50-$55 for 500 ml. Monsieur Marcel, Cheese Store of Beverly Hills, Bay Cities Italian Deli, www.markethallfoods.com
Marchesi de' Frescobaldi Laudemio. Region: Tuscany. Olive cultivars: Frantoio, Moraiolo, Leccino. Brilliant green; floral, wheat and artichoke aromas; "grand Tuscan" robust bitterness and pepper. $50-$55 for 500 ml. Monsieur Marcel, www.markethallfoods.com.
Gianfranco Becchina Olio Verde Novello. Region: Sicily. Olive cultivar: Nocellara del Belice. Intensely green; herbaceous; medium bitterness, spice and pepper; hint of nuts. $45-$50 for 500 ml. www.markethallfoods.com.
Titone. Region: Sicily. Olive cultivars: Nocellara del Belice, Cerasuola, Biancolilla. Rich, nutty, herbaceous, fruity, medium pepper. $35-$40 for 250 ml. Mozza2Go, Monsieur Marcel, www.markethallfoods.com.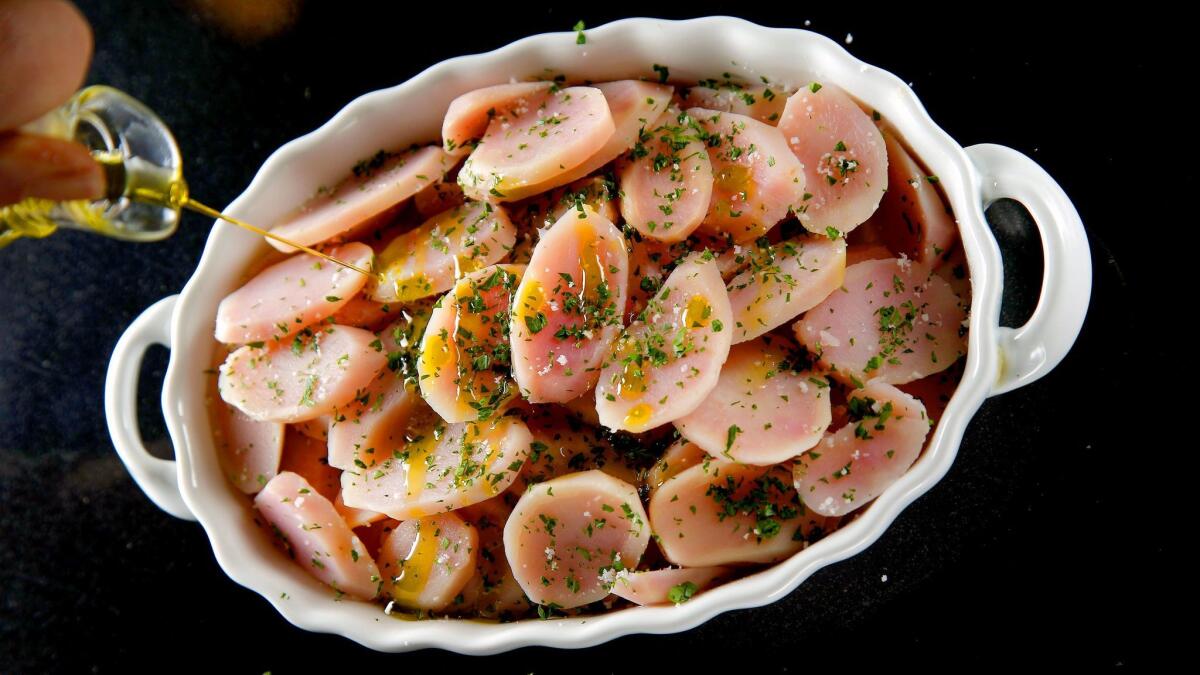 Recipe: Boiled potatoes with olio nuovo »
California
Bondolio. Region: Yolo County. Olive cultivars: Nocellara, Biancolilla, Cerasuola. Softer Sicilian style, nutty, hints of sweetness, fruit forward, floral, gentle pepper, medium blend. $32-$35 for 500 ml. We Olive stores under the We Olive label, www.bondolio.com and www.markethallfoods.com.
Katz Organic December's New Oil. Region: Napa County. Olive cultivars: Leccino, Frantoio, Maurino. Tuscan-style, medium-bold, golden green, brash and daring, spice, herbs, pepper, artichoke, hint of nut. $25 for 375 ml. Monsieur Marcel, www.katzfarm.com, www.markethallfoods.com.
Seka Hills Estate Olio Nuovo. Region: Yocha Dehe Wintun Nation, Capay Valley. Olive cultivar: Arbequina. Very approachable, fresh, bright, grassy, delicate pepper. $16-$20 for 250 ml. Monsieur Marcel, www.sekahills.com, www.markethallfoods.com.
California Olive Ranch Limited Reserve and Olio Nuovo. Region: Yolo and Butte Counties. Limited Reserve: Olive varietals: Koroneiki, Arbequina. Producer describes notes of pear, tropical fruits, and green grass. $19.99 for 500 ml. exclusively online at californiaoliveranch.com. Olio Nuovo: Olive cultivar: Arbequina. Medium intensity, hints of green banana. $10.99 for 1 liter. Los Angeles and other select Costco regions.
Amelia Saltsman is the author of "The Seasonal Jewish Kitchen" and "The Santa Monica Farmers' Market Cookbook."
ALSO:
Recipes ready in 30 minutes or less
Gluten-free treats: Desserts and other sweet recipes
Browse our Recipe Database for thousands of our best recipes
Get our L.A. Goes Out newsletter, with the week's best events, to help you explore and experience our city.
You may occasionally receive promotional content from the Los Angeles Times.