These pecan pie cookie bars might be everything you want right now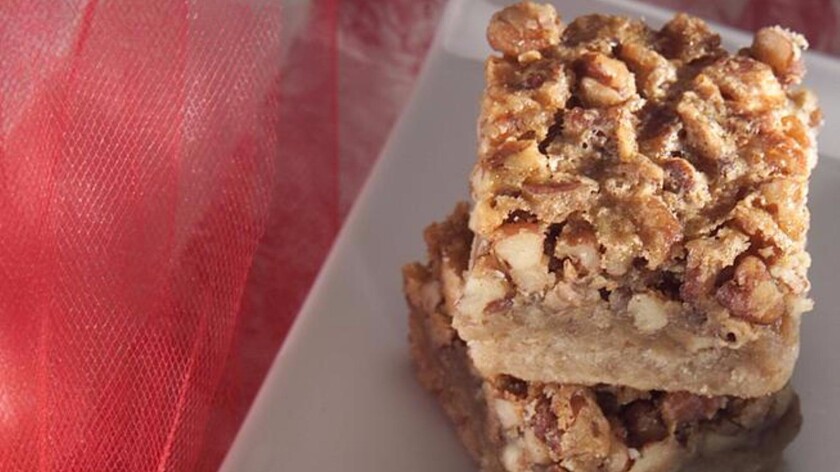 Imagine a couple of your sweetest desires all rolled into one: pecan pie and buttery brown sugar shortbread, joined together as a cookie bar. Rich pecan pie filling, flavored with notes of maple and a touch of bourbon, is baked on top of a crumbly shortbread crust. Serve it straight out of the oven, the warm bars topped with a scoop of ice cream. Or enjoy the bars on the go as a quick snack or packed with a lunch. But you might want to plan ahead and make a double-batch — these bars disappear quickly.
PECAN PIE COOKIE BARS
Total time: 1 hour, 5 minutes | Makes 32 bars
BASE
1 cup flour
1/2 cup light brown sugar, packed
1/2 cup (1 stick) unsalted butter, softened
Dash salt
1. Heat the oven to 350 degrees. Set aside an ungreased 8-inch-square pan.
2. Mix together the flour, brown sugar, butter and salt in a mixer or processor until crumbly. Spread the crumbs evenly over the pan. Lay plastic wrap over the top and press them firmly into place. Remove the plastic.
3. Bake until lightly browned, about 18 to 20 minutes.
TOPPING
3/4 cup light brown sugar, packed
1/2 cup maple syrup
2 eggs
2 tablespoons flour
1/4 cup (1/2 stick) plus 2 tablespoons unsalted butter, melted
Dash salt
1 teaspoon bourbon
1 teaspoon vanilla extract
1 3/4 cups pecans, coarsely chopped
1. While the base is baking, combine the sugar, maple syrup, eggs, flour, butter, salt, bourbon and vanilla in the same (unwashed) mixer or processor until just mixed together. Stir in the pecans.
2. When the base is baked, remove it from the oven and evenly spoon the topping over the hot base.
3. Bake until the surface is set and lightly browned, about 30 minutes. Cool completely on a rack, then refrigerate it in order to cut into neat squares.
Each bar: 157 calories; 27 mg sodium; 26 mg cholesterol; 10 grams fat; 4 grams saturated fat; 16 grams carbohydrates; 1 gram protein; 0.74 gram fiber.
Love cooking as much as I do? Follow me @noellecarter
ALSO:
You'll love this lemon-blueberry buckle recipe
Farmers market report: Grapes are in season. We share recipes
---
Get our weekly Tasting Notes newsletter for reviews, news and more.
You may occasionally receive promotional content from the Los Angeles Times.