Republique is open on La Brea, crispy pork rinds and all
The restaurant from Walter and Margarita Manzke and partner Bill Chait eventually will be open for breakfast, lunch and dinner.
(Betty Hallock / Los Angeles Times)
Shelves at Republique lined with spices, pickles, cast-iron pots and books.
(Betty Hallock / Los Angeles Times)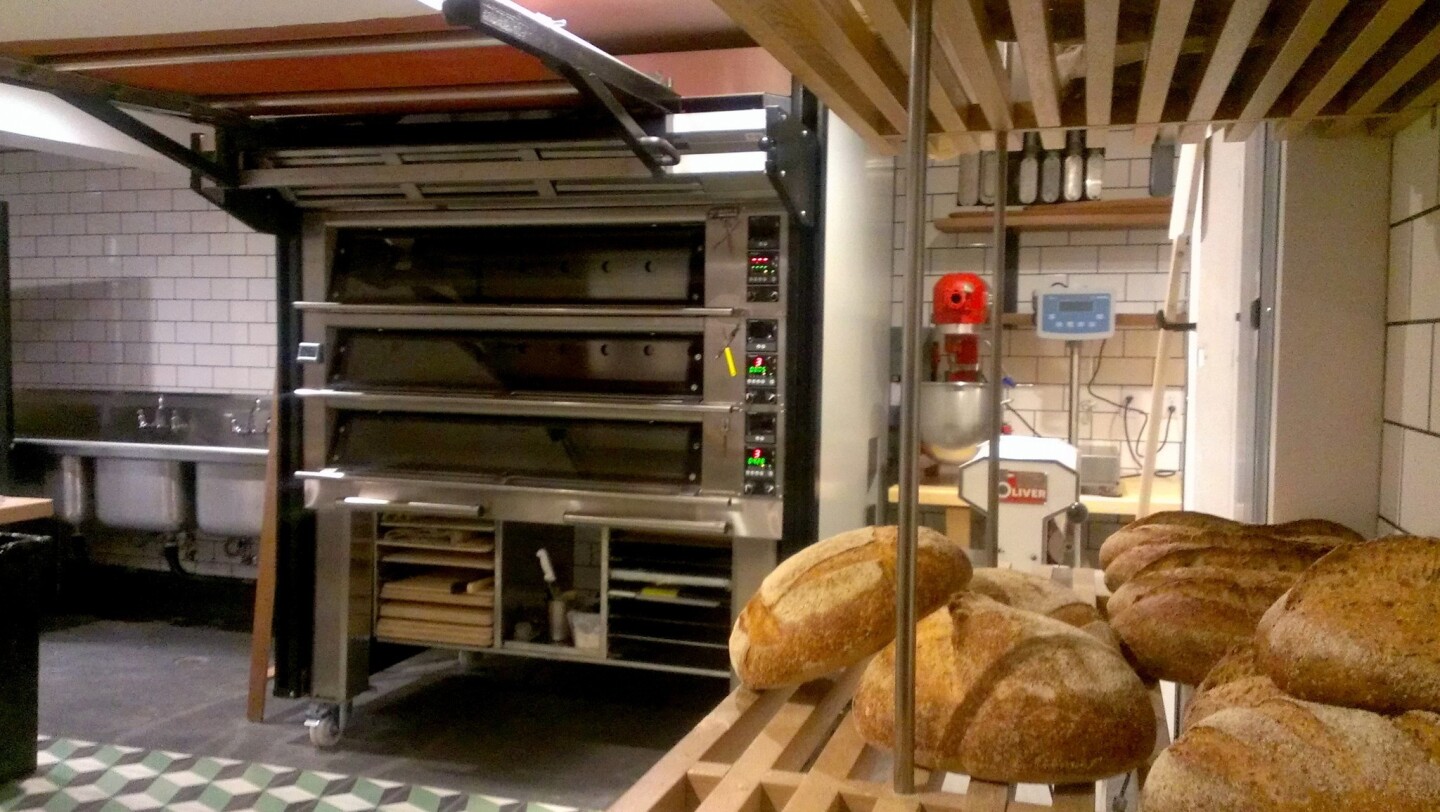 Margarita Manzke helms the open bakery kitchen at Republique.
(Betty Hallock / Los Angeles Times)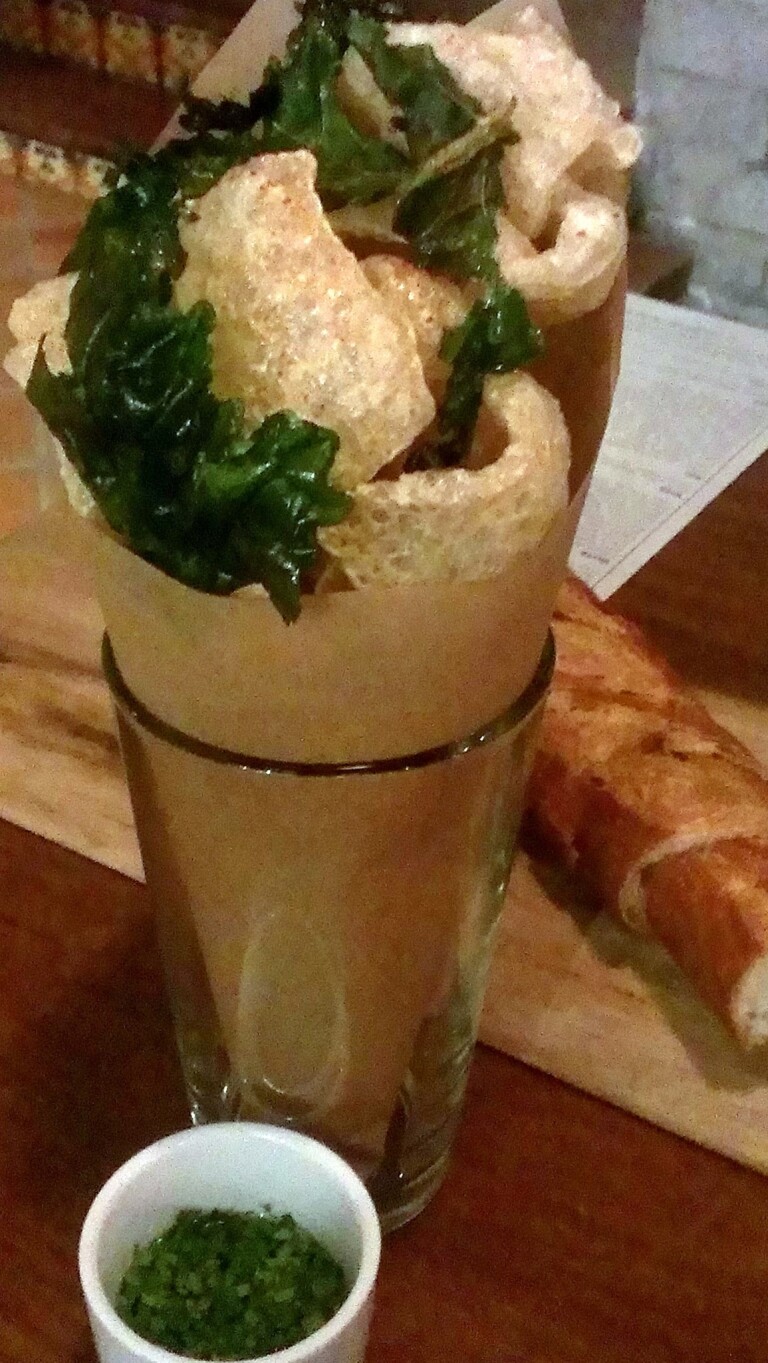 On the menu, crispy pork rinds with chile vinegar dipping sauce.
(Betty Hallock / Los Angeles Times)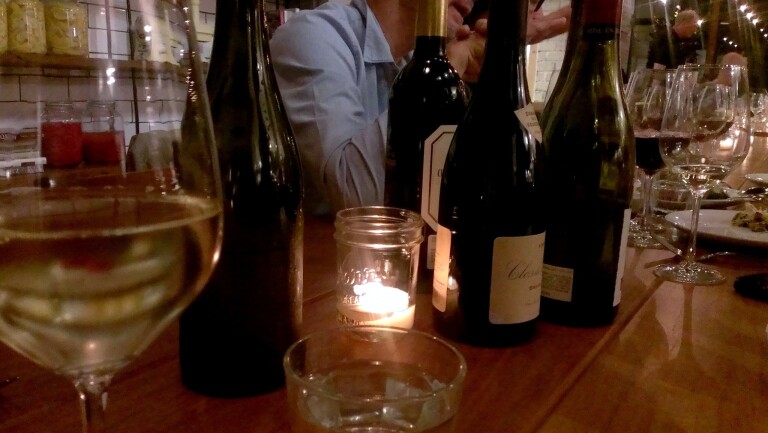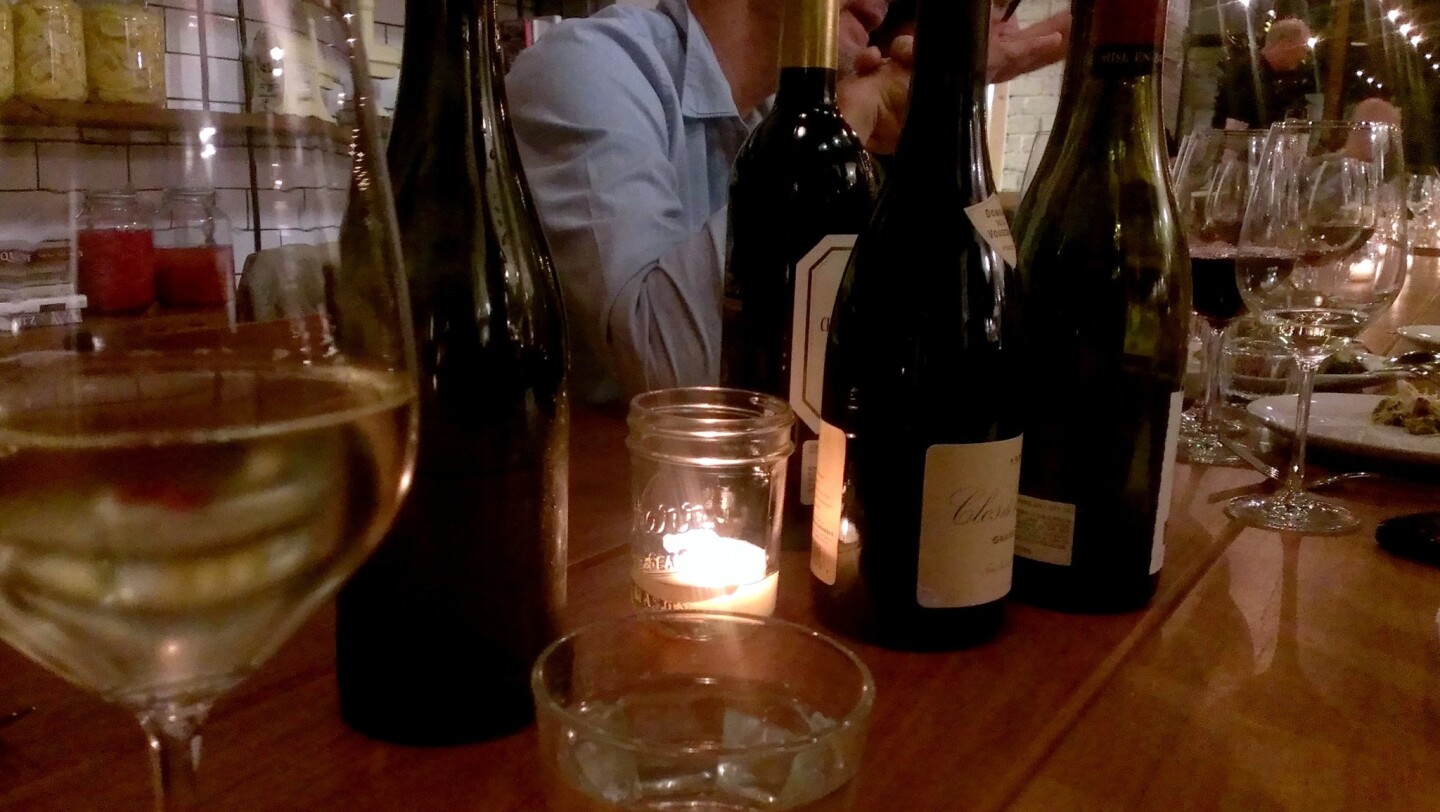 Your neighbors at the communal tables at Repulbique might share their wine.
(Betty Hallock / Los Angeles Times)
Republique, the ambitious bakery, cafe and restaurant that revives the former Campanile location, ran with an OpenTable glitch that allowed diners to make reservations before its planned Nov. 25 debut, opening its doors Friday. And chef-owners Walter and Margarita Manzke are operating as if they've been prepared to open all along.
"I just got my wood-burning oven working the way I want," Walter said Thursday during a dinner for friends and family, "and we've got the rotisserie going." Pastry chef Margarita, who heads the bakery, already is turning out loaves of boules and baguettes, along with tarts, crisps and bombolini.
Currently open for dinner, Republique eventually will serve all day long, starting with breakfast.
The space that once felt somewhat cloistered has been opened up and outfitted with communal tables, a grid of hanging lights and a front-and-center bar serving cocktails and beverage director Taylor Parsons' selection of mostly French wines. The fountain that once anchored the front dining room is now outside, and the bakery and its oven have been opened to the dining room.
Anyone familiar with the menu at Church & State, the downtown bistro that Walter put on L.A.'s culinary map, might recognize the pastry-topped escargot, caramelized-onion-and-bacon tarte flambee, and steak and moules frites. Long boards (some so long, they have to be carried by more than one server) bear house-made charcuterie, and from the rotisserie come Mary's organic chickens with baby kale and fingerling potato gnocchi.
Fry cups meant for frites also serve crispy pork rinds that come with a chile-vinegar dip, and Margarita's multigrain bread is accompanied by Bellwether Farms ricotta and salsa rustica. In a dish of cauliflower with medjool dates and hazelnuts is a layer of curried lentils. You probably won't want to skip dessert.
Under construction is the back dining room that will feature Walter's tasting menus. Some things the dining public will still have to wait for.
624 S. La Brea Ave., Los Angeles, (310) 362-6115, republiquela.com.
ALSO:
The Bungalow to reopen Friday with new menu
Egg Slut opens in Grand Central Market downtown
New menu, and drinks by Matthew Biancaniello, at Feed Body & Soul
---
Get our weekly Tasting Notes newsletter for reviews, news and more.
You may occasionally receive promotional content from the Los Angeles Times.