BeBe Fusion: A smorgasbord of Taiwanese street food and family-style dishes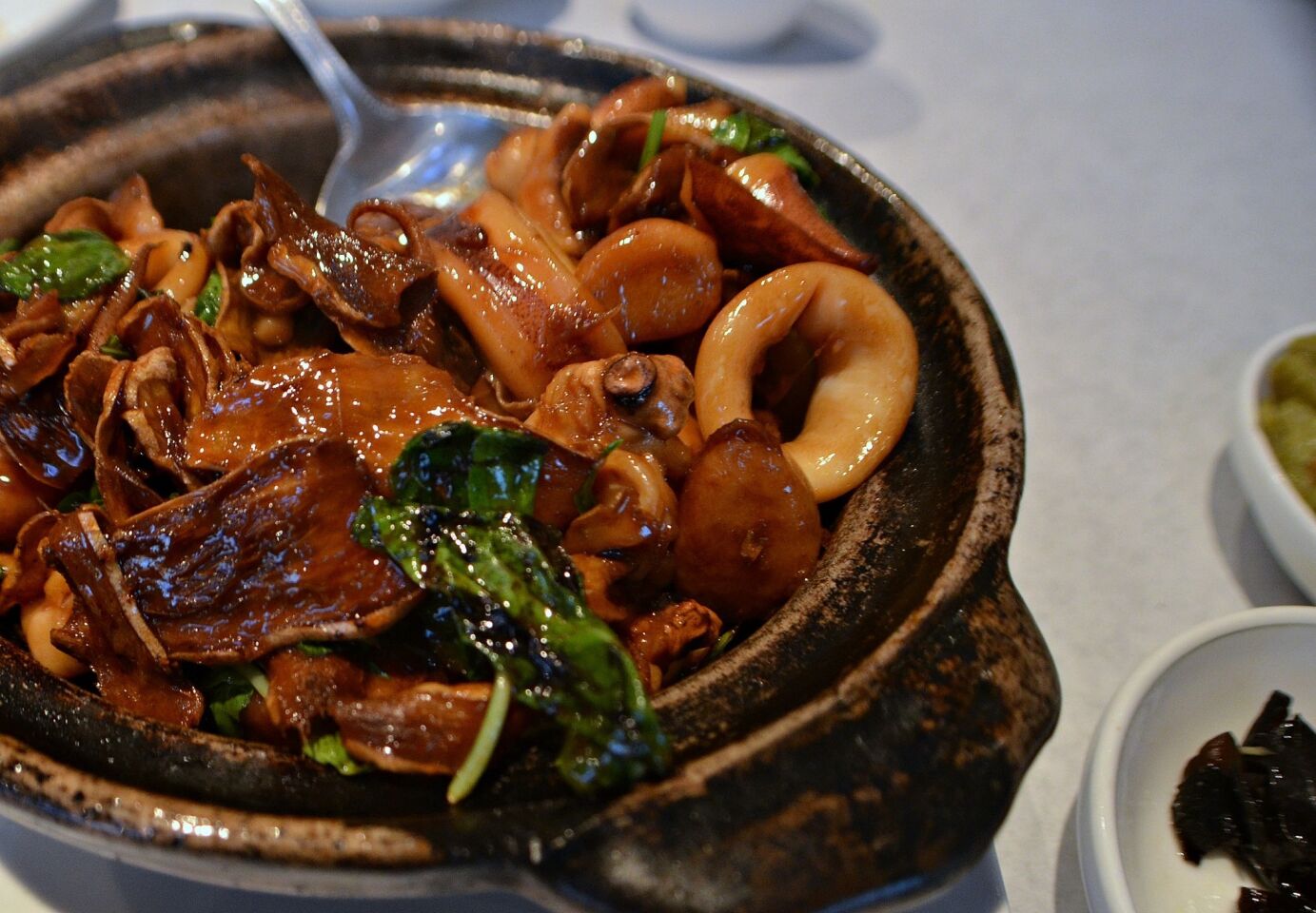 "Three cups" squid with black sesame oil, garlic and ginger. This goes fantastic with a bowl of white rice.
(Clarissa Wei / For The Times)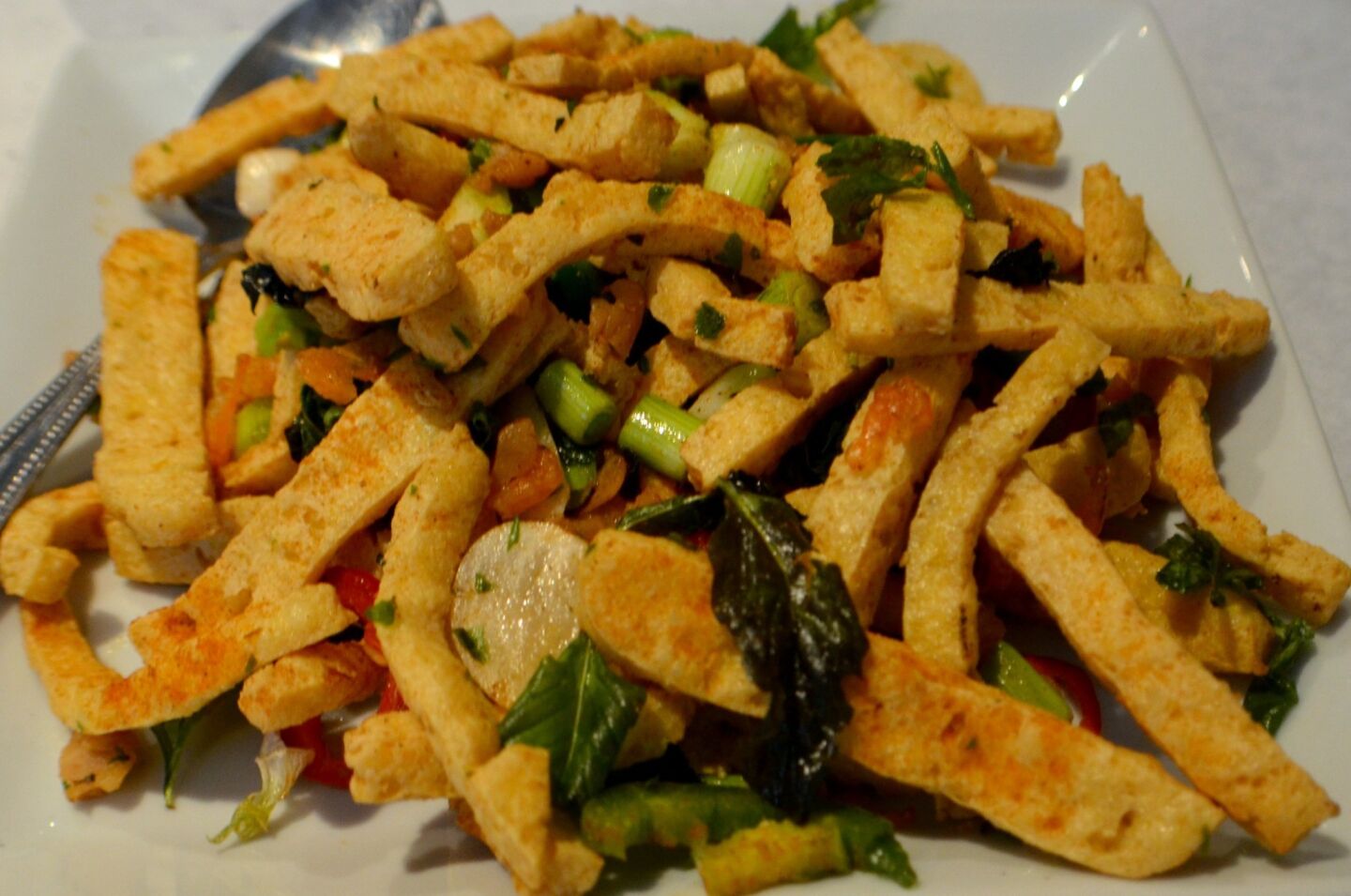 Stinky tofu served in French-fry form. It's sauteed with basil and served with a garlic dipping sauce. This dish is wonderfully aromatic but probably not a smart option for a first date.
(Clarissa Wei / For The Times)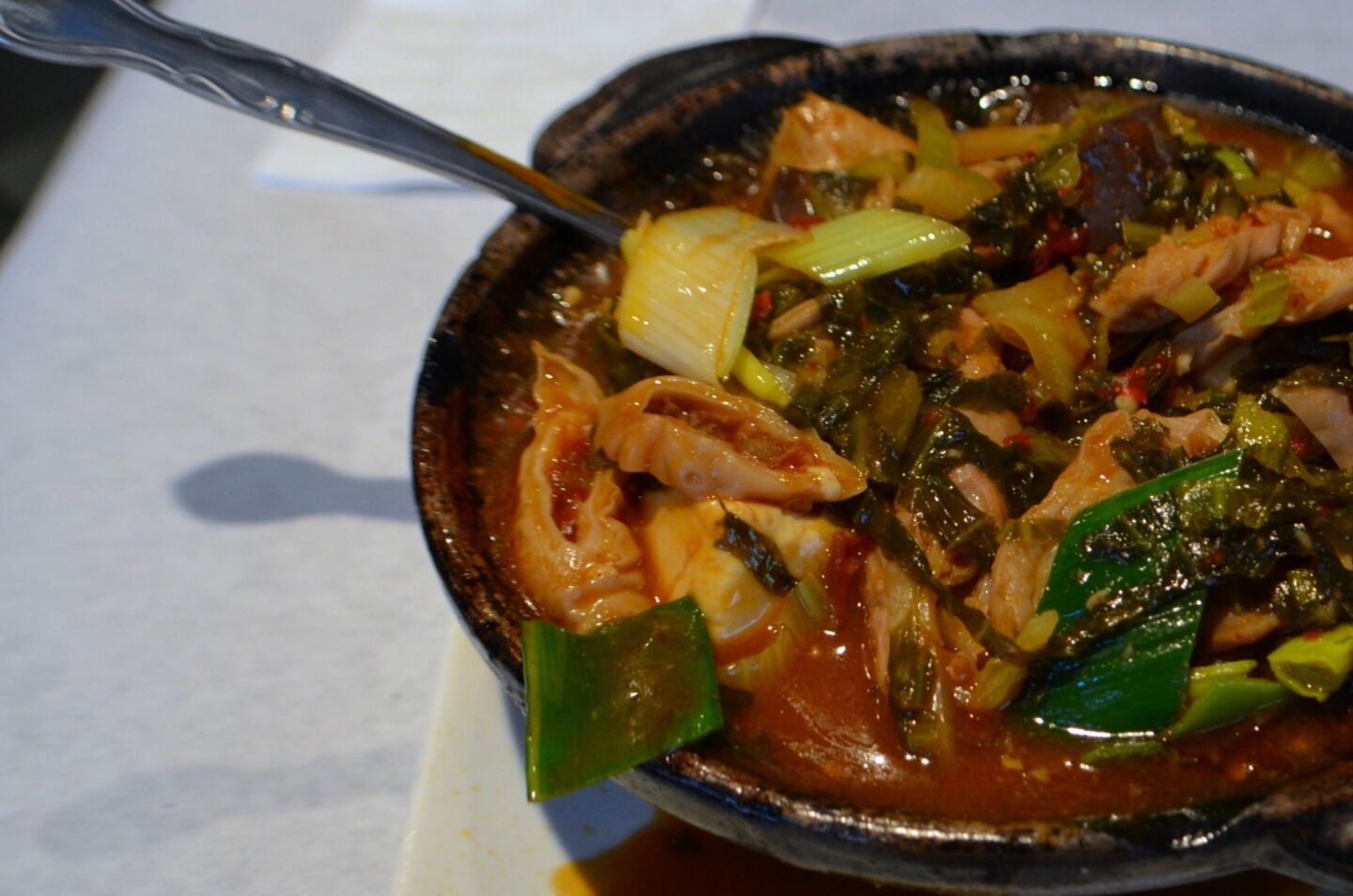 Pig intestines and blood cubes in a spicy pot. Served with pickled vegetables for contrast.
(Clarissa Wei / For The Times)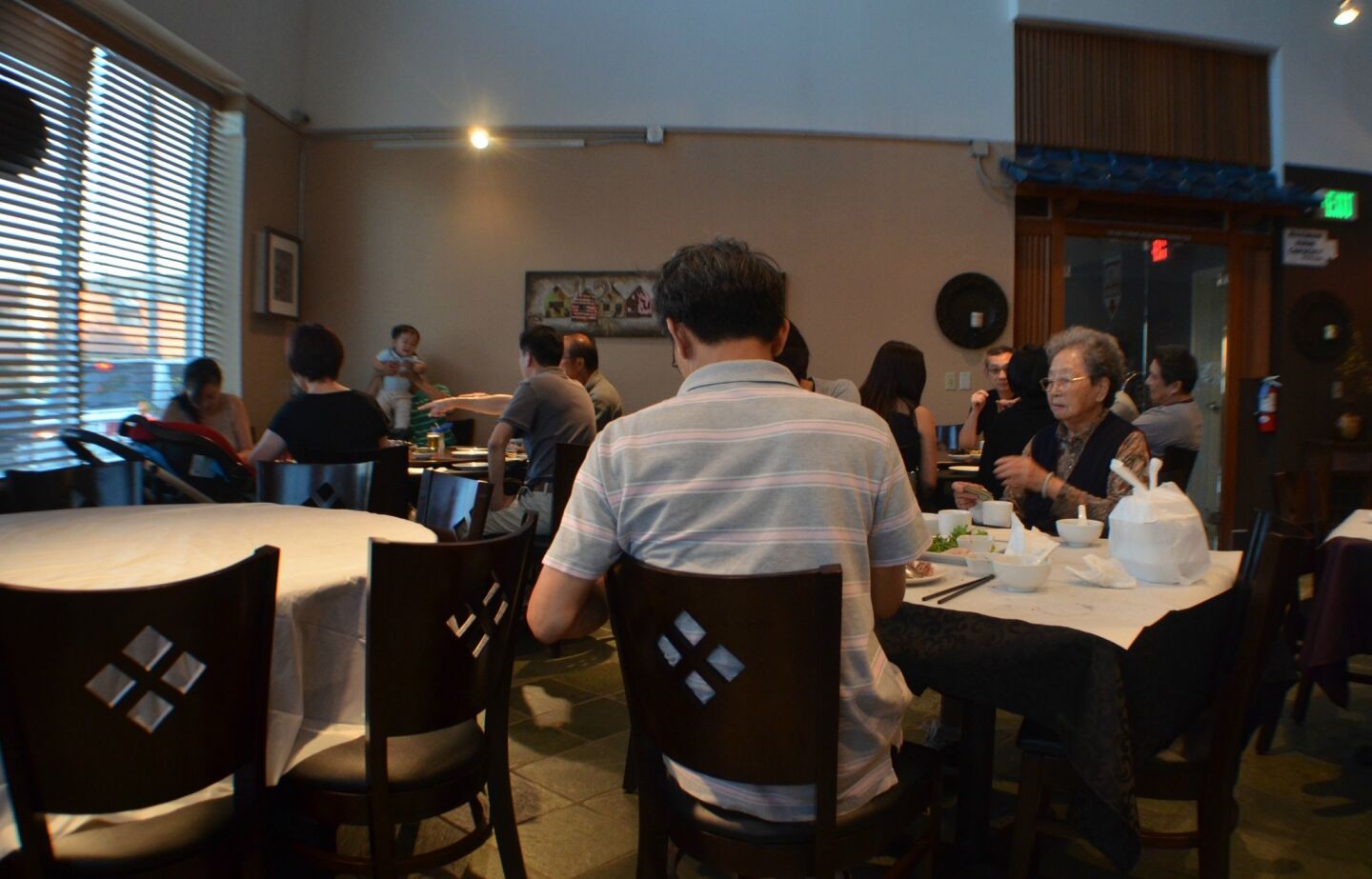 There are a lot of families at BeBe and the noise level can get pretty loud during prime hours.
(Clarissa Wei / For The Times)
Name of restaurant: BeBe Fusion. A mash-up of the names of the owner's kids -- Belinda and Benjamin. The fusion component comes from plans to eventually offer Japanese food on the menu.
Chefs: Joe Wang and identical twins Danny and George Hong. They're all Taiwanese-born chefs who have been cooking for 30-plus years.
What dish represents the restaurant, and why? The basil stinky tofu. Cut into French-fry-like strips, this dish stinks up the premises whenever they whip up a fresh batch. The tofu is fermented in weeks-old shrimp brine and comes with a garlic dipping sauce. Hold off on ordering this if you're on your first date. BeBe's tofu is unapologetically foul, but it's just part of the charm of this restaurant. The chefs stick to tradition.
PHOTOS: Jonathan Gold's 101 best restaurants
Runner-up: The "three cups" squid with equal parts black sesame oil, sugar and rice wine mixed with a hearty amount of basil, garlic and ginger. It's served in a clay pot that keeps the dish sizzling and hot throughout the evening.
Concept: A smorgasbord of street food and large, family-style dishes by way of Taipei. As is typical of traditional Taiwanese food, there are a lot of seafood offerings. Taiwanese beer is also on tap for the nostalgic.
Who's at the next table? Families with their ah mas and ah gongs (grandma and grandpa in Taiwanese) in tow enjoying savory oyster pancakes and boiled pig intestines.
Appropriate for...: A family reunion for those accustomed to the cuisine. For all others, a crash course into some of Taiwan's more unusual dishes such as braised offal and pig feet with bamboo.
Uh-oh...: There's a strong stinky tofu scent that will permeate the dining room and undoubtedly make some people uncomfortable. Also, you might have to wait to snag a seat. There are only 10 tables but reservations are gladly taken.
Service: Friendly. All the servers are bilingual.
What are you drinking? Taiwanese beer, or fresh wintermelon juice.
Info: 201 E. Bay State St., Alhambra, (626) 284-1288.
ALSO:
Twice-caramelized crullant at Semi Sweet Bakery
Scratch Bar: Inventive presentation in a casual setting
Where can you find 80 beers, and mac 'n' cheese with potato chips?
The Scouting Report is a quick look at restaurants worth a visit. Scouts were selected by restaurant critic Jonathan Gold, who may or may not agree with a single word.
---
Get our weekly Tasting Notes newsletter for reviews, news and more.
You may occasionally receive promotional content from the Los Angeles Times.