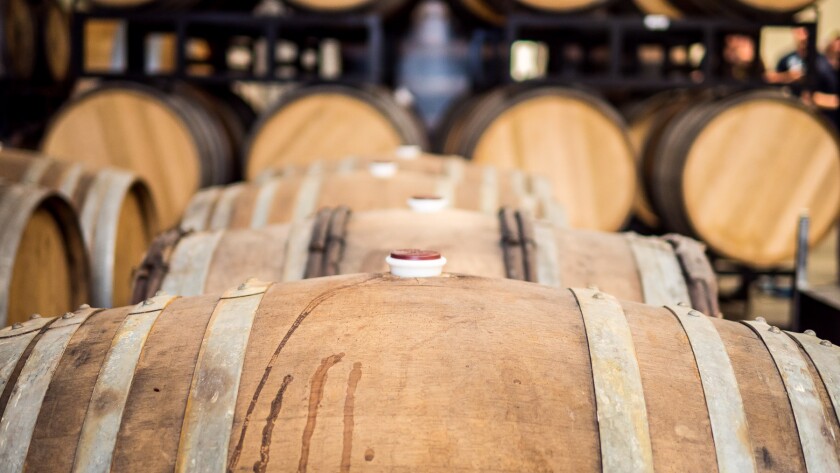 Move over IPA, the hottest trend in craft beer is sour, not bitter. While the love for the aromatic punch of hops may have launched the craft beer into the mainstream, beer lovers can't get enough sour beers. And the best way to explore the varied styles and flavors possible in these tart brews is at Beachwood BBQ's Sourfest.
This year is Beachwood founder Gabe Gordon's fourth Sourfest, held every other year at both the Seal Beach and Long Beach outposts of Beachwood BBQ. The acid trip kicks off on Tuesday and runs through Sunday and a free shuttle runs between the two restaurants from Friday through Sunday.
Sour beer isn't a single style, it's a whole category of beer. There are sweet-tart Flanders ales, face-contorting American wild ales, brisk Berliner Weisse and Gose from Germany, and the delicate geuze from Belgium, and they're nearly all sour because of the lactic acid present in the beer.
Each night a different brewery's sour offerings are spotlighted, beginning with a local brewers night in Seal Beach on Tuesday. The best sour beer producers from Los Angeles and Orange counties will be represented, including the Bruery Terreux, Highland Park, Kinetic, Monkish, Noble Ale Works, Phantom Carriage, Smog City and Craftsman Brewing.
Check out our Los Angeles craft beer guide
"When we first started sourfest in 2009," Gordon says, "there weren't many local breweries making sour beer. It was pretty much the Bruery and that's it. It is pretty rad to have so many good local breweries now producing good sour beer."
Gordon says his customers are more aware of sour beer today than they were even just two years ago, but that they don't always understand where these beers come from.
Exploring these assertive styles can seem daunting when you don't know your lambic from your Berliner Weisse, but Gordon says the best way for sour beer neophytes to dive into the wild side is to start with something that's a little familiar: "Fruited beers are an easy way to go because even if the acidity and the funk are offputting you can look past it to the familiar fruit flavors."
Check out the Sourfest poster for more details on the Special Brewers Nights and for a glimpse at some of the breweries that will be tapped during the week.
Saturday in Seal Beach will showcase the portfolio of the Sheldon Bros. importers — these are the guys that bring so many of Belgium's best beers into the country — so you know there will be some amazing beers available.
Beachwood BBQ, 131 Main St., Seal Beach, (562) 493-4500; Beachwood BBQ & Brewing, 210 E 3rd St., Long Beach, (562) 436-4020, beachwoodbbq.com.
ALSO:
Why we love Alma, maybe even a little too much
10 things you need to know about the new Clifton's cafeteria
Here's evidence that more of you are reaching for that second bottle of wine, thanks to Uber
---