Mix it up! Why commit to a single 12-pack of beer?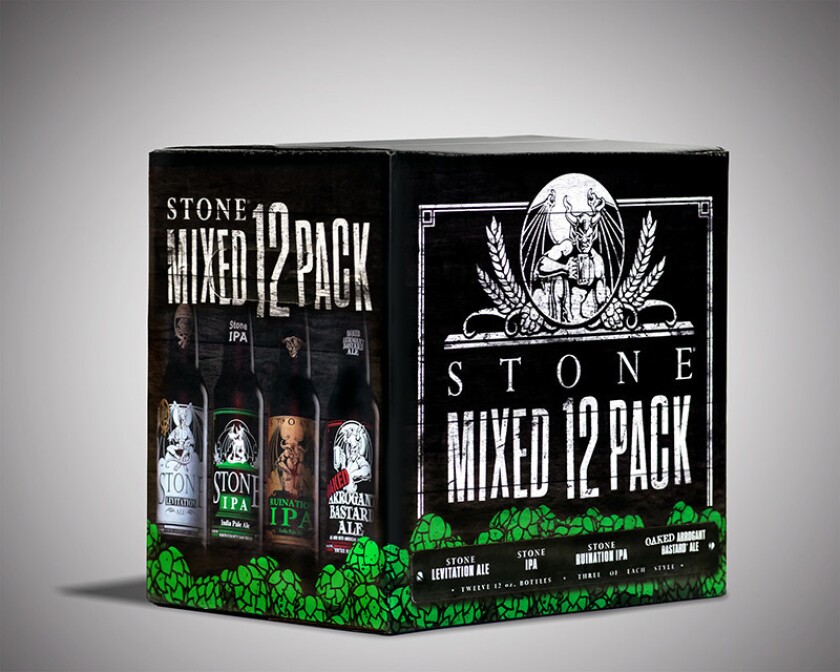 Whether you're new to craft beer, or you just can't decide what 12-pack you want to commit to, these mixed boxes from craft breweries offer a variety of styles and flavors to choose from. They are a great way to explore the different flavors that craft brews offer, and are perfect when entertaining or when dropping by a friend's place.
These should be widely available wherever craft beers are sold, including BevMo and Total Wine.
Hangar 24 - Mixed Crate
This 12-pack from the Redland's brewery includes three beers, and each one makes an excellent introduction to the flavors available in craft beer. The flagship Orange Wheat is a local craft, and an even more approachable alternative to the popular Blue Moon Belgian wit (brewed by Coors). Amarillo Pale Ale brings a distinctly fruity and pungent hop kick to the sampler, while the traditional Alt-Bier strikes an impressive balance between toasty malt flavors and hop bitterness. This is the box to grab if you or friends aren't into the craft scene.
New Belgium Brewing - Folly Pack
The old guard among mixed 12-packs, the Folly Pack from Colorado's biggest brewery gets updated often and always offers a wide selection of favorites from New Belgium. The fall 2013 edition contains five different beers: two bottles each of classics like Fat Tire, Ranger IPA and 1554 black lager, as well as two bottles of the new Rampant Imperial IPA, and four bottles of a "Revival Beer" from back in 2008 called Giddy Up -- a deep amber ale infused with lemon peel and espresso. There is something for every palate in the Folly Pack.
Stone Brewing Co. - Mixed 12 Pack
Fan favorite craft brewery Stone has introduced a 12-bottle variety pack this month that is heavy with hops. IPA lovers will surely get their fill with three bottles each of Stone IPA, Ruination double IPA, and the brewery's deceptively light Levitation amber ale. Three bottles of the Oaked Arrogant Bastard round out the 12-pack and provide an interesting variant on the brewery's flagship Arrogant Bastard strong ale.
Firestone Walker - Brewery Select Pack
The medal-laden Central Coast brewery (recently named Mid-Sized Brewery of the Year at the Great American Beer Festival) has introduced a new mixed 12-pack of their beers, and it means that Angelenos will finally have easier access to the Santa Barbara favorite 805 Blonde Ale -- a beer that has traditionally been distributed only within its namesake area code. In addition to the crisp and drinkable blonde ale, there are three bottles each of the light, hoppy Pale 31 pale ale, the intense Union Jack IPA, and the brewery's flagship English-style pale ale DBA. Bring one of these boxes to a party and you're sure to make many new friends.
ALSO:
Four great Chinese vegetarian restaurants
New Long Beach steakhouse to offer Chianina beef
Ron Burgundy's Scotchy Scotch Scotch ice cream arrives
---
Get our weekly Tasting Notes newsletter for reviews, news and more.
You may occasionally receive promotional content from the Los Angeles Times.