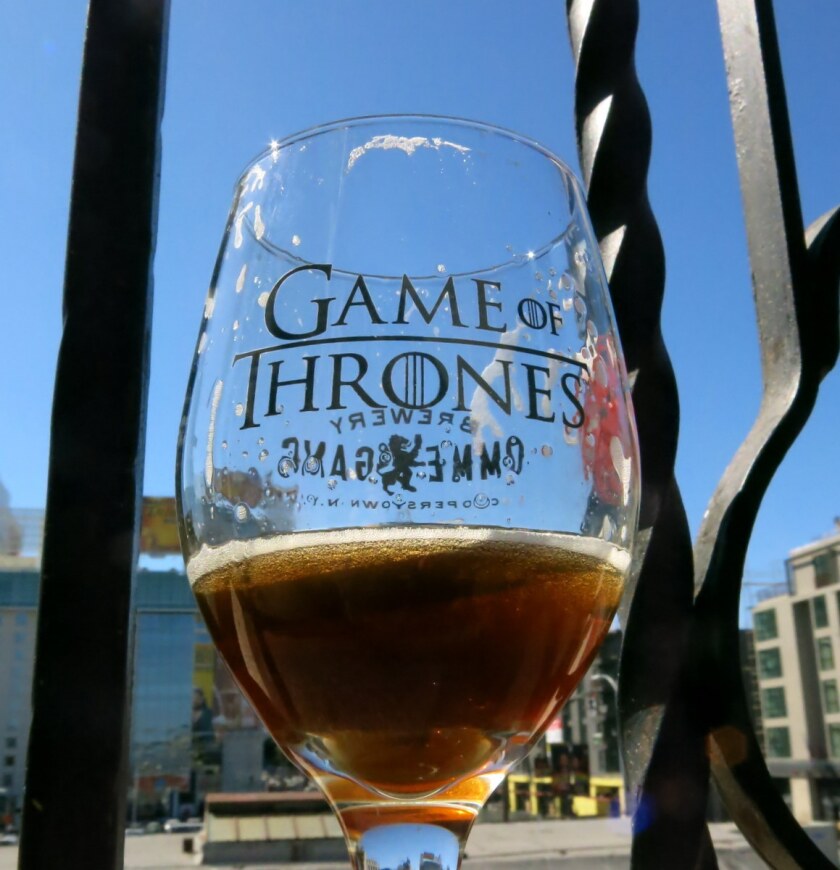 In advance of the hit HBO series' Season Four premiere, Fire and Blood Red Ale -- the next special release in Brewery Ommegang's series of "Game of Thrones" beers -- is hitting shelves and taps this week.
The new addition to the popular line of tie-in beers was officially launched in Los Angeles on Sunday with a packed event at Hollywood's Blue Palms Brewhouse. Costumed fans turned up in droves to the sold-out party for a glass of the new beer, a comically large turkey leg, and the chance to be photographed sitting on the show's titular throne.
Brewery Ommegang, in Cooperstown, N.Y., is known for its wide variety of ales brewed in the Belgian tradition, and Fire and Blood is a Belgian-style red ale brewed with a variety of grains and a dose of de-seeded ancho chilies.
The first in Ommegang's series of "Game of Thrones" tie-in beers, The Iron Throne, was a somewhat pedestrian blonde ale that sold out quicker than anyone expected. Twice as much Take the Black Stout was brewed last year, and the anise-flavored stout proved that Ommegang was serious about crafting interesting brews for their partnership with HBO.
Fire and Blood Red Ale saw another increase in production, and the brew's unusual ingredients tie into the characters and setting of the show. The use of non-standard brewing grains (rye, spelt) used in the beer reference the nomadic grassland tribe now being led by the show's central character, while the ancho chiles recall the three dragons that are quickly becoming an unstoppable force on the show. The three different bottles each feature one of Dany's dragons.
The beer bottles look great, the tap handles are even cooler, and the beer will undoubtedly be another hit with fans who can't get enough of anything "Game of Thrones"-related, but the best part about Fire and Blood is it's easily the most interesting, drinkable beer in the series.
The chilies are not, as you might fear, overpowering; their impact is subtle, and they provide a deep, fruity character to the complex beer without adding much spice. Just a slight hint of burn lingers on the throat as the rye drys-out the finish to prompt another sip.
Brewery Ommegang is aggressively promoting the new beer across Los Angeles with special events throughout April. Plan Check on Fairfax led the pack with a pint night March 31 that will continue through a grand premier party April 6; City Tavern taps the beer Tuesday night; Beer Belly, Franklin & Co, and Smith House Wednesday night; Surly Goat and Select Beer Store Thursday night; Sunset Beer Co. will feature it Friday night.
ALSO:
Take a peek inside the Beard House kitchen
Olio Pizzeria opens at the Grand Central Market
Two great restaurants are changing continents -- temporarily
---