This new company is on a mission to help you grow better fruit in your backyard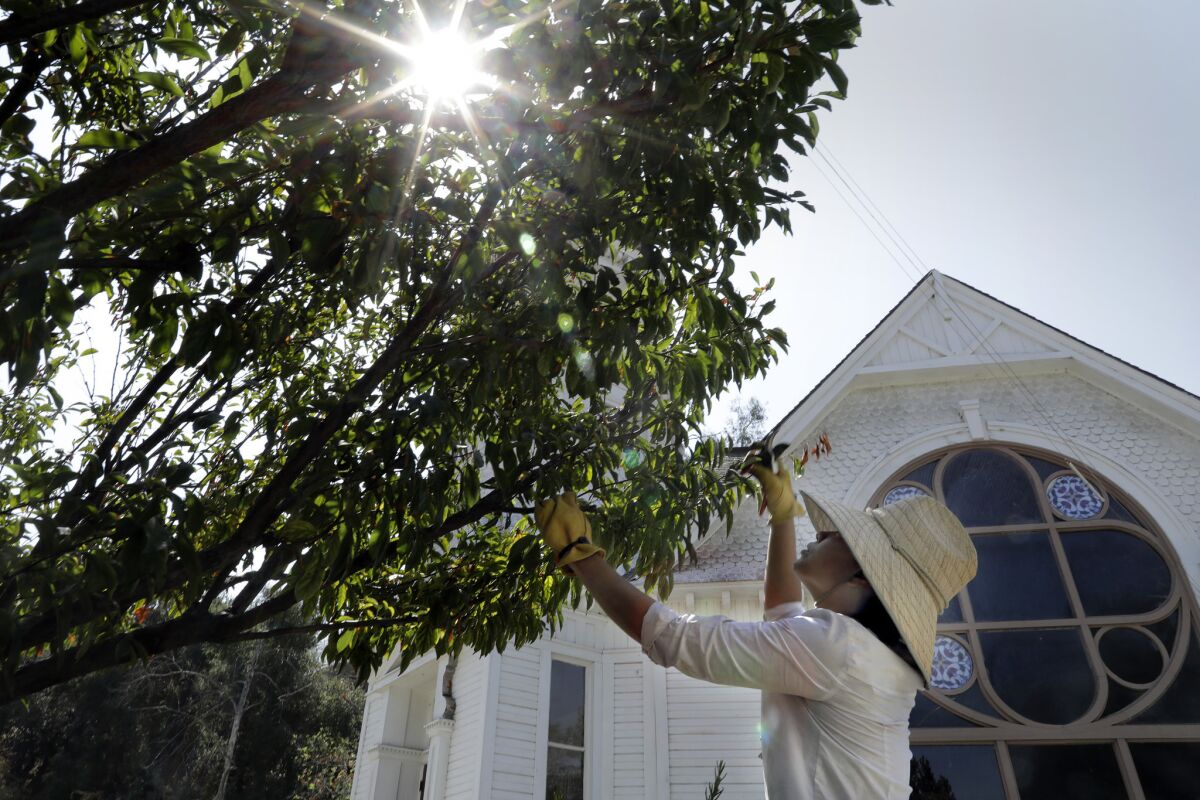 On a sticky July evening at Fig Earth Supply, a nursery and gardening center in Mount Washington, a huddle of artists sipped cocktails made with turmeric and CBD, while a 9-year old dressed as a gypsy dolled out "fruit readings" to arriving guests. "You're an avocado," she said while holding one woman's palm. "Everybody loves you."
It was the official launch party for Fruitstitute, a four-month-old start-up dedicated to solving a common L.A. problem: how to care for your backyard fruit trees. The business model is part educational resource and part tree service, with the lofty goal of making every Angeleno fruit-tree literate.
As the party filled with clients, friends and colleagues, founder Joanna Glovinsky stood up to address the crowd. "You have all accepted inferior fruit," she said into the microphone. "Most of us don't connect that healthier trees produce tastier fruit, and my goal is to turn all Angelenos into fruit snobs."
In high heels, Glovinsky barely crests 5 feet 4, and despite her sturdy arms and confident frame, she is not the usual portrait of a tree service professional. She likes to say she was born to prune, but the real story is more circuitous and includes a stint in Guatemala, a graduate degree from USC in communications and a three-year gig working with L.A.'s famed gangster gardener Ron Finley, who launched an urban gardening revolution when he planted a guerrilla garden in his South L.A. parkway in 2011. Next came an apprenticeship at the Huntington Ranch, a 15-acre teaching garden in San Marino, where she developed a passion for fruit trees, and a job she describes as "fruit tree hustling" for the artist collective Fallen Fruit.
At the time, Fallen Fruit was planting a public orchard in Los Angeles State Historic Park in Chinatown, once the site of the Southern California rail depot that exported oranges to the rest of the country in Calfornia's second "gold rush," and now home to one of the most multicultural neighborhoods in Los Angeles. Glovinsky's task was going door-to-door asking the neighbors if they would be interested in caring for the trees.
My goal is to turn all Angelenos into fruit snobs.

— Joanna Glovinsky
"But won't people eat the fruit?" they would ask. "Exactly!" Glovinsky told them, "that's the point." It was then, watching Korean, Chinese and Latino neighbors mobilize around the fruit orchard, that she began to see fruit as a universal language.
All the while, she sought mentors in the community gardens of Los Angeles, learning avocado techniques from a Mexican gardener in Solano Canyon and tips for pruning plums from her Filipino neighbors in El Monte, but mostly, she found a blank space." There are people in Los Angeles who have lemon trees and buy lemons in the grocery store," she says. "When we started buying fruit in grocery stores, most of the fruit tree knowledge moved to the commercial orchard industry," leaving little for backyard growers.
The lack of local resources became even more apparent when Glovinsky advertised her fruit tree education and pruning services on the neighborhood social media platform Nextdoor last October. Within a few hours of her first post she had three clients; by the end of the week, she had five; and by Christmas, she was booked solid. It was clear that Angelenos wanted to take care of their lemons, loquats and lychees -- they just didn't know how.
Enter Fruitstitute, which quietly launched backyard fruit tree consultations, personalized education sessions and pruning services in April. For now, those visits, which run $125 for a first time consultation, remain the cornerstone of Fruitstitute's business, but Glovinsky has lofty ambitions, including a line of Chic Mulch, a boutique sheet mulch made specifically for fruit trees, and Fruitstitute's Beyond Fruit series, which demystifies all the lotions, soaps and teas you can make with fruit by-products.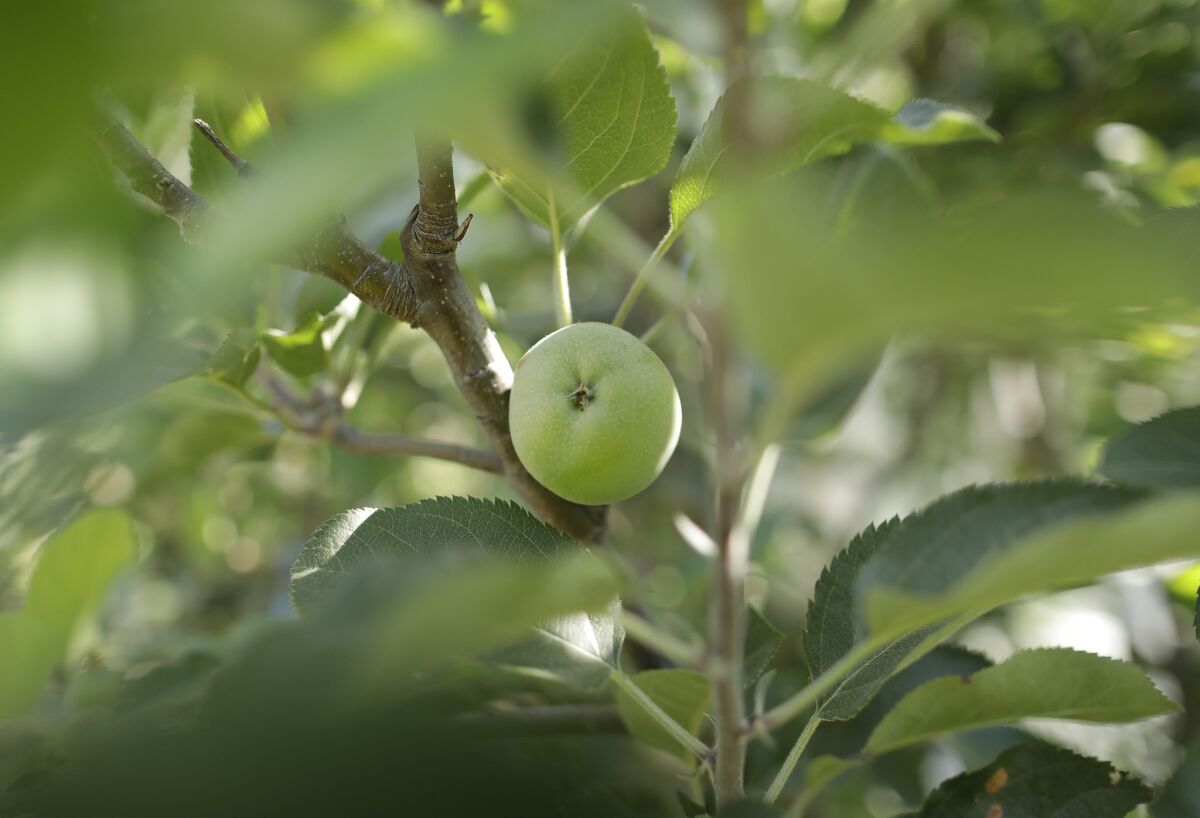 In the fall, Glovinsky will launch her pet project, Fruitstitution, a free, online repository of fruit tree knowledge tailored to Southern California backyard growers. The comprehensive library will include a how-to guide for choosing, planting and caring for trees, as well as an index detailing all the fruit trees that thrive in L.A.'s temperate climate and literature devoted to the cultural significance of fruit in the region.
And she hired a small team of artists-turned-fruit-tree specialists, who bring their creative sensibility and personal style to an industry once dominated by men in work wear.
"I like to say we're throwing glitter into the tree service industry," she says of her team. "We're bringing different faces, different bodies and a completely different approach to make fruit tree care hip.
"Trees are so important," she adds. "They are the keystone of any ecosystem, so I think it's important for little kids to be able to say 'I want to be an arborist when I grow up.'"
For now, most of Fruitstitute's clients are what Glovinky calls "low hanging fruit," people such as Leigh Adams, an interpretive horticulturalist for the L.A. Arboretum who sought out Glovinsky's specialized skills. "Joanna is all about education," says Adams. "I wouldn't ask anyone else to prune my trees."
In a city where oranges grow in alleyways and figs sprout from cracks in a parking lot, it's surprising that Los Angeles isn't already teeming with specialists, but Fruitstitute enters the marketplace with few competitors other than the amateur orchardists who prune their friends' and neighbors' backyard trees.
The biggest challenge is convincing Angelenos that have lemon trees but still buy lemons at the store. The first step, Glovinsky says, is to make people "see the fruit."
---
Get our L.A. Goes Out newsletter, with the week's best events, to help you explore and experience our city.
You may occasionally receive promotional content from the Los Angeles Times.