Why you should be eating molokhia and how to make this delicious superfood soup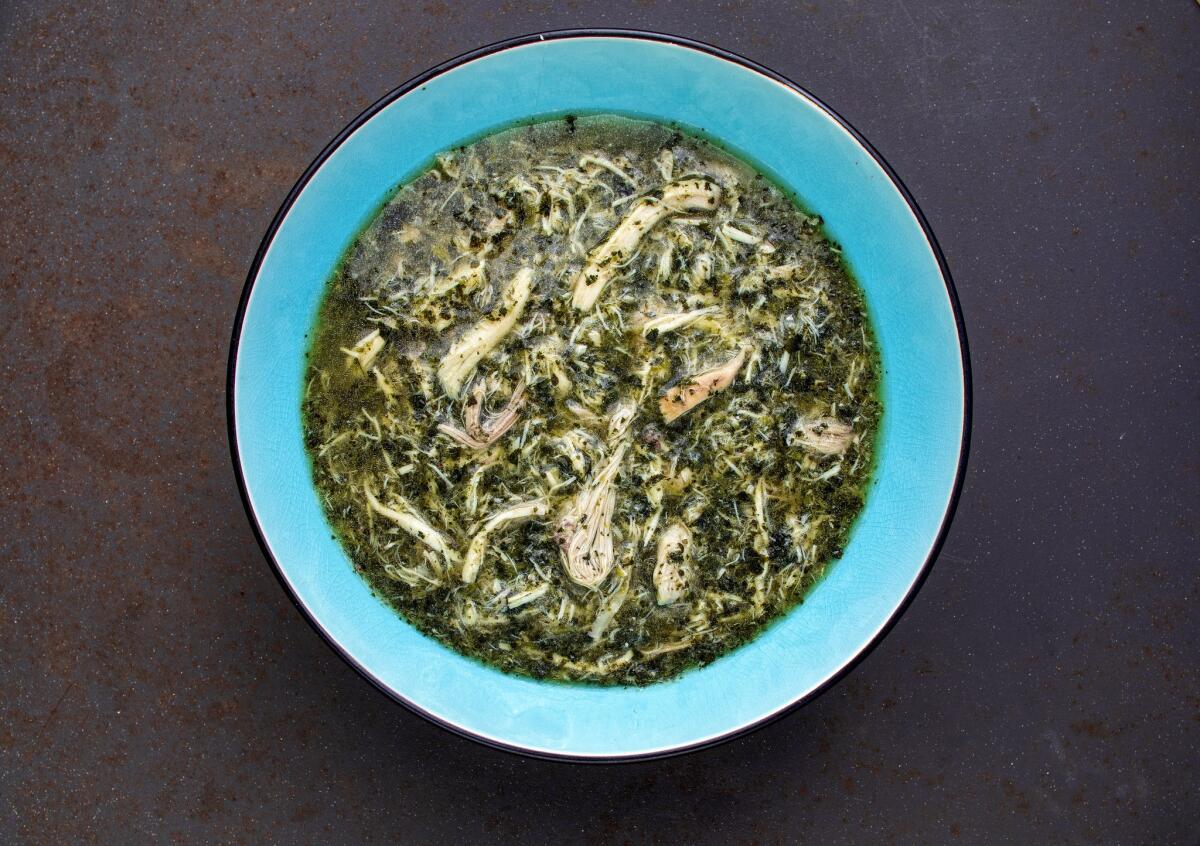 The ubiquity of molokhia — an irresistible dish of braised greens served over rice that hails from Egypt and has taken root in the cuisines of Lebanon, Morocco, Syria, Israel and across North Africa — would seem to indicate that it'd be easy to find on menus around town. Such is not the case, largely because, through its cultural dispersion, its name has taken on so many forms — mloukhiya, molohiya, mulukhiyya mulukhiyah, and malukhiyah — that I've started keeping count.
The common name for the green that is molokhia is jute leaf, considered a vitamin-rich superfood that's reputed to be a sleep and digestion aid as well as to improve eyesight. (The Druze, a small religious sect found mostly in Syria, Lebanon and Israel, however, believe in a different bodily consequence — they're forbidden to eat molokhia because it is thought to be an aphrodisiac.)
Jute leaf is also known as Egyptian spinach, West African sorrel, okra leaf or (ahem) Jew's mallow. Either because of this or because many Angelenos have never heard of molokhia, it might show up on a menu as "jute leaf stew" or, as the Monday-only special is called at Carnival restaurant in Sherman Oaks, "okra leaf stew."
There, it's a plate of boiled, shredded chicken, Chiclet-sized squares of toasted pita and, on the side, some quick-pickled minced onion and moss-colored molokhia that is as sublimely garlicky as it is cilantro-forward. . When I prodded, Carnival's generally talkative general manager, Nabeel Halaby, about how he makes it, he suddenly grew tight-lipped, offering only that it's cooked from a "very, very old recipe."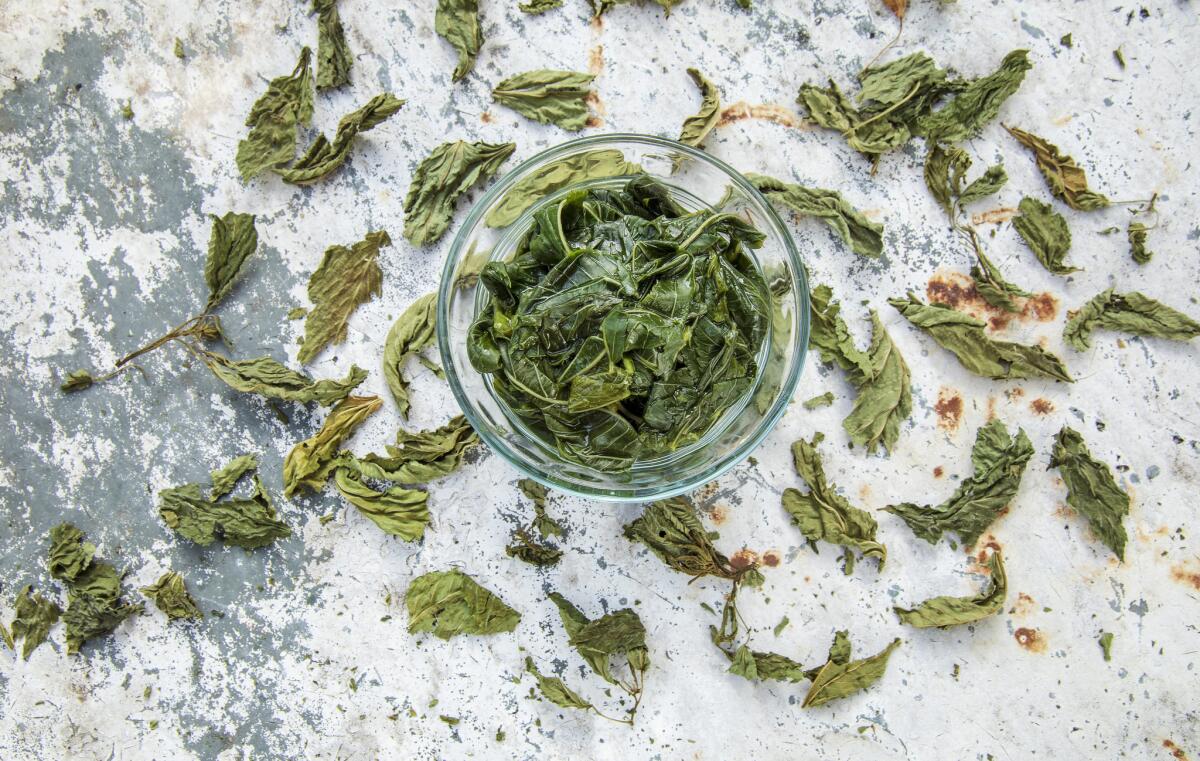 Sometimes, molokhia is meatless, but it usually comes with a protein. At Cairo Café in Anaheim, the brothy molokhia arrives in a cup along with a mound of rice crowned with a crispy piece of chicken. At Sunnin Lebanese Café on Westwood Boulevard, the lamb shank or chicken — you get to choose — is already submerged in a thick, shiny pool of almost liquefied greens, accompanied by a side of rice, a small vessel of finely chopped vinegary onions and some toasted pita. It's classified at Sunnin as a "stew," but, just as often, molokhia ends up in the "soup" section of a menu. Though it's difficult to find fresh jute leaves in Los Angeles, most Middle Eastern markets have a dried version, as well as 15-ounce packets found in the freezer section. Whether dehydrated leaves or the flash-frozen kind makes for a better molokhia is debated. But what most recipes invariably feel the need to address – as an apologetic side tip, or a worthy final piece to the puzzle – is the resolution to a different issue. Jute leaves, when cooked, get slimy, in a manner similar to the way stewed okra does.
Michael Solomonov, chef and co-writer of the book "Israeli Soul" has a stern approach to addressing molokhia's viscosity. "I tell [people], 'Get over it,'" says Solomonov. "Slippery is a good thing. Oysters somehow get a pass. Uni somehow gets a pass. It just is what it is. I was watching my kids eat gummy worms yesterday and I was like, 'If you like gummy worms, slippery and slimy isn't so bad.'"
Some sworn-by techniques to mitigate the texture include soaking leaves in lemon juice, or squeezing the daylights out of wet jute. "Most people are put off by [the texture]," says Reem Kassis, author of the cookbook "The Palestinian Table," whose remedy involves adding a teaspoon of tomato paste. "It's not enough to alter the flavor. It doesn't change the color. But it has some acid in it so it adjusts the pH balance to a point where you don't see much of the mucus."
Kassis can rattle off lots of facts about molokhia — how Palestinians prefer a squeeze of lemon on top, or that in Egypt, rabbit or pigeon is the preferred protein. But she insists there's no definitive way to consume it. Some believe pita croutons go on the bottom, then rice, then molokhia, then meat. Others just dump and stir. "You can go into houses in the same neighborhood and how you eat it varies," says Kassis, who grew up in Jerusalem in a family where molokhia was prepared two ways. Her mother's version was a soup, her father took the whole leaves, lots-of-garlic route, eaten as a stew over rice. How does Kassis, who is now Philadelphia-based, convince novices to give molokhia a try? "I never get into the nitty gritty of how good it is for you," she says. "The best way to sell it is to focus on is just how good it tastes."
Carnival Restaurant, 4356 Woodman Ave., Sherman Oaks, (818) 784-3469, www.carnivalrest.com
Cairo Café, 10832 Katella Ave., Anaheim, (714) 999-8861, cairooc.com
Sunnin Lebanese Café, 1776 Westwood Blvd., Los Angeles, (310) 475-3358, sunnin.com
Get our L.A. Goes Out newsletter, with the week's best events, to help you explore and experience our city.
You may occasionally receive promotional content from the Los Angeles Times.