Why you should be drinking Gamay Noir this summer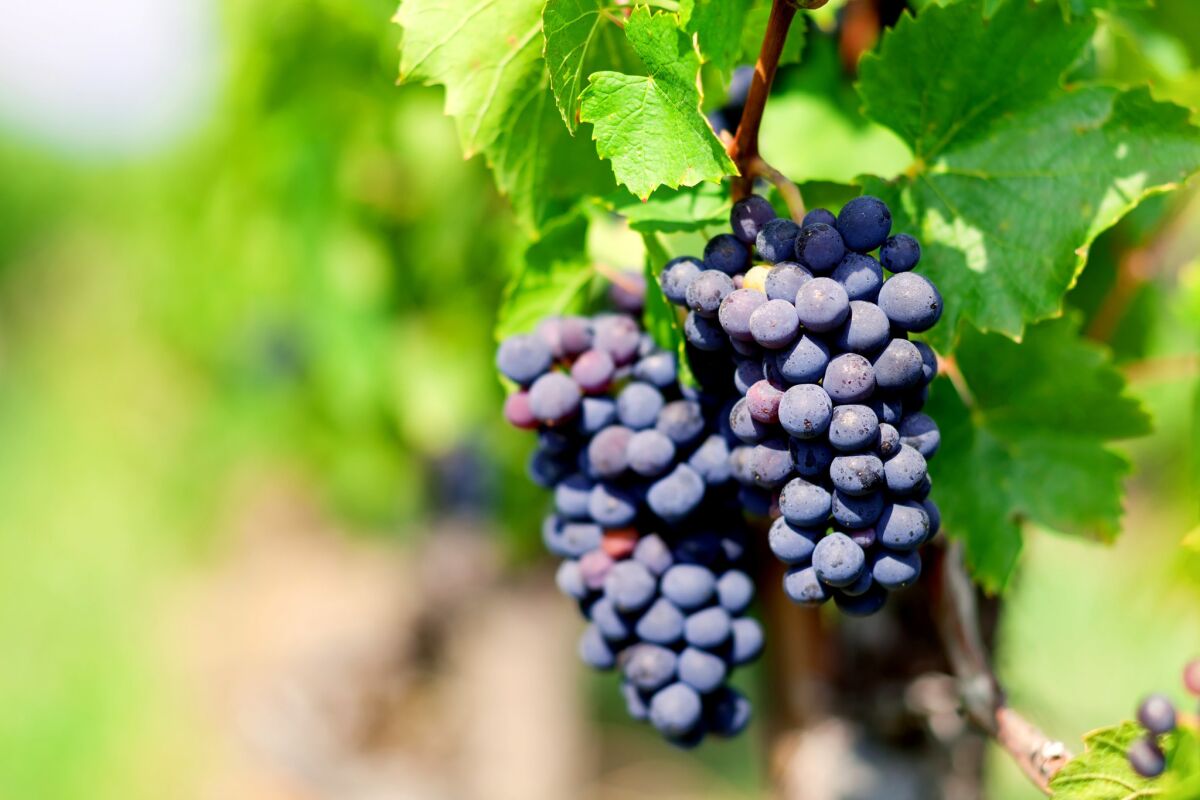 Let's grab a seat in the Wine Wayback Machine and go back to the year 2000. That's when Steve Edmunds of Edmunds St. John Winery in the Bay Area asked Ron Mansfield, a grape grower in the Sierra Foothills, to plant Gamay Noir, the red grape variety of Beaujolais.
At the time the move seemed the epitome of tone-deafness. For red wines this was the era of Go Big or Go Home, the age of wine critic Robert Parker, when power and hedonism was privileged, when wines were described using words like "jammy," "sweet" and "gobs," and were snatched up like Beanie Babies. Parker not only championed these wines, he hectored winemakers like Edmunds who didn't make wines in this, his anointed style. For him and for his readers, it was bombast or bust.
Edmunds, with his quiet, soulful lineup of Rhône-inspired wines, was already bucking the trend. But he went with his hunch that Gamay would do well in the volcanic soils of the foothills. And if anyone could do it, it was Mansfield, whose gifts as a grower of fruit had been revealed to Edmunds in a bag of peaches he'd bought from the man a few years before, specifically when peach juice ran in rivulets down the length of his arm.
"I just had the unshakable sense," Edmunds says, "that if I made something with just a fraction of the pleasure of good Beaujolais, that people were going to buy it."
When Edmunds' Gamay, Bone-Jolly, debuted in 2002, it coincided with a kind of turning point in modern American wine, when consumers began easing away from blunderbuss in their wine glass. Interest in Bone-Jolly was modest at first but steady, and it grew. Sommeliers in particular loved the wine, almost as an antidote to Parker's excesses.
Gamay was soon embraced by those influenced by the In Pursuit of Balance movement that erupted a few years later. Here was an early-ripening, low-alcohol, easy-drinking red variety that took well to a chill and that responded well to a special winemaking technique called carbonic maceration (a fermentation technique in which the fruit is blanketed with CO2 and juice begins fermenting inside the berry), which brought fruit expression dramatically to the foreground.
Winemakers such as Ehren Jordan of Failla, Pax Mahle of Pax, Rajat Parr and Sashi Moorman of Evening Land, Duncan Arnot-Meyers and Nathan Lee Roberts of Arnot-Roberts, Mike Roth of Lo-Fi, and Scott Schultz of Jolie-Laide all jumped in to try their hand at Gamay. Acreage crept up from almost nothing.
In Oregon, Gamay had been planted as part of the second wave of winegrowers who established themselves in the early '90s across the Willamette Valley, including Brick House, Amity, WillaKenzie and Chehalem. Their persistence has led to a modest Gamay renaissance in Oregon at present, culminating last May with the first "I Love Gamay" festival in Portland, where two dozen domestic producers, including Californians Failla, Pax and Edmunds St. John, joined Oregon producers such as Evening Land, Omero, Bow & Arrow, Minimus, and James Rahn — along with a slew of producers from Beaujolais as well.
It was a good place to compare wines from both countries. Both possessed bright red fruit flavors — strawberries, red raspberries, Montmorency cherries — light, forward, juicy and translucent, with textures that emphasize immediacy over complexity. Gamay Noir has only a modest tannic payload; its featherweighted finish makes the front end that much more of a headlong rush of movement, broad and forward-leaning, a starburst of flavor.
Often in Cru-Beaujolais a skein of minerality cinches the back end; in American versions, the finish is shored up partly by means of acidity, partly through the use of whole clusters in the must, which lend a little tannin and a lot of tealike spice. In their vibrancy and effortless charm, few American red wines compare. So serve lightly chilled and glug away: These can and should anchor your summer arsenal.
The following are found in small quantities wherever interesting Pinot Noir is sold, including the Wine House, West Los Angeles, the Wine Country in Signal Hill, Lincoln Fine Wines in Venice, K&L Wine Shop in Hollywood, Lou Wine Shop in Los Feliz, DomaineLA in West Hollywood, and Silver Lake and Everson Royce wines.
California
2017 Edmunds St. John El Dorado County Bone-Jolly: A pure shot of crushed berry aromas, with darker flavors on the palate more toward red plum. Generous, mouthwatering, about $22.
2017 Lo-Fi Santa Barbara County: Bright red berry scents, laced with black tea, with a jubilant core of cherry fruit, crisp, succulent, mouth-filling, about $22.
2017 Arnot-Roberts El Dorado County: Spiced raspberry and fresh cut herb scents. It's light, peppery, gulpable, with a pastille sweetness and a pinch of tannin, about $32.
2017 Jolie-Laide El Dorado County Barsotti Vineyards: Brisk, luminous red berry with a tea-like spice. The flavors are tart but totally fresh, focused, mouth-filling, about $35.
Oregon
These are darker, deeper, and more extracted than the California wines, mostly owing to a cooler climate and a longer growing season.
2016 Bow & Arrow Willamette Valley: Crushed leaves and crushed berries, a blue, mulberry depth of flavor, but also super smoky, woodsy, tart, about $22.
2016 Brick House Ribbon Ridge Estate: Perhaps the most Pinot-like of all the wines here — elegant, poised, with a dark red cherry scent, and flavors that are juicy and ripe within a modest oak frame, about $28.
2016 Evening Land Eola Amity Hills: Herbal scents with thyme, anise, wood smoke, overlaying red cherry. Firm, tangy, mouthwatering, a crunchy bouquet of dark herbs on the finish, about $35.
---
Get our L.A. Goes Out newsletter, with the week's best events, to help you explore and experience our city.
You may occasionally receive promotional content from the Los Angeles Times.