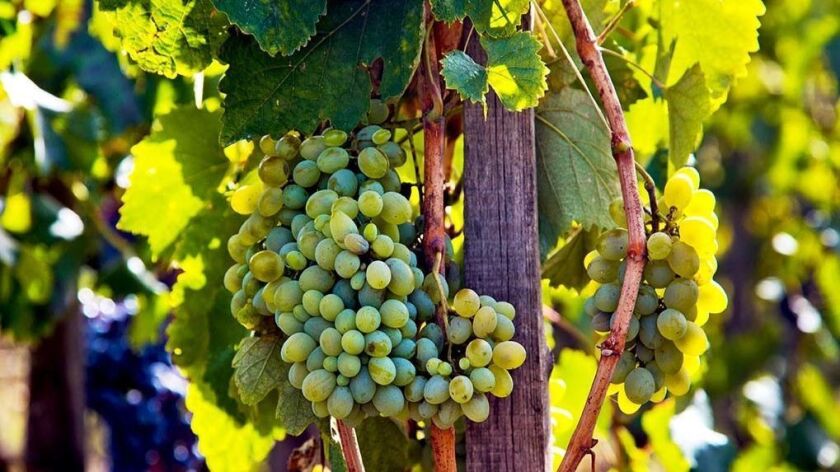 It's a basic truth that vibrant white wines often come from cool places — crisp Sancerres and pristine Chablis from France, bracing Pinot Grigios from Italy's Aldo Adige, limpid Rieslings from Germany, and tactile, gulpable Gruners from Austria all attest to this.
But cool wines come from hot places, too, whether it's the sun-drenched islands in Greece and the Canaries, the coast of Amalfi or the slopes of Etna in Sicily; even the sweltering inland subregions of Spain and California can boast a few.
We're talking mostly about places famous for their Mediterranean heat register, a blinding intensity of the sort that bears down on you "like a hand swollen with fever," as Elena Ferrante describes a summer's day in the first of her Neapolitan novels.
One can imagine, for places in desperate need of refreshment, a kind of natural selection for indigenous varieties, prized not just for their hardiness but for their restorative powers. The common thread in these wines is a fierceness of expression, borne of torrid climates, stark terrain, unrelenting sun. Flavors are magnified, the textures are gripping, marked by acidity and minerality, a sense that the sun's energy finds its way into the bottle.
Here then are three categories of hot spot — coastal, island and inland — all renowned for the sort of summers that require a thirst-quenching, vinous antidote.
Coastal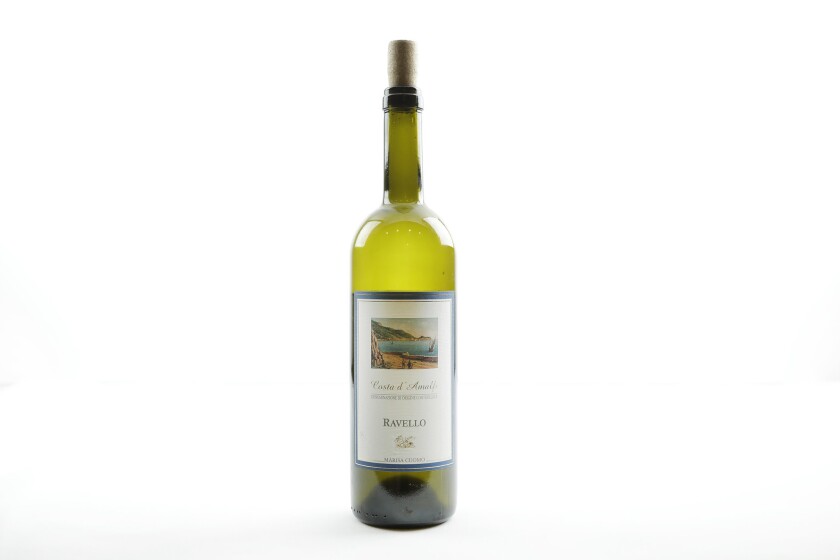 In Campania, the shin of the Italian boot, ranging from Naples to the Amalfi Coast, three main white varieties thrive: Fiano, Greco and Falanghina. All are employed in blends, but Fiano and Falanghina are especially well suited to thirst-quenching. Both present a kind of "false" richness, an ample initial attack that gets undercut immediately by a rippling acid structure, with the Fiano possessing a bit more grip, while the Falanghina is more broad and tropical, limned by a salty tang.
Sicily also boasts several white varieties that don't wither in the heat, including Grillo, Insolia and Catarratto. But none seems better equipped to manage summer's onslaught than Carricante, grown mostly on the eastern slopes of Mt. Etna, facing the sea, where the soils are studded with obsidian. The wines from these high-elevation vineyards are spectacular, flavorful wines redolent of sun-warmed lemons and orange zest, and such a mouth-grabbing texture one expects to see a slurry cloud of minerals in the glass.
Three to try:
Marisa Cuomo Ravello Bianco (a Falanghina blend), at Eataly, Woodland Hills Wine Co., and Hi-Time Wine Cellars, $20; Terre Nere Etna Bianco, $24, and Federico Curtaz 'Gamma' Etna Bianco, $46, are at Wine House and elsewhere.
Islands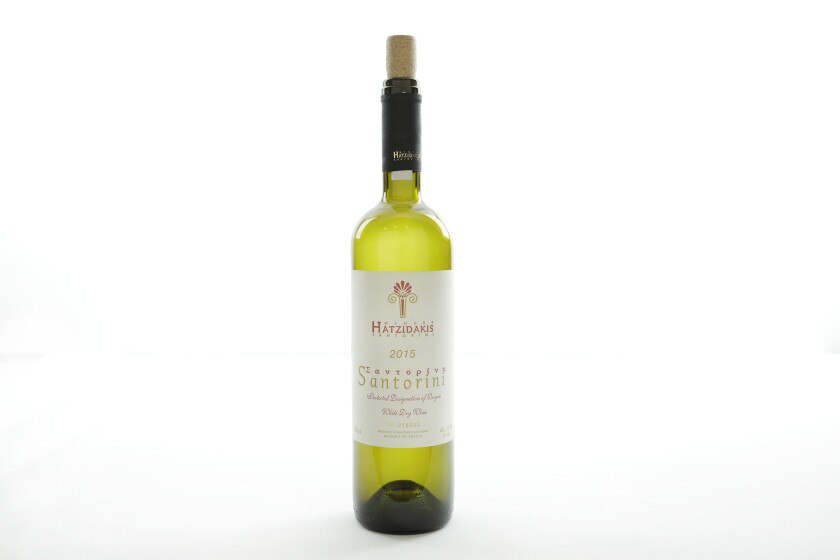 It's hard to envision a hotter looking place for grapes than the Canary Islands, a Spanish autonomous community lying west of the African continent. Dominated by volcanic remnants, its vineyards are set on barren and windswept slopes, composed of dark, ashy volcanic soils. The vines here are set low to the ground, so exposed and forlorn that vignerons build small hemispherical windscreens from rock for each vine, for an almost unearthly effect, and yielding fruit that seems brimming with mineral heft.
3,000 miles northeast of Lanzarote lies Santorini, in the Greek Cyclades. The vineyards here are equally barren and exposed, with vines famously trained in twisted spirals known as a gyristi, close to the ground, the canes braided to form a cradle, which protects the fruit from sun and wind.
Within this peculiar construction Assyrtiko, the island's most famous variety, thrives. The stark landscape, intense sun and dry heat result in an austere and fiercely mineral wine, whose textural thrust seems to be a vinous version of the vines' stark surroundings.
Three to try:
Los Bermejos Lanzarote Malvasia is at Lincoln Fine Wines and Lou Wine Shop, around $20; Hatzidakis Santorini Assyrtiko is around $25 at Stanley's Wet Goods, while Tselepos Santorini Assyrtiko is about $27 at K&L Wines and Hi-Time Wines.
Inland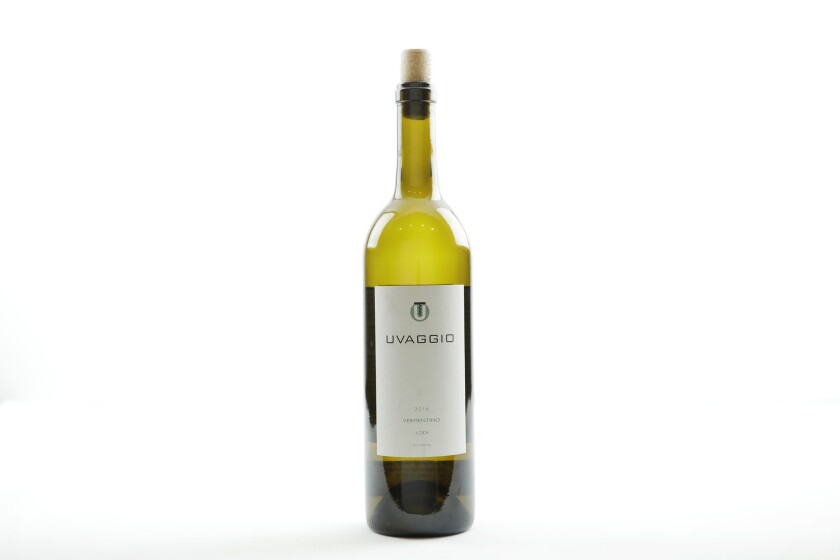 Spain has a deserved reputation for distinguished red wine from some of the warmest wine regions in Europe, as in La Mancha, Ribera del Duero and Toro (with Rioja close behind, in terms of heat units). Perhaps the country's most lip-smacking white is Albarino, which is grown mostly in the maritime region of Rias Baixas, salty, often spectacular wines you shouldn't miss out on. But whites grown in the high chaparral of Inland Spain are compelling in their own right, wines made from Viura, Verdejo, Godello and other lesser-known varieties; and they have the added perk of being quite affordable.
Lastly there's Lodi, an historic California wine region situated on the receiving end of ocean breezes from the San Pablo Bay by way of the San Joaquin Delta. How historic? Italian immigrants put down vine roots well before Prohibition; Robert Mondavi's father Cesare, in fact, planted vines here. Despite a pronounced (if delayed) cooling effect as ocean breezes snake inland, it's hot as blazes in Lodi in summer, hot enough to ripen Zinfandel and other late-maturing reds like Petite Sirah, Touriga Nacional and Mataro.
And there are also white varieties — Verdejo, Vermentino, Picpoul, Grenache Blanc and Albarino — which can produce springy flavors and crisp acidity. While these wines can't boast the mineral ferocity of their European counterparts, they'll quench your thirst for an average 100-degree day on the Delta.
Three to try:
Azul Y Garanza Navarra Viura, about $13 for a liter at Flask Fine Wine, Wine House, K&L Wines and elsewhere. Uvaggio Lodi Vermentino is at Flask and Rosso Wine Shop, about $22; Bokisch Terra Alta Vineyard Lodi Albarino, about $18 at Wine Country.
---