Tomatillos are in season. We have recipes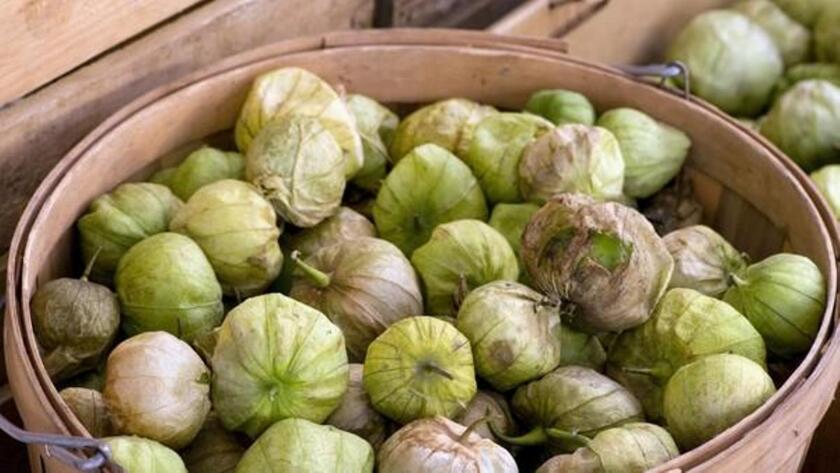 What's in season: Peel back their paper-like husks, and tomatillos look almost like a vibrant green tomato. A cousin of the tomato and the Cape gooseberry, tomatillos are known by a variety of names, including husk tomatoes, jam berries and Mexican green tomatoes. Underneath the outer skin, the interior is firm and slightly sticky, with a scent reminiscent of freshly picked herbs. Tomatillos can be found much of the year, but their main season generally ranges from early summer through fall. Allowed to mature, the vivid green shade of each fruit might shift to yellow, red and even purple.
Salsa, pozole, tacos and more: 12 recipes for tomatillos >>
What to cook: In Spanish, tomatillo means "little tomato." The fruit has a sweet-tart flavor, with a gentle but assertive acidity similar to plum, apple and citrus. Cooking sweetens the flavor of the fruit, softening its acidity, and tomatillos lend themselves to a variety of cooking methods. Roast or sauté the fruit, serving it diced or puréed as a sauce alongside pork, chicken, fish or pasta. Grill tomatillo wedges and serve with grilled shrimp and tortillas, or use the colorful fruit in vibrant salsas, green enchiladas or as part of a rich batch of chile verde.
What's on the horizon: Acorn, kabocha and other winter squash, normally in season from early fall through the cold winter months, are just beginning to show up.
ALSO:
Recipes ready in 30 minutes or less
Culinary SOS: Recipes from your favorite restaurants
Browse our Recipe Database for thousands of our best recipes
---
Get our new Cooking newsletter.
You may occasionally receive promotional content from the Los Angeles Times.