Review: Jonathan Gold: Gwen, a manly restaurant and butcher shop, simply screams 'steak'
The Asador at Gwen in Hollywood.
(Gary Coronado / Los Angeles Times)
Passion fruit glacé, cocoa nib tuile, brown butter cashew cake, passion banana foam and passion mango sorbet at Gwen restaurant.
(Gary Coronado / Los Angeles Times)
Copa, duck speck, sherry and apricot salami, leek ash and porcini salami, 'nduja and pretzel bread served at Gwen restaurant.
(Gary Coronado / Los Angeles Times)
Cured salmon, shiso, grapefruit and wasabi at Gwen.
(Gary Coronado / Los Angeles Times)
Gwen restaurant and butcher shop in Los Angeles.
(Gary Coronado / Los Angeles Times)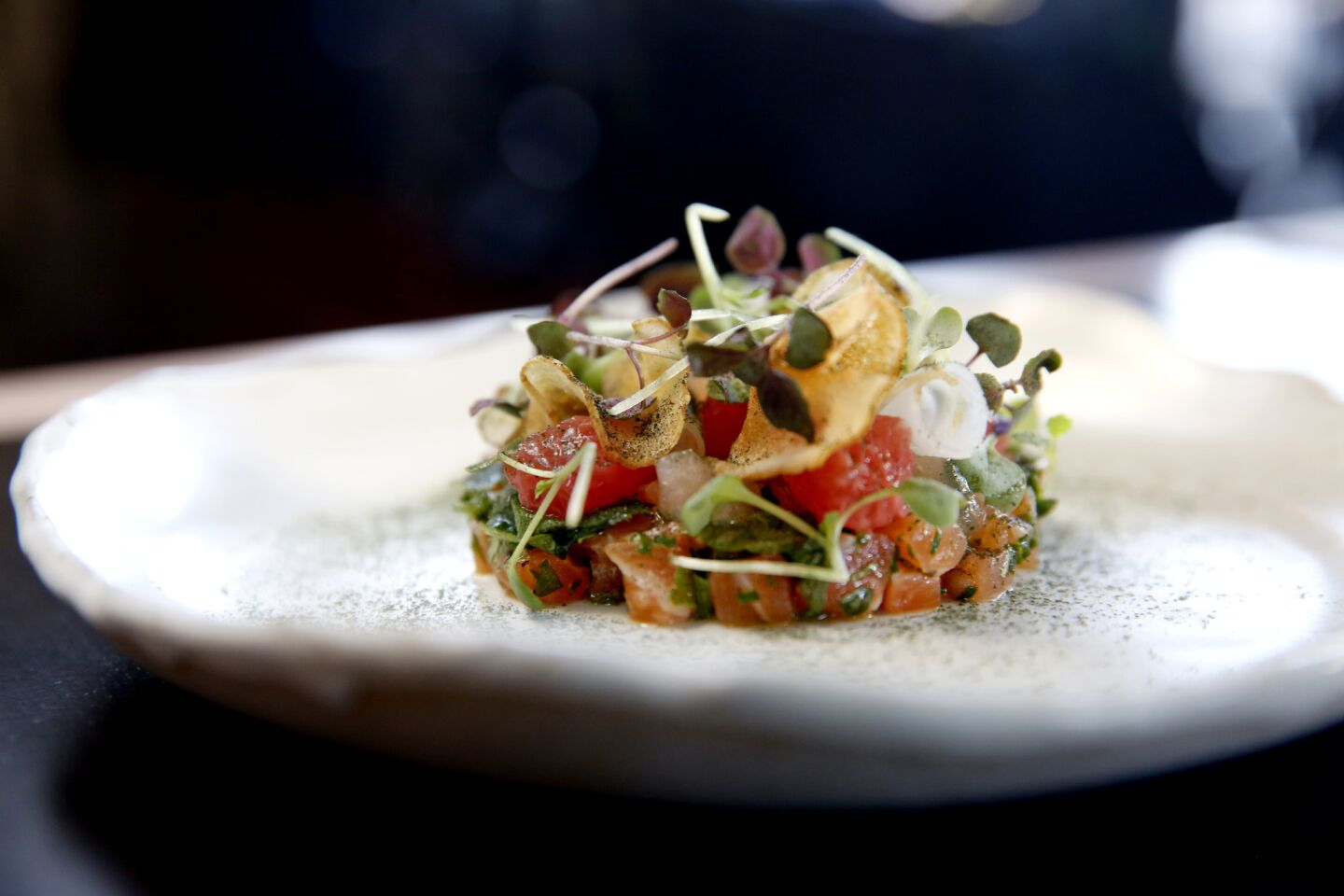 Cured salmon, shiso, grapefruit and wasabi at Gwen.
(Gary Coronado / Los Angeles Times)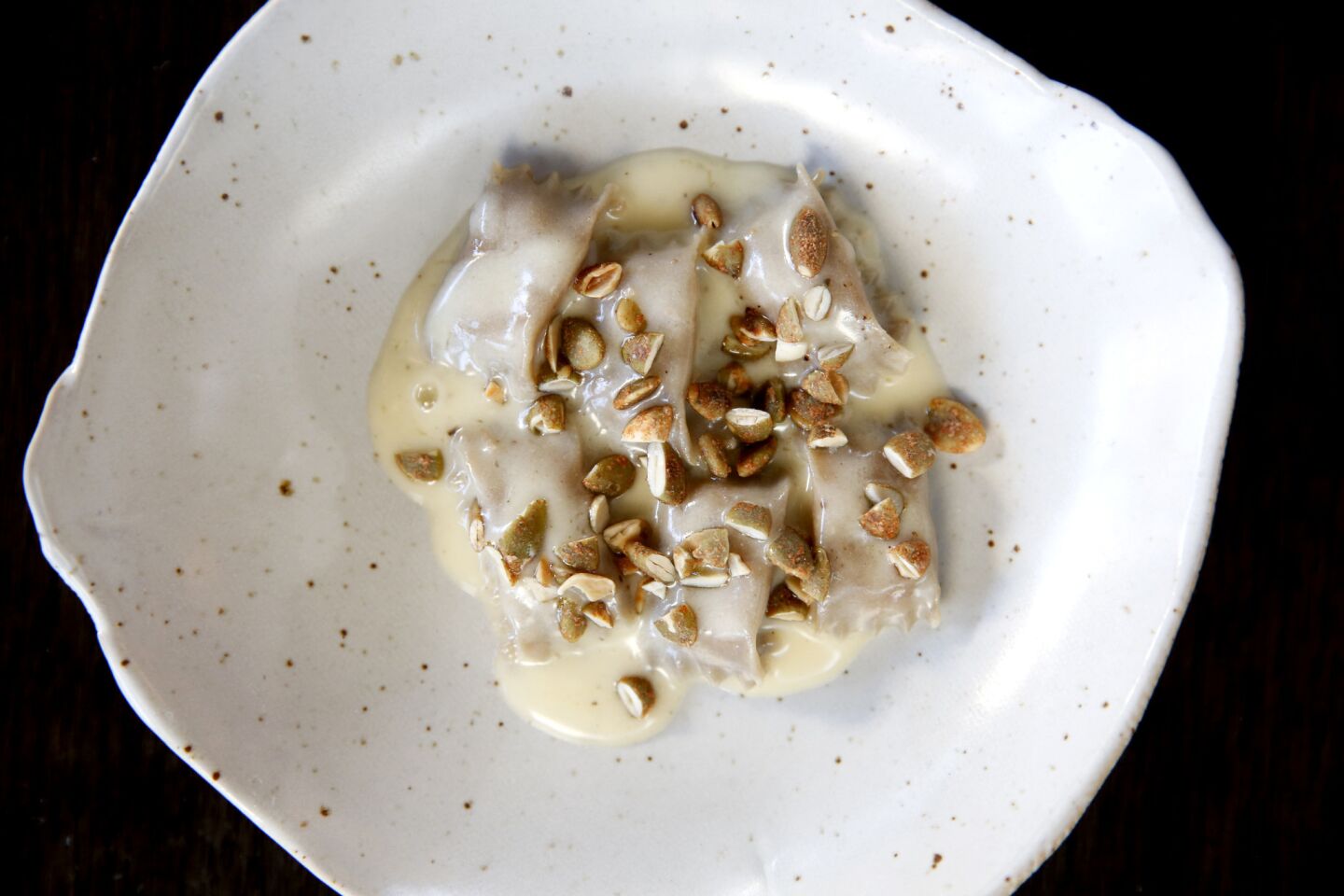 Chestnut agnolotti, squash, pumpkin seeds and brown butter at Gwen.
(Gary Coronado / Los Angeles Times)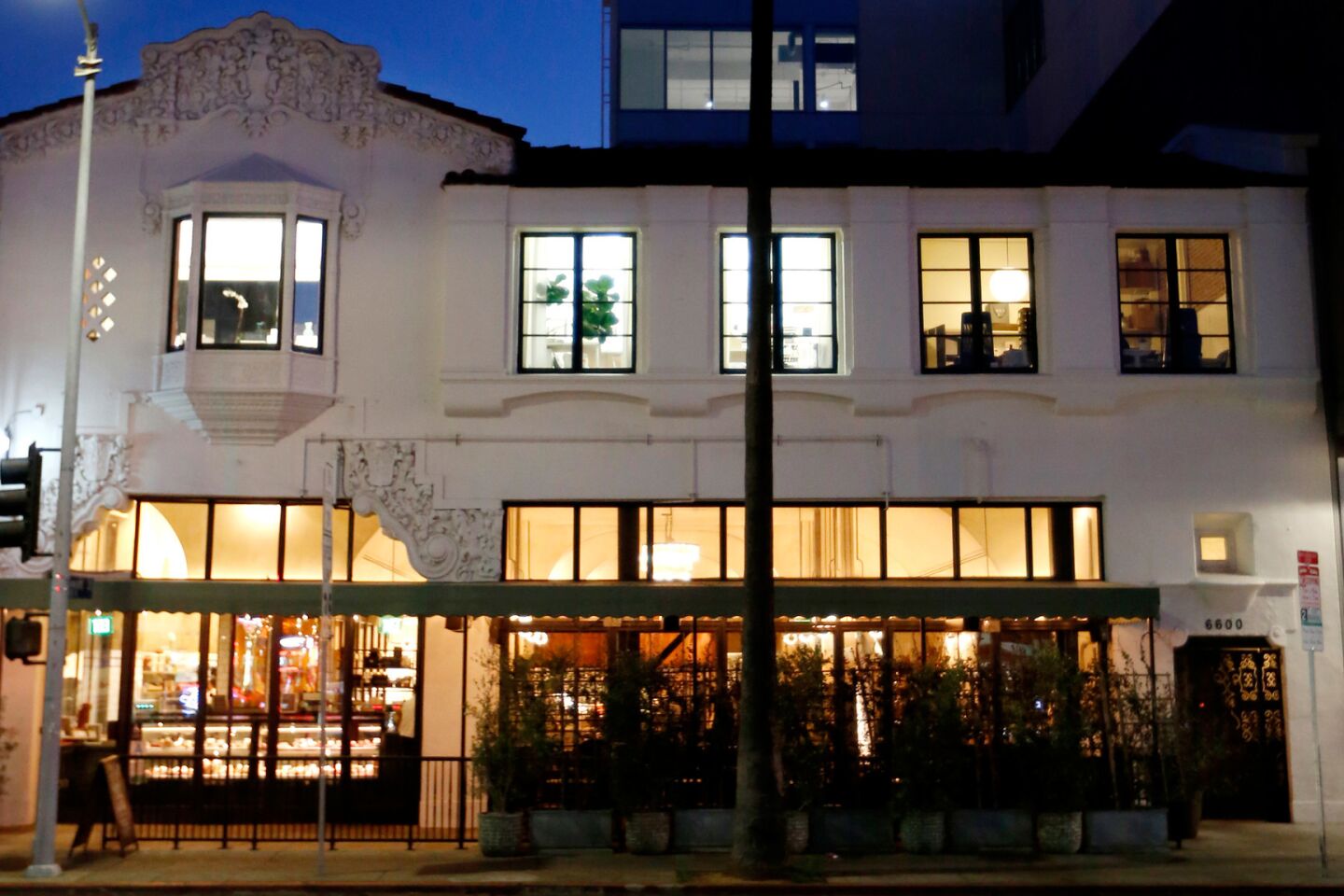 Gwen restaurant and butcher shop in Hollywood.
(Gary Coronado / Los Angeles Times)
On your way into Gwen, the Hollywood restaurant run by Curtis Stone and his brother, Luke, a former florist, you will probably spend a few seconds browsing the retail butcher's counter, a display of Victorian lavishness — fat birds, richly marbled meats and intricate pâtés. I am a fan of McCall's Meat & Fish Co., Belcampo Meat Co. and Alexander's Prime Meats, but there is nothing in Los Angeles quite like the display case at Gwen, stocked with extra-aged steaks as pungent as Stilton and chops from pedigreed pigs, plump sausages and rolled roasts of lamb. Butcher Alex Jermasek is a rock star of meat.
If your tastes run toward shot Scottish game or grouse terrines that sell for $80 a pound, the counter may have that too. The last time I was in, I picked up a beautifully trimmed rack of wild venison — salted, seared and finished for five minutes in a hot oven, it was one of the most profound things I've ever eaten, all the brooding, wintry flavors of the woods concentrated into a few soft mouthfuls of flesh.
The glassed-in counter could double as a museum of steaks: well-marbled tomahawks from Creekstone Farms in Kansas, pastured slabs of impossible-to-find rib-eye cap from Napa's renowned Five Dot Ranch and, most significantly, the spectacular, breathtakingly expensive Wagyu from Australia's Blackmore Farms, which the Stone brothers like so much that they set up an import company just so they could get the steaks in Los Angeles. If meat is your thing, you may feel a bit like a street urchin in "A Christmas Carol," nose pressed against the butcher shop glass.
When you tear yourself away to walk to your table, in a grand dining room that somehow looks five times the size that it did when it was the late restaurant Mercantile, you pass a vast, glassed-in meat locker in which hang carcasses, curing sausages and various legs of things. On the far end of the room, pork bellies dangle above a big walk-in fire pit. Cooks toss chunks of flesh onto a grill that looks as if it were fashioned from an old fireplace grate and a mountain of flaming logs. Occasionally cooks chant "Oui, chef!'' in unison, as if they were breaking huddle in a rugby game. Gwen is a manly place, the height of abattoir chic.
We are in Curtis Stone land again, the second L.A. restaurant from the Melbournian chef-owner of the impossible-to-book Maude in Beverly Hills. Gwen is an elegant redoubt of wood, soft light and stone that looks as if it could have been plucked out of a white-telephone drama from the 1930s. The plates look like something out of your grandmother's china cabinet, the cocktail glasses are gilt and the silverware tinted with gold. The cocktails tend toward strong, workmanlike riffs on Old Fashioneds and sours.
Gwen can be a pretty casual place to grab a bite. You can drop by the bar or patio without a reservation and have a crack at pretty much anything on the menu a la carte — perhaps a small heart of palm salad with carbonated grapes; chanterelle ravioli; grilled sardines or a plate of smoked eggplant caponata with chopped macadamia nuts. During the day, croissants and flat whites are served from the butcher's counter, along with sandwiches made from strong cheese and slices of dried sausage on a kind of sturdy free-form baguette: first rate.
But in the dining room, we are once again in the world of anxiety — tables at Gwen aren't as hard to land as the ones at Maude, but the dining room mandates a $95 16-bite tasting menu. The wine list is strong, especially on unusual Santa Barbara wines, but you may be nudged toward bottles twice the price of the ones you enquire about, and a glass of something special may run $34.
One of the most profound things I've ever eaten.
— Jonathan Gold on the wild venison at Gwen
The meal itself is pretty straightforward, much closer to what you might expect to eat at a fancy dinner party than at a tasting menu restaurant. There will be a charcuterie course, less massive than the meat plate at Bestia or Chi Spacca but rather more prettily arranged, with a few slices of dry sausage; a terrine plate that will probably include a bit of foie gras and a delicate slice of head cheese; and a smear of something soft and spreadable — spicy Calabrian-style 'nduja perhaps, or fatty duck rillettes, served with a soft pretzel roll.
There will be a small salad course. One night there were slivers of lightly cured salmon with grapefruit segments and wee leaves of the Japanese herb shiso, showered with powdered dried shiso that had color but neither fragrance nor taste. Another night, there were tiny heads of charred Little Gem lettuce that picked up a lot of flavor from the grill. You will probably be served a tablespoonful or so of tiny, tender agnolotti stuffed with puréed chestnut and tossed with more butter than you really want to think about.
And then comes the meat: a lovely composed plate of pork belly, a sliced rib chop and a bit of stewed cheek, along with caponata, cauliflower with a lot of browned butter, and a rich, auntly dish of creamed endive. A taste of celery sorbet, a plate of something sweet and passion-fruity, and you're out.
But you're going to want steak — everything about the restaurant primes you for steak. That 12-ounce Blackmore Farms New York strip you have your eye on is an extra $185. You start to think about when your car payment might be due, or the pair of Yeezys you've had your eye on, or the price of a discounted Jet Blue ticket to New York. But you bite. And it's a … really good steak, not as concentrated as the A5 Japanese Wagyu from Cut perhaps, nor quite as salty and compelling as that two-bite Wagyu at Urasawa used to be, but mineral-rich, just chewy enough, tasting of an animal's life well-lived. The Yeezys will wait. Gwen is kind of designed around the idea of Fear of Missing Out.
Gwen
Curtis Stone's second L.A. restaurant and butcher shop
Location: 6600 Sunset Blvd., Hollywood, (323) 946-7513, gwenla.com.
Prices: Set menu $95; steak supplement $75-$390.
Details: Dinner 6 p.m. to midnight, Tues.-Sat. Credit cards accepted. Full bar. Butcher shop. Valet parking just south of the restaurant on Seward Street.
Recommended dishes: Duck speck; chestnut agnolotti; smoky caponata; Blackmore Farms Wagyu steak.
Get our L.A. Goes Out newsletter, with the week's best events, to help you explore and experience our city.
You may occasionally receive promotional content from the Los Angeles Times.