Breakfast burrito alert: Wes Avila is now making breakfast burritos at Guerrilla Tacos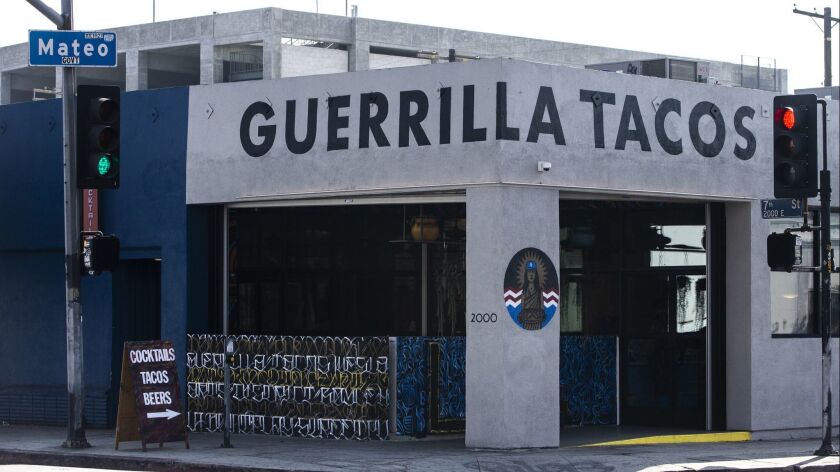 Guerrilla Tacos
Wes Avila's acclaimed Arts District taqueria is now in the breakfast burrito business. Avila is sliding open a new, street-side window every morning to offer three kinds of takeaway burritos: one with avocado and bacon, a bean-cheese-and-egg burrito and another option for vegetarians. The burritos are available daily from 7 a.m. to 11 a.m.
2000 E. 7th St., Los Angeles, (213) 375-3300, guerrillatacos.com
Ippudo
The Japanese ramen chain that draws protracted lines at locations around the world just opened its first Southern California location. Menu highlights at the restaurant on Santa Monica's 2nd Street include traditional shiromaru, modern akamaru and spicy karaka ramen, all made with an 18-hour tonkotsu broth. Small plates such as chicken karaage and pork buns, along with beer and sake, are also available. The restaurant is currently open for lunch and will add dinner service on Friday.
1403 2nd St., Santa Monica, (310) 893-0577, ippudo-us.com
The Green Room
This new cocktail bar can be found stashed behind a secret door within Burbank's hilltop Castaway restaurant. Drinks include martinis with caviar-and-blue-cheese-stuffed olives. Seafood towers, steaks and Petrossian-caviar-topped fries accompany creative cocktails that come in vessels such as a smoking bell jar and ship in a bottle. You can sip your martini on a patio overlooking the city lights below.
1250 E. Harvard Road, Burbank, (818) 962-4446, tgrburbank.com
The Rooster
Bruce Marder, who is behind Marvin and Cora's Coffee Shop, has opened the Rooster in Santa Monica. In addition to a prodigious output of breads and pastries from an attached bakery, the menu features steaks and chops cooked over an open fire, plus casseroles and pizza from a wood-burning copper oven.
2301 Santa Monica Blvd., Santa Monica, (310) 264-0999, theroostersantamonica.com
Brooklyn Bagel Bakery
Following a three-year closure after structural damage overtook its headquarters, Brooklyn Bagel Bakery is open again for retail sales in a new space neighboring its old address. Since a mid-2015 wall collapse, the celebrated Westlake bagel-maker had been offering bagels only as a wholesale option, supplying local deli legends such as Langer's, Canter's and Nate 'n Al with its boiled and baked bagels.
2223 Beverly Blvd., Los Angeles, (323) 630-0676, brooklynbagella.com
Twitter: @latimesfood
---
Get our new Cooking newsletter.
You may occasionally receive promotional content from the Los Angeles Times.