First Bite: All the paella and tapas at Otoño in Highland Park
Otoño is the new restaurant from chef Teresa Montaño, formerly of beloved Pasadena Spanish spot Ración. Most of the menu is in the tapas section, a mix of vegetables, seafood and Spanish jamón; larger dishes include paella, fideuà and market-driven mains.
Where you are:
On the trendy stretch of Figueroa in Highland Park, in one recently renovated piece of the massive crater created when Frank's Camera vacated the location in 2015.
The new complex is home to Triple Beam pizza and Hippo restaurant, and in the block or two south there are bars, boutiques, two record stores and one breakfast taco spot.
Where you're sitting:
The best seats are at the bar, particularly if you can snag the stools at the end. From there you can look into the kitchen on one side and down the length of the winding room on the other, taking in the street art-style mural on the north wall, the rustic-chic décor that meticulously manages to feel haphazard, the exposed brick and mile-high ceiling, and the menagerie of well-heeled locals digging into plates of house-cured tuna confit, patatas bravas fried like churros, and wide, shallow pans of paella.
What you're eating:
Start with the tapas, particularly the expertly fried croquetas, especially those filled with jamón serrano and cow's milk or sweet corn and mushroom with goat's milk. The breading is thin but resilient and will maintain its shape even after you've taken a bite and the filling has started to run down your fingers.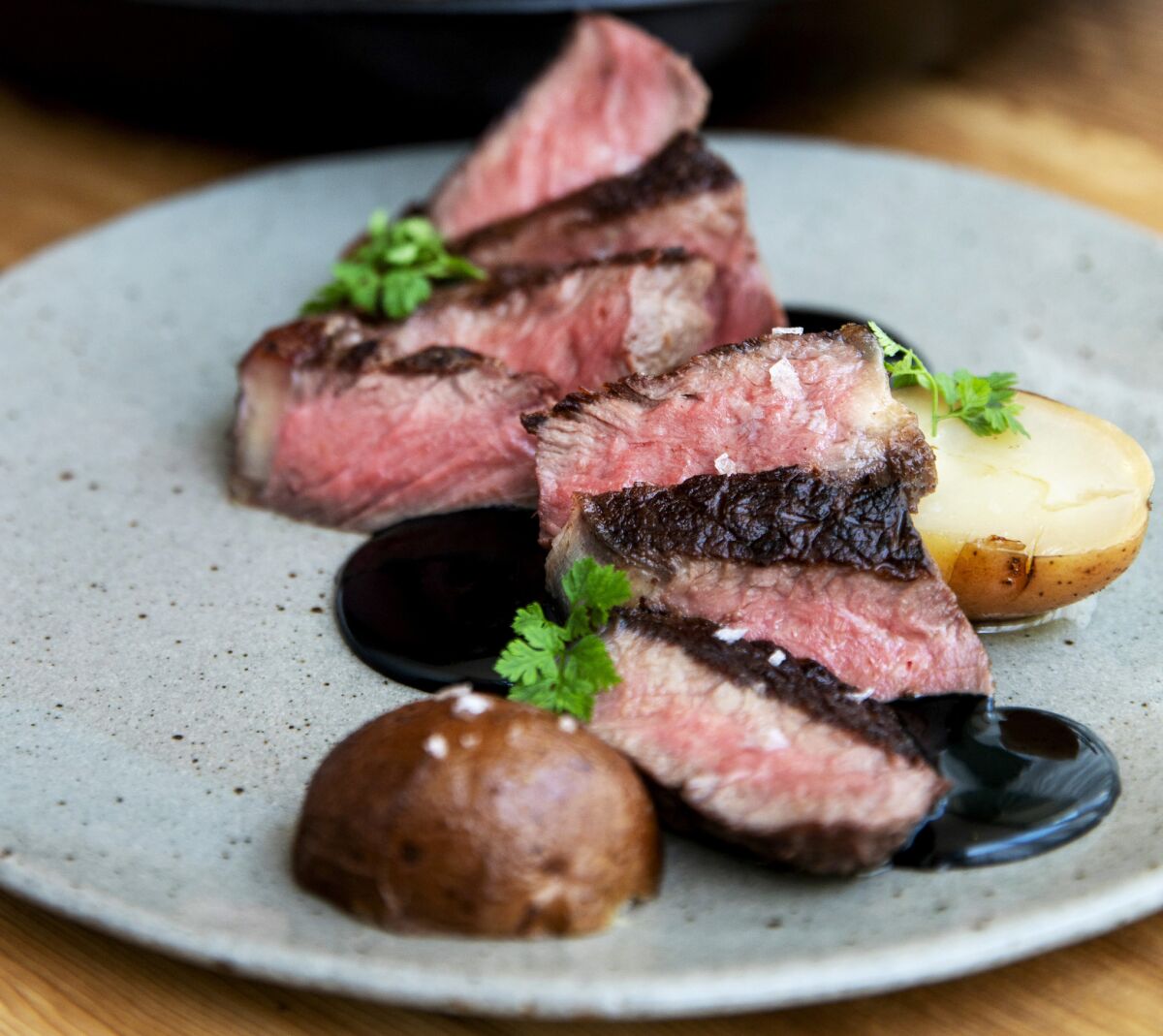 When you wade deeper into the menu, look for a dry-aged strip steak with beef fat potatoes and black garlic sauce, a beer-braised octopus tentacle with summer beans, and a chilled almond and garlic soup.
The other reason to sit at the bar
The cocktails are fabulous, especially the Gin Tonics. On the menu, each is described simply with a gin, a tonic and a little twist such as a dash of olive brine, a sprig of rosemary smacked to order, or a pod of star anise resting on a thick cube of ice in an impossibly thin-stemmed wine glass. Each adds a layer of complexity, sharpening the drinks in a way that complements the food too..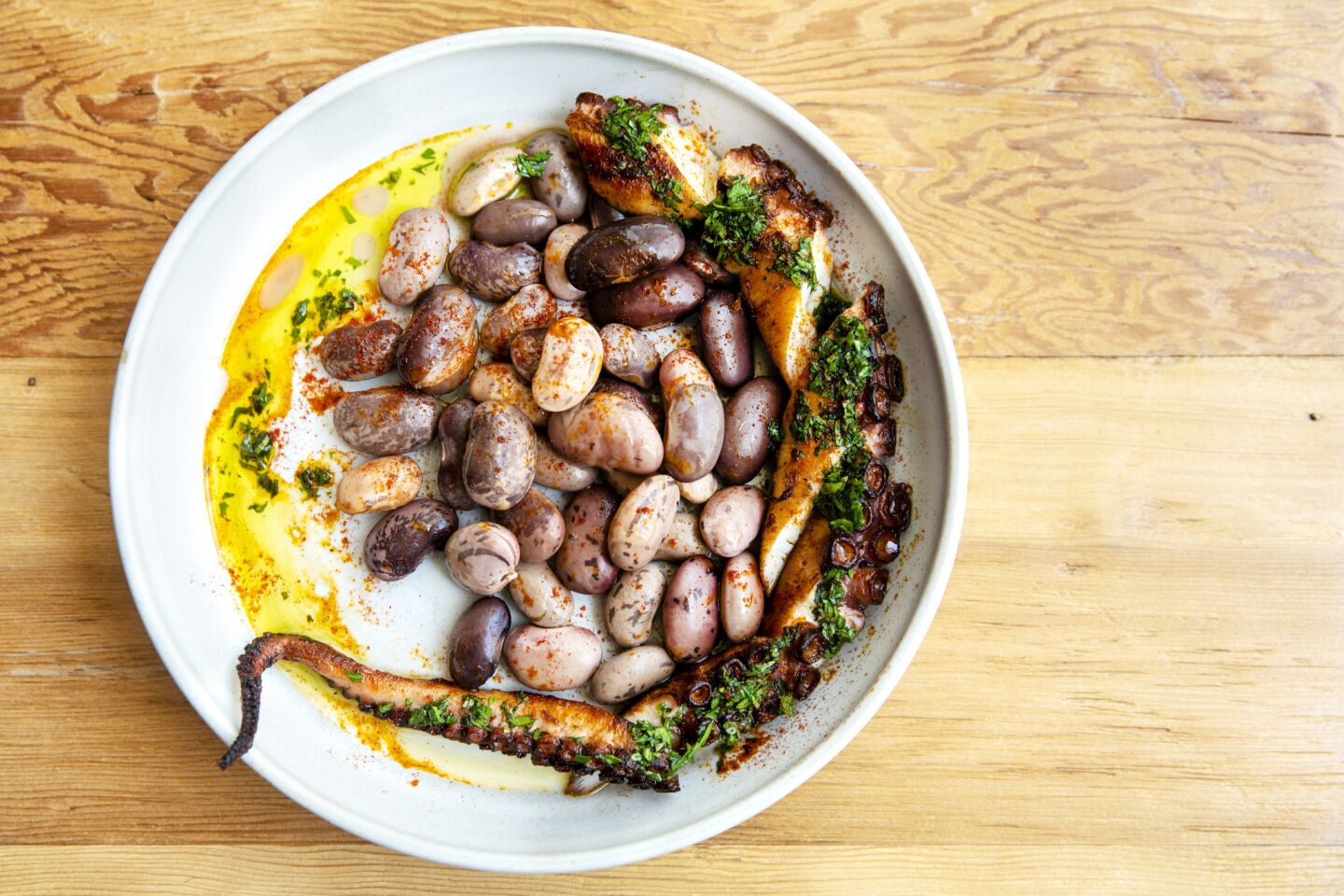 Pulpo a la brasa, estrella braised Spanish octopus, summer bean botifarra, chimichurri from Otoño.
(Kent Nishimura / Los Angeles Times)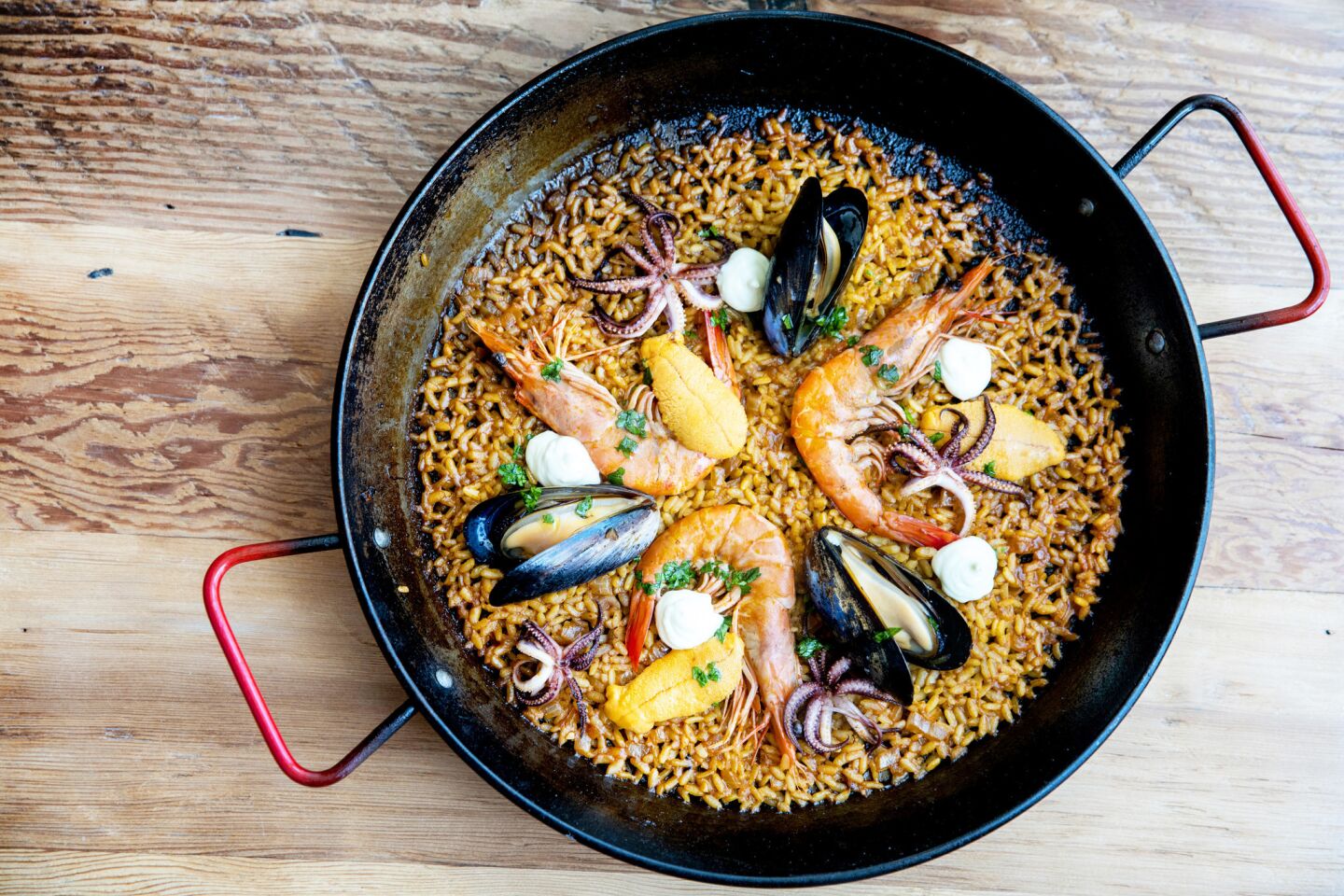 The Mariscos paella.
(Kent Nishimura / Los Angeles Times)
Orange peels, slices, lime slices and lemon slices.
(Kent Nishimura / Los Angeles Times)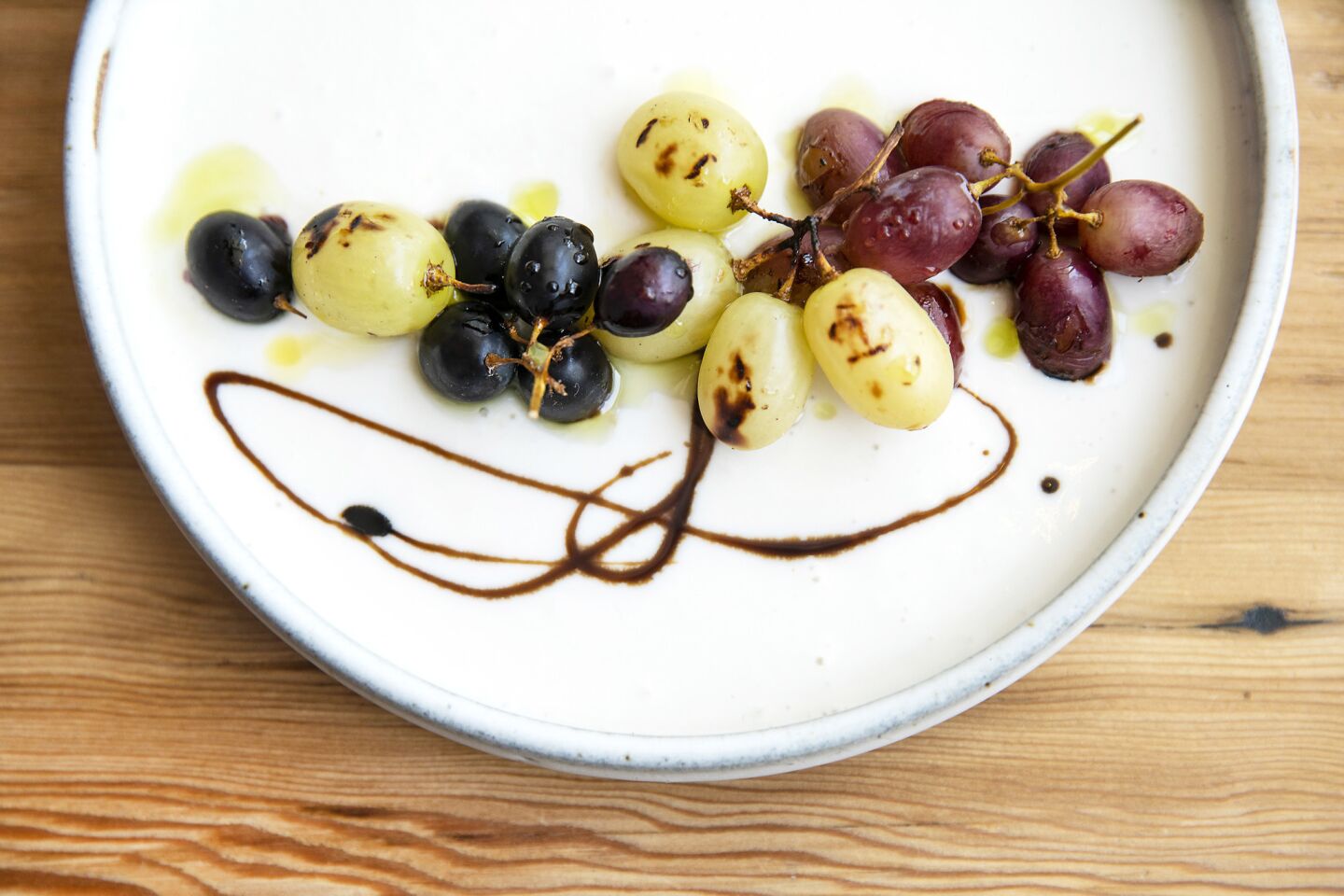 The ajo blanco, chilled Marcona almond and garlic soup, charcoal grilled grapes, eucalyptus and vinegar.
(Kent Nishimura / Los Angeles Times)
The vaca vieja, 10-ounce dry-aged New York strip, beef fat and charcoal potatoes with black garlic.
(Kent Nishimura / Los Angeles Times)
A view of the dining area.
(Kent Nishimura / Los Angeles Times)
Executive chef and owner Teresa Montaño.
(Kent Nishimura / Los Angeles Times)
Mariscos paella, top left, pulpo a la brasa, top right, croqueta de jamon, bottom left, vaca vieja, and bottom right, ajo blanco, with a Gin Tonic Classico.
(Kent Nishimura / Los Angeles Times)
Bar director Josh Suchan pours a Gin Tonic Classico.
(Kent Nishimura / Los Angeles Times)
Oh, right, paella:
Though it may be tempting to spend much of your time at the top of the menu, at the bottom of the page is the section of paella and fideuà, with three options that can be made with either rice or noodles. The Mariscos includes whole shrimp and other sea creatures resting on a bed of oceanic, lobster-infused rice. Negra is black with squid ink and bolstered by the addition of dashi; the Verduras is full of vegetables and brightened by the addition of salsa verde.
Whichever you order will arrive in a wide pan, the rice spread thin across its bottom. Underneath whatever headlining topping you've ordered you'll find the miracle known as socarrat, a crispy, savory crust of almost burnt rice at the bottom of the pan that is the true reward of properly made paella.
Otoño: 5715 N. Figueroa St., Highland Park; www.otonorestaurant.com.
Get our L.A. Goes Out newsletter, with the week's best events, to help you explore and experience our city.
You may occasionally receive promotional content from the Los Angeles Times.