Where to get cemitas, mole de olla and more on Whittier Boulevard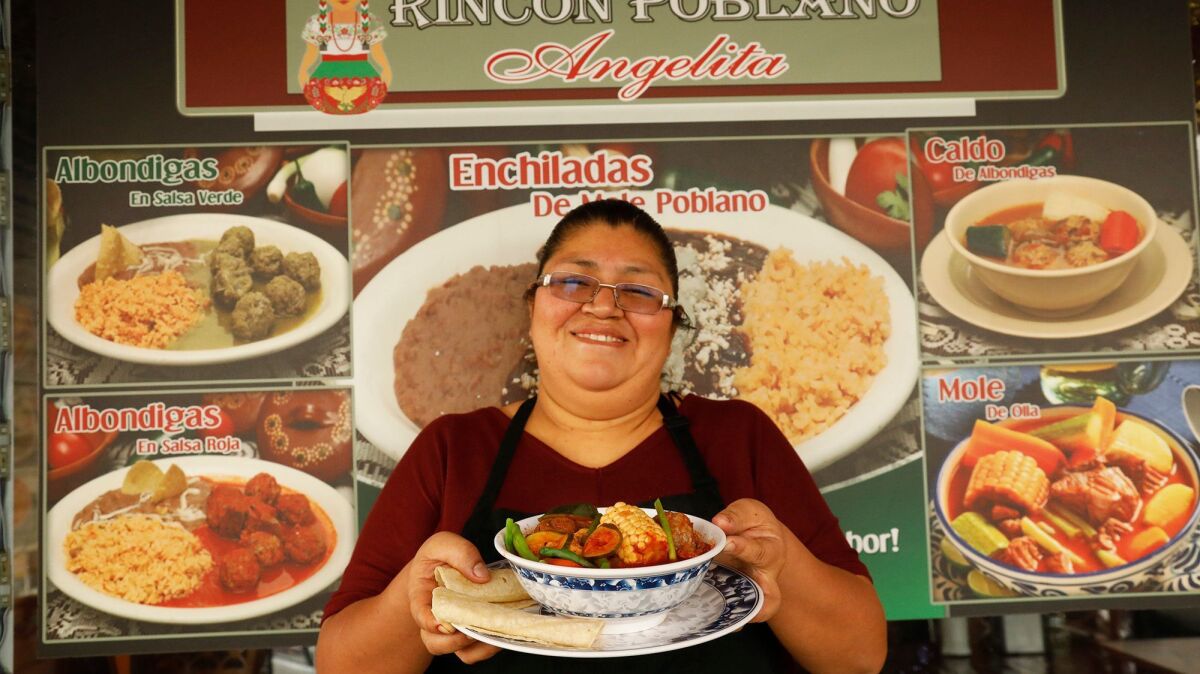 You could call a section of Whittier Boulevard, on the Eastside of Los Angeles County, Puebla Row. In just a three-mile stretch of the street — which runs from Boyle Heights through East Los Angeles to Montebello, Pico Rivera, Whittier and La Habra — you'll find some of the most regional, assertive and complex dishes from Puebla, Mexico, in all of the greater L.A. area.
Since the '80s, the neighborhoods of East L.A. and Boyle Heights in particular have been a gathering point for Mexican immigrants from the municipality, southeast of Mexico City — as evidenced by the concentration of cemita vendors you'll encounter along Whittier Boulevard. Cemitas are convenient and delicious, built with dense sesame-seeded buns and traditionally stuffed with milanesa — a seasoned, crispy Mexican-style beef cutlet — ripe avocado, quesillo cheese, pungent papalo herb and fiery, crimson chipotle paste. (If you're thinking they come with mayonnaise, there isn't any — ever.)
These days, there are more than two dozen restaurants and food trucks along this section of Whittier Boulevard and its cross streets, where you can dive into platters of powerful mole poblano, bite into smoky tacos árabes (Puebla's Middle Eastern-inspired, highly seasoned pork tacos), tear off pieces of Puebla-style quesadillas stuffed with squash blossoms and grab onto those hulking cemitas.
Puebla is the southern state between Mexico City and Oaxaca — two gastronomy powerhouses in their own right — and its native cuisine is one of the most delicious regional variations in all of Mexico. Because the wealth of excellent food in the area can be overwhelming, here's a list of five Whittier Boulevard dishes to help you prioritize.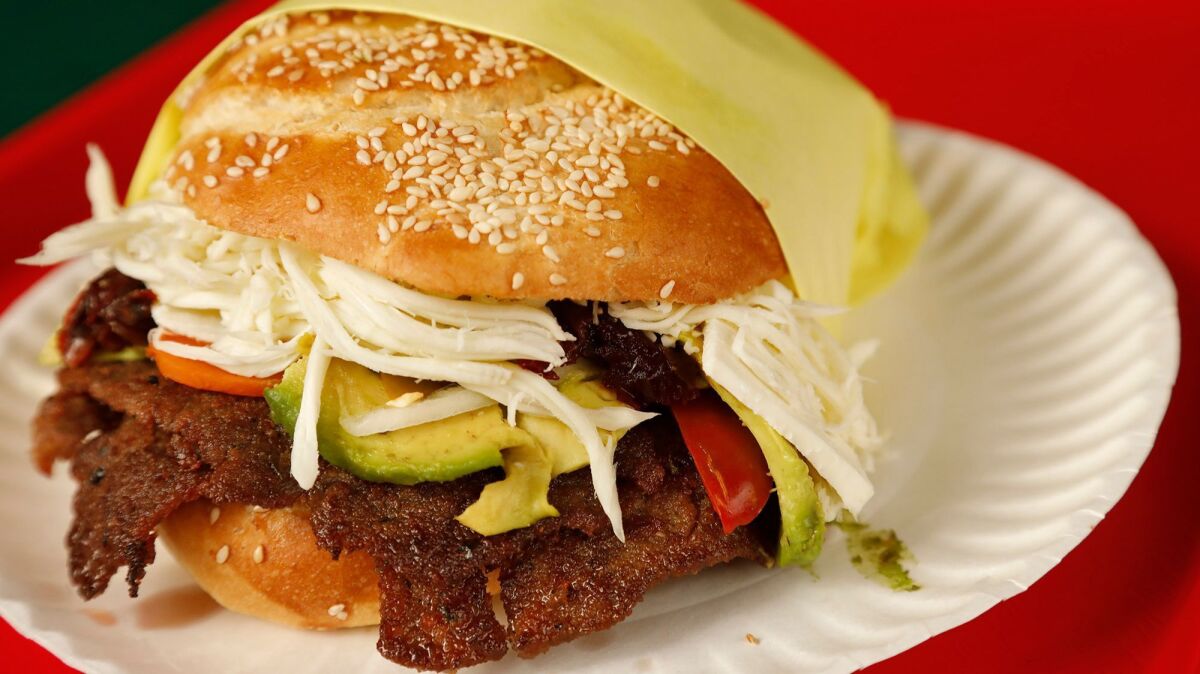 Cemitas de Milanesa at Cemitas La China Poblana
For the best cemitas on the strip, head straight to Cemitas La China Poblana, which has been open since 1990. Brothers Abraham and Omar Quitl stepped up to help with the business that their mother and father made into a brick-and-mortar-restaurant along the East L.A. and Boyle Heights border seven years ago. Their parents both emigrated from the Puebla city of Cholula to East Los Angeles in the '80s and found their burgeoning community underrepresented among the Jalisco-style mariscos joints and taco trucks. So they bought a used food truck and introduced the largely Mexican-American neighborhood to cemitas. Their loyal base of customers have been returning ever since.
What started as a food truck on the southeast corner of Salazar Park is now the go-to place for the majority of East Angelenos when a cemita craving hits, serving hundreds of them a day. What separates La China Poblana from the rest? An in-house baker bakes its cemita buns every morning; a full-bodied quesillo string cheese is made exclusively for them by a local cheesemaker. Their all-time best selling cemita is the beef Milanesa, but if you've got a thing for braised goat, ask for their off-menu barbacoa. (There's plenty of parking in their private lot, too.)
3568 Whittier Blvd., Los Angeles, (323) 263-8310, www.lachinapoblana.com, on Instagram at @lachinapoblana_cemitas.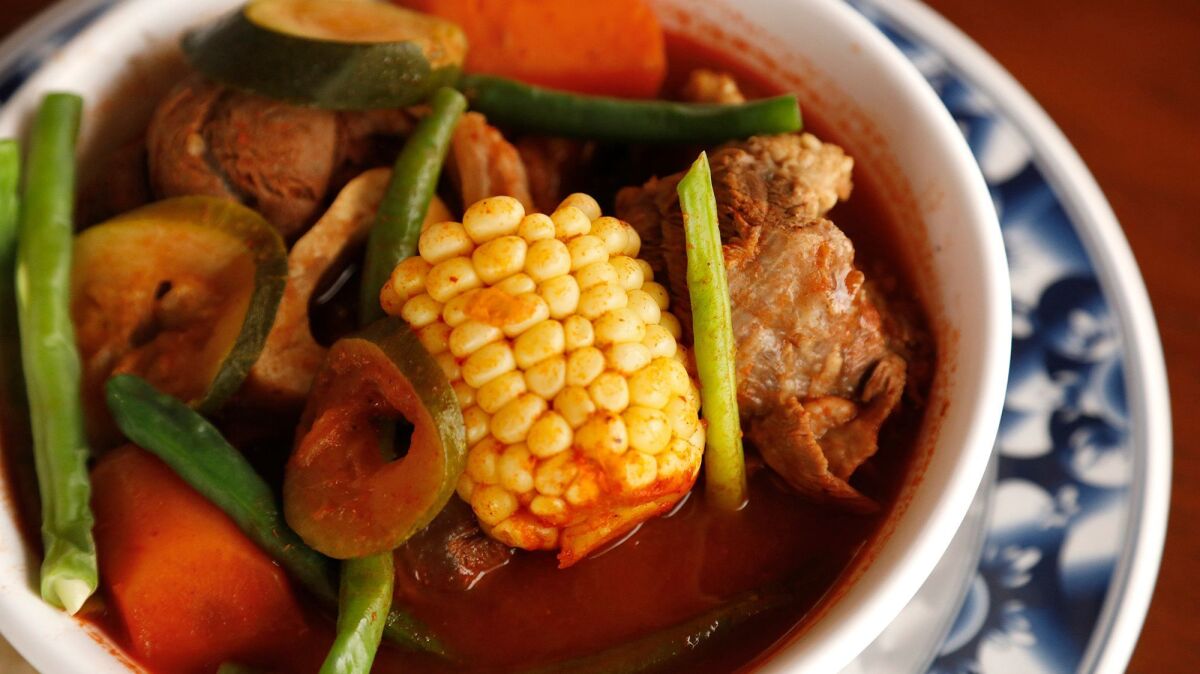 Mole de olla at Rincon Poblano Angelita
You've probably only tasted mole de olla if your mother or grandmother happens to be from Puebla or you've had the pleasure of visiting Puebla and eating it in a fonda there. It was not commonly found in restaurants in Los Angeles, until Jose Romero from Tepeaca, Puebla, opened Rincon Poblano Angelita — tucked in a strip mall across the street from a Commerce shopping center — a year ago. Romero is a roofer during the day but has always had a passion for the deep, soulful, earthy flavors of his homeland. He grew up fascinated by his sisters cooking in the kitchen and eventually decided to try cooking himself.
Mole de olla is essentially a beef stew that's spiced with guajillo and pasilla chiles and then left to simmer for hours until the bone-in beef falls apart; the beef shank and all of its collagen break down to make the broth. The soup is served with plenty of tortillas. The entire menu is filled with albondigas en salsa verde, pipianes and many other dishes from Puebla.
5615 Whittier Blvd., East Los Angeles, (323) 821-2051.
Tlacoyos at Cemitas Los Poblanos
This cemita truck has a permanent spot in front of the 99 Cents Only store on Whittier Boulevard, just a few paces away from Lorena Street in Boyle Heights, across the street from a McDonald's. It has been there for over five years. It is there all day and late into the night and while its cemitas are really good, the sleeper hit of the truck are the tlacoyos. The service is quick, so know what you're going to order before it is your turn.
Tlacoyos are the oval-shaped black bean-stuffed pieces of masa that you'll find on every street corner in Mexico City and Puebla. At Cemitas Los Poblanos, they are not too thick, exceptionally crispy on the edges, and chewy toward the center. The simple, thick, bright red and green salsas layered atop each tlacoyo are as complex as mole. The green one is bright with tomatillos and extra fiery from the generous use of serrano chiles. But the red is the more flavorful of the two, thanks to the burnt chiles de arbol and plenty of raw garlic.
3500 Whittier Blvd., Los Angeles, (323 ) 268-2209.
Tacos Árabes at Cemitas Tepeaca Puebla
Between Esperanza and Spence streets, parked on a tree-root-cracked curb, is Cemitas Tepeaca Puebla, an old-school cemita truck that also boasts some of the best tacos Árabes on Whittier Boulevard. A taco Árabe is a type of taco that originated in Puebla from either Lebanese or Iraqi immigrants. It consists of spit-roasted sliced pork seasoned with spices and served with a smoky, BBQ sauce-like chipotle paste. Though the real kicker is the use of a flour tortilla instead of corn, which is meant to replicate the flour-tortilla-meets-pita-bread pan Árabe used in Puebla as a vehicle for the tacos.
Cemitas Tepeaca Puebla owner Juan Andrade, whose cemitas are so beloved that he's known in the community as El Rey De Las Cemitas, has over the course of his 15-year career also built a reputation for having some of the best tacos Árabes in the neighborhood. His Árabes are loaded with pork and caramelized onion — and his chipotle sauce is pretty remarkable too. The truck is open for business every day of the week, from 8 a.m. to 11 p.m., for all those early breakfast or late-night taco Árabe cravings.
Whittier Blvd. and Spence St., Boyle Heights, (323) 921-1700, on Facebook at www.facebook.com/CemitasTepeacaPuebla.
Picaditas at El Zarape Mexican Flavor Restaurant
El Zarape, between Eastern and Rowan avenues on Whittier Boulevard, is a true locals-only gem. Their menu can be a little overwhelming, but there is one thing that consistently outsells anything else: picaditas. A picadita is the ultimate in minimalist Mexican antojitos, somewhere between a handmade tortilla and sope, it's a masa tartlet that's lightly crisped in a little oil, then splashed with red or green salsa and crumbled queso fresco.
You can find picaditas all over Puebla as a traditional street food or just have Marta Lorenzo make you a couple at El Zarape. She and her husband, Miguel, recently became the new owners of the decade-old restaurant specializing in the food of Puebla. She is from El Salvador but picked up the craft of Puebla-style regional Mexican food after meeting her husband, who is from Puebla. Like many other masa-based antojitos from southern Mexico, picaditas are particularly filling — and extremely satisfying. At El Zarape, you can order picaditas with sunny-side up eggs for breakfast or with a piece of cecina, a paper-thin cut of salted, juicy grilled beef, for lunch or dinner. All of their aguas frescas are made fresh as well. And when the heat from the salsas starts to kick in, ask for the agua de nopal, the Mexican elixir made by blending cactus with lime juice.
3960 Whittier Blvd., East Los Angeles, (323) 385-7415.
---
Get our L.A. Goes Out newsletter, with the week's best events, to help you explore and experience our city.
You may occasionally receive promotional content from the Los Angeles Times.