Tom Bergin's Irish pub is not closing. It's just reducing its hours and closing its kitchen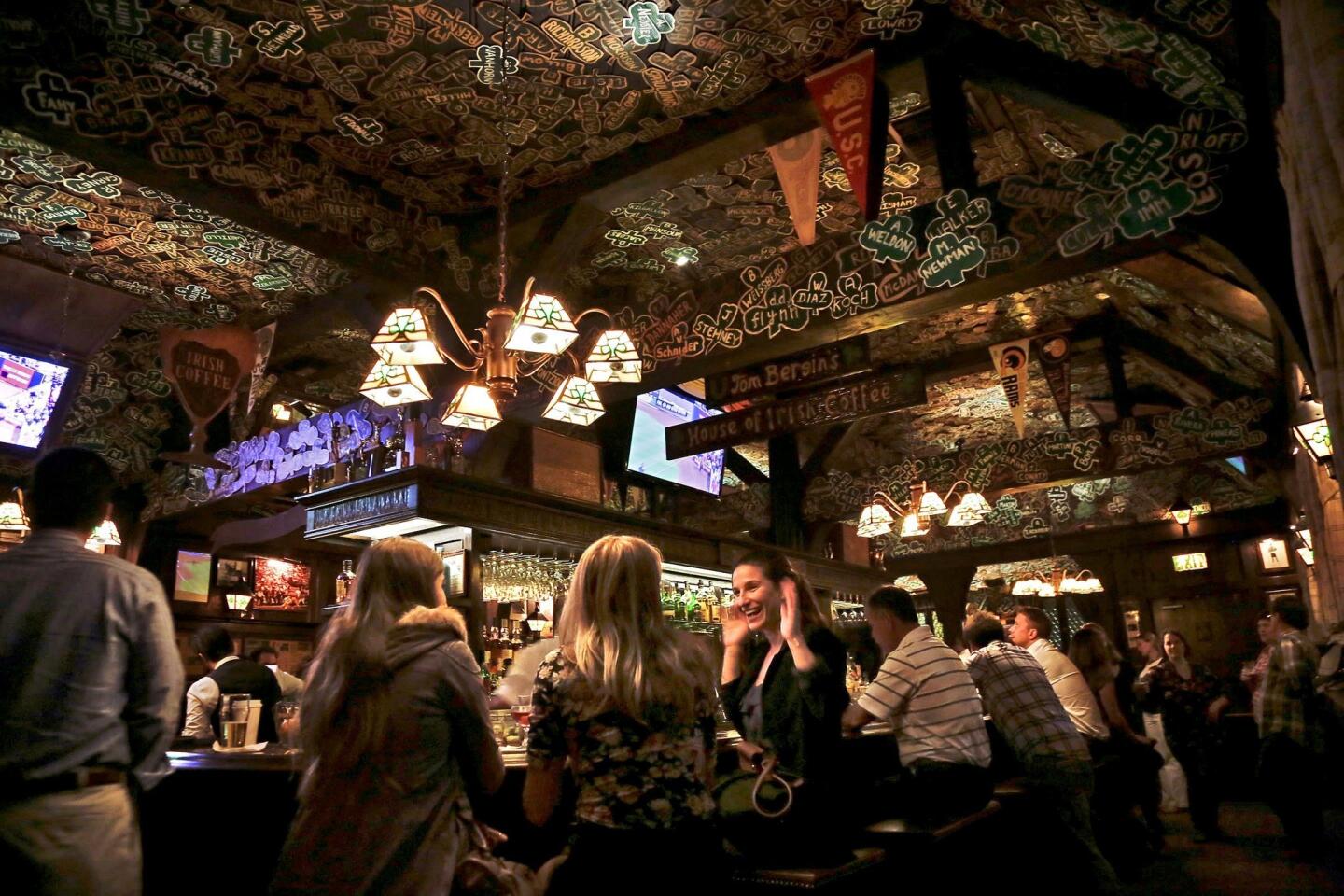 The bar area at Tom Bergin's is covered with shamrocks.
(Ricardo DeAratanha / Los Angeles Times)
Behind the bar at Tom Bergin's.
(Ricardo DeAratanha / Los Angeles Times)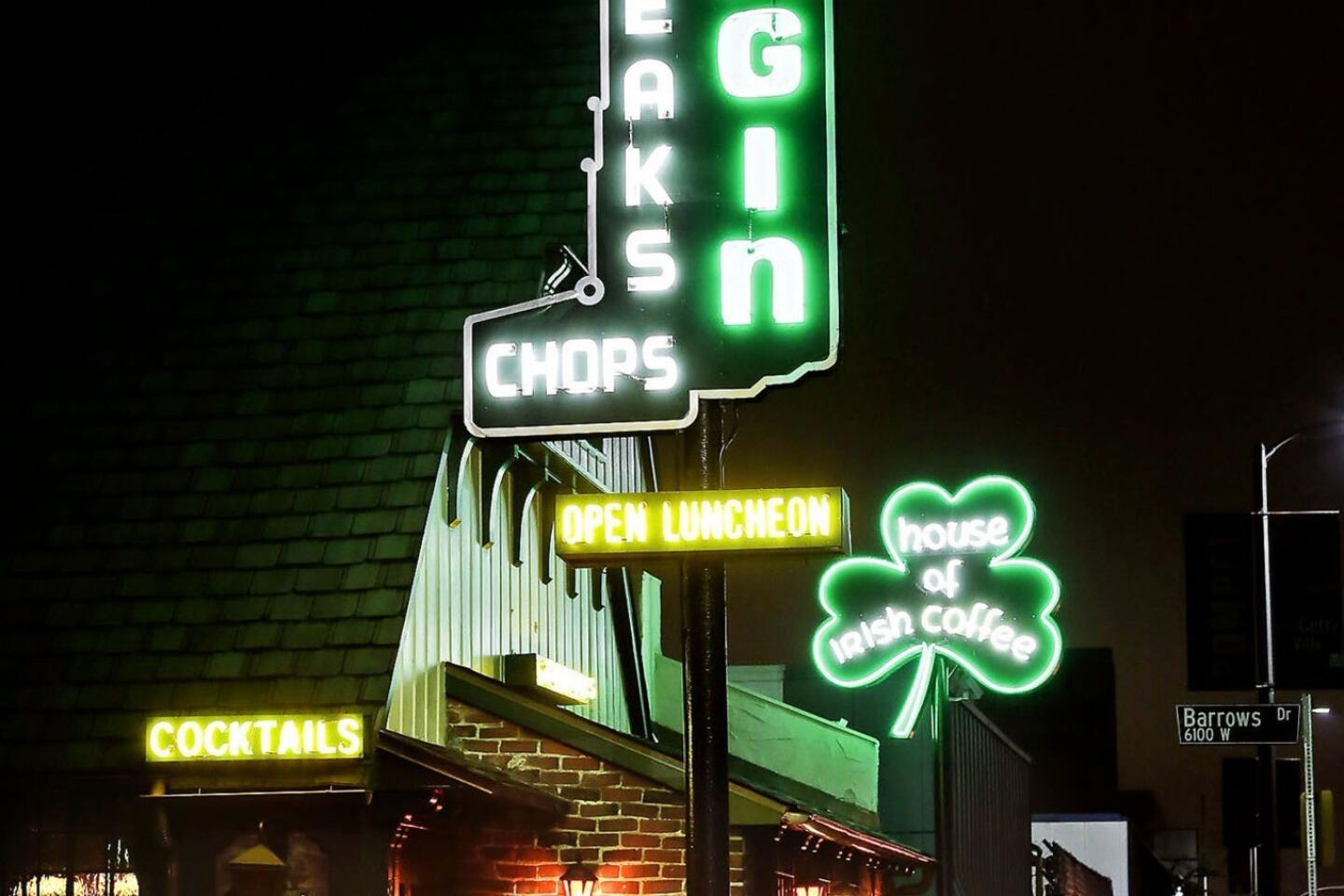 Exterior shot of Tom Bergin's.
(Ricardo DeAratanha / Los Angeles Times)
Friends chatting at the bar.
(Ricardo DeAratanha / Los Angeles Times)
The bar area at Tom Bergin's.
(Lori Shepler / Los Angeles Times)
Former owners Brandon Boudet and Warner Ebbink.
(Barbara Davidson / Los Angeles Times)
The restaurant and bar was known for its Irish coffee.
(Ricardo DeAratanha / Los Angeles Times)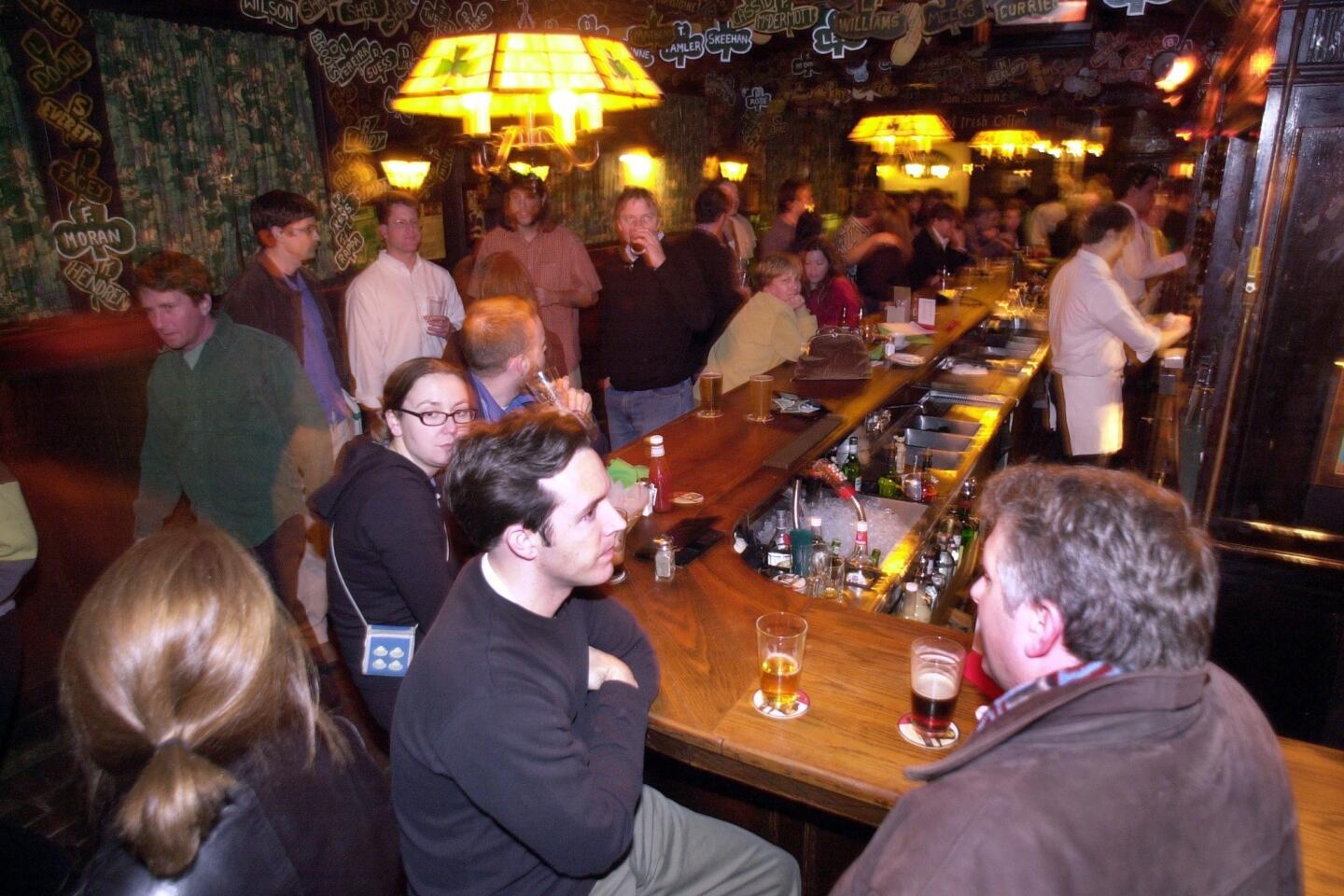 Customers at the bar.
(Ringo H.W. Chiu / For the Times)
On Sunday, Tom Bergin's Public House, the famed Irish pub on Fairfax Avenue, will reduce its bar hours and close its kitchen, according to the pub's owner Derek Schreck.
In the years since Tom Bergin's opened in 1936, the pub has become a local landmark, known most for its ceiling covered in cardboard shamrocks painted with the names of regulars. And for the friendly bartenders, some of whom have worked at the bar for decades.
"This week is our last week of regular service," said Schreck, a local actor who took over the pub from previous owner Warner Ebbink in 2013. "Starting next week we will be operating only as a bar with liquor service."
A recent Instagram post announcing the restaurant's closure sparked sad comments from regulars and a slew of news articles claiming the pub is closing for good.
"That's simply not true," said Schreck, who explained that the post was written by a staff member before Schreck had a chance to look at it. "We're not shutting down forever. We're just curtailing our staff and hours to try to push through as long as we can. We're still ordering stuff; it's just more limited than what we're used to."
Schreck still plans to be open for St. Patrick's Day, the bar's 82nd; the week before, he intends to break the Guinness World Record for the largest Irish coffee at the bar.
Vestry, the whiskey bar and lounge located in the pitched roof attic of the bar, will remain open for members on a reservation basis as usual, as well as for private events, filmings and tastings. Starting Jan. 25, the bar downstairs will be just a bar, with no food service, open Thursday, Friday and Saturday nights from 5 p.m. to midnight.
"Like any restaurant, it's a very difficult thing to rehab a business that hasn't proven successful for many years," said Schreck. "With the construction surrounding us, the Metro closures and just the sheer overhead of running a place this large, it has never been solvent — and unfortunately we just hit a point where it didn't make sense. I wouldn't be able to take care of the staff."
When Schreck took over the the pub, he made changes to the menu and bar program and also opened Vestry. Schreck kept the hundreds of cardboard shamrocks, both fading and new, and the ones that provided proof of the Hollywood stars who threw back drinks at the bar over the years, including Julia Roberts, Cary Grant and Kiefer Sutherland.
PHOTOS: A look inside Tom Bergin's
Times restaurant critic Jonathan Gold paid homage to the restaurant in a 2013 blog post, saying it was home to a great whiskey selection and the best colcannon (an Irish dish of mashed potatoes and greens or cabbage) in Los Angeles:
"When you walked into Tom Bergin's on a Sunday afternoon, through the front door of the fragrant Irish pub and past the half-dozen people screaming at the Saints game on the bar TV, you were likely to come across the restaurant's true regulars: white-haired guys, wearing sweaters and ties even when it was a bit warm, having lunch with their families the way you suspect their fathers had with them. It was plain, hearty food enjoyed with maybe a pint of Guinness or a well-made Rob Roy — the kind of cooking we have mostly forgotten about in Los Angeles."
According to the bar's website, original owner Tom Bergin was among the country's first naval aviators during World War I and an attorney before opening Tom Bergin's Old Horseshoe Tavern & Thoroughbred Club in 1936, near the corner of Wilshire Boulevard and Fairfax Avenue. The tavern moved to its current location on Fairfax Avenue in 1949.
"I've broken my neck trying to save this place and make it profitable, and we wouldn't be taking these drastic steps if it weren't necessary," Schreck said.
840 S. Fairfax Ave. Los Angeles, (323) 936-7151, www.tombergins.com.
Get our L.A. Goes Out newsletter, with the week's best events, to help you explore and experience our city.
You may occasionally receive promotional content from the Los Angeles Times.