Sonora-style hot dogs — with love, from Hermosillo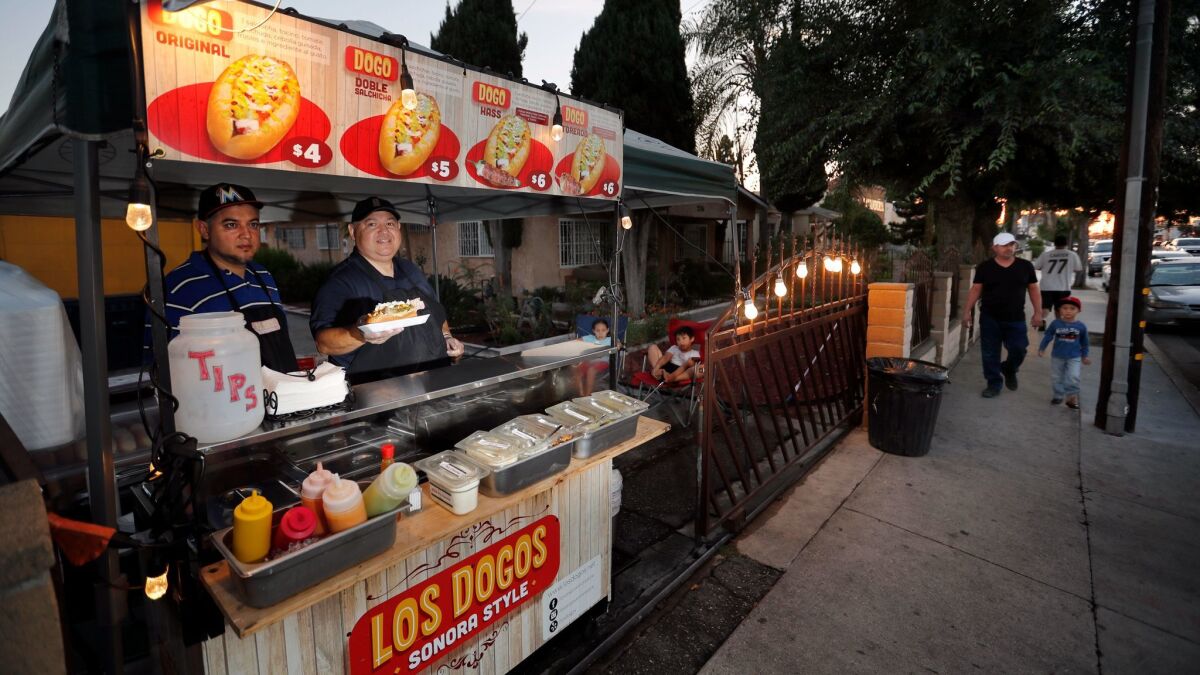 Drive around Tucson and sometimes it seems as if you are never more than five minutes from a Sonora-style hot dog, a bacon-swaddled, condiment-heavy street food staple that's popular all over southern Arizona. Day and night, they're being grilled to order under umbrella-shaded curbside carts, or in an empty lot covered by a big canvas tent. There are two competing brick-and-mortar chains — BK Tacos and El Güero Canelo — both of which claim No. 1 Sonoran hot dog status in the city.
But for some reason, it's hard to find the real thing in Los Angeles. At Dog Haus in Pasadena, there's something called the Old Town, a spinoff that stuffs a bacon-wrapped hot dog, caramelized onions, chipotle aioli and pickled jalapeños into a King's Hawaiian sweet roll. The Sonora Dog at LinX in the city of Orange has three cheeses, applewood-smoked bacon and grilled jalapeños, and arrives on a fluffy roll made with potato flour. The bacon-wrapped hot dogs with sautéed bell peppers and onions, mustard and mayo sold on street corners all over L.A. are definitely a riff, but technically these are not Sonora-style hot dogs.

For the record:
4:10 p.m. Nov. 24, 2017An earlier version of this article listed an out-of-date address for Los Dogos Sonora Style.
Some people think that the defining component of this dish is the ribbon of bacon that's wound around the length of the frank, then grilled to a crisp. But actually it's about the bread, which looks sort of like a puffy little canoe and is sweetish, softly absorbent and, perhaps most importantly, has closed ends.
There's a debate about exactly where Sonora-style hot dogs were born. But the general consensus is that they were refined in Hermosillo, the capital city of the Mexican state of Sonora, where the array of toppings is how vendors — sometimes called "hotdogueros" — distinguish themselves.
They ladle on whole pinto beans, chopped tomatoes, jalapeño sauce, onions — both raw and grilled — and deftly commandeer squirt bottles, etching zig-zagging lines of mayo, crema and yellow mustard. Looking for some extra crunch? One flourish that can be traced back to the line of stands that cluster at the front gates of the Universidad de Sonora is crushed, cheese-flavored Ruffles potato chips.
So if you think about it, those special buns have just as much to do with pragmatism as taste: You might swear by the supermarket hot dog buns of your youth, but they're cut from stern to bow. One or two bites from a loaded Sonoran tucked into a bun pulled from a twist-tied Van de Kamp's family-pack and you might find yourself with a lapful of frijoles, salsa and pink threads of pickled red onions.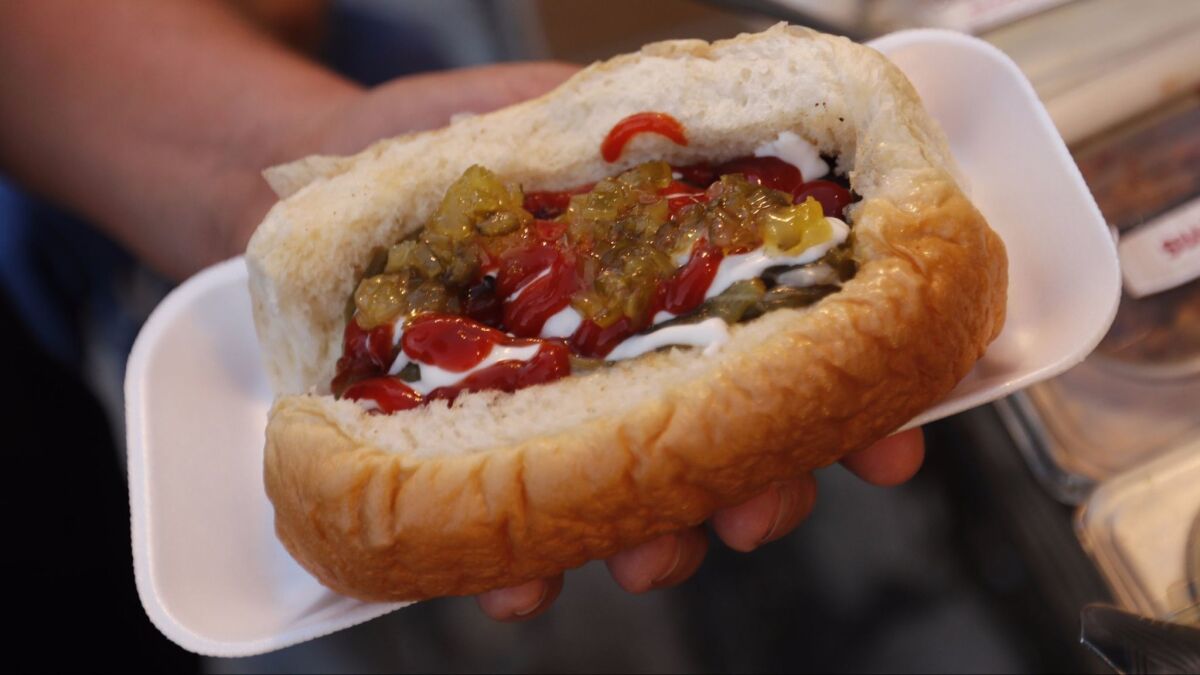 Where can an Angeleno go, then, for the right extras in the right bun?
Try Compton, home of Los Dogos Sonora Style. Once located in Bell Gardens, the carnival light-bedecked stand, which moved on El Segundo Boulevard about a year ago, is owned and operated by Alejandro Zamorano, who inherited Los Dogos from his mother and father. They started the business in Mexico about three decades ago.
By trade Zamorano might be a tax preparer by day, but Thursdays through Sunday evenings, he is Los Dogos' meticulous chef de cuisine. The dogs aren't plucked from the grill until the bacon has welded itself to the casing. And if you're pressed for time, and ask Zamorano to pull your closed-end bun out of his chafing dish early, he'll just smile, ignore your request and keep peering under the lid until it's steamed to his satisfaction.
Zamorano's condiment lineup can include plastic containers of pickles, sweet relish, a few types of grated or crumbled cheese, red and green salsas, radishes, limes, canned mushrooms marinated in soy sauce, and something called aderezo, or corn and cucumber cream. His bestseller is the Dogo Toreado, where he tucks some extra slivers of chiles into the bottom of the bun. A griddle-blistered, bacon-wrapped güerito chile comes on the side.
Over in Echo Park, Daniel Moreno's Sonora Hot Dogs is really just a cart that makes an occasional appearance. It's only open for business when Moreno's brother ships him a batch of buns from a bakery in Phoenix, where Moreno first paid a late-night visit to a branch of El Güero Canelo and decided he could do better.
Instead of what he calls "very cheap, super-processed foam dogs," for example, he uses Hebrew National wieners. The traditional anything-goes mash-up of toppings are replaced by Moreno meticulously composing each customer's order into a series of perfect, classic bites. He spoons on pico de gallo and frijoles de olla, which he cooks himself and seasons with chiles, onions and leftover bacon ends. Then, just before he hands you your hot dog, he goes what he calls "all Jackson Pollock," painting on the mustard and mayo.
Just like Zamorano, selling hot dogs isn't Moreno's main career: He's a sales manager at one of those open-air sightseeing vans for tourists. He's hoping to soon rent a truck and go biweekly. For now, though, once or twice a month, almost always on the weekends, he parks his cart somewhere on Sunset Boulevard in Echo Park, and occasionally in front of Sunset Beer Co.
"I'm not trying to reinvent the wheel," Moreno says. "But I get such good feedback."
Dog Haus: 105 N. Hill Ave., Pasadena, (626) 577-4287 and other locations, www.doghaus.com.
LinX: 238 W Chapman Ave., Orange, (714) 744-3647, linxdogs.com.
Los Dogos Sonora Style: 15300 Atlantic Ave., East Compton, (562) 316-3673, www.losdogos.net.
Sonora Hot Dogs: @SonoraHotDog.
ALSO:
An easy guide to pairing beer with barbecue
Jonathan Gold goes to Bell for Rocio Camacho's take on a boozy Oaxacan taqueria
This new Anaheim sweet shop is serving totally loaded Hungarian ice cream cones made for Instagram
Get our L.A. Goes Out newsletter, with the week's best events, to help you explore and experience our city.
You may occasionally receive promotional content from the Los Angeles Times.