Jonathan Gold's best beach cities restaurants
Boster, Mark -- B581938874Z.1 LOS ANGELES, CA., MARCH 2, 2012: Tacos at Border Grill in Los Angeles MARCH 2, 2012 .(Mark Boster/Los Angeles Times).
(Mark Boster / Los Angeles Times)
Chef Raymond Garcia prepares a dish at the restaurant in the Fairmont Miramar Hotel in Santa Monica.
(Ann Johansson / For the Los Angeles Times)
Chef Travis Lett's restaurant on Abbot Kinney Boulevard in Venice has crunchy-crusted wood-fired pizzas.
(Bob Chamberlin / Los Angeles Times)
David LeFevre's restaurant is giving Angeleno's a reason to drive to the South Bay for dinner again.
(Luis Sinco / Los Angeles Times)
Chef Josiah Citrin's Santa Monica restaurant offers luxury ingredients ... and luxury prices.
(Gary Friedman / Los Angeles Times)
The Postmodern shed in Venice is open to the outside.
(Ricardo DeAratanha / Los Angeles Times)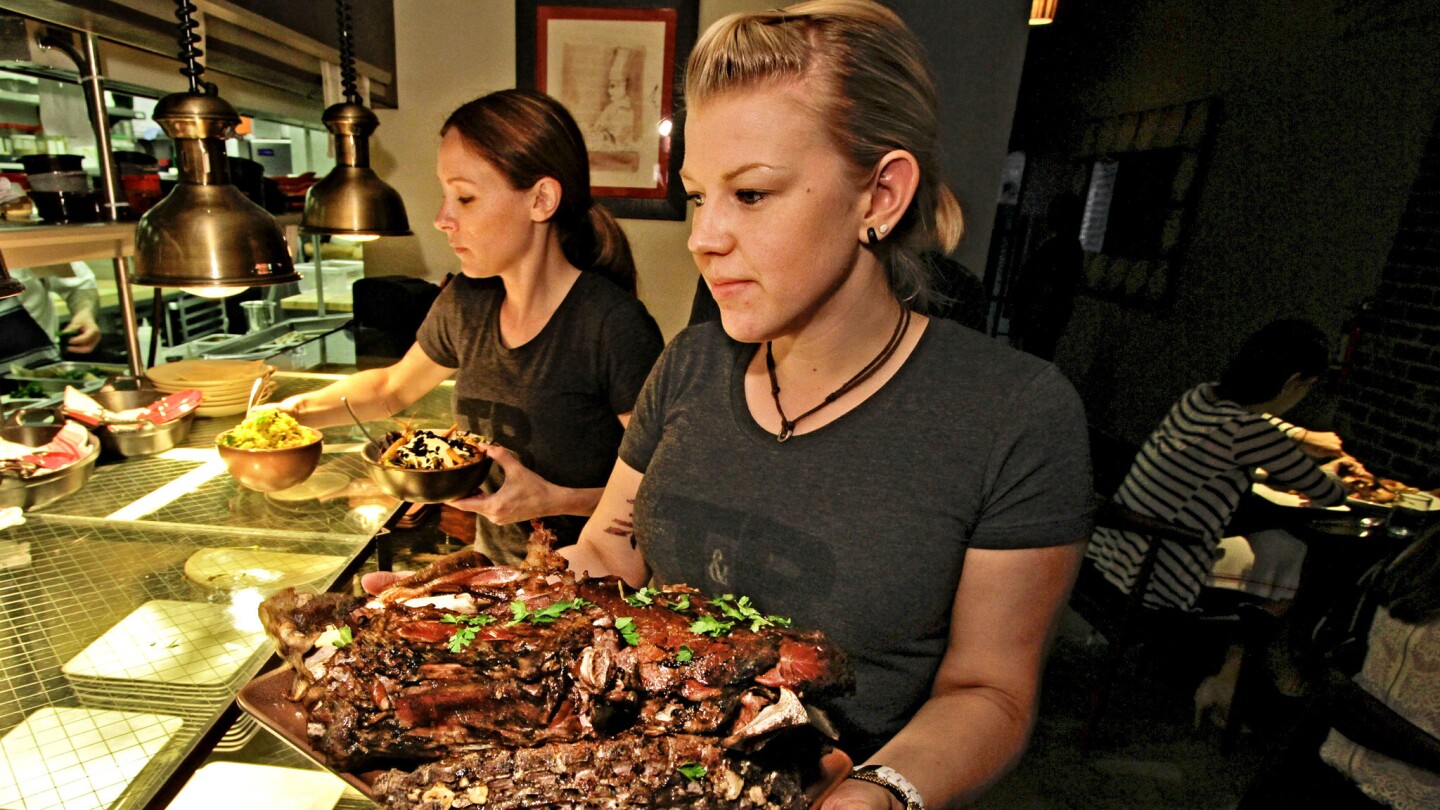 A large wood oven is the heart of the cuisine.
(Ricardo DeAratanha / Los Angeles Times)
The impression is of Italian cooking translated into an odd American dialect, with plating done by an art director.
(Ann Johansson / For the Los Angeles Times)
Chances are strong that between now and Labor Day you will find yourself in a coastal city. Or, at the very least, the pleasant idea of time spent near the ocean will occur to you. In either case, here are nine restaurants from restaurant critic Jonathan Gold's 101 Best Restaurants that could change the outcome of the day.
Border Grill: If Mary Sue Milliken and Susan Feniger aren't redefining Mexican food, at least at this point, they prepare it extremely well, transforming the taco, the tostada and the homely enchilada into dishes almost unrecognizable to El Cholo partisans; the charred skirt steak and the pescado Veracruzano have crazy soul. Border Grill is the rare mainstream restaurant whose tacos don't make you yearn for a truck parked by an auto-parts junkyard somewhere in East L.A. 1445 4th St., Santa Monica. (310) 451-1655. bordergrill.com
Fig: If you could design a perfect chef for Los Angeles, he might seem a lot like Ray Garcia, an Eastside guy who seems to spend almost as much time proselytizing for healthful eating in local schools as he does in the kitchen. His menu, which includes both spinach-leaf lasagna and bacon-wrapped bacon, a salad of beets and oranges and a plate of tongue with tomatillo, manages to be satisfying to both the transgressive big-meat guys and the Gaia-conscious vegans; the carb-lovers and the gluten-free. Even in this casual hotel-lobby restaurant, Garcia cooks as if he comes from L.A. 101 Wilshire Blvd., Santa Monica. (310) 319-3111. figsantamonica.com
Gjelina: Gjelina is cheerful, boozy and known for both its extremely good-looking customers (a lot of young actors tend to show up here late) and Travis Lett's decent organic-fetish Italian food. The scene may be as crunchy as the wood-fired pizza crust, but relax: It's Abbot Kinney. 1429 Abbot Kinney Blvd., Venice. (310) 450-1429. www.gjelina.com
Manhattan Beach Post: This sprawling restaurant overseen by David LeFevre, best known for his long term at downtown's Water Grill, is perfectly emblematic of the modern L.A. restaurant: open kitchen, cured-meat plates, small plates, obscure pale ales and all. The recession may be on, and everyone is on a diet, but you'd never know it here, with people tearing into soft hunks of braised hog jowl in fish-sauce-infused caramel, barbecued lamb belly, and Brussels sprouts with hazelnuts. 1142 Manhattan Ave., Manhattan Beach. (310) 545-5405. eatMBPost.com
Mélisse: It is almost by force of will that Josiah Citrin's Mélisse, which may well be the most formal restaurant to open in Los Angeles since the 1980s, maintains its momentum. The luxury ingredients and luxury prices seem not to dissuade diners who are happy to face down $175 asparagus dinners, showers of truffles and caviar, and even the standard $125 prix fixe, which is a bargain only by Parisian standards. 1104 Wilshire Blvd., Santa Monica. (310) 395-0881. www.melisse.com
Rustic Canyon: Under new chef Jeremy Fox, who became nationally famous as the chef at the vegetarian restaurant Ubuntu in Napa, Rustic Canyon is still working the farm-to-table thing but has jolted the superb produce into something resembling a cuisine instead of some sugar snap peas on a plate — serving that asparagus with fried pheasant egg and ultra-dense bone-marrow gravy, pumping up a pozole with green garlic or garnishing a profoundly black gumbo with peppery nasturtium blossoms. Zoe Nathan makes the splendid desserts. 1119 Wilshire Blvd., Santa Monica. (310) 393-7050. rusticcanyonwinebar.com
Superba Snack Bar: If Superba has a specialty, it is probably pasta: handmade, slightly stiff and leaning toward excess, whole-wheat rigatoni more or less in the style of cacio e pepe, cooked extremely al dente and tossed with cheese and a punishing handful of black pepper. It doesn't quite taste like anything you'd get in Rome. It tastes like Venice Beach. 533 Rose Ave., Venice. (310) 399-6400. superbasnackbar.com
Tar & Roses: Andrew Kirschner's small-plates restaurant Tar & Roses is where almost everything passes through the big wood-burning oven and a line on the menu identifies the firewood of the day. Will it be the smoky lick of almond on the singed lettuce salad with sardines and burrata; of cherrywood on the charred baby carrots with thickened crème fraîche and chermoula; or oak on the roasted English peas? Tar & Roses, which also has a terrific, mostly Italian, wine list, may also mark the first time in our nation's history when cauliflower became more delicious than prime steak. 602 Santa Monica Blvd., Santa Monica. (310) 587-0700. tarandroses.com
Tasting Kitchen: A few years on, I think we can finally dismiss the rumor that The Tasting Kitchen was essentially Casey Lane's performance art project, a pop-up slated to disappear after 100 or 200 or 420 days. The basic impression is of Italian cooking translated into an odd American dialect, in which grilled anchovies are laid so beautifully on the plate that you rather suspect there's an art director. At least they've stopped embossing the menus with a number indicating the day of service. It reminded me a bit of a convict counting his days left until parole. 1633 Abbot Kinney Blvd., Venice. (310) 392-6644. thetastingkitchen.com
---
Get our weekly Tasting Notes newsletter for reviews, news and more.
You may occasionally receive promotional content from the Los Angeles Times.