Object of Desire: Beurre de Baratte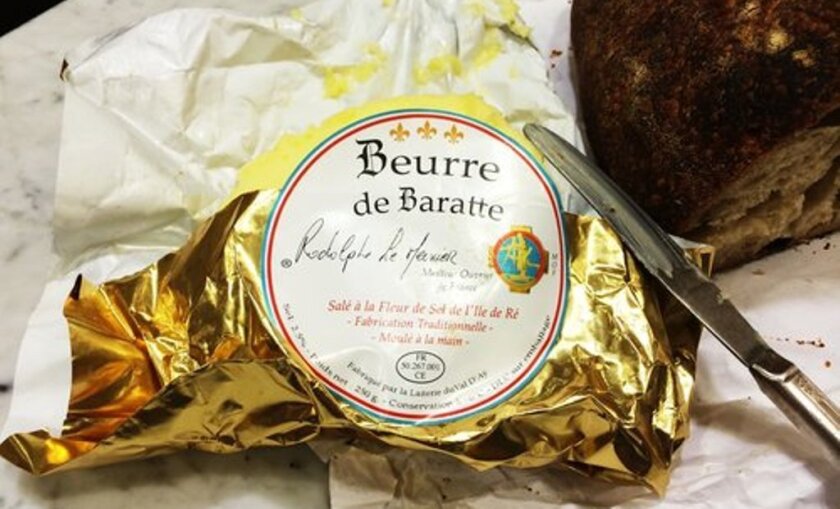 If you wander into the Grand Central Market on a Friday or Saturday morning, you may run into the Clark Street Bread pop-up, a long, plain table piled high with warm, freshly baked loaves. If you happen to be lucky enough to land a crackly, vaguely tart country loaf, you will probably be tempted to carry it over to the G&B Coffee counter, where you can tear it open to enjoy with a dense cappuccino; a combination that will probably inspire an unreasonable level of happiness. Few things go together like great bread and great coffee.
But your breakfast could be even better. DTLA Cheese, on the south wall of the market, is well-stocked with the Beurre de Baratte ($12 for 250 grams) for from the young cheese master Rodolphe Le Meunier, who is kind of the Jimmy Page of affineurs, a genuine Meilleur Ouvrier de France. (Beurre de Baratte is butter made the old-fashioned way; churned rather than extracted with a centrifuge.)
It's a big deal, this butter, stamped with a picture of a cow, wrapped in gold foil, and sealed with a sticker bearing Le Meunier's signature. I have a friend who special-ordered a round as a birthday present for her husband, and I have never heard him as ecstatic about a gift. Russ Parsons says that Patricia Wells once brought out the butter at her Paris apartment with the reverence usually accorded a $1,200 bordeaux. DTLA's Lydia Clarke sometimes says that the Beurre de Baratte is her favorite cheese in the store.
More to the point, perhaps, the pungent, deep-yellow Normandy butter has become a cult item in some of Los Angeles' best restaurants. Early reviews of Walter Manzke's restaurant République dwelled as much on the magnificence of the butter, for which he charged extra, as they did on his roast chicken or pork terrine. On recent visits to Petit Trois, it was unnecessary for the waiter to identify the soft butter that came with the baguette – the nutty, salty, umami-rich taste, like popcorn butter times 10, was unmistakable.
I like keeping a chunk around at home, not least for dietary reasons. A transparent shaving or two of Beurre de Baratte shaved onto a slice of grilled bread adds far more flavor than a full tablespoon of Land O' Lakes. Twelve dollars may seem like a lot to pay for a little more than half a pound of butter, but there is a lot of pleasure within that gold foil – especially when you smear it on something as wonderful as Clark Street's sourdough boules.
---
Get our weekly Tasting Notes newsletter for reviews, news and more.
You may occasionally receive promotional content from the Los Angeles Times.