Wine in cans? The idea is starting to pop in the U.S.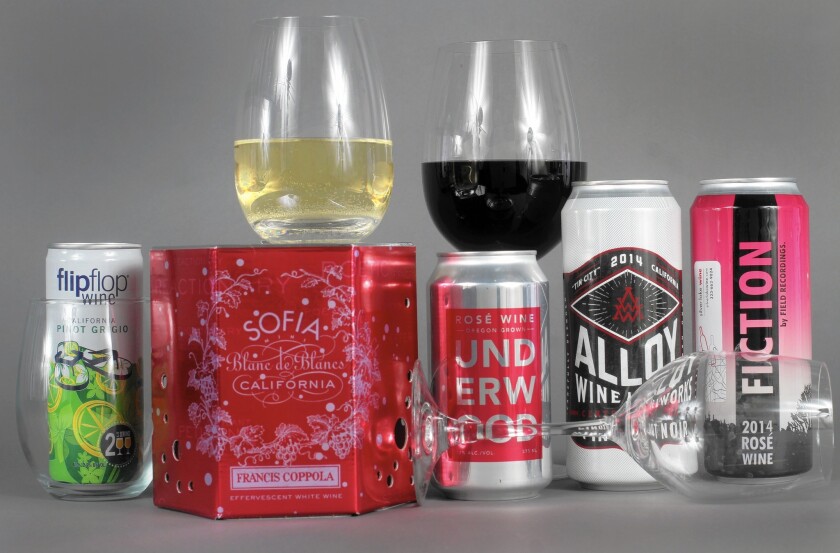 Wine in cans? It just doesn't track. You hear that unmistakable pop of a beer can opening — only it's wine inside, not beer. And it's not cheap plonk either, but some serious juice.
Though Australia's Barokes Wines was probably the first to try the idea, way back in 1996, the idea is just catching on here. And no outrage from Paul Hobbs, one of the world's most lauded winemakers, when asked about it.
------------
For the Record
Sept. 14, 2:53 p.m.: This article says a can of Francis Ford Coppola Sofia Blanc de Blancs costs $4 and a four-pack costs $12. The prices are $5 for a can and $20 for a four-pack. It also misspells the name of the restaurant Ledlow as Ludlow.
------------
"I love the idea of good wine in a can," Hobbs said. "Wish I had thought of it.It does indeed strike me as very practical, especially for folks on the go who in certain circumstances simply seek to enjoy fine products in an uncomplicated way, spontaneously — a trip to the coast, hiking, etc.In that respect, this concept is so exciting!"
Calm down. Nobody's putting Château d'Yquem or Romanée Conti into cans just yet. This new mode of packaging is meant for easy-drinking wines that won't be languishing in the closet for years.
Cans aren't novelty items anymore. Walk into Silver Lake Wine and they've got cans of Fiction Pinot Gris or Underwood Pinot Noir mixed in with their summer wines in bottles. At the most recent Restaurant Week, Faith & Flower wine director Jared Hooper served cans of Fiction white and red in brown paper bags, albeit with a stamped logo.
Made by Andrew Jones of Field Recordings in Paso Robles, Fiction is respected enough that Josef Centeno gave a wine dinner for Jones at Ludlow this summer. "He treats the grapes the same whether the wine is bottled or canned. He picks his grapes lean, and the acidity really shines, so his wines are great with food. They're approachable and interesting — and really well priced," says Centeno. In other words, craft wines for everyday drinking.
SIGN UP for Jonathan Gold's Counter Intelligence dining newsletter >>
In fact, the success craft breweries have had putting their beers into cans has inspired winemakers to try the same thing. The more Jones researched the canning process, the more he was swayed by the fact that the cans are infinitely recyclable and leave a very small environmental footprint. He put his first wines into 500-milliliter tallboy cans last October.
"I have the canning line running as we speak," Jones said. "Last year I put 25% of the wines into cans. This year I'm doing 50%." A few months ago he introduced another line, this one all varietals, called Alloy Wine Works. Other players include Flipflop Wines and Francis Ford Coppola with a California sparkling wine called Sofia. Under the Underwood label, Oregon's Union Wine Co. makes Pinot Noir, Pinot Gris and a rosé. Hashtag on the can: #pinkiesdown.
Union Wine founder and winemaker Ryan Harms said he and his team wrestled with how to package wine for outdoor activities. "How can we present wine in a less pompous way, so that it's more comfortable for consumers who are not necessarily regular wine consumers?" he says. They came up with the idea of the can just at the moment when craft beer in cans was taking off. The technology was suddenly there too: Canning equipment developed for breweries is small enough and portable enough that you can bring it right into the winery.
Harms did a test run with Underwood wine in cans for a big food and wine event in Portland the summer of 2013. That generated enough interest that he officially launched the cans the following summer. "Ninety-five percent of our sales is still in bottles, but cans are growing at a faster rate." The surprise to him is that some of the early adopters have been high-end wine shops. Grocery chains such as Whole Foods are coming on strong now too.
He feels that it can only be a good thing if wine in cans brings new people to wine. "In the can," Harms says, "swirling is kind of silly and so is all the gesticulating associated with drinking wine in a glass. A lot of the ceremony and language around wine is a barrier to people who haven't been brought up around it. They're not comfortable with it and so they choose to have a beer or a cocktail instead. Wine in a can allows people to enjoy wine in a different way."
Ben Parsons, founder of the Infinite Monkey Theorem, an urban winery in Denver, feels much the same way. "Our brand is all about making wine fun and accessible and cutting through the pretension," Parsons says. "And putting wine in cans is about the least pretentious thing you can do." And it's well suited to outdoor activities. Cans easily fit in a backpack and don't weigh nearly as much as a bottle. The wine cools down faster in a can, so if you're canoeing or kayaking, you can just chill it in the river.
In 2011, no one understood it, but three years later, national grocery chains came knocking. Frontier Airlines serves it onboard. "We've been ramping up production like crazy," continues Parsons. "We'll do 20,000 cases this year (480,000 cans), up from 5,000 cases (120,000 cans) last year." The winery has helped put another brand, Flipflop, in cans too.
"My idea is you drink it directly from the can like you do beer. Why pour into a glass? You've already got the perfect drinking vessel in hand," says Parsons.
Sizing up the trouble and taste of wine in cans
Putting wine in cans isn't as simple as it sounds.
The normal beer can is 12 ounces. But when Ryan Harms of Union Wine Co. in Oregon began to look into putting some of the wines he made under the Underwood label in cans, he found out federal regulations require wine to be put into certain volume vessels. A 12-ounce beer can is 355 milliliters, but his can needed to be 375 ml (half of a normal 750 ml wine bottle) or 500 ml (two-thirds of a wine bottle). It could even be a diminutive 187 ml, the size Francis Ford Coppola uses for his California sparkling wine Sofia.
Harms wanted something as close to the standard beer can as possible in order to dial in the comfort factor. But the only place he could find that makes 375 ml cans is in Britain, so he has to count on at least 40 days from factory to his door. And they only make them twice a year.
SIGN UP for the free In the Kitchen newsletter >>
Field Recording's Andrew Jones went with a tallboy 500 ml can. For some people, it could be one serving over the course of an event. But what he likes about the size is that "it ends up being about 31/2 glasses in a can, so very shareable." Stick it in your backpack and you're good to go.
The question most producers of wine in cans get asked is: Does the wine taste tinny?
Ben Parsons of the Infinite Monkey Theorem in Denver would answer, "Does beer taste tinny in a can? Does Coca-Cola taste tinny in a can? The cans are lined, and the lining of the can protects the product from touching the aluminum." Before he ever launched his wine in cans, Parsons entered into a research-and-development relationship with the Ball Corp., which produces a million cans a day. For an entire year, a panel of experts tasted the wines in cans every month to see if there were any changes from standard. There weren't.
Jones scoffs at the idea of the can imparting a metallic taste. "That's just rumors and myth. The can imparts no flavor whatsoever." His cans have no lining. "It's just an aluminum can. The wine isn't acidic enough to wear down the aluminum." The technology is such, says Harms, that tinny or metallic flavors from cans belong to a bygone era. Maybe raise a can to that.
::
A sampling of wines sold in cans:
A guide to some wines in cans. Look for them at your favorite wine shop or grocery. And if they're not there now, they're coming soon. Guaranteed.
2013 Field Recordings Fiction Red (500 ml can, about $10) A quirky Zinfandel-based blend from winemaker Andrew Jones that also includes Grenache, Syrah, Mourvèdre, Tempranillo and Touriga Nacional. The lusty Fiction Red tastes of dark berries, smoke and forest.
2014 Field Recordings Fiction Pinot Gris (500 ml can, about $8) Aromatic white of mostly Pinot Gris with a small amount of Chenin Blanc, Sauvignon Blanc and Malvasia Bianca. Fruity, with some mineral notes and good texture.
2014 Field Recordings Fiction Rosé (500 ml can, about $8) Not a wimpy rosé, this one is fruity and lush, tasting of raspberries, strawberries and rose petals. Made from 70% Grenache, with 20% Cinsault and 10% Black Muscat.
2014 Alloy Wine Works Central Coast Pinot Noir (500 ml can, $7.50) From the same producer as Fiction, this Central Coast Pinot Noir is easy drinking, bursting with fruit, tasting of sweet spices and red cherries.
2014 Alloy Wine Works Central Coast Grenache Rosé (500 ml can, $7.50) A lively rosé that layers the tastes of red fruit (strawberry, cherries) with herbal notes.
2014 Underwood Pinot Noir (375 ml, about $6) Light, pleasant Oregon Pinot Noir tasting of raspberries and cherries, with smooth tannins. Just what you want for a picnic wine on a summer day or to drink with a sandwich or salad Niçoise.
2014 Underwood Pinot Gris Willamette Valley (375 ml can, about $6) This basic summer white, with its notes of citrus and pear, can go anywhere. Drink it on its own or with a tuna sandwich, some fried clams or peel 'n' eat shrimp.
2014 Underwood Rosé Wine (375 ml can, about $6) A dry Oregon rose to take on the go just about anywhere: the beach, a hike or the deck outside.
NV Francis Ford Coppola Sofia Blanc de Blancs (187 ml can, $4; four-pack, $12) A California sparkling wine made from a blend of 70% Pinot Blanc, 20% Sauvignon Blanc and 10% Muscat packaged in girlie pink in diminutive cans. Each can comes with a straw.
MORE: What Should you Drink? The latest in the world of wine, beer and other drinks
---
Get our weekly Tasting Notes newsletter for reviews, news and more.
You may occasionally receive promotional content from the Los Angeles Times.