Cadet, Kris Tominaga's new Santa Monica restaurant, not yet a major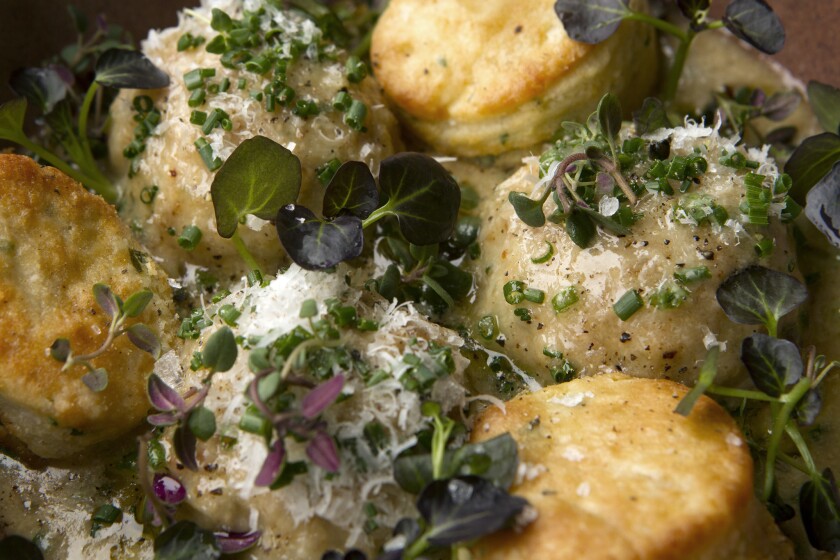 Rabbit boulettes at Cadet, the new restaurant in Santa Monica with chef Kris Tominaga.More great L.A.-area restaurants:
Jonathan Gold's 101
(Cheryl A. Guerrero / Los Angeles Times)
Cadet restaurant on Wilshire Boulevard has a wood-fired grill and brick walls.
(Cheryl A. Guerrero / Los Angeles Times)
An oxtail and onion soup is topped with lots of Gruyere cheese.
(Cheryl A. Guerrero / Los Angeles Times)
Anchovy, from top, mussel and sea urchin tartines.
(Cheryl A. Guerrero / Los Angeles Times)
The wood-grilled ribeye steak is served with chili vinaigrette, house pickles, lemon horseradish, braised mustard seed, greens and sourdough griddle bread.
(Cheryl A. Guerrero / Los Angeles Times)
Rabbit boulettes is one of the best dishes Cadet.
(Cheryl A. Guerrero / Los Angeles Times)
The Trinidad Sour has Jamaican rum, angostura, hazelnut orgeat and nutmeg.
(Cheryl A. Guerrero / Los Angeles Times)
The Old Bet cocktail is made with vodka, blood orange, kumo, génépi and lemon, garnished with candied olives.
(Cheryl A. Guerrero / Los Angeles Times)
Margo Abbott, left, Rio Bonney and Ilana Bouzas-Behar dine at Cadet.
(Cheryl A. Guerrero / Los Angeles Times)
The menu includes about half a dozen tartines as appetizers.
(Cheryl A. Guerrero / Los Angeles Times)
Chef Kris Tominaga fires up the grill at Cadet.
(Cheryl A. Guerrero / Los Angeles Times)
Chef Kris Tominaga cooks on the wood grill at Cadet. More great L.A.-area restaurants:
Jonathan Gold's 101
(Cheryl A. Guerrero / Los Angeles Times)
Los Angeles Times restaurant critic
If you were a restaurant guy tasked with opening a chill but on-trend restaurant in the city of Santa Monica at the moment, you might come up with something that looks a lot like Cadet. The exposed brick goes without saying, and the big grill for wood-roasting and the low-key music that could probably pass for a weekend DJ set on KCRW. It should probably be located in a space that has proved successful for restaurants but not so successful that most people could actually name a former tenant without a little prompting — you want that vague sense of well-being without any specific connotations.
There is a cocktail bar, good enough that other local bartenders drop by on their days off — Gabriella Mlynarczyk, formerly of Ink, is a good choice to run the program — and the drink menu is dominated by subtle, clever variations on cocktails that everybody knows — a tart, fizzy French 76 flavored with hops instead of the familiar French 75, for example, an Old-Fashioned tricked out with banana liqueur or a French margarita inflected with chartreuse instead of triple sec.
That woman hidden in the corner who looks like Gwyneth Paltrow actually is Gwyneth Paltrow, flipping her hair into a geometrically precise ponytail. Yes, you did see that guy over there on Kimmel last night. Yes, the women at the next table have been discussing both algorithms and wine all night, not that you were eavesdropping. The menu comes in the form of oversized playing cards tucked into a Leatherette sleeve.
Stop in for a glass of Grüner Veltliner and a kale salad at the bar? No problem. After a more elaborate dinner, say a grilled asparagus plate, some fava beans with fresh ricotta on toast, a steak or maybe a plate of roasted carrots? They can work with that too. You've been having this meal a lot lately, and it is delicious every time.
There is a pretty good gimmick too. When the main courses come, almost any of them, they are accompanied by what looks like a version of the accouterments that come with Korean ssam: a small dish of chili sauce, sliced pickles, some of that sweet mustard and a stack of lettuce leaves. The idea is to tuck a bit of Jidori chicken or roast cod into a leaf, dab it with the condiments and eat the package like a taco. If you are in the mood for Russian zakuski instead, there is also a stack of crepes and a dish of mild horseradish cream. It is a great idea for a dinner party.
It is a great idea for a restaurant too, until you start thinking about how the sweet and spicy sauces kind of mask the flavors of the meat and fish, like ketchup on a hot dog. If you lose track for a moment, it can be hard to tell whether you're eating wood-grilled pork collar or marinated flap steak with escargot.
At Cadet, Jeff Weinstein, who also runs Freddy Smalls, hired as his chef Kris Tominaga, whom you may remember from his run with Brian Dunsmoor at the pop-up Wolf in Sheep's Clothing, at the Hart and the Hunter in the Palihotel and at the Ladies' Gunboat Society at Flores on Sawtelle Boulevard. Tominaga and Dunsmoor redefined Southern cooking in Los Angeles; there has never been a better biscuit in town than the ones they made at the Hart and the Hunter. Dinner at one of their places often felt less like a formal meal than it did like a spell on a porch — a noisy porch — with pimento cheese, fried chicken and drinks.
But Cadet is not a Southern restaurant. It tries to lean French, with things like cheesy onion soup plumped out with braised short ribs, white anchovy tartines with radish, braised endives crusted with cheese, and an odd pan-fried version of pommes aligot, a crisp-crusted glop of mashed potatoes and Cantal cheese served in a tiny cast-iron pan.
When you order raclette, you are brought a plank holding a small crock of cheese melted over ham and potatoes, alongside a few cornichons, a dab of sweet, seedy mustard and some grilled bread — not quite the experience you may have had the last time you went skiing in Gstaad, but something. (The raclette and the endive are advertised as coming with country ham, which is a dense, screamingly salty product of hogs, smoke and time, but are almost certainly made with a decent-quality regular ham instead.)
The most Hart and the Hunter-like dish is probably the rabbit boulettes, loosely packed rabbit meatballs served with thyme gravy and tender little biscuits that practically melt on your tongue. It is also, not coincidentally, the best dish on the menu.
So, in a way, Cadet is like a Robert Plant solo album — cool in its way, impeccably put together and even worth revisiting now and again, but it is difficult not to contemplate the day the band might get back together. In the meantime, save room for the lemon and blueberry tart.
jonathan.gold@latimes.com
Follow me on Twitter
@thejgold
---
Get our weekly Tasting Notes newsletter for reviews, news and more.
You may occasionally receive promotional content from the Los Angeles Times.