At Yuca's tacos in Los Feliz, a neighborhood origin story
Dora Herrera, left, and her mother Soccoro Herrera put their heads together outside their Yuca's tacos location on Hillhurt Avenue in Los Feliz.
(Brian van der Brug / Los Angeles Times )
Yuca's tacos in Los Feliz.
(Brian van der Brug / Los Angeles Times )
Soccoro Herrera takes orders from her chair by the window at Yuca's.
(Brian van der Brug / Los Angeles Times)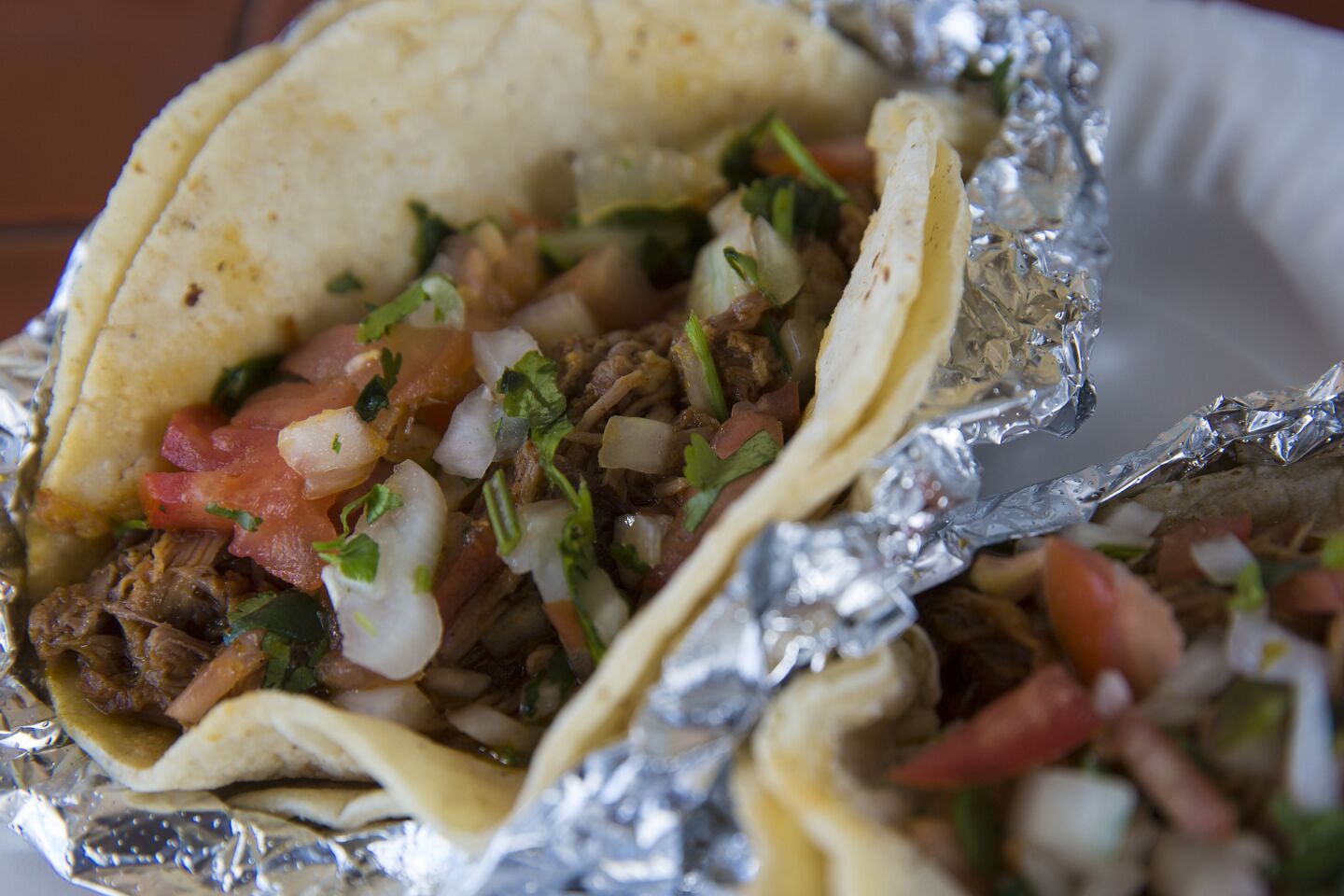 Cochinita pibil tacos at Yuca's.
(Brian van der Brug / Los Angeles Times )
Soccoro Herrera takes orders from her perch by the window at Yuca's.
(Brian van der Brug / Los Angeles Times)
Staff in the 8-by-10-foot kitchen at Yuca's.
(Brian van der Brug / Los Angeles Times)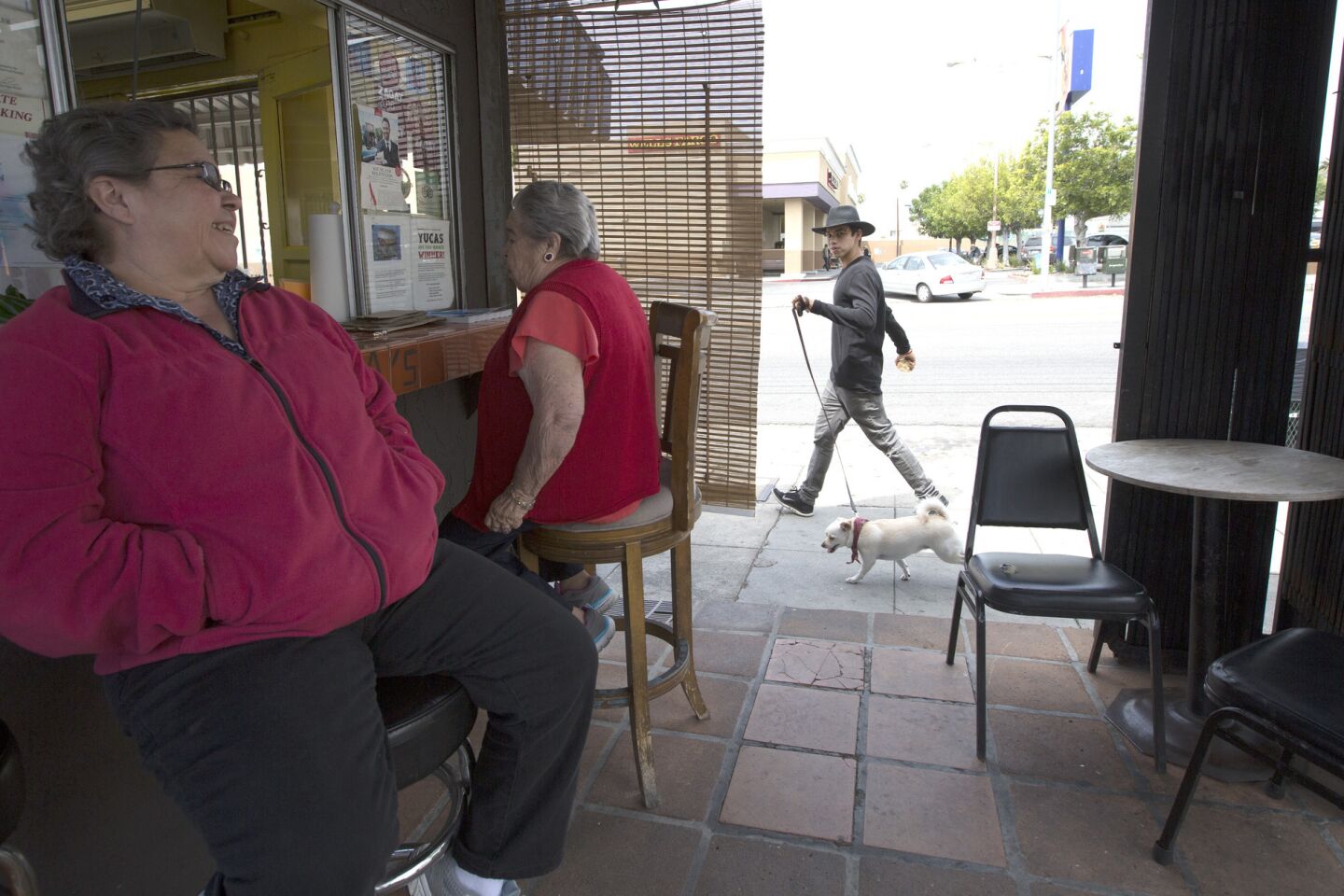 Dora Herrera, left, sits with her mother Soccoro at Yuca's.
(Brian van der Brug / Los Angeles Times)
Soccoro Herrera, center, with daughters Dora, left, and Margarita, right, at Yuca's.
(Brian van der Brug / Los Angeles Times )
For some, the origin story of Los Feliz begins on Hillhurst Avenue, under the canopy of "Mama" Socorro Herrera's Yuca's Hut. The tiny taco stand is a place of happiness — educational for some (no hard shell tacos or salsa bar) and a safe space for others, where Christmas ornaments hang from the ceiling year-round, Modelos from the adjacent liquor store are welcomed, and the menu, like the seasons in Los Angeles, won't change.
When Socorro first saw the 8-by-10-foot space — originally a shoeshine booth — in 1976, it was "enough for me," she recalls. She didn't have equipment or a plan, but her friends had been encouraging her to open a restaurant, and she and her late husband, Jaime, figured it would be helpful for at least the next four years to cover their daughter Dora's steep tuition at Brown.
They started making hamburgers, hot dogs, French fries, falafel and steak sandwiches — remnants from the menu of their predecessor, a Middle Eastern joint. Eventually, the offerings morphed into something a bit more true to Socorro's Yucatecan roots — soft tacos and burritos filled with carnitas, carne asada and cochinita pibil.
"I just did what I thought people would like. And they really liked it," says Socorro. Now, four decades later, with a second restaurant on Hollywood Boulevard, she's a James Beard Award winner (America's Classics, 2005) enveloped by a loyal community that's become her extended family, as well as a steady stream of out-of-towners who want to take their photos — a "selfish," as she calls it — with her. But aside from a few items that Soccoro has picked off — mainly falafel and French fries and a time-consuming ham and egg burrito — the menu has remained the same.
Dora is there too. After graduating from Brown in 1980, she returned home to help run the business that paid for her education. She's been working there ever since, managing Yuca's on Hollywood, while her mother greets her fans at the Hut.
"Working with family isn't easy," says Socorro. "But if they love you and you love them, you find a way to make it work so that it's not always what they want or always what you want."
On a wet Saturday in April, it seems that taco habits run deeper than hiking rituals. And it's business as usual at Yuca's. Locals pop in for takeout and a hug from Mama; a couple of Little Leaguers in uniform wait in line with a dad; a middle-aged man who has been eating Yuca's tacos since opening day has stopped in for lunch; a tie-dye-clad neighborhood kid, now grown, is in town visiting his parents and burrito-hungry.
Eighty-year-old Socorro, with short gray hair, a bright floral shirt, and famously perfect nails, sits where she always sits, on her bar stool taking orders on paper plates and passing them through to the cooks, who will pass them back, loaded with tacos, burritos, burgers and Yucatecan tamales. And that's when she'll call out your name, though it may or may not be the one that you gave her.
"There's this guy who comes in all the time and his name is Jimmy, but Mom calls him Dave," says Dora. "She always calls him Dave, though. At least she's consistent!"
In a city of infinite variables, Yuca's remains constant. "That's how you maintain quality in what you offer," says Dora. "People come back 10 to 15 years later and say it tastes exactly as they remembered — that's what it's all about."
The Herrera women are unconcerned with how to evolve; they just continue to do what they do best, making simple, memorable food inspired by the recipes from their mother and grandmother's rustic kitchen in Merida, where they both were raised. Dora believes that her mother's insistence on doing things her way is what has kept Yuca's thriving for so long.
"My mom didn't say, 'What do you want?'" says Dora. "She said, 'This is what I have, and it's really good and you're going to eat it.'"
If you're looking for chicken at the Hut, you're out of luck. The cheese in the beloved burrito? American, as always. And don't ask for a quesadilla, because Socorro will tell you that she doesn't make them (though it might be a matter of how you ask; try ordering a bean and cheese burrito without beans). She recalls, in rare English, one of the greatest compliments she has received: "I don't want to wash my mouth, I want to keep the flavor of your food."
The Herreras know that a few good things are enough. The world within Yuca's Hut is a snapshot of Los Angeles. And the structure of Socorro's burrito sums up her epicurean philosophy.
"I like my burritos square, not too big — not round," she says. "When it's too big, you bite it and everything falls out. When it's flat, you bite it and, in that bite, you get everything."
Get our L.A. Goes Out newsletter, with the week's best events, to help you explore and experience our city.
You may occasionally receive promotional content from the Los Angeles Times.