Lobster, the West Coast way
A lobster roll with green curry and Thai basil on a charcoal-infused bun at Hinoki & the Bird, a restaurant at the base of a Century City condo tower.
(Allen J. Schaben / Los Angeles Times)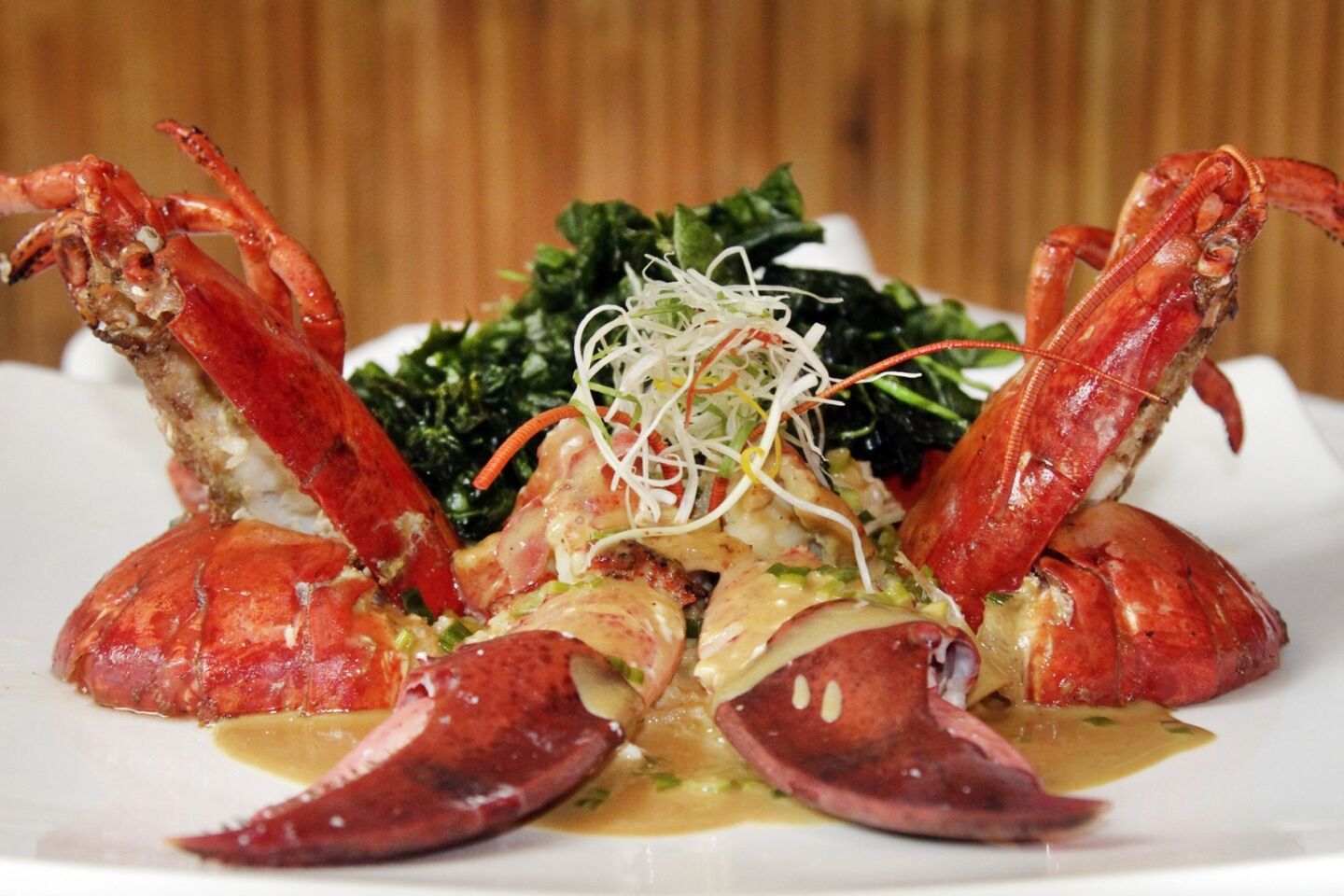 Shanghai lobster with curry and flash-fried spinach at Chinois on Main in Santa Monica.
(Lawrence K. Ho / Los Angeles Times)
No way am I going to make it to Maine this summer to feast on lobster pulled straight from the Atlantic. Short of flying in the crustaceans from the East Coast (very expensive), I intend to get my lobster fix right here. Not at the Lobster in Santa Monica — too noisy — or the Red Lobster. And I'm not longing for one of the gigantesque lobsters served up at the Palm steakhouses either. Something more demure, more soulful for me. On a recent lobster crawl around town, I found three places that did a good, even great, job with Maine lobster. It's not the same as eating it fresh out of the water in New England — the flavor is more muted — but when you have that craving, you've got to satisfy it. Because the price of lobster goes up and down like the stock market, when you see that telltale "MP" for market price, ask before you order.
Monday is lobster night at Jar, when Suzanne Tracht breaks out of routine with a different three-course menu every week. On a recent Monday, my meal started off with a grilled lobster, fingerling potato and frisée salad piled high on the plate. Then came meaty chunks of the roasted crustacean with a medley of earthy shelling beans and capers. And finally, a dark satiny chocolate pudding. I added two specials, lobster and tomato soup (no cream) and fried zucchini blossoms stuffed with — what else? — lobster. Don't forget an order of fried onion rings and you're good, very good.
8225 Beverly Blvd., Los Angeles, (323) 655-6566. Lobster Monday three-course menu, $55. Through the end of summer.
This new restaurant by David Myers with executive chef Kuniko Yagi may have an oddball location at the bottom of a Century City luxury tower. No worries, the über-eating crowd has found it. Among the inspired dishes here, a lobster roll made with a brioche bun with powdered Japanese charcoal in the dough that turns it charcoal black. Lovely with nuggets of lobster in a green curry perfumed with Thai basil piled on top. But if you're hankering for plain grilled lobster, the kitchen can do that too. Instead of drawn butter, it's served with an intense lobster bisque jolted with ginger.
10 Century Drive, Los Angeles, (310) 552-1200. Lobster roll, $19. Grilled lobster, $45 (MP).
Hard to believe, but Wolfgang Puck's playful Chinois on Main has been around for 30 years now. (How many blooms has that long wall of orchids seen in all that time, I wonder.) And while each successive chef adds a few dishes, the menu has stayed true to Puck's original concept. His Chinese chicken salad is still going strong; the fried catfish too. But what could be more festive than that family-sized platter of Shanghai lobster heading to your table, wafting the scent of curry with it? And who doesn't remember that first taste of its flash-fried spinach garnish?
2709 Main St., Santa Monica, (310) 392-9025. Shanghai lobster, $50 (MP).
Get our L.A. Goes Out newsletter, with the week's best events, to help you explore and experience our city.
You may occasionally receive promotional content from the Los Angeles Times.