Laura Ann's Jams: Preserves with an edge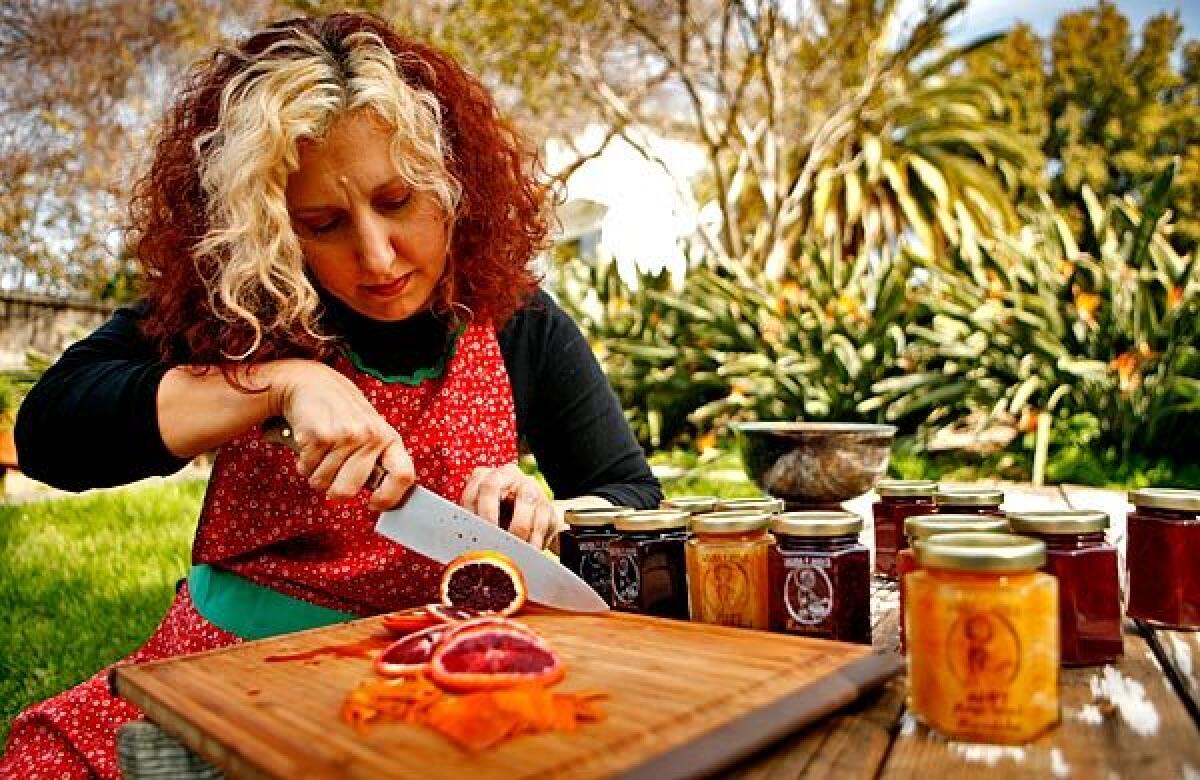 Former Chicago indie rock drummer Laura Ann Masura has made — and gotten into — an awful lot of jams since moving to Echo Park nearly seven years ago. But those first watery blueberry-Meyer lemon experiments and fussy crystallized Clementines have been relatively easy fixes compared with complications from a serious motorcycle accident in 2009. .
"These sorts of things really mellow you out, make you approach life differently," Masura says from her living room sofa. She has been temporarily sidelined again by a second reconstructive surgery after nearly losing a foot in the motorcycle accident. "Taking time, slowing down and giving care and life to each batch of jam is very therapeutic, actually."
For Masura, making jams under her Laura Ann's Jams label has been as much about self-preservation as it has been about putting up seasonal fruit in edgy flavor combinations. Those jars of strawberry-Syrah and raspberry-habanero pepper have also better connected her to an eclectic mix of local restaurant and rocker friends who have kept a watchful eye on her recovery. In turn, Masura's quest for pantry perfection has brought her jam-obsessed community together.
With so much sugar talk, it's difficult to imagine that the grinning Masura was once known in the underground Chicago rock scene as L.A. (Laura Ann) Beaver, the gritty cofounder of the hard-edged female punk band Evil Beaver. Then again, the preserves maker moved to Los Angeles at the urging of friend and former local punk booking agent Toast Boyd.
"People on the Chicago indie rock scene would laugh if they heard I was making jam," says the 40-year-old. Her mother, Valerie Masura of Phoenix, interrupts to gently scold her daughter for not elevating that injured foot. She's been in town for the last month to help out during her daughter's recovery. Around here, that means making the occasional batch of jam. "I should charge more for the mom batches," jokes Masura.
Her original California start-up plan was a Chicago-style hot dog stand. That fizzled, but it did mark the beginning of what Masura calls her "general preserving phase." In between her waitressing gigs, she began experimenting at home with making condiments such as mustards and relishes and, later, jam. She made jars of orange marmalade from backyard fruit by day and tucked it into care packages for friends and family back home.
"For a Chicago girl, it felt like I was sending home fruit from a promised land in the winter," she says, tying a perky red apron trimmed with rickrack green ribbon around her waist. "To think there is always some new hybrid fruit at the farmers markets — how can anyone in L.A. not want to make jam?"
In fact, many of her friends did want to help make those jams. On weekends, the Glitter Kitties, Masura's all-female motorcycle club, hit the highways to pick up organic fruit and honey for her small-batch experiments. Kristen Thiele, the bass player in Masura's first Chicago band Motorhome, drew the cartoon-like portrait of the jam maker that friends often help hand-stamp on each jar.
Recipes are often a group effort too. A spicy apple butter recipe arrived at Masura's doorstep via the grandmother of a girlfriend who had been helping collect fruit, and the guys across the street at Origami Vinyl record shop suggested the blueberry-basil jam in the Laura Ann's lineup. More recently, Genevieve Ostrander, owner of Echo Park's Delilah Bakery, challenged Masura to create a recipe with Jack Daniel's. "I was thinking Lynchburg lemonade goes Los Angeles," Masura says of the final Meyer lemon-Tennessee whiskey combo.
Things were, as they say, jamming along. In August 2009, Masura quit her waitressing job at Silver Lake's Gingergrass Vietnamese restaurant to devote full time to her business. Owner John Himelstein had already been buying up most of her inventory for his restaurants (he also owns Square One Dining in Hollywood). "He finally got me to take my jamming seriously," she says.
Less than a week later, however, a Glitter Kitties ingredient-quest ride ended in disaster. "We were headed to a strawberry farm to fill our saddle bags with fruit," says Masura. "I don't remember much else." She was hit by a car and seriously injured.
Masura was bedridden most of that September and October. By November, she needed reconstructive surgery to save her left foot. "At that point, it was still iffy whether I would keep my foot or they would amputate it," recalls Masura. She had blown through most of her savings.
Word quickly spread among Masura's longtime underground music and new food industry friends that she needed money for the surgery and living expenses. Former Chicago band mate Josiah Mazzaschi set up a fundraiser concert in Los Angeles; Liz Garo, the owner of Stories bookstore cafe and a booking agent for the Echoplex in Echo Park, donated the concert space. The Smashing Pumpkins even agreed to headline the gig and auction off band equipment for the benefit (founding guitarist James Iha is a high school friend of Masura; she was also the band's fan club president for years). The concert and auctions raised nearly $15,000.
"My friends have kept me fed, literally," she says. The monies lasted through last summer, just long enough for Masura to abandon her wheelchair for a walker and, eventually, a cane. But depression had set in. "I was really in the dumps and decided no more jam making."
Her friends disagreed. Former punk guitarist Terri Wahl, owner of Auntie Em's Kitchen in Eagle Rock, offered Masura a cane-friendly hourly job icing cupcakes. When she was strong enough to walk without it, Masura was promoted to the catering prep crew and, more recently, catering director. "I realized how much I truly love being in a commercial kitchen after always being front of the house for so long," recalls Masura, who got back into jam production around the same time. "That saved me."
Unfortunately, it turns out that Mom was right about staying off that foot. "Hey, I got a little too excited," Masura says of the January reconstruction surgery. Now she hopes to be back to full foot capacity in time for spring strawberry experiments.
In the meantime, Masura says she is content with the occasional bourbon-blood orange jam sessions. "The thing is, once you figure out how it all works, everything suddenly just gels."
Laura Ann's Jams are available online at https://www.lauraannsjams.com and at Auntie Em's Kitchen in Eagle Rock, Delilah Bakery in Echo Park and Square One Dining in Hollywood.
Get our L.A. Goes Out newsletter, with the week's best events, to help you explore and experience our city.
You may occasionally receive promotional content from the Los Angeles Times.