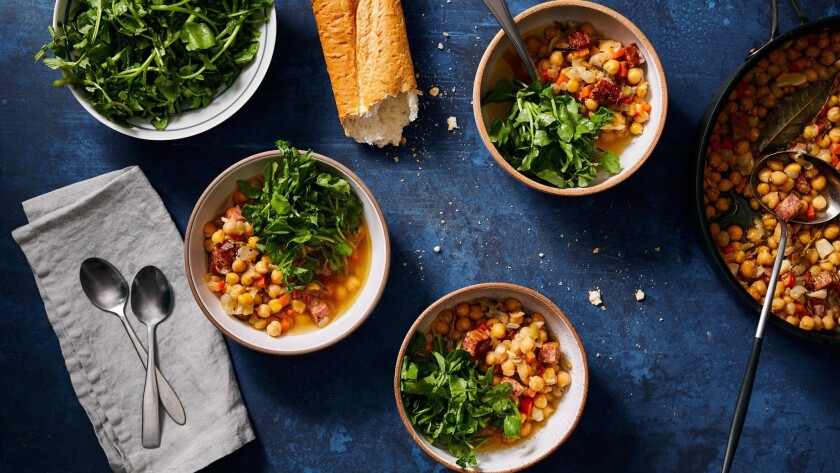 There seems to be an unwritten rule in cooking that slower is better: The longer it takes to cook something, the more delicious it must be. And while I do agree with that sentiment to a certain extent, one area where I don't agree is with beans.
Don't get me wrong: I will spend the requisite overnight soak and several hours on a Saturday to cook a pot of beans from dried just to obtain that intoxicatingly aromatic bean liquor, and I'll take pride in every minute of it. But if I want beans in less than 16 hours, I go the canned route, and I find them equally good. The key is to treat them like their dried counterparts, bathing them in a flavorful broth, punched up with double the aromatics to drive home the point more directly.
That's where these chickpeas come in. Like chicken thighs, chickpeas are all-purpose and pretty forgiving, even if you overcook them. But I like to, purposefully, do just that — tossing a couple cans into stock that's infused with soppressata and its fat, mirepoix, lots of garlic, and woody herbs like rosemary.
A side of super crisp, chilled watercress, dressed only with refreshingly abrasive lemon juice, is just the right counterpoint to the rich flavor of the chickpeas and broth. (Want to make this vegan? See the variation below the recipe.)
This is a faster-food treatment on a traditionally slower-cooked dish, and is what you need when you want that Tuscan farmhouse flavor but don't have "Eat Pray Love" time to make it happen.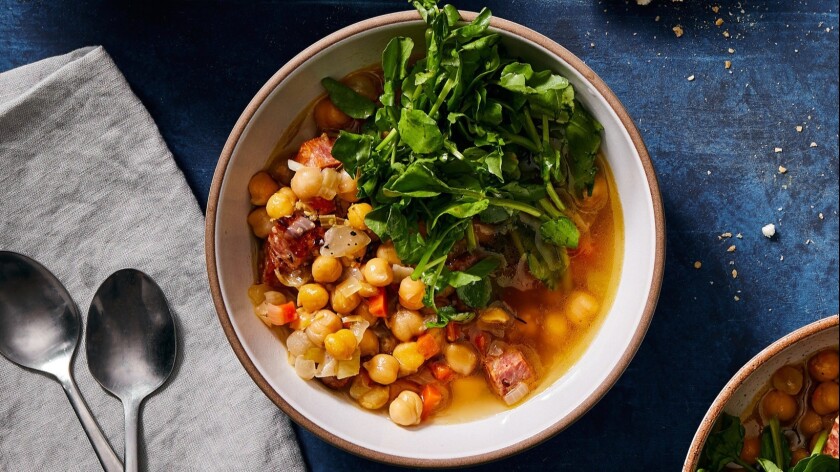 Brothy Baked Chickpeas With Chilled Lemon Watercress
1 hour and 10 minutes. Serves 4.
Any kind of lightly smoked or spicy cured meat will work here, so if you have a couple leftover slices of thick-cut bacon or ham, feel free to use them in place of the soppressata. Similarly, you can treat any type of canned beans this way though they may fall apart more than the sturdier chickpeas.
4 ounces spicy or sweet soppressata, cut into chickpea-size cubes
2 tablespoons extra-virgin olive oil
1 small carrot, chopped
1 small yellow onion, chopped
1 small celery stalk, chopped
6 garlic cloves, smashed flat and peeled
3 cups chicken or vegetable stock, preferably low-sodium
2 cans (15 ounce) chickpeas, drained and rinsed
1 small rosemary sprig
1 bay leaf, fresh or dried
Kosher salt and freshly ground black pepper
4 ounces watercress or arugula, cleaned and dried (about 4 cups loosely packed)
3 tablespoons fresh lemon juice
Finely grated Parmigiano-Reggiano (optional)
Flaky sea salt
Crusty bread, for serving (optional)
1 Heat the oven to 350 degrees.
2 In a large oven-proof skillet or low-sided Dutch oven, heat the soppressata over medium-high heat and cook, stirring, until it renders most of its fat and becomes slightly crispy, about 5 minutes. Using a slotted spoon, transfer the salami to a plate, leaving the fat in the skillet. Add the olive oil to the skillet.
3 Reduce the heat to medium, add the carrot, onion, celery and garlic cloves, and cook, stirring, until all the vegetables are soft, about 6 minutes. Stir in the reserved soppressata, the stock, chickpeas, rosemary and bay leaf, and season with salt and pepper.
4 Bring the stock to a simmer, then cover the skillet and transfer to the oven. Bake for 20 minutes, then uncover and continue baking until the liquid is reduced by one-third and the chickpeas are very tender, 20 to 25 minutes more.
5 Ten minutes before the chickpeas are done, tear the watercress into bite-size pieces, transfer to a bowl and refrigerate until the chickpeas are done.
6 Add the lemon juice to the cold watercress and quickly toss together with your fingers. Remove the skillet from the oven, and immediately serve the hot chickpeas and broth in bowls, sprinkled with Parmesan, if you like, then topped with the chilled watercress. Sprinkle each serving with a pinch of sea salt and serve with bread, if you like.
Variation:
Vegan Brothy Baked Chickpeas With Mushrooms
Swap 8 ounces mushrooms for the soppressata, roughly chopped and cooked in a little olive oil until deeply caramelized, and toss in a pinch or two of crushed red chile flakes along with the garlic.
---