Review: L.A.'s next world-class dining destination is tiny tasting-menu wonder Hayato
Restaurant Critic
Brandon Hayato Go reaches over the counter of his seven-seat restaurant, Hayato, and sets down a lidded, black-lacquered bowl in front of each diner. I lift the covering off mine and inhale sea air. It holds ichiban dashi, a cloudless broth rippling with umami. In the center bobs a generous ball of steamed Dungeness crab meat; twin stems of mitsuba (Japanese parsley) rest atop, bound in a sailor's knot. The flavors are purity itself: sweet, minerally, oceanic.
But this dish, the fourth in 12 courses, has an effect beyond pleasure. For an instant, everything else disappears. The day, the room, the other people, what's been, what's coming: It all falls away. The clarity of the soup is meant to still the mind. You can see all the way to the bottom of the bowl.
In the tradition of Japanese kaiseki — the ritualized, multicourse meals that evolved out of simple foods served with a tea ceremony — mastering the simple perfection of the suimono (soup course) is considered a true test of a chef's skills. For the dashi, Go uses a grade of kombu that costs $150 per small bag and shaves katsuobushi (blocks of dried, fermented and smoked bonito) using a special tool he imported from Japan to produce flakes the size of wide pencil shavings; they impart the right savor within mere seconds of steeping.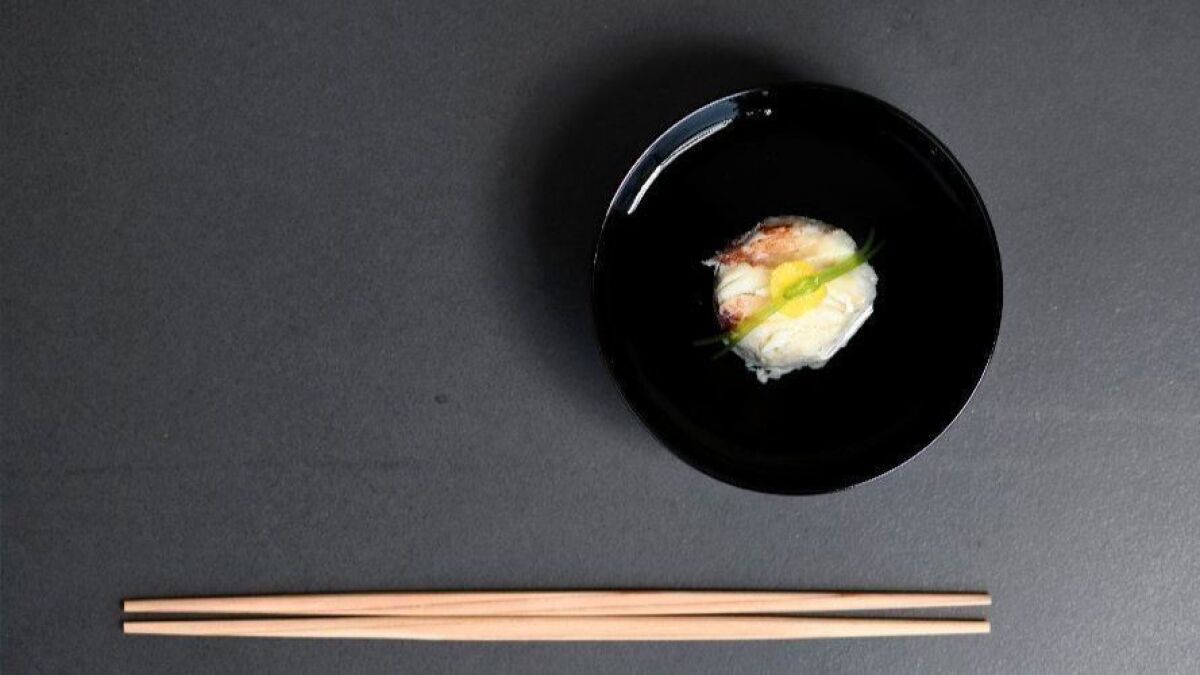 At his debut restaurant, Go achieves glory with something as subtle as broth, and with a procession of other exquisite ingredients. Looking for the next world-class destination for top-tier dining in Los Angeles? This tiny, singular restaurant is it. Hayato's specialness can be distilled into Go's six-word philosophy about the place: "A restaurant is basically a person." For three hours, aided by a few chefs who dash in and out of sight, Go stands at the counter's center, wielding chopsticks and knives to compose dishes of profound beauty.
Looking for the next world-class destination for top-tier dining in Los Angeles? This tiny, singular restaurant is it.
Go pulls inspiration from the canonical structure of kaiseki: an emphasis on extreme seasonality, a show of different techniques (fried, simmered, grilled and so on), the use of ceramics that very intentionally harmonize with the shapes and textures of the food. But he takes personal, thrilling liberties with the form; Go's cooking summarizes what he learned and mastered in the decades that the 41-year-old chef worked at his father's sushi restaurant, Koi in Seal Beach, and the years he spent staging at temples of modern Japanese cooking such as Tokyo's three-Michelin-starred Ishikawa.
Similar to Niki Nakayama's n/naka, another extraordinary restaurant that builds on kaiseki traditions, a reservation at Hayato has become the stuff of phone alarms, obsessive browser refreshing and longed-for notifications of cancellations. Reservations for Hayato become available a month in advance at midnight. The cost is $200 per person; there is only one seating per night, at 7 p.m. The restaurant has been serving dinner since July and word of Go's genius has spread. Those willing to dine solo may have the easiest time snagging the seventh seat last minute.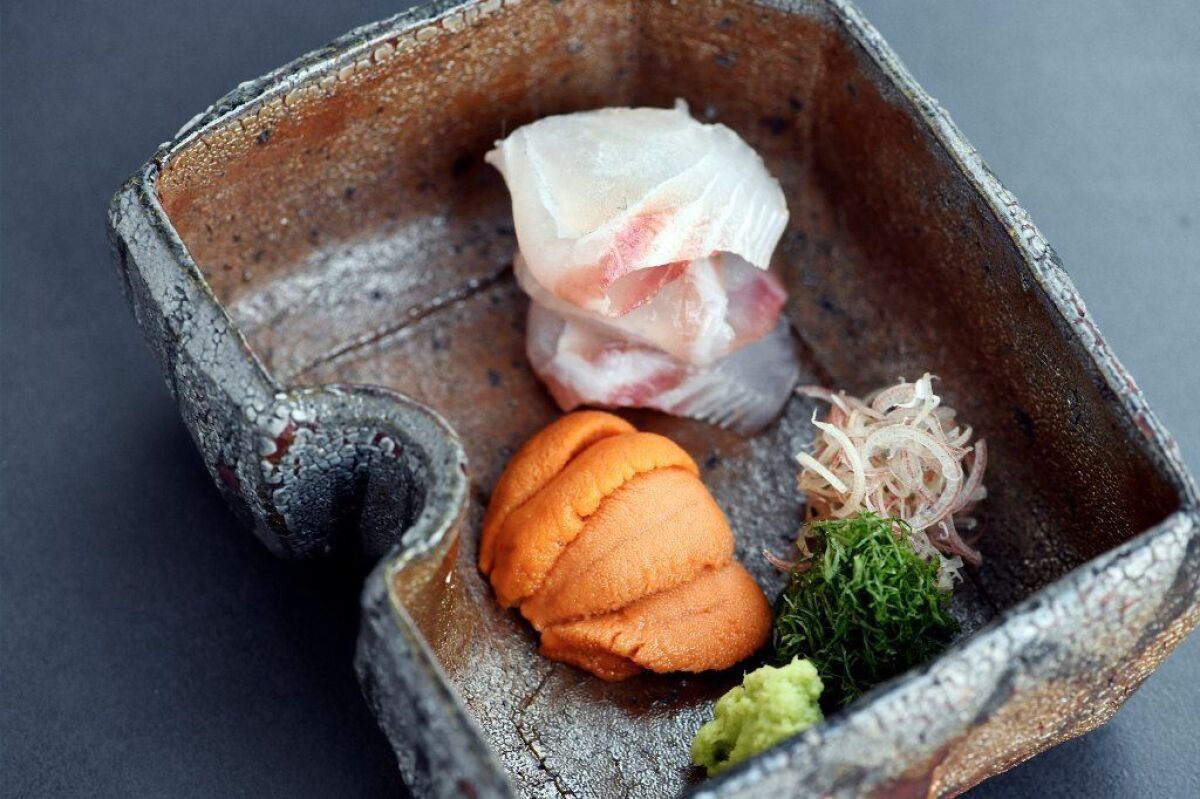 "Irasshaimase!" cries Go when each diner arrives. The tiny space is signless and, save for the noren hung over the door and the bamboo screens covering the window, anonymous in the concrete ravines of the Row DTLA complex. A staffer will pour you a few sips' worth of sake in a small gold cup as a welcome. The beverage list lays out sakes and wines from around the world in a friendly range of prices, as well as half a dozen beers.
When everyone settles, Go takes his place and the evening falls into a sort of holy rhythm. He dips into spells of deep concentration and then emerges to address the guests and detail dishes. This moment in spring might bring shelled Santa Barbara spot prawns, so fresh they snap against the teeth, with dashi-soaked chrysanthemum greens humming alongside and an overlay of vinegary, gingery gelee. Then a duo of spring tempuras, taranome (gently bitter angelica bud) and sweet kobashira, adductor muscles from Hokkaido surf clams. And nigiri sushi; aji (silvery horse mackerel) draped over rice seasoned with shiso.
Gorgeous, riveting plates keep coming. A trio of sashimi, including the sweetest Hokkaido uni. Grilled nodoguro (black throat sea perch that Go calls the "foie gras of the sea" for its rich, clean taste) paired with chewy, thickly sliced grilled lotus root. Then nabe, or hot pot, filled perhaps with crab, nappa cabbage and shiitake mushrooms, or a few precious slices of Wagyu rib-eye swirling with bamboo shoots.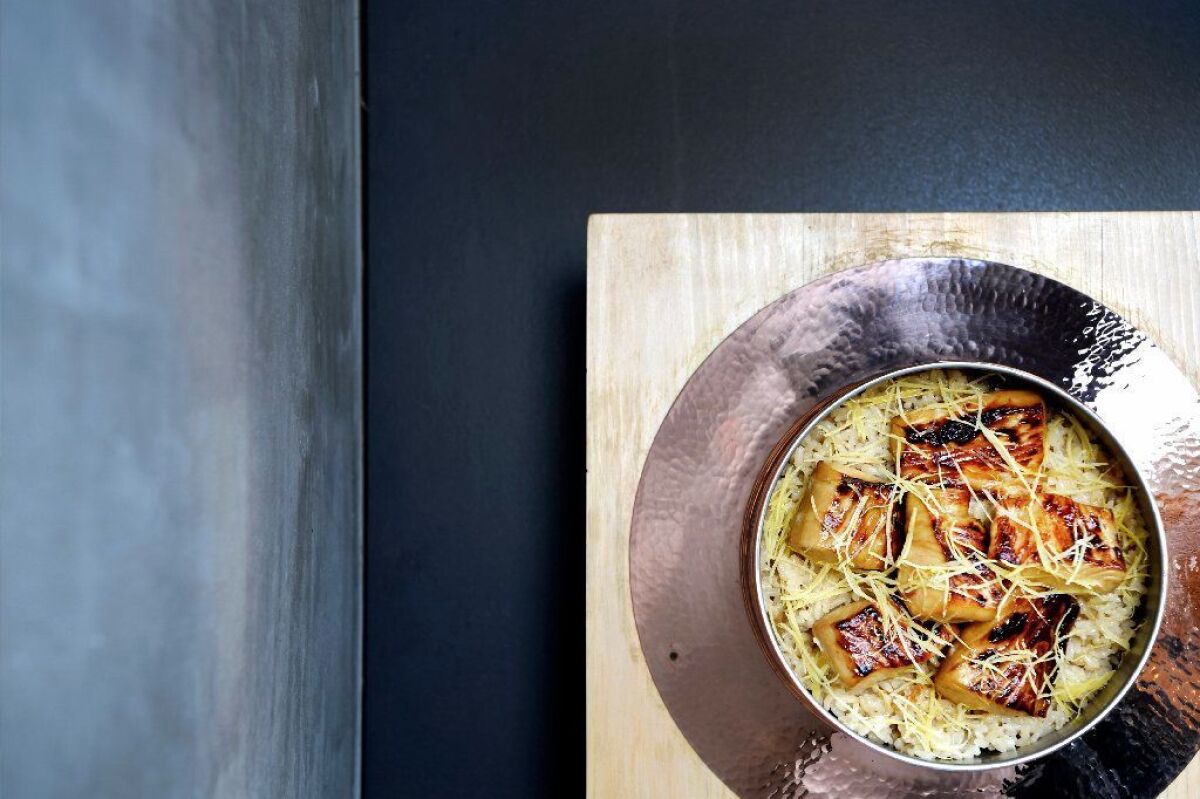 By the last savory course — rice and fish (king mackerel, recently) served from a polished copper pot on a tray with pickles, miso soup and charcoal-roasted hojicha tea — the group can be almost silly from the exhilaration of an astounding meal. People lob questions at Go while he offers seconds, or thirds, of fish and rice: Where does he like to eat in Los Angeles? (One answer: Angelini Osteria.) What kind of restaurant would he like to see open here? (A trattoria that serves Venetian-style seafood.) Go will make charming and enlightening asides. He'll talk about his process for procuring fish from Tokyo's Toyosu market: A vendor will take pictures so Go can choose his own product; because of the time difference he'll have the fish within 24 hours. He also often mentions how little sleep he gets.
His slumber particularly suffers on Fridays and Saturdays, when Go also assembles 16 exquisite lunchtime bento boxes each of those days, modeled in part after osechi, the Japanese New Year foods. These also require an online reservation, and they are as equally difficult to score as dinner bookings. Persevere. They cost $50, but you'll see why when you peer inside the bento and find 16 different edible jewels: shrimp dumplings, slices of rolled omelet, miso-infused cod, blocks of snow crab tofu, pickled vegetables, seared duck breast; every morsel meticulous without being precious.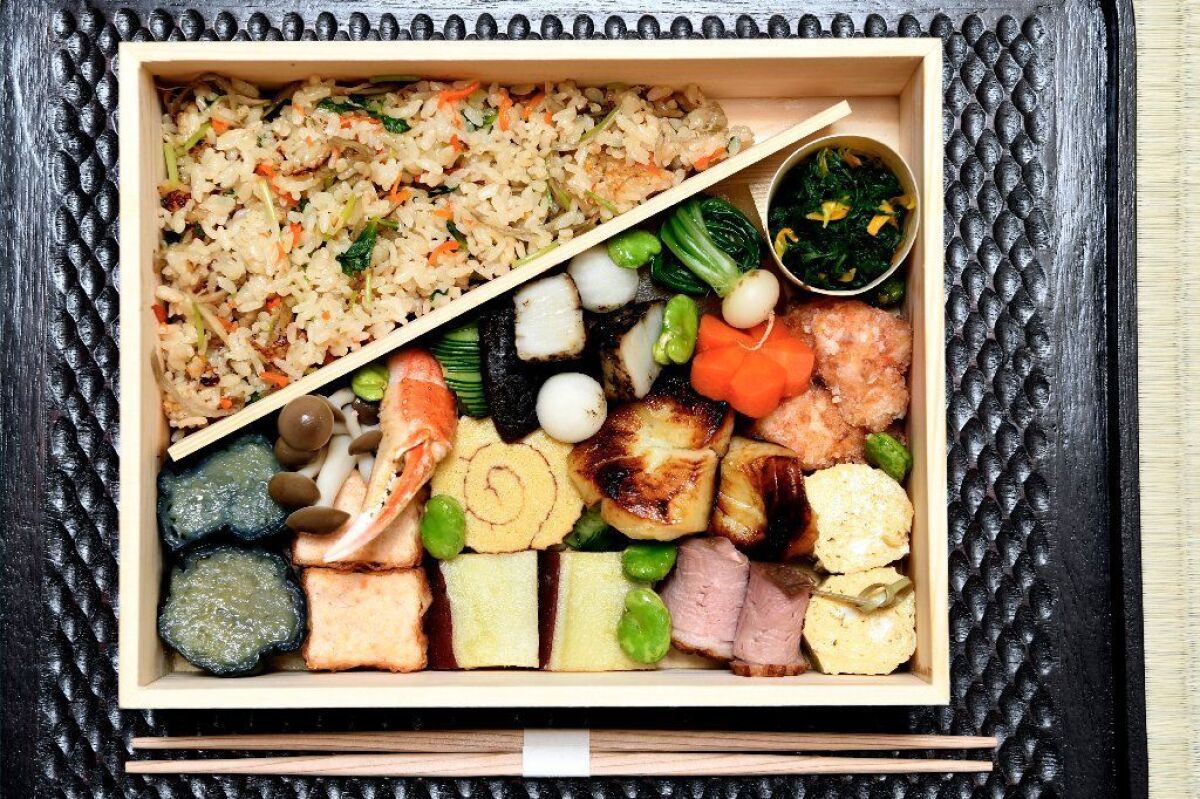 The boxes are packaged for takeaway, but customers are invited to eat them in the restaurant. Go hangs out while people come in and out, a chance to interact with him while he's not immersed in his craft. Here, again, his food somehow wakes and settles the mind. The busy world outside this small, spare room tugs at you, but you untie the ribbon around the pale wooden box and slowly lift off its lid. The only thing in front of you is a gift of the moment.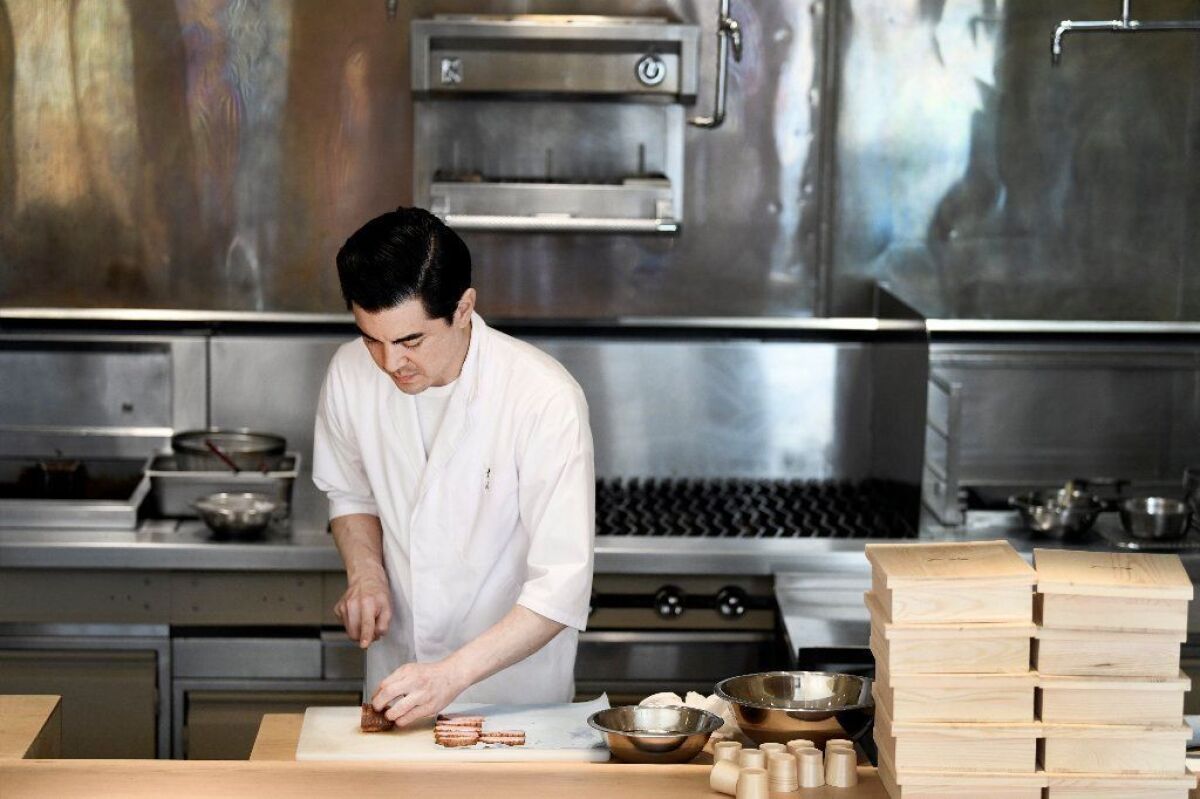 If You Go
Hayato
Brandon Hayato Go's transcendent seven-seat restaurant, serving world-class multicourse dinners inspired by kaiseki traditions (and equally astounding bento boxes).
Prices: $200-per-person multicourse dinner; $50 lunchtime bento boxes available by reservation Friday and Saturday.

Details: Credit cards accepted. Beer, wine and sake. Lot parking. Wheelchair accessible.
---
Get our L.A. Goes Out newsletter, with the week's best events, to help you explore and experience our city.
You may occasionally receive promotional content from the Los Angeles Times.