Review: Ronan makes stellar pizzas and a whole lot more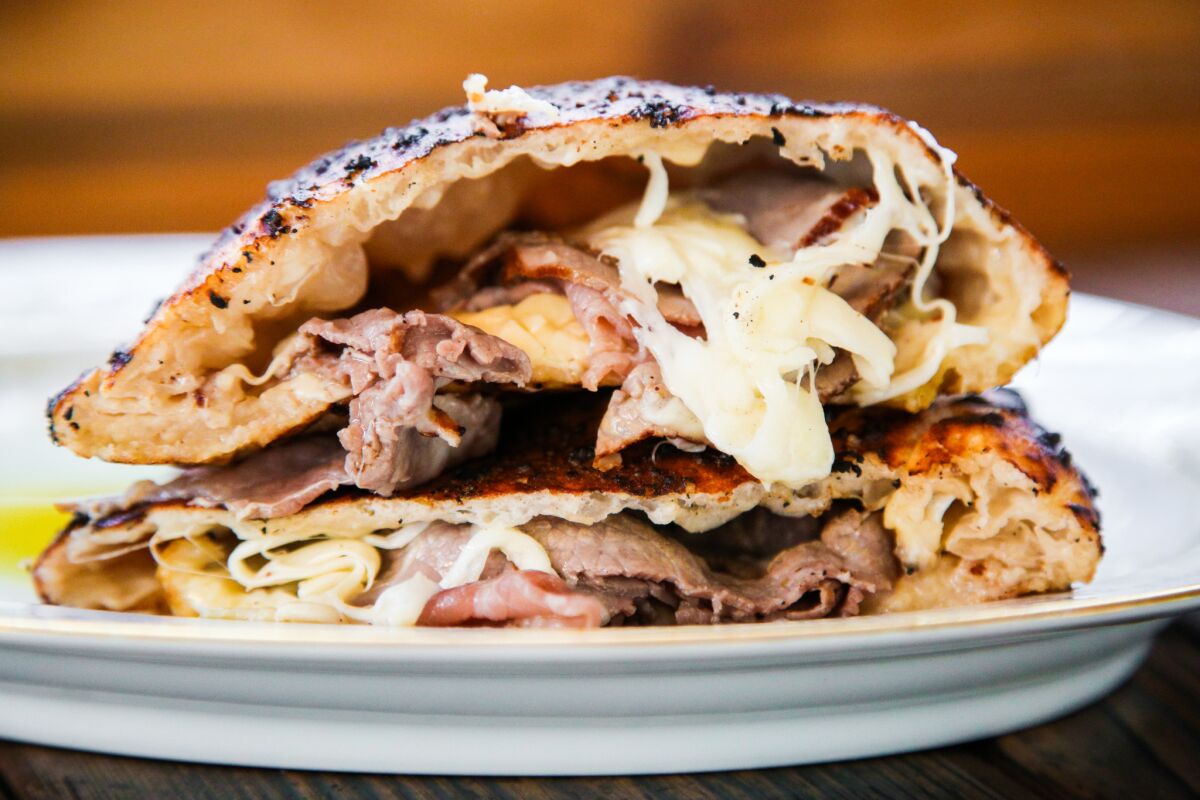 Restaurant Critic
Does the notion of a calzone crossed with a French dip sandwich sound like sheer gimmickry? Daniel Cutler runs with the idea and manages to transcend hokum at his Fairfax restaurant Ronan.
He appears so confident in the deliciousness of his creation, "The Philippe," that he makes no efforts at beautification. The thing lands on the table resembling a giant sea cucumber, its formless mass blackened and pocked. Servers offer quick instruction: Tackle the brute by carving it crosswise into thick slices, and then start sopping bites in jus and swiping them through hot mustard.
As with the most popular dipped sandwich at Philippe the Original downtown, ribbons of roast beef fill the calzone. Cutler adds provolone, and he times the baking in an oak-burning pizza oven to flatter every element: The meat stays rosy, the cheese melts to lava, the crust crackles and yields in all the right places. The "jus" is more akin to the broth for French onion soup, threaded with caramelized onions. Soaked in this stuff, the calzone rattles with beefiness in surround sound. The hot mustard blasts the sinuses.
I'm an apologist for the calzone, too often the overlooked kid on the playground while pizza is chosen for all the teams. But this weird, wonderful anomaly charms every person I bring here. The dish summarizes the endearingly goofy wit (puns abound on the menu) and the Angeleno pride that Cutler ingrains in his cooking.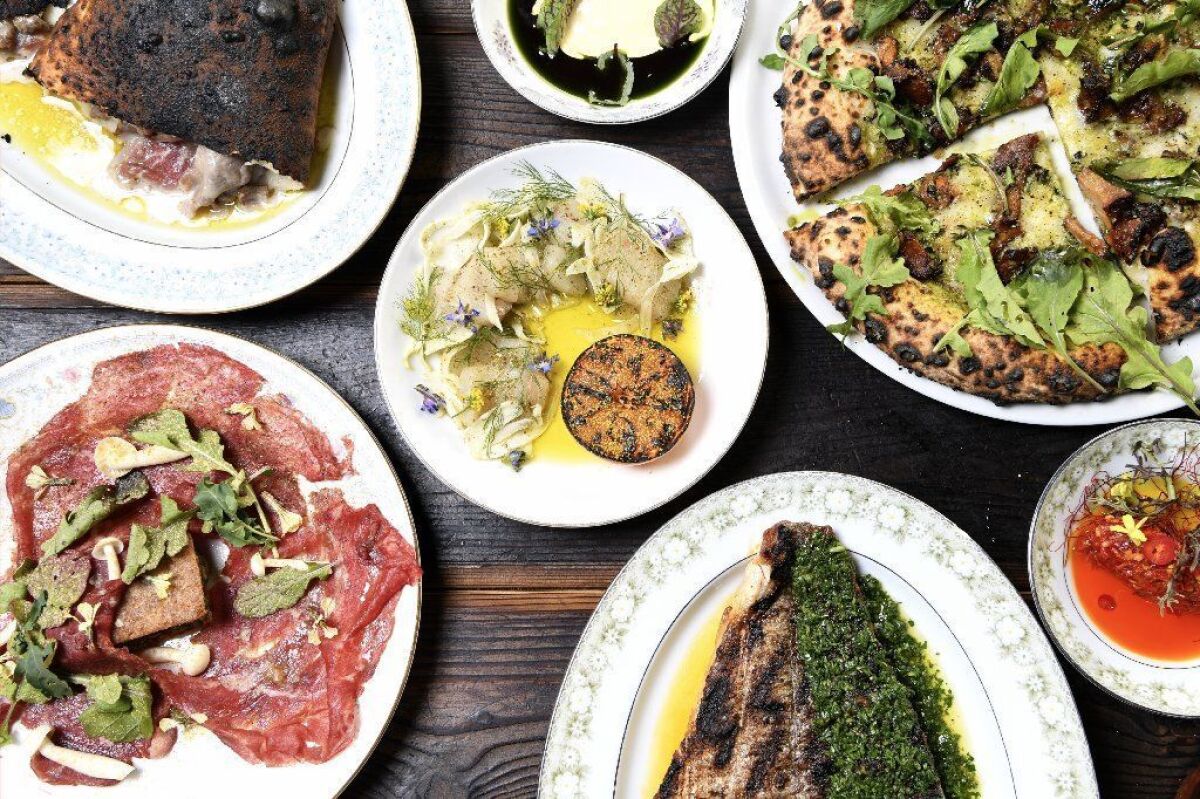 How to best describe Ronan — an underdog enchanter, open since September, that Cutler runs with his wife, general manager Caitlin Cutler? To call it a "small plates and pizza restaurant" is accurate but vanishes from the mind the moment you say it, especially given the evident quality and imagination coming from the kitchen. Ronan hovers between neighborhood hangout and a pricier tier of dining: Most of the modest-sized plates run in the $15 to $20 range, and the pizzas, blanketed in sterling ingredients, slide into the mid-$20s.
Review: At Sonoratown, worship at the altar of flour tortillas and mesquite-grilled beef »
That's an investment for a pie, though it comes with a pedigree. The Cutlers both worked at Steve Samson's recently closed Sotto, an adored keystone for pizza and pasta. Daniel was chef de cuisine during his tenure there. His pizzas at Ronan enter the lineage of Pizzeria Mozza, Pizzana and Cosa Buona, Los Angeles greats that nod to Neapolitan pizza traditions with respect but then calibrate their styles with true California individualism.
Like the calzone, the crusts of Cutler's pizzas are as speckled as leopard print; taste-wise, the first hit of smoky char soon gives way to the dough's pronounced tang. The textures lean plush rather than crisp. While I can appreciate a soupy Neapolitan pie, I really prefer a sturdier, cooked-through center, which is what Cutler achieves. His Margherita — generously perfumed with basil, sharpened with pecorino — is one you can slice and eat by hand. That's enjoyably, if awkwardly, manageable even with the optional blobs of burrata, this decade's de rigueur pizza topping.
Composed pizzas assert plenty of assured creativity and wordplay: "How 'Nduja Want It?" balances the soft, smeary sausage with Gorgonzola and a falsetto note of fermented celery; "Sweet Cheeks" mitigates the funk of guanciale with dulcet ricotta forte and spicy honey. The most overt gesture to luxury features a generous scattering of chanterelles, whose gentle flavor are uplifted by a veneer of Caciocavallo (a not-too-salty aged cheese from Southern Italy) and a dusting of Parmigiano-Reggiano.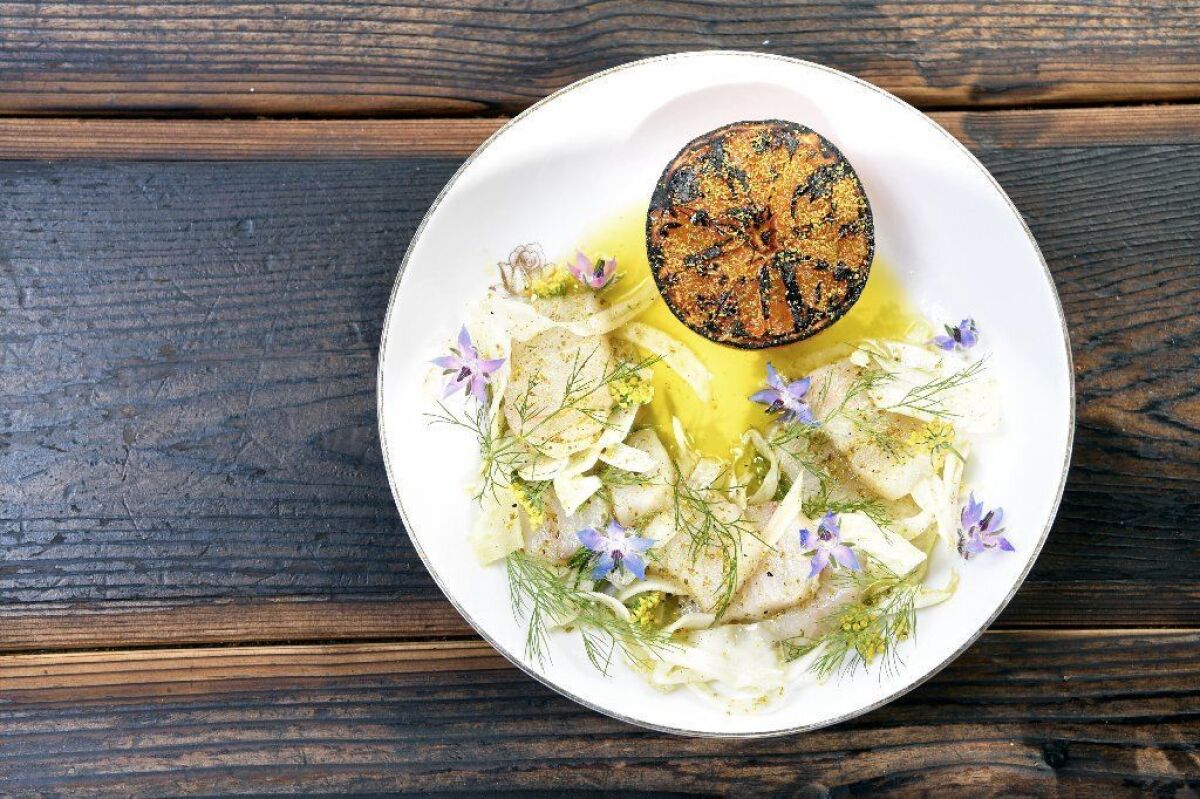 Before the admirable pizzas, the dozen-plus small plates do their job of revving the appetite and trumpeting Cutler's talent for honed, intelligently unified flavors. In an otherwise genteel Baja kingfish crudo with Cara Cara orange and fennel pollen, you can pick up the rich twang from a subtle dosing of colatura — fermented anchovy sauce, originally from the Amalfi Coast, that I'm noticing on more and more menus around town. Cutler plays winningly with the Caesar format by pummeling the salad with cheese, subbing in bitter chicories and replacing croutons with crisped quinoa.
For spring, there are sardines, wisps of Ibérico ham and mashed peas tumbled atop the restaurant's excellent crusty bread. For whimsy, there is Wellington in deconstructed carpaccio form; it's a stunning, swirling presentation of shaved dry-aged beef as opulent as silk drapes, with buttery crunch from puff pastry and depth from earthy creamed mushrooms. For homage, there is a round of ricotta surrounded by chopped garnishes like broccoli rabe, chives and garlicky sourdough crumbs: It's meant to evoke hiyayakko, the Japanese tofu appetizer served cold with varying toppings. Something in Cutler's tribute, after all the ingredients have been mixed together, tastes distinctly and mightily of garlic salt. It throws the whole thing out of whack.
A riff on gnocchi ("no-cchi") of roasted potatoes in lamb ragú comes off a little too wonky; wood-grilled pork meatballs are spongy; a pork chop "Animal style" could have used more of the mustardy zing of the burgers that inspired it. (I wince when I think dinner for four at In-N-Out costs less than the $38 pork chop.)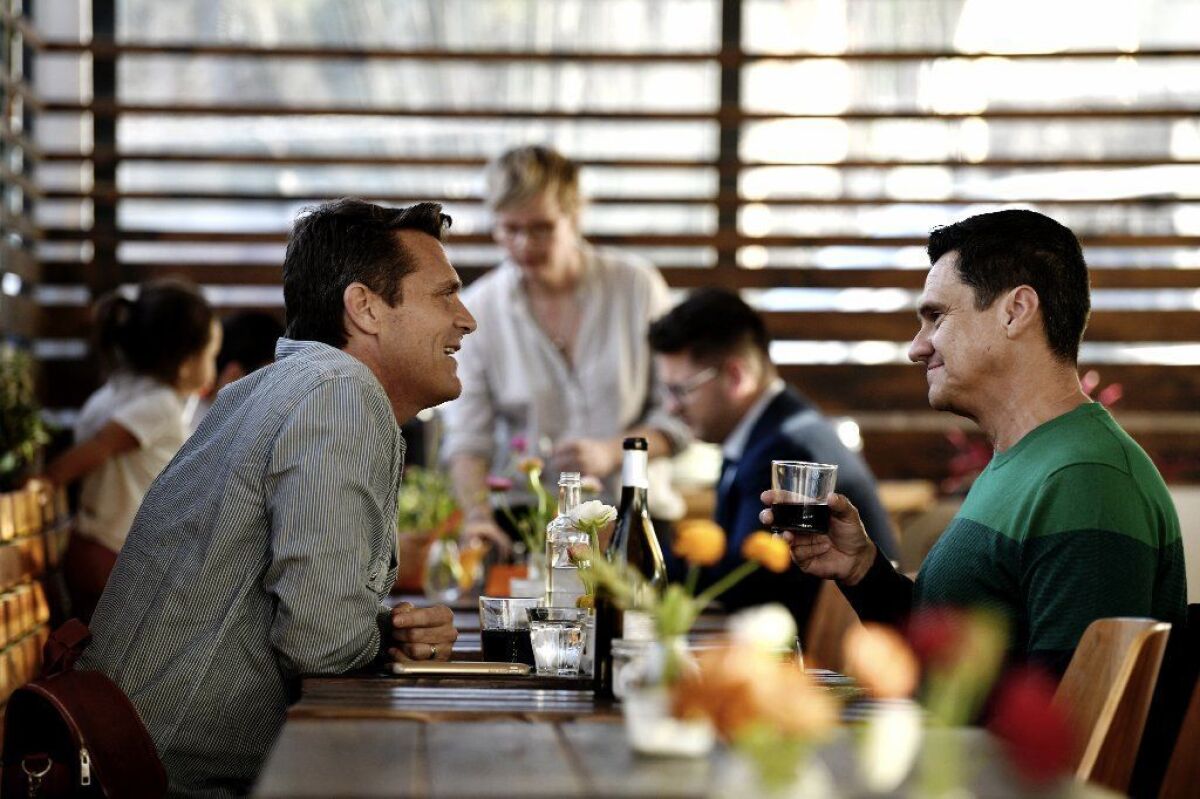 Two desserts encourage lingering in Ronan's pub-like space: Cutler's creamy rendition of the smirched Basque-style cheesecake that's having its moment, and a tart with a rye crust covered in caramel and dark chocolate that nails the sophisticated-candy-bar vibe angle.
Ronan stands next to the Groundlings theater on the dense stretch of Melrose Avenue between La Brea and Fairfax. People-watching in the restaurant is primo: Its crowds slant youngish and gayish; the parade of fashion grows edgier as the night wears on. The concrete-bunker interior, with its long communal table and bar lined with wide rectangular stools, feels almost subterranean in its shadowed dimness. Those seeking the light will gravitate to the deep, narrow patio — a fine place to sip amaro-laced cocktails and orangey natural wines.
On nights when I witness business on the quiet side, I worry about Ronan's multiple identities: the with-it pizzeria hangout fused with the serious, ambitious, pricey restaurant. The French dip number that has me so smitten? It costs $27. It feeds two easily with a few small plates to start, but will everyone want to pay that for a calzone? I'm not sure. I am certain, though, that Cutler is a seasoned, wry chef, fully in command of his powers. Amid an overlap of pizza (and calzone) geeks, trend seekers and flush locals, therein lies his audience.
Ronan
Calling Daniel and Caitlin Cutler's first project a "small plates and pizza restaurant" is accurate enough, but the rangy, charismatic cooking also defies easy labeling.
LOCATION
7315 Melrose Ave., Los Angeles, (323) 917-5100, ronanla.com
PRICES
Small plates $9-$38; larger wood-grilled dishes $16-$55; pizzas (and calzone) $17-$29; desserts $9
DETAILS
Credit cards accepted. Valet parking. Full bar. Patio is wheelchair accessible.
RECOMMENDED DISHES
Chicory Caesar; kingfish crudo; Wellington carpaccio; "the Philippe" calzone; Margherita pizza; "rye or die" chocolate-caramel tart.
Instagram: @bill_addison
Twitter: @billaddison
---
Get our L.A. Goes Out newsletter, with the week's best events, to help you explore and experience our city.
You may occasionally receive promotional content from the Los Angeles Times.