A grilled carrot recipe to star in your summer barbecue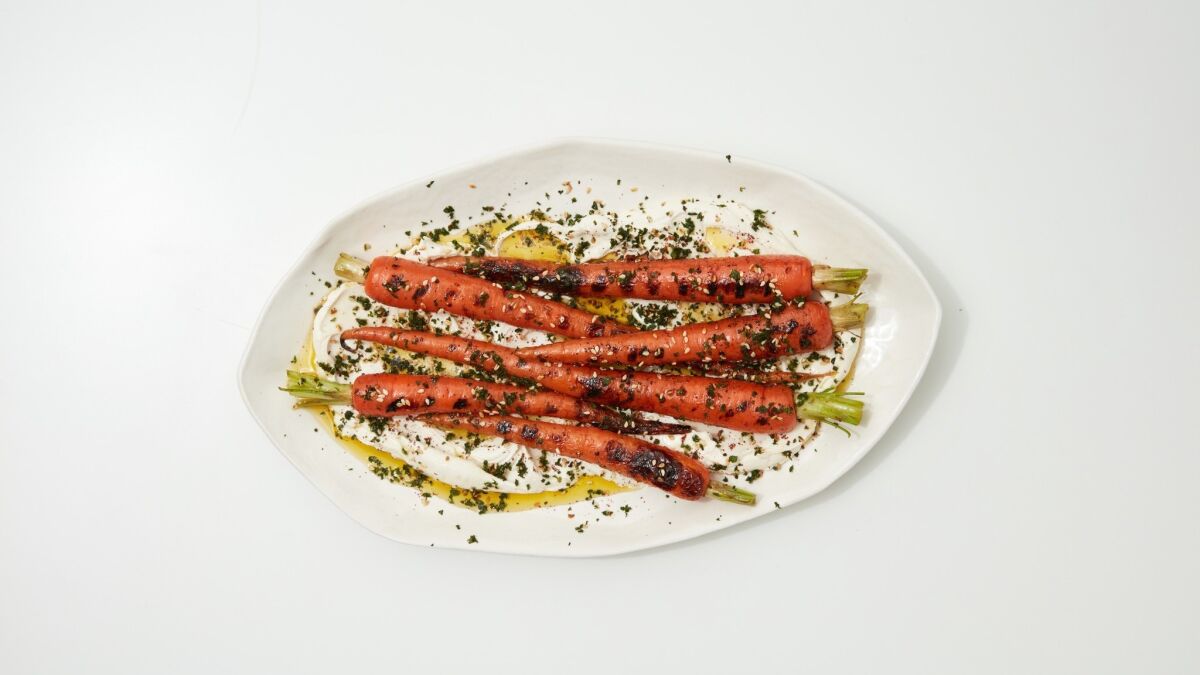 I have to admit, I used to hate carrots. Growing up on grocery store carrots, most often whittled down to the "baby" variety, I grew to associate their tooth-snapping brittleness and orange color with a one-note sweetness. They were "health" food that you snacked on instead of the chips you actually wanted. You could dip them in ranch dressing to get them down, but, well, I detested ranch too. I liked them in carrot cake, though, because they were hidden from sight and covered up with spices and cream cheese icing. And a friend's Thanksgiving family staple of carrots glazed in honey just took the sweetness so far over the top, I felt like I was eating candy.
It wasn't until I bought carrots at a farmers market that were organic — one of the select types of vegetables in which you can truly taste the difference — that my tune was changed. Instead of a one-note sweetness, there was earthiness, a little bit of bitter from the skins (I like to leave them on), and a herbaceousness that I had never experienced before. Carrots went from being the most ho-hum vegetable I could think of, to one I wanted to cook with every night for dinner.
The first spring carrots are upon us now, showing up in farmers market stands (and some discerning grocery stores) in their hues of classic orange, ruby purple, fresh butter-yellow and parsnip-like beige, and with them an awakening of different dinner possibilities beyond the hard winter variety best in stews and as sponges for pot roast jus. They also come with their tops still attached, a lagniappe of extra herbs that give you the best two-for-one deal at the markets.
Taking inspiration from a dish I had recently at the Silver Lake restaurant Small Town, I came up with a decidedly more grown-up version of the baby-carrots-and-ranch snack we all know (with varying degrees of affection for). Whole carrots are cooked completely on a grill to allow them to char lightly, a delicious bitter balance to their sweetness, and then served atop labneh flavored with garlic and tahini. But instead of the typical fresh herbs mixed into the sauce, take their tops, which taste like carrot-scented parsley, and finely chop them to mix with toasted sesame seeds and sumac (or grated lemon zest) for a fresh version of za'atar, a Middle Eastern spice mix typically made with dried herbs.
You can serve the carrots, piled high on the sauce smeared on a platter, and sprinkled with the fresh za'atar for dinner, sure, but they're even better taken outside for Memorial Day this Monday or any summertime picnic. Keep the labneh sauce and fresh za'atar in separate containers and use the warm grilled carrots like breadsticks to dip them in the labneh then coat them in the za'atar. Or, for your vegetarian friends, take a cue from a recent trend and serve the carrots in hot dog buns, smeared with the labneh sauce and topped with the za'atar (if they're vegan, swap out the labneh for any nut-based creamy cheese or thick yogurt).
Grilled Spring Carrots with Fresh Za'atar and Tahini Labneh
45 minutes. Serves 4 to 6.
Thin, finger-sized farmers market carrots work best here, cooking through in just 20 minutes and concentrating their unmistakable sweetness. If you use thicker carrots, allow more time to cook them, just until a paring knife easily slides in the thickest part, and the ends are nicely caramelized and chewy. Both the za'atar and labneh sauce can be made and stored in the refrigerator for up to 3 days in advance.
2 3/4 pounds loose whole carrots with their tops (about 4 bunches)
1/4 cup toasted sesame seeds
1 tablespoon flaky sea salt
2 teaspoons sumac (or finely grated lemon zest)
2 cups labneh or plain Greek yogurt
1/2 cup tahini
1/4 cup extra-virgin olive oil
2 small garlic cloves, peeled
Kosher salt and freshly ground black pepper
1 Remove the tops from the carrots, pick off all the leaves, then wash and dry the leaves thoroughly (you should have about 3 to 3 1/2 cups). Place all the leaves on your cutting board and finely chop (you should have about 1 1/2 cups). Place 1 cup of the finely chopped carrot top leaves into a bowl and discard or reserve the rest for another use. Stir the sesame seeds, sea salt and sumac into the carrot top leaves in the bowl and reserve the za'atar until ready to use. You can make the za'atar up to 3 days in advance and store in the refrigerator.
2 In another bowl, whisk together the labneh, tahini and 2 tablespoons olive oil. Using a microplane grater, grate the garlic into the labneh mixture and stir until evenly mixed. Season the labneh sauce with salt and pepper.
3 Prepare a charcoal grill for direct, high heat grilling or heat a gas grill to high. (Alternatively, heat a cast-iron grill pan over high heat.) Scrub the carrots clean and dry thoroughly, then place in a bowl. Add the remaining 2 tablespoons olive oil, season with salt and pepper, and toss to coat the carrots with the oil.
4 Place the carrots on the grill and cook, turning as they char lightly, until soft and blackened nicely in spots, about 20 minutes.
5 While the carrots cook, spread the labneh sauce over the bottom of a large serving platter. Transfer the cooked carrots directly from the grill to the platter, piling them up in the center. Sprinkle the carrots with some of the za'atar (you won't use it all) and drizzle with more olive oil to serve.
---
Get our L.A. Goes Out newsletter, with the week's best events, to help you explore and experience our city.
You may occasionally receive promotional content from the Los Angeles Times.