What goes into an $899 bottle of beer? Lots of coconut and hype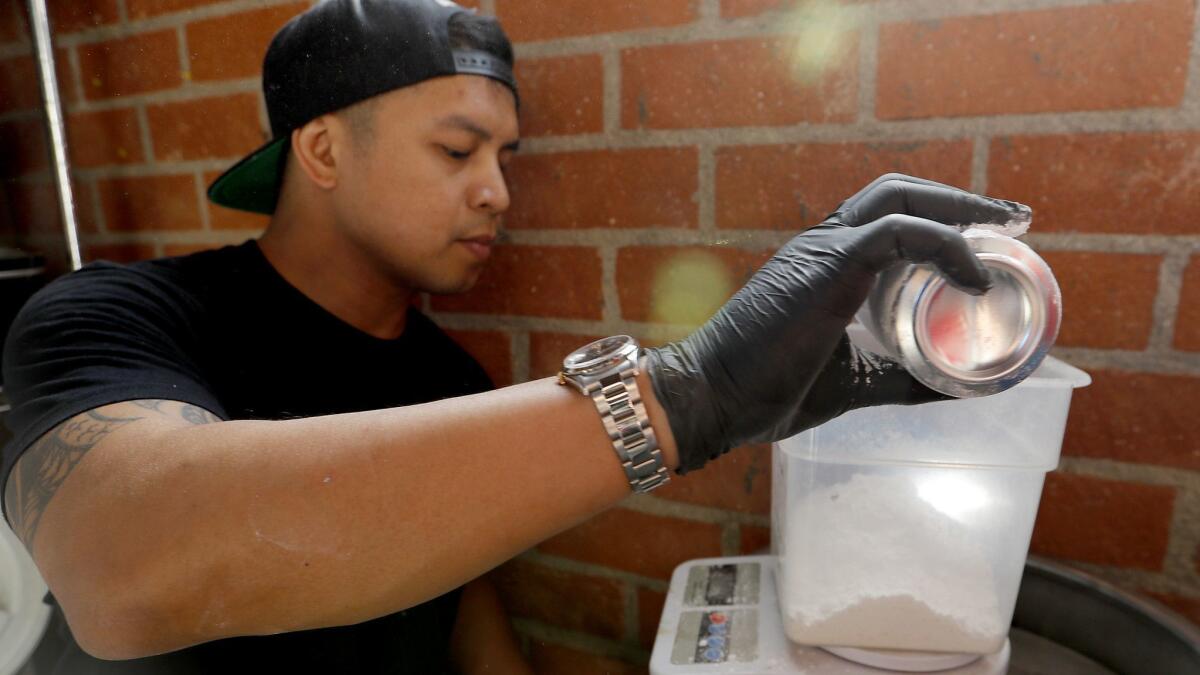 Want a taste of Los Angeles' latest craft beer sensation? Grab a sleeping bag — or be prepared to empty your wallet.
If you're not familiar with Three Chiefs Brewing Co., that's understandable. Its online presence is virtually nonexistent with scant social media updates and a website that offers little more than the brewery's name. Finding its actual facility is equally frustrating. It's in a remote section of El Segundo, operating out of the R6 Distillery in a space about the size of a Manhattan studio apartment.
Despite the brewery's limited output (or perhaps because of it), Three Chiefs has become a destination for craft beer die-hards who insist the effort to obtain bottles of its decadent, hyper-limited stouts — which involves camping out at the brewery the night before it goes on sale or paying a ransom on the secondary market — is worth it.
Three Chiefs pulls off the miraculous feat of turning confections into beer, producing taste-alike riffs on baked goods from banana bread to crème brûlée. Unlike the aggressive roasty bitterness of a classic Russian imperial stout, these desserts in a glass, known as "pastry stouts," are sweet and viscous, bordering on Fox's U-bet territory.
They're all the rage right now, particularly with the new wave of craft beer drinkers, and few are brewing them better than Three Chiefs. "They probably have done the best coconut stout I've ever had," gushes Matt Garcia, co-owner of Homage Brewing in Pomona. He's referring to Fähä, a tropical barrel-aged stout that has a near-perfect score on the beer rating app Untappd and was ranked among the top three beers of 2018 by popular industry influencer Beer Zombies.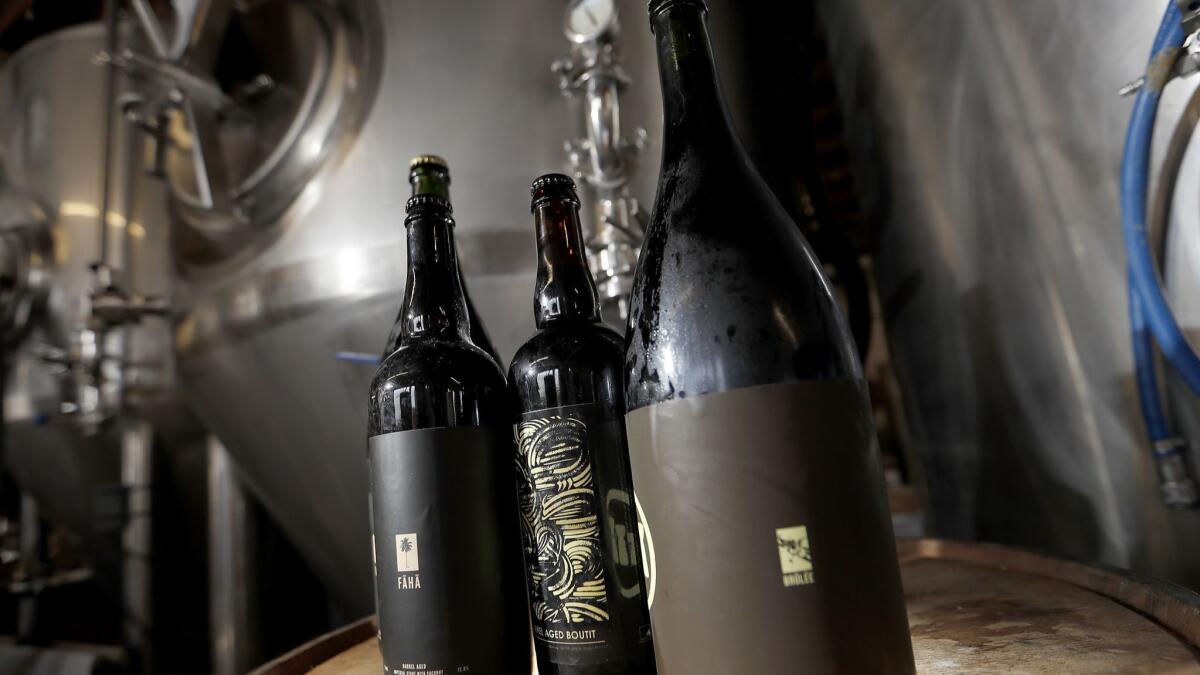 The secret to Fähä, according to head brewer Charles Rapadas, is the use of homemade coconut candy, a Guahan staple prepared with fresh grated coconut simmered with sugar.
Rapadas and his partners, Brian Bamba and Vince Quitugua, are all of Chamorro heritage and were raised on Guam. Along with their passion for craft brews ("We're all super big beer enthusiasts and geeks," says Quitugua), the three have another thing in common: full-time jobs that don't involve beer. Rapadas is a radiologic technologist; Bamba serves as managing director of a petroleum distribution and energy solutions company; Quitugua runs Shoyoroll, the Brazilian jiujitsu apparel line with a rabid cult following that counted the late Anthony Bourdain among the faithful.
Three Chiefs officially launched in September but the trio has been developing the concept for years with Rapadas perfecting homebrews in his garage while Bamba and Quitugua handled marketing and branding. Their efforts yielded local acclaim and a loyal following among bloggers and brewers such as Garcia and Highland Park Brewery's Bob Kunz.
But everything changed in February when Three Chiefs became the toast of Wakefest, Florida's preeminent gathering for pours of the world's rarest and most coveted beers. Organizer John Wakefield is a longtime friend of Quitugua (they would trade bottles with each other, a common practice among beer collectors' akin to the way kids trade baseball or Pokémon cards) and mentor of Rapadas. The two brewers bonded over an affinity for pastry stouts, which Wakefield helped revolutionize at J. Wakefield Brewing in Miami. His limited-production spirit-barrel-aged variants are often referred to as "whales" (a reference to Captain Ahab's elusive conquest) and command top dollar on resale sites such as MyBeerCollectibles as well as on private Facebook groups via legally dubious paid raffles dubbed "razzles," so named to evade detection by the social media platform.
The thriving secondary market on these sites, where beers fetch astronomical sums that are an exponential multiple of their retail prices, is a polarizing subject in the beer community: Is it capitalism at work or destroying craft culture? Yet there's no doubt it played a vital role in thrusting Three Chiefs into the brewing limelight, as it has countless other breweries in the past five years.
By the time Wakefest rolled around, a pair of pastry stouts (one brewed with coffee, the other coconut) that Rapadas and Wakefield brewed together were ready to be unveiled. The beers, aged in W.L. Weller whiskey barrels from Kentucky, caused a sensation when a dozen bottles of each were raffled off at the fest and the lot subsequently sold for $1,200.
The official domestic beer power rankings »
"That was super crazy, yet super humbling," Quitugua says.
Just like Snoop's collaboration with Dr. Dre on "Deep Cover," this would be Three Chiefs' star-making moment.
Months later, when Fähä was released to celebrate the brewery's grand opening, fans slept in tents outside the night before the sale to try to snag one of the 100 bottles available for purchase. With attention-grabbing secondary sales (a bottle on MyBeerCollectibles in November fetched $899 while razzle buy-in totals have been rumored to top four figures) Three Chiefs' hypebeast status was sealed.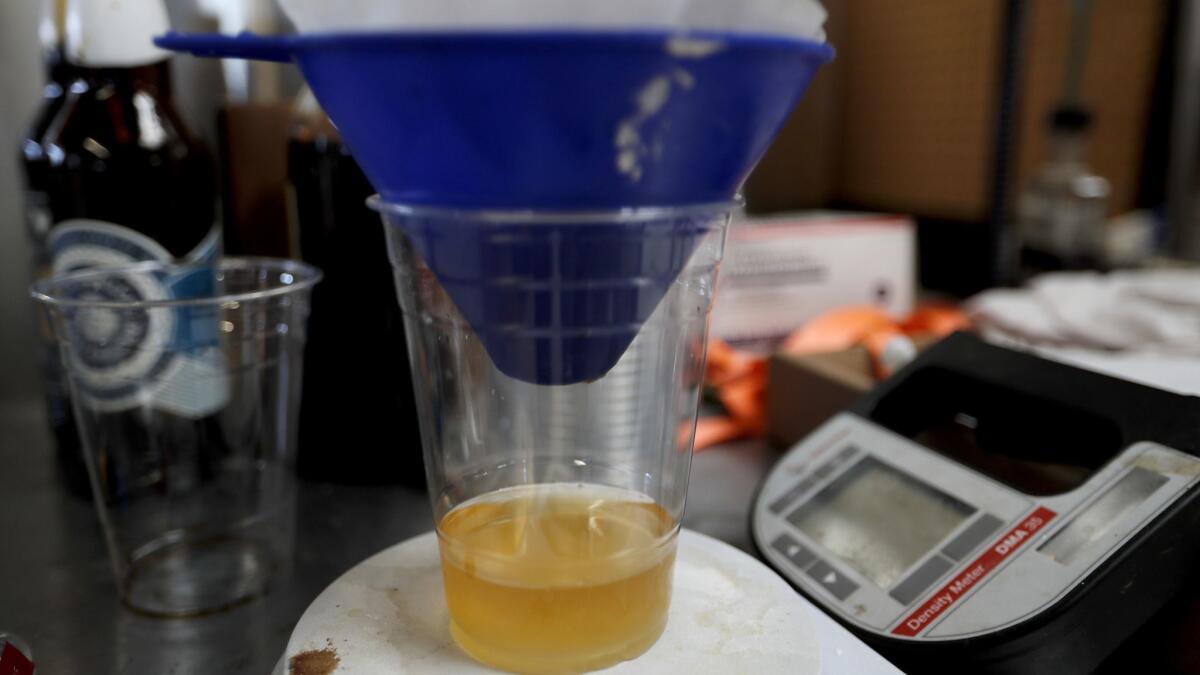 The brewery does produce lighter beers that can be found on tap locally as well as throughout Guam. IPA can releases are becoming more regular and don't sell out instantly. But their monthly stout sales continue to draw huge crowds, though the brewery has faced increasing backlash with gripes about high bottle prices (retail is around $30) and low bottle counts, which have yet to top 400.
The guys are aware of the complaints but are adamant their hands are tied. "The beers we make are … using double or triple the ingredients of a standard beer," says Quitugua, who adds, "We'd love to produce [more stouts] but we don't have that capacity."
"We're not even breaking even," admits Rapadas. "Most of our beers are just sitting in barrels, and letting it sit in barrels is costing us money. Selling what we have is just enough to keep the lights on and pay rent here."
Rapadas hopes to focus on brewing full time within the next few months and eventually move operations to a larger space so he can share his stouts with the masses. In the meantime, those who want to try them should prepare for a night under the stars in the South Bay.
Get our L.A. Goes Out newsletter, with the week's best events, to help you explore and experience our city.
You may occasionally receive promotional content from the Los Angeles Times.