Diwali, when L.A. lights up with Indian sweets and snacks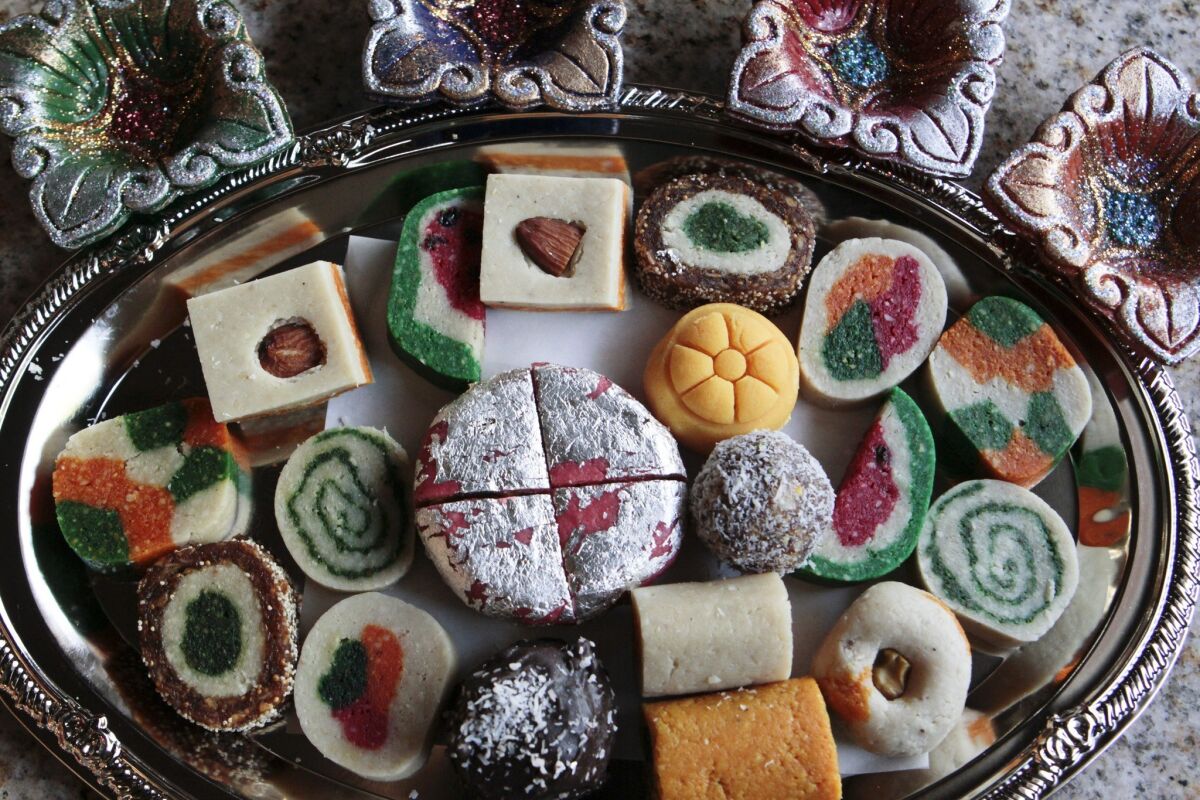 Thousands of shimmering lanterns illuminate India's towns and villages in an otherworldly glow on Diwali, the Indian Festival of Lights. Hindu households set out rows of diya, small clay lamps, to create a symbolic path for Lord Rama on his legendary return home after 14 years of exile. The whole nation, Hindu or otherwise, throws itself into five days of frenzied celebrating with fairs, gift giving and nonstop family gatherings.
Mention Diwali in the Southland and anyone from the subcontinent will share a favorite sense memory: the sound of firecrackers at 4 a.m., the smell of Grandma's vadas frying, a blur of blazing color from women's holiday saris in the streets and, maybe most of all, the taste of Diwali sweets.
This year the holiday officially starts on Nov. 13. But already a whirlwind of community fetes, running the gamut from sedate seniors' potlucks to glitzy charity galas, has begun. Capping them all is the Grand Diwali Mela, a yearly fair, with street food, crafts, live music and dancing, organized by the Hindu Community of Southern California, that draws thousands of revelers.
As Diwali approaches, excitement builds. Handwritten family recipes come out and shopping lists are formulated for anticipated gatherings with family and close friends. Essential to the merrymaking are methai and chevda and namkeen (handmade sweets and amazingly spiced crunchy savory snacks) in kaleidoscopic variety. As iconic as candy canes at Christmas, they're served to guests, given as gifts and offered to Lakshmi, goddess of good fortune.
There is no more delicious way to capture Diwali's spirit than to follow the crowds to our favorite sweet and snack shops. Each place also serves dosas, chaat and other vegetarian meals, but at the moment all eyes are on the holiday goodies.
Surati Farsan Mart
As the last day of the Hindu year, Diwali signals new beginnings, so it is fitting that this former hole-in-the-wall reopened just before the holiday after a remodeling that doubled its size. Towering stacks of red and gold boxes disappear fast from the polished new display cases. Inside, geometrically designed sweets in variegated tones are lined up like burnished jewels and look like a version of European pastries. Vivid green and white spirals of sweetened crushed pistachio and white cashew nuts are sliced to form kaju pista rolls. Pink rose-anjir patties come splotched with edible silver foil. Squares of jaggery-sweetened sesame seeds, tal papri, have a cookie-like crunch, and rose-flavored coconut balls are dipped in deep, dark chocolate. Mounds of savories are a sight to behold. Be sure to sample lilo chevdo — a knock-out spice-infused snack mix of matchstick potatoes, cashews, garbanzos, raisins and other mysteries.
11814 E. 186th St., Artesia, (562) 860-2310. https://www.suratifarsanmart.com
Sukhadia's Methai & Restaurant
Uday Shah's great-grandfather opened the first Sukhadia's in Khamnbhat, Gujarat, in 1880 and created a franchise run by the whole family today. If you associate Indian confections with teeth-numbing sugariness, Shah will change your perception with his naturally sweet (and vegan-friendly) items like anjeer halva. The nut-studded disks of pure ground figs are surrounded by a shaggy coat of shredded coconut for a multi-textured effect. Less virtuous but still modestly sweet are the saffron and cardamom-perfumed almond penda made from finely crushed nuts. Crumbly cookie-like motichoor laddu, made from garbanzo flour, are rich with ghee and bits of dry fruit. Nestled like bonbons in sleek compartmentalized boxes, they're ready for serving or giving. Don't forget the savories from the Lucite containers hung like artwork on one wall of this flamboyantly painted shop. The tongue-tingling puffy garbanzo masala bundi can get seriously addictive.
18413 Pioneer Blvd., Artesia, (562) 402-1155, https://www.facebook.com/SukhadiaLA
Radhe Sweets & Catering
When owner Chetan Malani puts out his mathis and ghagra, his nostalgic Gujarat customers practically weep with joy. "We only make these for Diwali," he says. They've waited all year to load up on the crisp fried lentil flour wafers and the empanada-like turnovers of semolina and paneer cheese. On an average day, his display cases are chockablock with beautifully groomed methai and tall pyramids of crunchy snacks. Try kaju amir roll — pressed cashews rolled around a fig filling — or the cookie-like methi ladoo, golden buttery balls perfumed with cardamom and fenugreek that have the sweet-savory nuance of salted caramels. Masala-roasted peanuts will get your gustatory juices flowing. And to quell any hunger, order the grilled Bombay-style vegetarian sandwich.
3070 W. Lincoln Ave., I-J, Anaheim, (714) 220-9355, https://www.radhesweets.com
K.C. Spices & Paan, Sangam Grocery & Paan
People who host fairly formal meals, whether at home or at one of L.A.'s many Indian banquet halls, love to offer their guests fresh paan. Two shops, K.C. Spices & Paan and Sangam Grocery & Paan, make and serve these fragrant after-dinner digestive aids that remedy overindulgences during Diwali's party season. Using betel leaves as individual wrappers, paan holds such filling ingredients as sweetened fresh rose petals and candied cumin seeds. They're nothing like the spices put out in bowls at most Indian restaurants. "The leaves are grown in Hawaii and processed in Florida," says Chaitnya Vyas, owner of K.C. Like the paan walahs in India, each place has its own collection of recipes, and customers may request regional variations. The shops cater large events, but orders of any size may be picked up to go.
K.C. Spices & Paan, 18803 Pioneer Blvd., Artesia, (562) 402-0894 or (562) 355-2889; Sangam Grocery & Paan, 1155 S. Diamond Bar Blvd., Diamond Bar, (909) 861-7074, https://www.freshpaan.com
Get our L.A. Goes Out newsletter, with the week's best events, to help you explore and experience our city.
You may occasionally receive promotional content from the Los Angeles Times.