Jonathan Gold says the time for Filipino cuisine is now, and the place is Los Angeles
Restaurant Critic
This is the Filipino food moment — I think we can all agree on that. Restaurants such as Lasa, Irenia and Washington, D.C.'s Bad Saint have become media stars in a way that no Filipino restaurants in America have before, and The Times has been running more Filipino recipes than Korean or Thai lately. If you read this column, you've been hearing a lot about chefs like Chad Valencia, Charles Olalia, Ryan Garlitos and Isa Fabro.
République's Walter and Margarita Manzke, who already own a successful chain of cafes in the Philippines, are preparing to open a Filipino restaurant in the Grand Central Market this summer, and Eggslut's Alvin Cailan has become a power in the local restaurant scene. The new film "Ulam," Alexandra Cuerdo's love letter to Filipino cooking in America, shows at the Million Dollar Theatre this Saturday as part of the L.A. Times Food Bowl. Restaurant enthusiasts work on the pronunciations of "bagoong" and "sinigang" the way they do "pad kee mao" and "cheonggukjang."
For the record:
4:48 p.m. March 30, 2023An earlier version of this article referred to Chase Valencia as a chef. He is the co-owner and general manager of Lasa. The chef is his brother Chad.
The ascendance of Filipino cooking in Los Angeles makes sense, even if you discount the scores of pop-ups and social-media feeds that the scene inspires. In the idealized form you're seeing from young chefs and restaurateurs, it can be a light cuisine filled with fruits, vegetables and seafood, and more dependent on dashes of fish sauce, vinegar and citrus for flavor than on slugs of added fat. It adapts well to almost every dietary regimen you might be on. Almost every dish plays on the qualities of fermentation and umami, saltiness and sourness, freshness and age. It is unlike anything you may have tasted in other cuisines, but at its base it hints at the Chinese, Spanish, Japanese and Pacific Islander cuisines.
And there is the value of abstraction — most non-Filipinos have little idea of what is supposed to go into the ceviche-like kinilaw or the seafood noodles called pancit luglug, so a chef is able to riff on the idea of a dish without having to replicate it exactly. New Filipino cooking takes brilliantly to the ideas of modernist cuisine. What we're seeing is a flowering of second-generation cuisine, not dissimilar from what Bryant Ng is doing with Vietnamese flavors at Cassia or Carlos Salgado is doing at Taco Maria.
The other day at Rice Bar, Olalia's restaurant in the Jewelry District downtown, I sat down to what he calls an adobo bowl, heirloom rice topped with a bit of vegetable, a scattering of fried shallots and some version of the classic preparation of meat braised in vinegar. I have yet to meet a local Filipino who didn't claim that the best adobo in the universe is the one his or her grandmother makes back home, and I have heard of fistfights defending one version or another. I'm agnostic on the matter — I tend to like whatever version is in front of me at the time.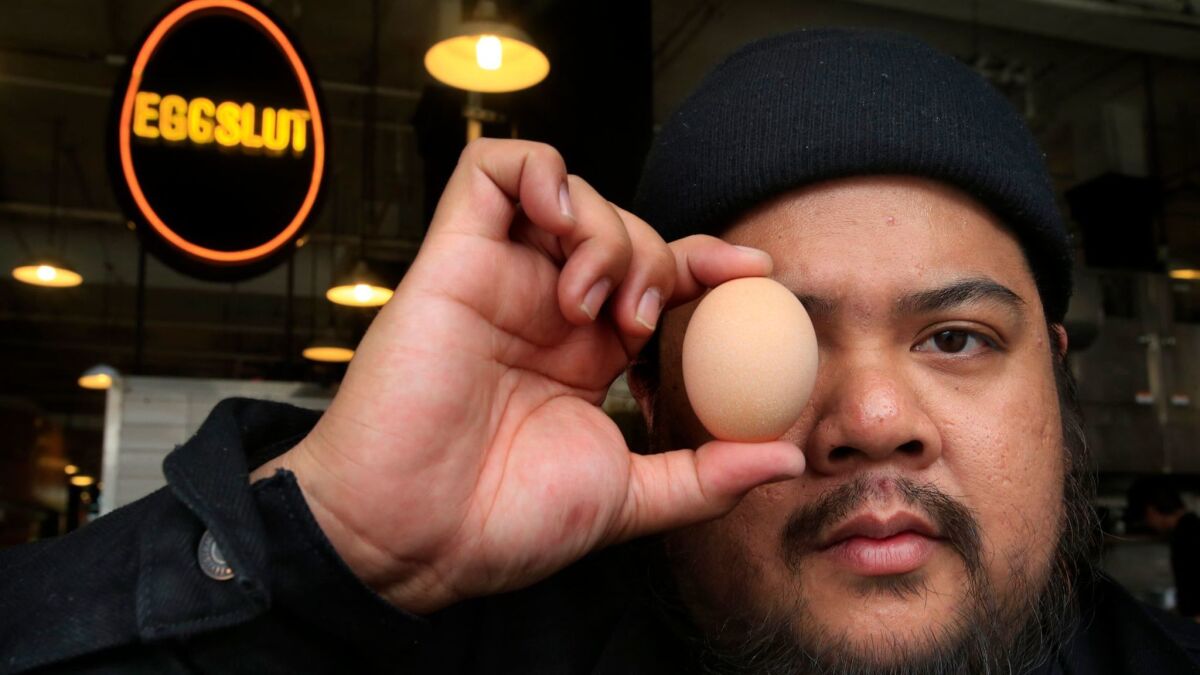 Olalia, who left his position as the executive chef at Patina to open this pint-size lunch counter, is probably best known for his longanisa bowls, his Spam and eggs and his deep-flavored mushroom tamales, but he has been experimenting with adobo, probably the most famous Filipino dish, and he has been serving a different version every week for the last couple of months. My colleague Amy Scattergood has become pretty fascinated with the adobo bowls — I think she's been documenting every one.
Last week's adobo bowl was a little different — Olalia topped the rice with sturdy chunks of roast pork, two inches of glistening, bouncy fat under a mantle of painfully crunchy skin. There was an egg, I think — most of Olalia's dishes come with eggs. And the adobo component came in the shape of a tiny bowl of an aromatic sludge — pork liver adobo, simmered down with vinegar and soy until it resembled thick gravy; meat transformed into its own condiment. I tried a bit of the adobo on its own, and then I spooned some onto the rice. I cut off a bit of the pork fat and chewed on that for a moment, then dribbled a bit of vinegar onto the rice as well.
The taste, the numbing richness, the smack of animal pungency reminded me of a specific time and place, shivers of meals long ago. And then I figured it out — the smell, the sharp bite of vinegar was bringing me back to the Aristocrat, an elegant, tiled cafeteria in what is now Koreatown, the center of L.A. Filipino cooking when I was a student at UCLA. Olalia's dish may as well have been an abstraction encompassing nearly everything I chose from the buffet line in my first experiences of Filipino cuisine.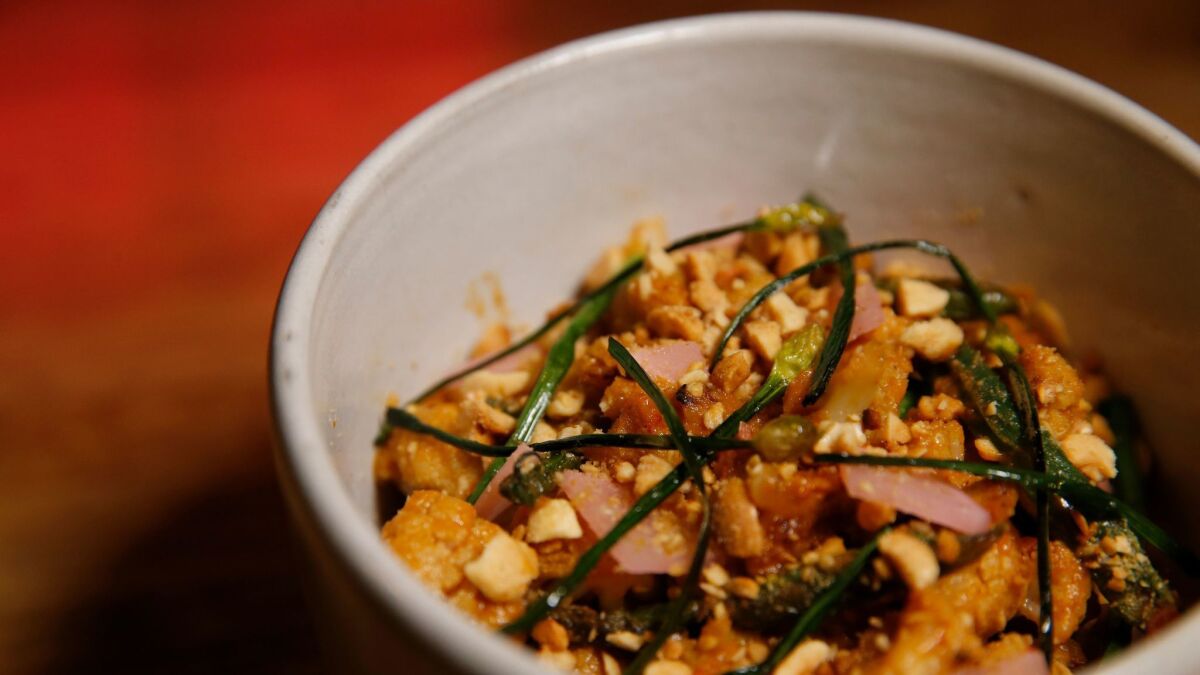 The combination of pork fat and liver was bland yet complex, powerful yet without spice. I didn't quite understand it then; I'm not sure I understand it now. But it struck me — I have come to expect that certain level of abstraction from New Filipino kitchens, food a few steps removed from the blood-and-guts gusto I always used to associate with the cuisine. When Irenia's Garlitos puts the offal dish dinuguan on his menu, it is as suave as a French civet and features pork shoulder instead of intestines. The grilled meats at Park's Finest resemble American barbecue until you begin to pay attention to the smacks of coconut and fermented shrimp paste in the rubs. Lasa's kinilaw is close to classic tweezer cuisine, the lightly marinated fish scattered with flowers and herbs.
Olalia's adobo bowl may have displayed the kind of careful preparation you might expect from a chef trained by Guy Savoy and Thomas Keller, and it may have been made with a level of ingredients improbable for a dish costing about 10 bucks, but there was no mistaking it: This was cooking from the heart. And it was also pure, take-no-prisoners Filipino cuisine, cooking a grandmother would have loved.
MORE FROM JONATHAN GOLD
What to have at this Italian fine-dining restaurant? Jonathan Gold recommends the $22 spaghetti
The world's best restaurant opens a pop-up in Mexico. Jonathan Gold tastes its beauty and conflict
What does it mean to be a chef in Los Angeles in 2017?
Get our L.A. Goes Out newsletter, with the week's best events, to help you explore and experience our city.
You may occasionally receive promotional content from the Los Angeles Times.