The Find: Dat Thanh in Westminster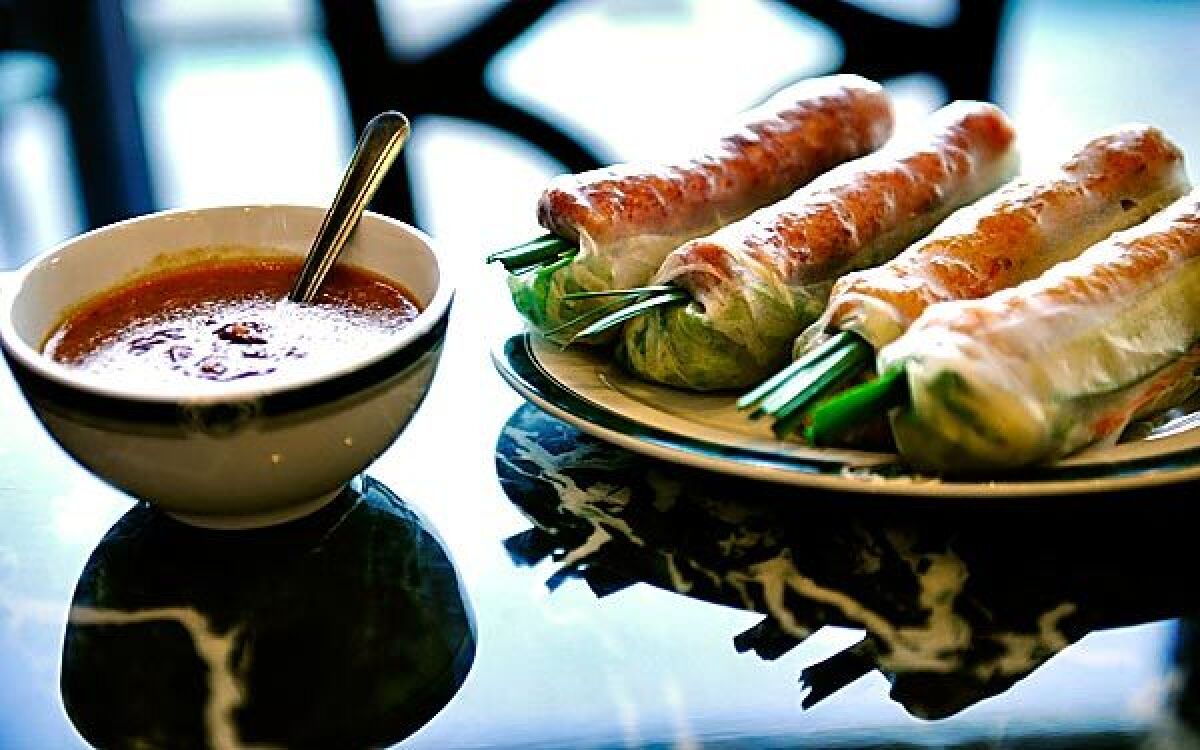 In the hyperspecialized kitchens of Little Saigon, where dining by dac biet (a restaurant's prescribed list of house specialties) is almost a moral obligation, nem nuong cuon is a matter of contention. For every dozen batches of slack, sloppy spring rolls, there are a few that approach brilliance: ruddy pork patties branded by the grill, cucumber spears that snap with farmers-market freshness, dipping sauces derived from equal parts recipe and alchemy.
Consensus has long steered the spring roll-obsessed to Brodard. It's the restaurant that transformed nem nuong cuon from craving to commodity, an immense place so popular that it staffs an entire assembly line to construct those sheer, swollen rolls. But a newcomer has all but unseated Brodard.
Dat Thanh operates on a much smaller scale. Its tiny, well-kept dining room is so compact it seems a mere outgrowth of the kitchen, as if each seat were arrayed around a chef's table. The 4-month-old restaurant runs in the family: Hai Nguyen, affable and gracious, mans the front while his parents, who hail from a village near Vung Tau on Vietnam's southern coast, stick to the stoves. The Nguyens previously owned a larger, otherwise identical restaurant in Little Saigon before selling it six years ago.
But the splendid languor of retirement couldn't keep Hai's parents from the kitchen. After a short-term move to Las Vegas, where some of Hai's siblings also run a restaurant, the Nguyens returned to Orange County. It was here in supermarket aisles and strip mall parking lots that Dat Thanh again took shape, Hai's parents encouraged by former customers and longtime friends eager as always for the Nguyens' neatly wrapped spring rolls.
Comparisons to Brodard are inescapable — a nem nuong cuon challenge has already been issued by OC Weekly's Dave Lieberman and assumed wholeheartedly by Hai. Yet even to those for whom nem nuong cuon is more fetish than food, their differences might at first be imperceptible.
Still, Dat Thanh prevails in the details: the tautness of its moistened rice paper wrappers, the warmth of its garlicky, from-scratch pork sausage. Shreds of lettuce, cilantro, mint, pickled carrot and daikon course through the rolls as cucumber and fragments of fried rice paper contribute crunch. Scallions sprout from each gauzy bundle like blades of grass.
Dat Thanh's dipping sauce is a guarded secret, an inscrutable 14-ingredient mixture that takes six hours to make. There's a touch of peanut butter, traces of fish sauce and chile paste. But it tastes of none of those alone, a rich, complex complement to the nem nuong cuon as well as the chao tom cuon, spring rolls stuffed with sugar cane-sweetened shrimp sausage. Long after both are gone, you'll be spooning that sauce over every untouched taste bud, a futile attempt to unravel its flavors.
The restaurant also serves com tam (broken rice). Fractured during the journey from paddy to pot, the grains are splintered into misshapen little nubs as close to couscous as anything resembling rice. Because it lacks the uniformity of unbroken rice, com tam can be temperamental — a thousand unique pieces each cooking at their own pace.
At Dat Thanh, the broken rice is superb, a fleecy heap ready to be soused with nuoc cham. Piled on top is your choice of meat — nem nuong, charred chicken or pork, galbi-style short ribs, Chinese sausages — plus skewered shrimp, shredded pork skin tossed in gritty ground rice, an egg and pork cake that's something like a Vietnamese frittata and a slab of shrimp paste wrapped in tofu skin fried until it's as fragile as phyllo.
The entire menu is built on those essential combinations, endlessly adaptable rice plates and noodle bowls crowned with as many items as your appetite demands.
Dat Thanh
Location: 10032 McFadden Ave., Westminster, (714) 650-0910.
Price: Appetizers, $5.89 to $7.99; broken rice plates, $8.89 to $9.89; rice plates and noodle bowls, $5.89 to $8.89; drinks, $1 to $2.50.
Details: Open 10 a.m. to 9 p.m. Mondays, Tuesdays, and Thursdays through Sundays. Closed Wednesdays. Lot and street parking. Cash only.
food@latimes.com
---
Get our L.A. Goes Out newsletter, with the week's best events, to help you explore and experience our city.
You may occasionally receive promotional content from the Los Angeles Times.