The Find: Stinky tofu restaurant may find converts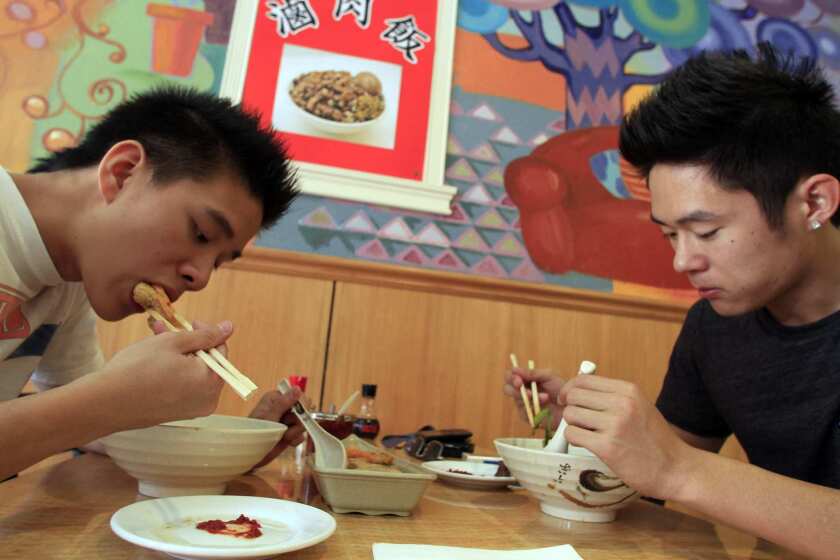 Special to the Los Angeles Times
There are two kinds of eaters in this world: the kind who want everything to taste pleasant and the kind who find themselves unnervingly attracted to the funk. Sometimes it almost happens against your will; you find yourself craving the tang of a wild sourdough or a good nose throttling from a ripe Roquefort. For those of you possessed by the spirit of the stank, we give you the brand-new Arcadia branch of Tofu King.
Tofu King is one of our few purveyors of that peculiar, pungent, fermented delight: Taiwanese stinky tofu, deep-fried to a crisp and full of oddly charming fragrance. After a wrangle with the local health department, Tofu King turns out a relatively mild and well-mannered version of stinky tofu — perfect for the trembling newbie or the merely stink-curious.
An order comes as three squares of freshly deep-fried tofu, each carefully quartered. The outside is crisply satisfying, almost like deep-fried pork skin. The inside is the most moist, freshest soy sponge. It's strange and lovely stuff, uneasily seductive, with the smell of live things bubbling and thriving. It's like the smell of a distant swamp, but good. If you've ever walked by a soaking wet garden after a rain, inhaled deeply and thought, "Actually, this smells kind of awesome," then this is the stuff for you.
But this is not a masochist's stinky tofu. This is a subtle, carefully controlled, artful bit of fermented snackery. The stuff is almost delicate. If blue cheeses and stinky tofus are the foods that smell like feet, this stinky tofu smells like Natalie Portman's feet — at least in a fanboy's imagination.
Johnson Chang, son of owner Mel Chang, explains: To make the stinky tofu, they make a mash of mixed vegetables and ferment it for six months. Then they take fresh tofu and give it a nice, long flavor-soak in the fermented mash. The tofu burial ought to last for a week, and that's how they used to do it, but the health department didn't approve, so they've shortened the fermentation bath to three days. Thus: half-ripened, gateway stinky tofu.
The original Rowland Heights branch of Tofu King reigns over a small shopping mall alleyway food court. It's a tiny corridor of a shop colored three shades of bright pastel. Patrons can sit at one of the three cramped tables, soaking in the humid perfume of frying stinky tofu, or sit outside at one of the white plastic patio tables. Food comes in paper baskets and Styrofoam.
The original branch is still around and is still tops for old-school Chinese night-market, street-food charm, but for maximum culinary pleasure, follow Mel Chang to the new Arcadia branch. They've taken over a restaurant with seating and lurid floral murals and terrible pop music and plastic bowls. The new Arcadia branch is still operating under signage from the former restaurant in the same space, Chan's Paris N. But the food coming out of the new full-sized kitchen is even better than the original Tofu King.
Arcadia's Tofu King turns out stellar versions of several other Taiwanese delights. The other bestseller on the menu, and Johnson Chang's personal favorite, is No. 9: mushroom and sliced pork rice with soy sauce egg, a gorgeously melty concoction of unadulterated fatty joy. Diced cubes of simmered pork belly are heaped over rice with a little scoop of charmingly zippy pickles and a soy-simmered egg. The pork belly is simmered in marinade for six hours, for maximum lusciousness. "We don't use MSG," Johnson Chang says, "so we take time to make it taste good."
The stuff speaks loudly in the universal language of comfort food. Mix it all up and try a bite; newcomers tend to react with animal growls of contentment and violent snarfing. The ultrasoft pork belly basically dissolves over the rice, coating every kernel and forming a subtly sweet, moist molten pork sauce.
Be sure to check out the stuff on the menu labeled "Memorable Side Dishes" — a wonderland of Taiwanese textural tomfoolery. You've got a great version of rou yuan — a texturally berserk glutinous dumpling object, like a big, greedy Gummi bear that swallowed a meatball and then fell in a sweet-sour soup and drowned happy. You've got tung tzai mi gao, a stack of glutinous rice, regular rice, ground pork and tomato sauce, steamed into warm, melting, porky lusciousness.
You've got gloriously savory marinated seaweed, the size and heft of fresh fettuccine, rolled tightly into adorable little bundles. You've even got superb Fu Zhou-style fish balls — little dumplings of fish cakes filled with soft ground spiced pork. Just the sort of gentle, simple, lovely comfort to soothe your senses after you've been kicked in the nose by the stinky tofu.
Tofu King
LOCATION
713 W. Duarte Road, Suite C, Arcadia, (626) 254-0223 (Note: the restaurant still bears the signage from the previous occupant, Chan's Paris N.) Also 18414 Colima Road, Rowland Heights, (626) 964-6250.
PRICE
Stinky tofu, $5; entrees, $4 to $6; "memorable side dishes," $2 to $5.
DETAILS
Arcadia branch, 11:30 a.m. to 10 p.m. daily; Rowland Heights branch, 11 a.m. to 10 p.m. Sunday to Thursday and 10:30 a.m. to 11 p.m. Friday and Saturday. Soft drinks and tea. Cash only. Lot parking.
---
Get our weekly Tasting Notes newsletter for reviews, news and more.
You may occasionally receive promotional content from the Los Angeles Times.