Review: Jonathan Gold reviews Howlin' Ray's Hot Chicken
The country fried chicken sandwich is on the menu at Howlin' Ray's hot chicken located inside the Far East Plaza in Chinatown in Los Angeles.
(Genaro Molina / Los Angeles Times)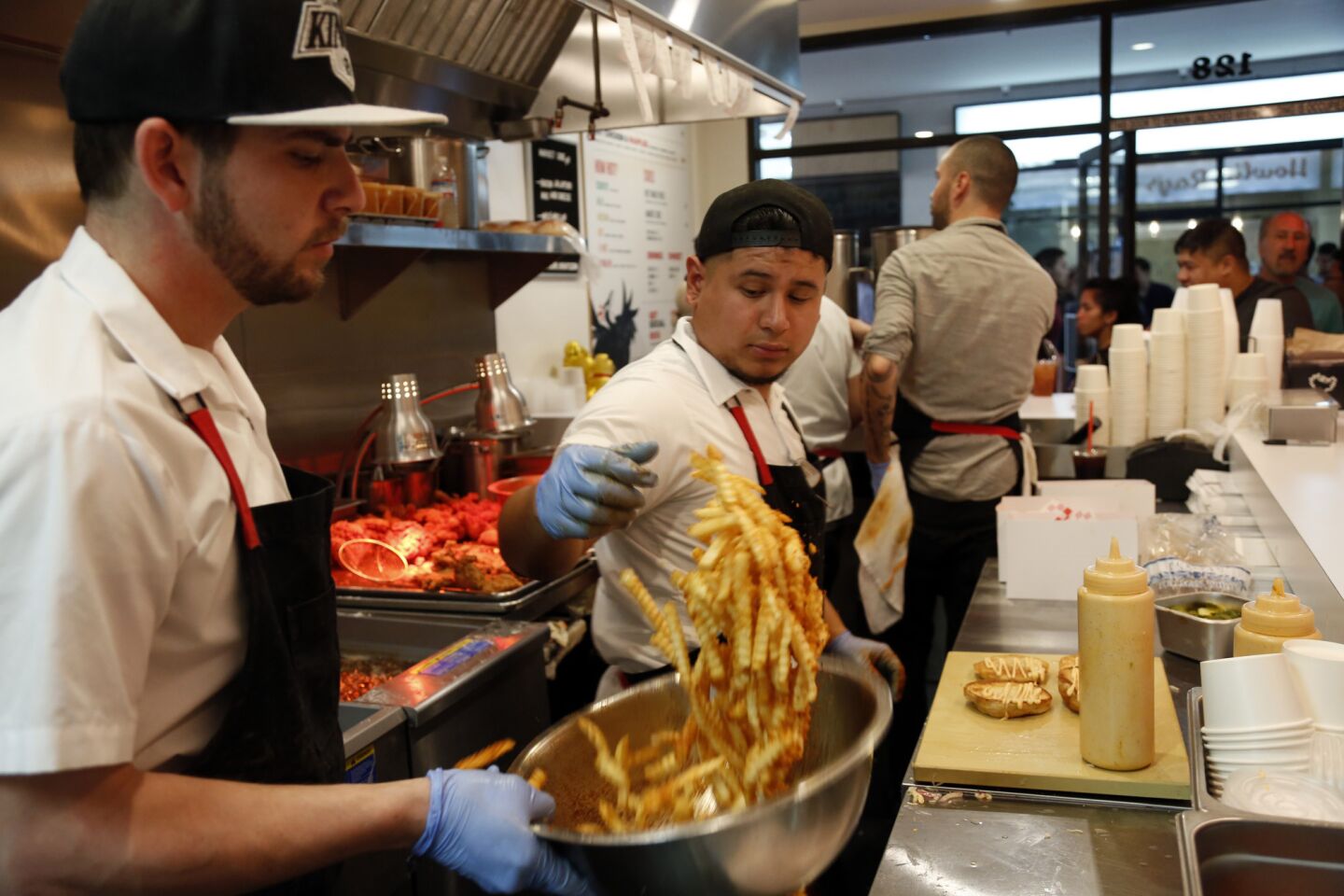 Line chef Ricky Dyne, left, tosses hot shake fries as line chef Mario Aguilar, right, looks on at Howlin' Ray's hot chicken.
(Genaro Molina / Los Angeles Times)
The Howlin' Ray's medium hot chicken and a side of collard greens.
(Jenn Harris / Los Angeles Times)
Fried chicken is drained of oil at Howlin' Ray's. Chef Johnny Zone and his wife, Amanda Chapman, own the place.
(Genaro Molina / Los Angeles Times)
The Howlin' Ray's Howlin' Hot chicken and a side of pimento mac salad.
(Jenn Harris / Los Angeles Times)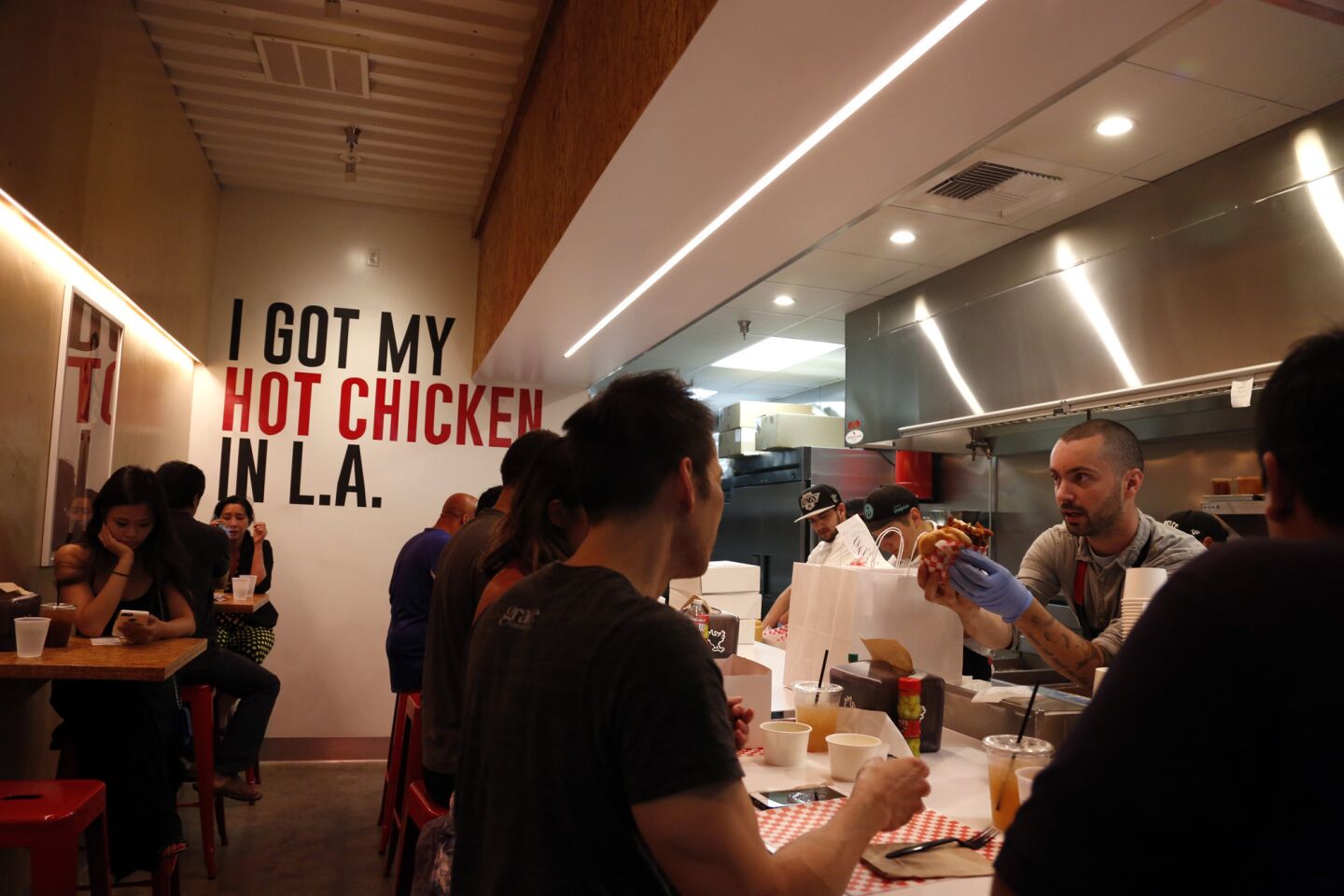 Chef Johnny Ray Zone, right, delivers a country fried chicken sandwich to a customer at Howlin' Ray's hot chicken.
(Genaro Molina / Los Angeles Times )
Nickel's Diner's specialty Kickin Chicken.
(Harrison Hill / Los Angeles Times)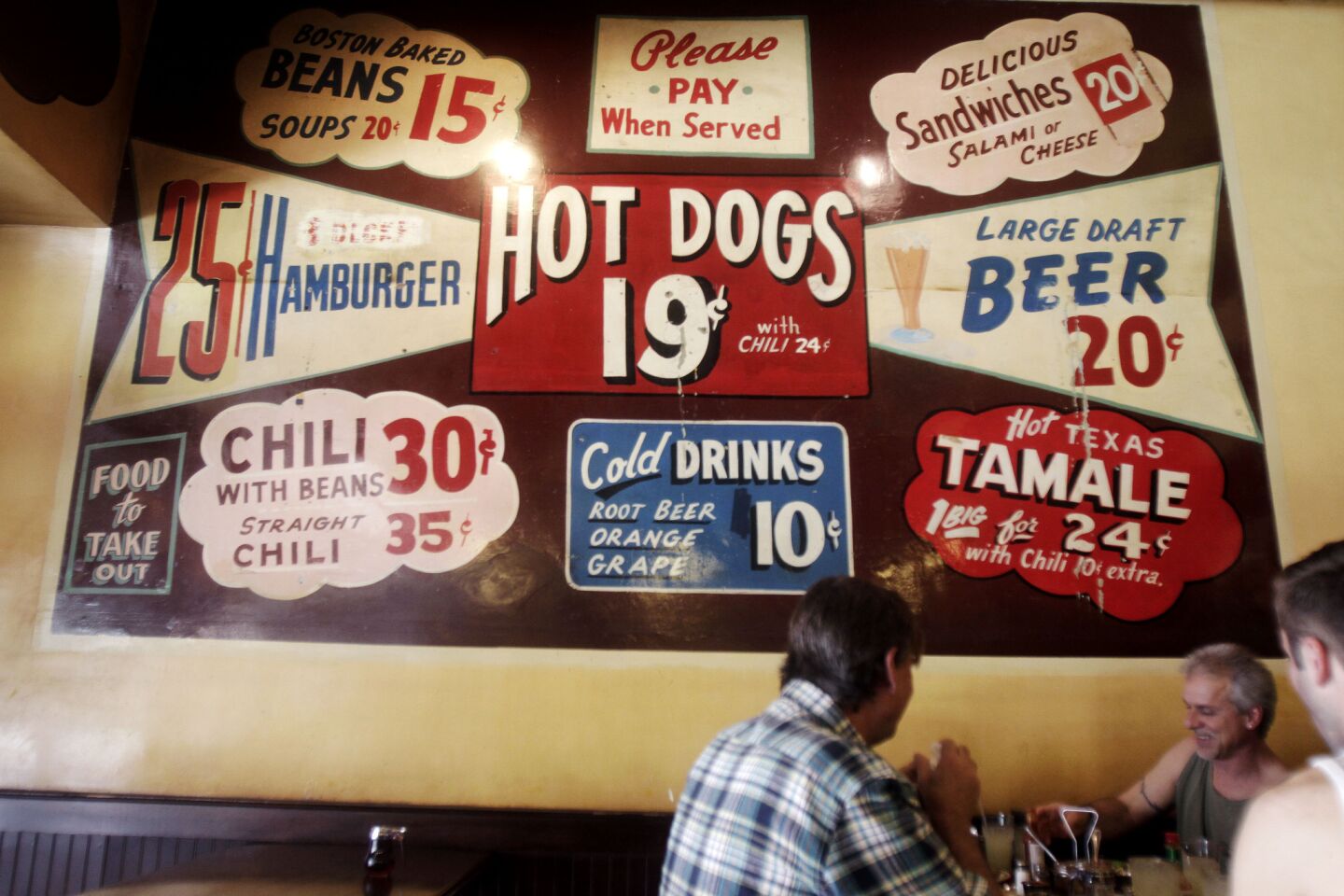 Customers dine at Nickel Diner in downtown Los Angeles.
(Cheryl A. Guerrero / Los Angeles Times)
What happens when you take your first bite of Nashville hot chicken, say the Howlin' Hot fried chicken at Chinatown's Howlin' Ray's? You burn your fingers for one thing — the bird is just out of the fryer, and you'll probably want to tear the quarter-chicken in half for easy eating — as a good bit of the red seasoning paste will work its way up your fingers and under your nails. You will aim to get as much of the fragrant skin as possible between your teeth, and you sigh with relief; the experience is of salt, crunch and garlic, overlaid with the musty pungency of dried peppers, not nearly as bad as you thought. It is excellent fried chicken.
Then the punch of heat lands — you may experience it almost as a blow to the chest. Your lips swell. Your scalp erupts in sweat. Your throat begins to close. You unconsciously mop your forehead with the back of your hand and suddenly there is a situation up there too, a sensation you may have experienced the last time you napped an hour too long on the beach. Your bloodstream floods with adrenaline, but then the endorphins kick in, and you float on an eddy of bliss for a moment or two. Then you go back in for some more. The hot chicken has won.
If you were aware that 2010 was the year that Korean fried chicken took over and 2015 was the year fried chicken sandwiches ruled the land, you'll know that this is the summer when everybody started talking about the phenomenon of hot chicken. People you haven't talked to since high school are posting on Facebook about the branch of the Memphis chain Gus's World Famous Fried Chicken that just opened on the improbable corner of Crenshaw and Pico. (We'll talk about Gus's another day.) Friends plan vacations around the Music City Hot Chicken Festival the way they used to around Jazz Fest in New Orleans. The restaurant everybody wanted to take me to in Melbourne last year was a hot chicken place run by a local chef who had spent years working in the refined kitchens of star chef Sean Brock in Charleston and Nashville. We are heading into an era where happiness is measured in Scoville units, wet naps are currency, and the eating of hot chicken is politely referred to as a 24-hour process.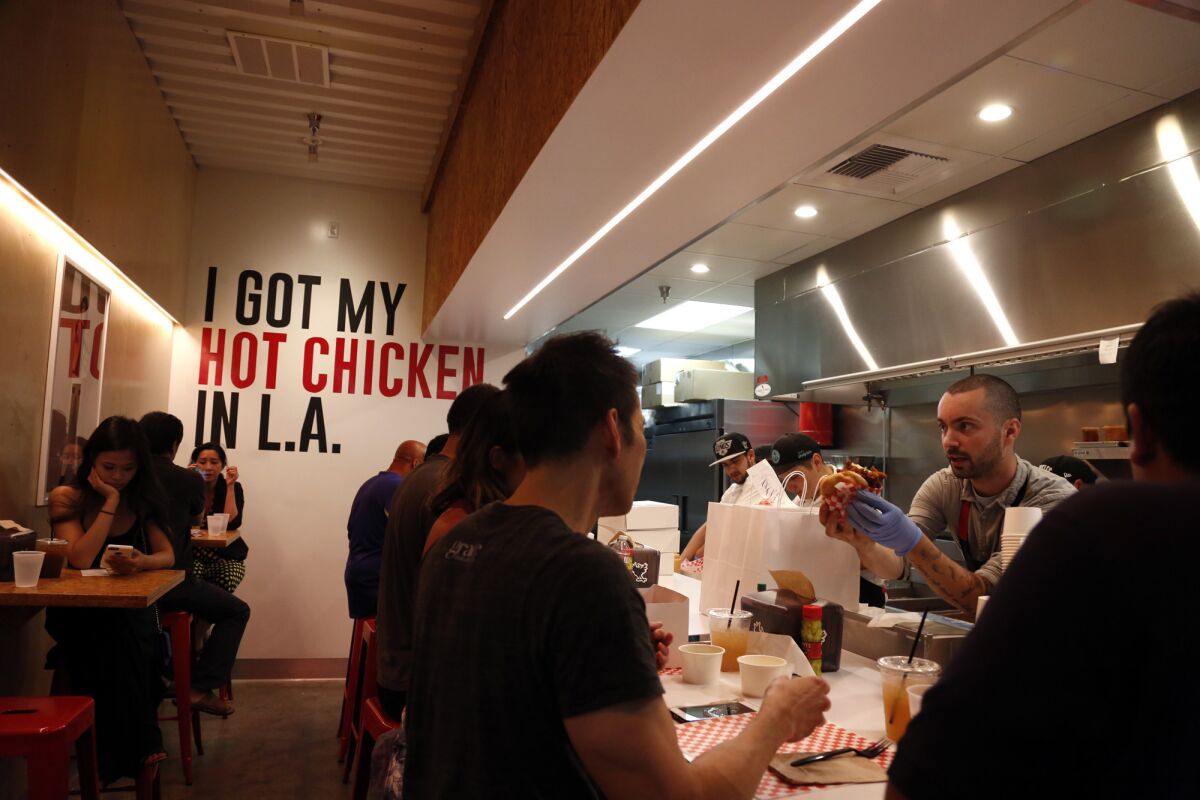 Nashville hot chicken here may have started with the hot chicken Wednesday nights at the Nickel Diner, the beloved restaurant on an SRO-intensive block of downtown famous for its fried catfish and its maple-bacon doughnuts. Owners Kristen Trattner and Monica May encountered hot chicken on a trip to Nashville a few years ago. They had flown into town to see Cher but fell in love instead with the chicken at the hot chicken shrine Hattie B's. Nickel's Wednesday hot chicken dinners are wonderful — the carefully fried chicken practically incandesces with heat. It is served on the requisite slice of white bread. Rounds of housemade Kool-Aid pickle ride a toothpick stuck into the top like ruddy mainsails. There are homemade biscuits and bowls of coleslaw. Life is good.
But the local thing may have also started on the Howlin' Ray's truck, from which Johnny Zone, a young Silver Lake-raised chef, drew faithful throngs for his brand of hot chicken, inspired by the Nashville restaurant Prince's Hot Chicken Shack, ground zero for the style. (Prince's origin story, which involves a vengeful girlfriend's attempt to damage a cheating Thornton Prince by dosing his chicken with every speck of cayenne she had in the house, may be apocryphal, but it is also kind of great.) The wrath of Prince's chicken is legendary. So in its way is the chicken at Howlin' Ray's, newly installed in the same Chinatown complex as Chego, Ramen Champ and Pok Pok Phat Thai.
If you go on a weekend afternoon, the line for that chicken may snake through the mall, around the stand selling panda backpacks and chirping toys, past the wonderful coffeehouse Endorffeine, the ice cream shop Scoops and nearly all the way to Chego. As with the line doubling back past the scariest roller coaster in the amusement park, half the fun is experiencing the pain and fear on the faces of the people dismounting from the attraction, measuring your own apprehension by the hiccups, red faces and low moans of the customers who have ordered their chicken Howlin' Hot, which is to say not only abundantly spiced with cayenne but enhanced with extracts of habanero, ghost pepper and the fearsome red savina, some of the hottest peppers in the world. If you are partial to the "dynamite'' curry at Jitlada or the chiles toreados at Guisados you will be familiar with this level of heat, and the chicken did in fact seem hotter when Howlin' Ray's was still operating out of a truck, but the chicken still toys with you on almost a molecular level.
The restaurant is presumably named for Zone's father, Ray, an L.A. punk-rock cartoonist and 3-D pioneer known for his broad prankster streak.
When you finally reach the counter, your friends presumably having snagged tables in the shaded passageway long before, it is OK to order the chicken mild, medium or merely hot at Howlin' Ray's — in practice the medium is plenty spicy. You can specify dark or light or wings-only in almost every configuration. You can get a fat, fried chicken breast on a bun with pickles and the peppery mayonnaise Mississippians call comeback sauce. The chicken is a little expensive — three wings will run you $9; a whole chicken $28 — but the pieces are huge, and the chicken is the no-hormone, no-antibiotic kind sourced from Mary's and its like.
His line cooks bark "Yes Chef" when he speaks, as if they were on the line with Gordon Ramsey or Thomas Keller, two chefs with whom Zone has worked. The chicken is neatly quartered — he says that he aims to have the oyster, that slippery coin of meat on the back of the chicken, cut neatly in two — rubbed with salt and spice, then brined before it is dredged, fried in hot peanut oil and showered with the appropriate level of spice.
The chickens glow a mean, radioactive red beneath their shaggy brown coats. In their cartons, they sit atop a thick slice of white bread, which becomes saturated with the ruddy juices. There is a stack of pickle chips, whose crispness and acidity become necessary adjuncts to the rich, peppery assault. There is no number of napkins you can gather that will be enough napkins, no quantity of lemonade or peach iced tea that will be enough, although you can always skip the line and go back for free refills. The drinking vinegar at Pok Pok and the iced pandan-leaf lattes at Endorffeine are excellent accompaniments too.
"I did tone the heat down some,'' Zone admits from his spot at his restaurant's pass. "I've done a little research on the digestive system. I've read about the effects of hot peppers. And I decided that it might not be in my best interests to subject people to quite that level of physical distress.''
Howlin' Ray's
A local Nashville hot chicken truck opens a shop in Chinatown.
Location: 727 N . Broadway, Los Angeles, (213) 935-8399, howlinrays.com
Prices: Side dishes $3-$4; chicken $8 (dark meat quarter) to $32 (12 jumbo wings).
Details: Open Wed.-Sun., 11 a.m. to 4 p.m. Credit cards accepted. No alcohol. Street and nearby lot parking.
Recommended dishes: Hot chicken.
---
Get our L.A. Goes Out newsletter, with the week's best events, to help you explore and experience our city.
You may occasionally receive promotional content from the Los Angeles Times.