Fruit pies, perfected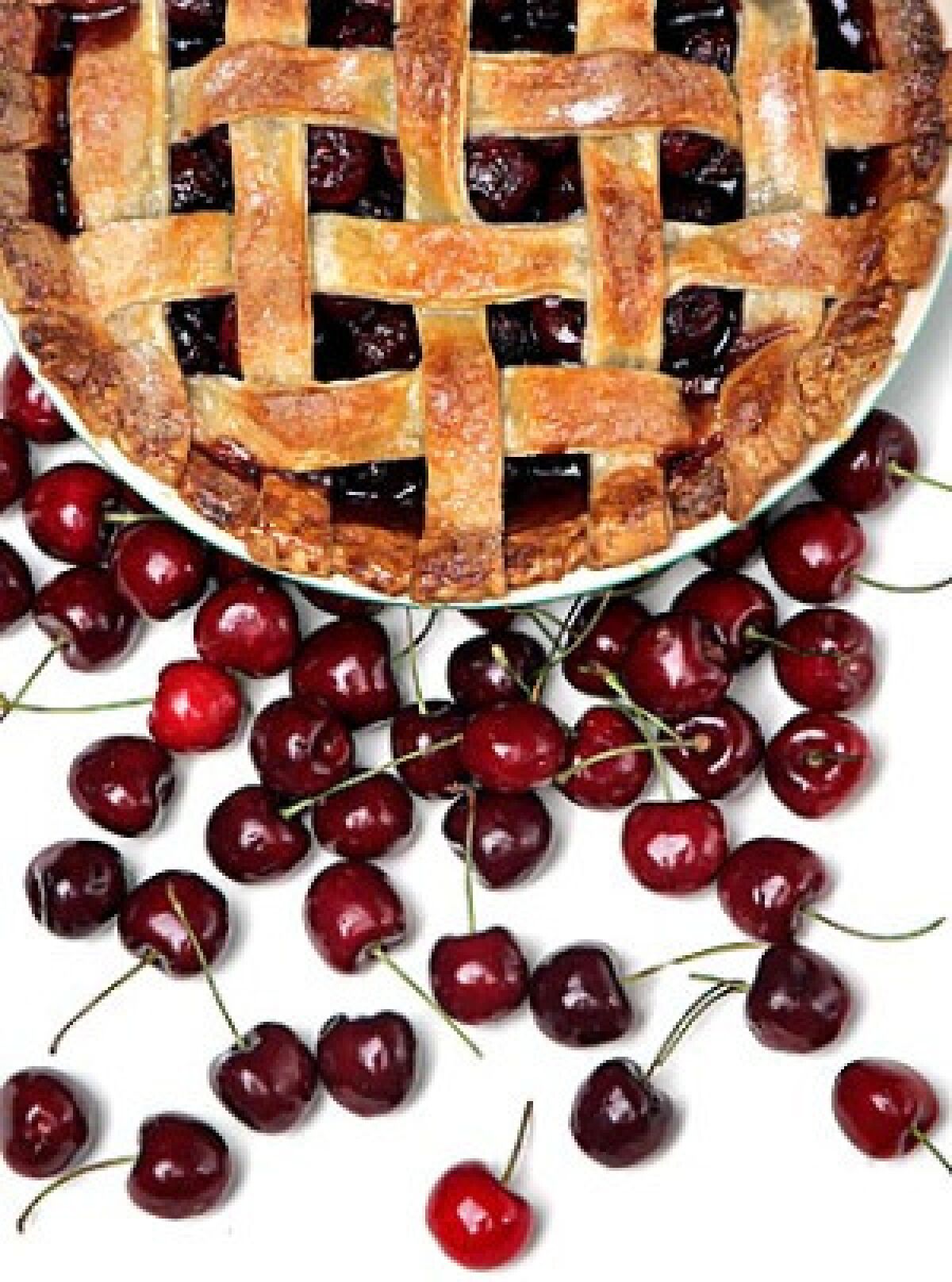 A couple of weeks ago, I was out on the road in Northern California, heading southeast from Sacramento on Highway 16 toward the foothills of the Sierra Nevada. It's a beautiful drive, and on that blistering summer day I might have noticed the massive old oaks dotting the rolling hills or the occasional solitary weathered barn as the highway shimmered in the heat up ahead. But I was on a mission.
I hung a right onto Highway 49, heading toward the heart of California's Gold Country. "Historic 49," as it's often called, meanders through scenic little Gold Rush towns with names like Drytown and Sutter Creek before continuing on toward Jackson and Angels Camp, where one Samuel Clemens originally made a name for himself under the pen name Mark Twain, writing about a jumping frog. But I wasn't out for the scenery, or a history lesson.
I wanted pie.
Fresh blackberry pie, to be exact. I stopped in Amador City and walked down the wooden plank sidewalk to Buffalo Chips Emporium, a tiny storefront diner complete with an old-fashioned soda fountain, and ordered a slice of pie from owner Ashley Putz as she worked the griddle behind the counter.
It came still warm, its sugar-dusted crust glittering in the sunlight through the front window, the light, flaky exterior quietly shattering under the fork with each bite. Underneath, the rich berry filling oozed slightly — the thick, sweet glaze cradling tender, slightly tart berries that seemed to pop with every mouthful. It was magical.
To my mind, nothing celebrates summer quite like fresh fruit pie. It's as if we're taking the best the season has to offer — beautiful, vibrantly colored fruit nurtured to ripeness under a hot sun — and packaging that bounty in a tender, flaky crust. Like a gift.
A great fruit pie is perfection, made simple.
---
Oh, my! Pie recipes, "how-to" videos and more from the L.A. Times Test Kitchen.
---
Almost any summer fruit works in pie: berries, stone fruit — I've even seen recipes for grape pie — so long as the fruit has had a chance to ripen. Most fully ripened fruit has a wonderful balance of flavors already, blending sweetness with enough subtle tartness to give a wonderful depth of flavor.
The key to a great fruit pie is choosing the right fruit; even under a double crust, quality shows. Under-ripened fruit can be tough and often has not had a chance to develop enough sugar for good flavor; conversely, over-ripened fruit can be too sweet and unbalanced in flavor, not to mention too soft for good pie texture.
The trick is to keep it simple. Let the fruit speak for itself by not disguising it with a bunch of other flavors — a fruit pie is about the fruit, after all. Keep in mind that as the fruit cooks, the flavors will evolve and soften with natural sweetness. It's all a matter of taste, but I tend to go a little lighter with the sugar in my pies because of this, to keep the complexity of the fruit flavor at the forefront.
One of my favorite pies is a classic cherry pie. Although jarred sour cherries are great, I love when I can find them fresh. Problem is, sour cherries have such a small window of availability and might be difficult to find depending on where you live.
I recently tried making a pie using fresh sweet cherries, which are much easier to find. I sweetened the cherries with less sugar, as they're naturally sweeter, and tossed the pitted fruit with a little Grand Marnier and vanilla to brighten the flavors and to give the cherries a little more depth. The resulting pie is simple but rich with flavor, and I loved the slightly firmer texture from the fresh fruit.
With fruit pies it often seems that the consistency of the pie can be almost as important as the fruit itself.
As the fruit cooks, it softens, releasing its juices. To keep these juices from turning the pie into a soup as it bakes, a thickener is added. There are several to choose from, with the most common being flour, cornstarch and tapioca.
Although all of the thickeners set up the filling for slicing, each has its characteristics and strengths.
Flour tends to have weaker holding power, and more of it must be used to "set up" a pie filling. But it's readily available, has a creamy texture and can gently soften the flavors in the filling. When the pie sets, a flour-thickened pie filling tends to have a cloudy appearance with thicker texture.
Cornstarch, on the other hand, has much greater holding power and will give a much more transparent though not quite clear look to the filling. Cornstarch-thickened pies tend to have softer, gel-like fillings.
Tapioca will result in a bright, clear filling, though the granules can give the filling a coarser texture.
A properly thickened pie should have a filling that is strong enough to suspend the fruit but delicate enough to give easily when sliced. Great pie fillings won't run, but they will ooze just a little, slowly and seductively.
It's best to make sure the pies bake until the filling is noticeably bubbling, ensuring that the thickener has had sufficient time to cook through and activate. And give the pie sufficient time to cool after it bakes to give the filling time to set up. It can be hard not to slice into a temptingly fragrant pie as soon as it comes out of the oven, but give it time; patience is definitely a virtue here.
The type of thickener can also affect the flavor and harmony of the overall pie. When I first tried that sweet cherry pie, I used flour. While it worked fine to thicken the filling, I found that the flour muted the more delicate flavor of the sweet cherries; cornstarch was a better choice, as it allowed the cherry flavor to shine and gave the filling a nice gloss.
Conversely, I find flour to be the perfect thickener for a nectarine pie. I combine the fruit with a touch of almond extract (almonds go so well with stone fruit) and just enough sugar to lightly sweeten, then top it with a sweet almond crumble. The flour gives the filling a soft, almost creamy feel and matches perfectly with the bright, almost-lemony notes of the nectarines.
Sometimes the best summer fruit pies are the ones in which the fruit isn't cooked at all; it's just piled high in a pie shell and coated with a beautiful glaze.
Strawberries are a perfect example. As wonderful as they are cooked, strawberries can lose their vibrant color and end up with a mushy texture. Fresh strawberries are enticingly bright and vibrant, full of flavor.
To emphasize that, I toss the strawberries in a glaze combining fresh orange juice and rum steeped with a little mint as it cooks. I use cornstarch to thicken, adding enough to the glaze to give the berries a nice sheen without making them gummy. Chill the pie for a few hours to allow the glaze to set up, then serve. One bite and your mouth is hit with the fresh harmony of strawberry flavor complemented by bright notes of orange and rum, and a cool hint of mint. Perfect for even a blistering hot summer day.
And if I didn't know how easy it was to make, I might drive all day for a pie like this.
Buffalo Chips Emporium
14179 Main St.
Amador City, Calif.
(209) 267-0570
Hours: 9 a.m. to 5 p.m. Wednesday through Sunday
Get our L.A. Goes Out newsletter, with the week's best events, to help you explore and experience our city.
You may occasionally receive promotional content from the Los Angeles Times.