Counter Intelligence: At modern Mo-Chica, the alpaca question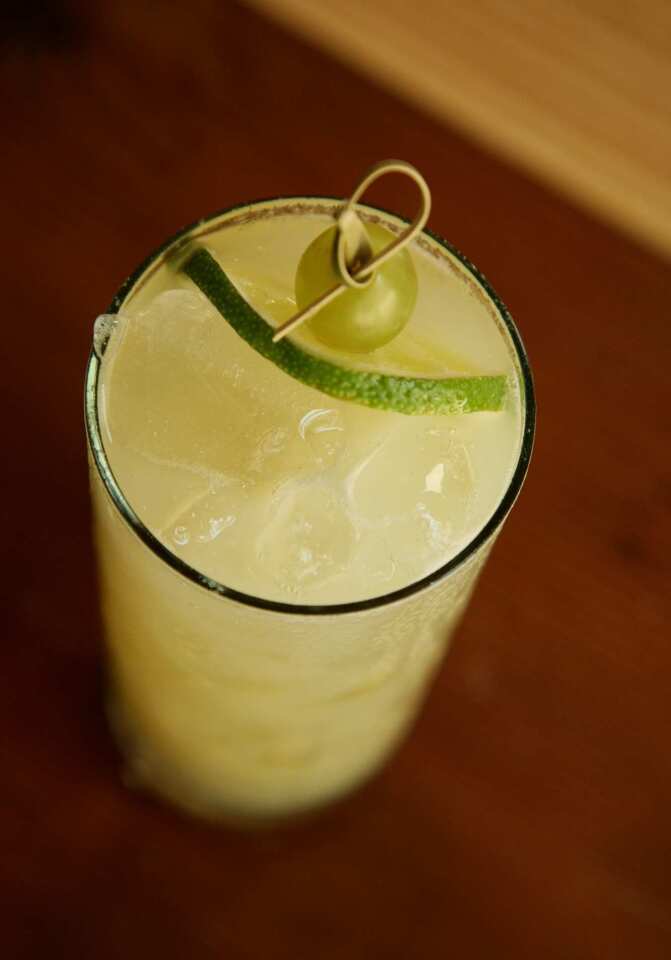 An evening can start out with a drink called I'm Grapey and I Know it.
(Gary Friedman / Los Angeles Times)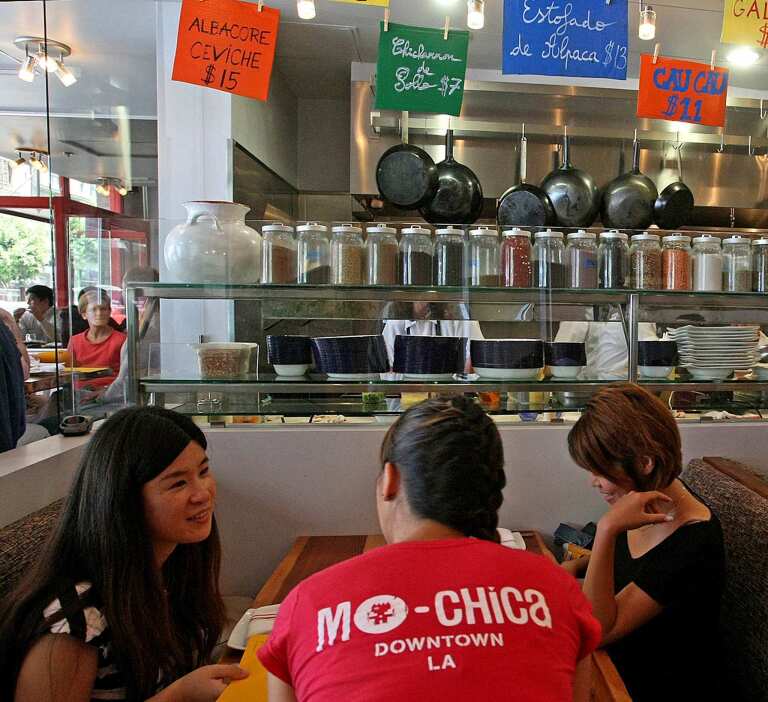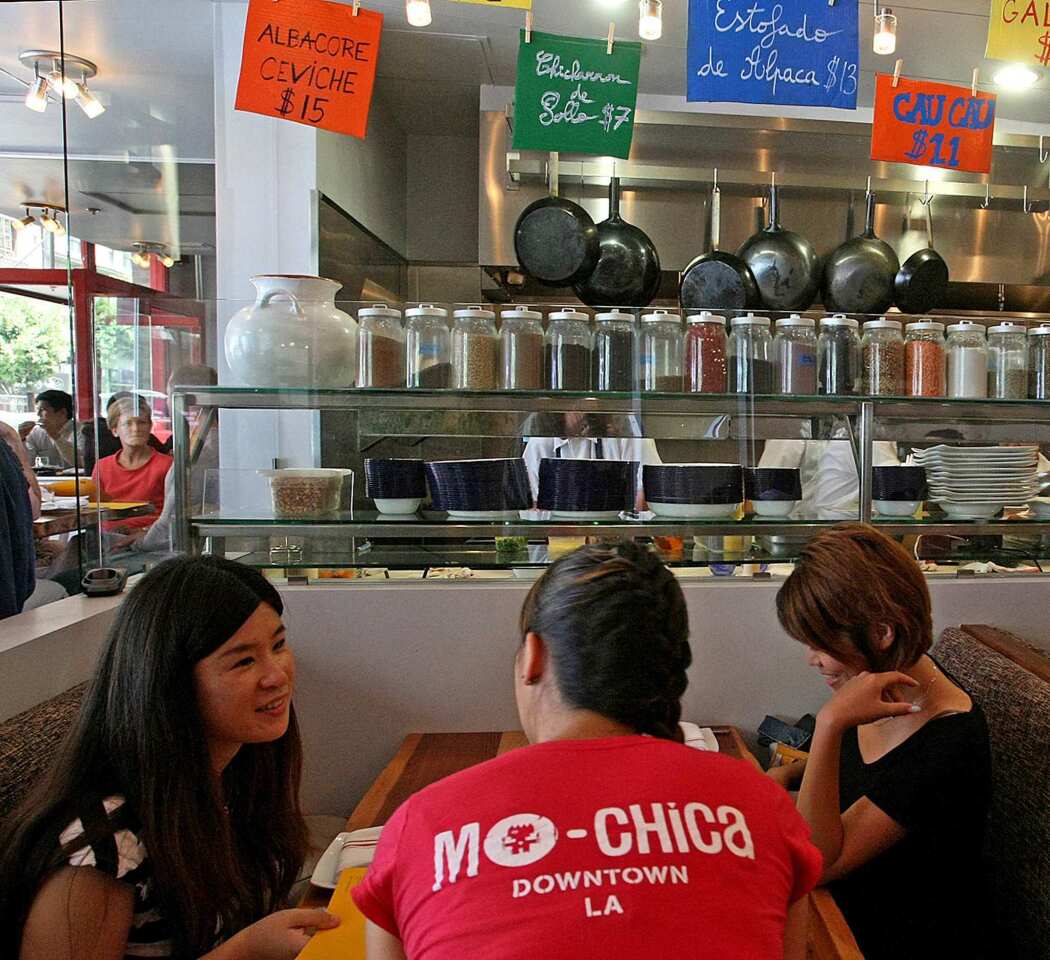 Lunchtime is casual at the sleekly modern Mo-Chica.
(Gary Friedman / Los Angeles Times)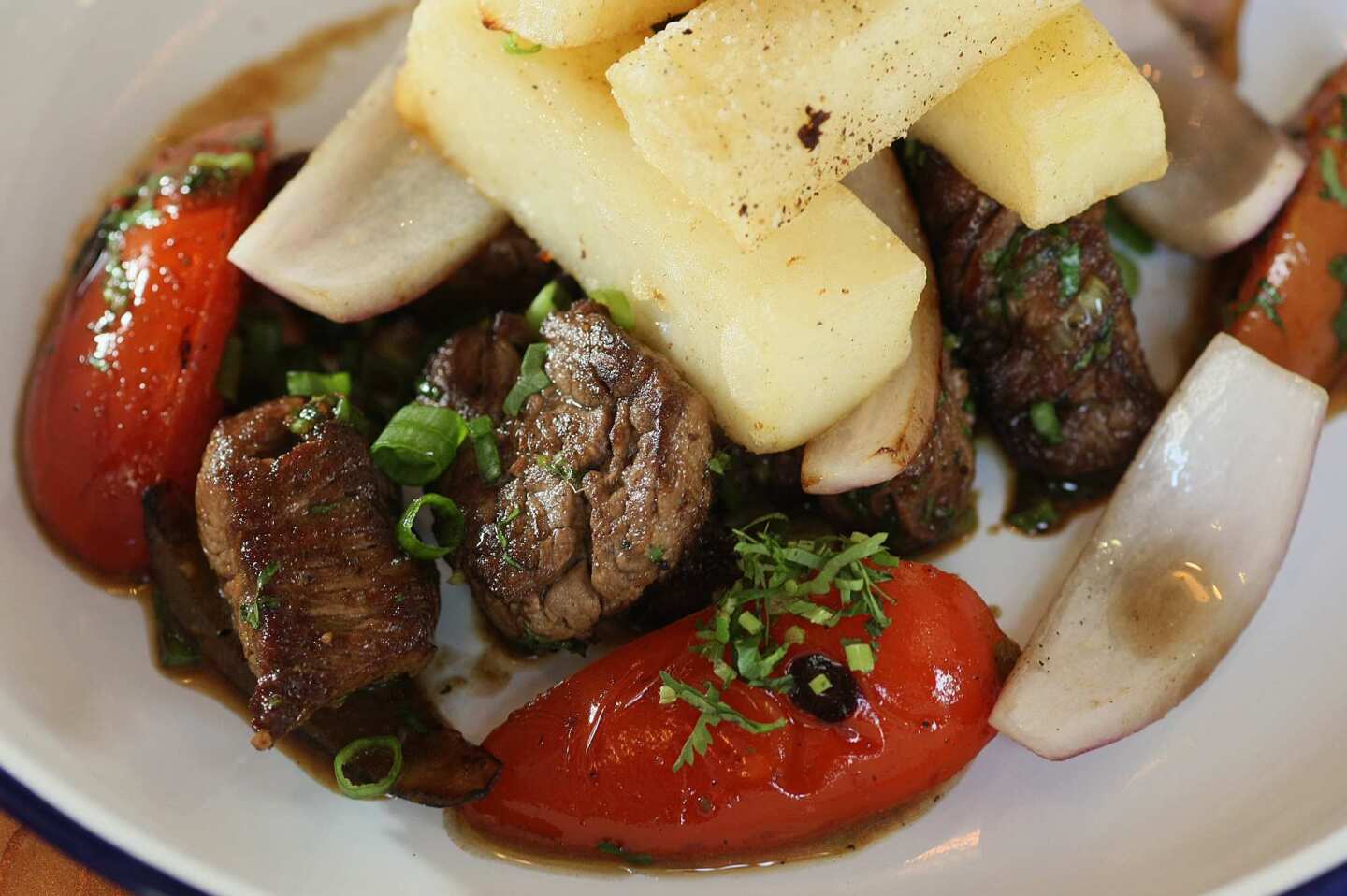 Lomo Saltado
made with sauteed filet mignon, Roma tomatoes, red onions, ginger, garlic, soy sauce, banyuls vinegar and Kennebec fries.
(Gary Friedman / Los Angeles Times)
The hamburguesa made with an alpaca-and-lamb patty, pickled cucumbers, avocado and
aji amarillo
yogurt dressing.
(Gary Friedman / Los Angeles Times)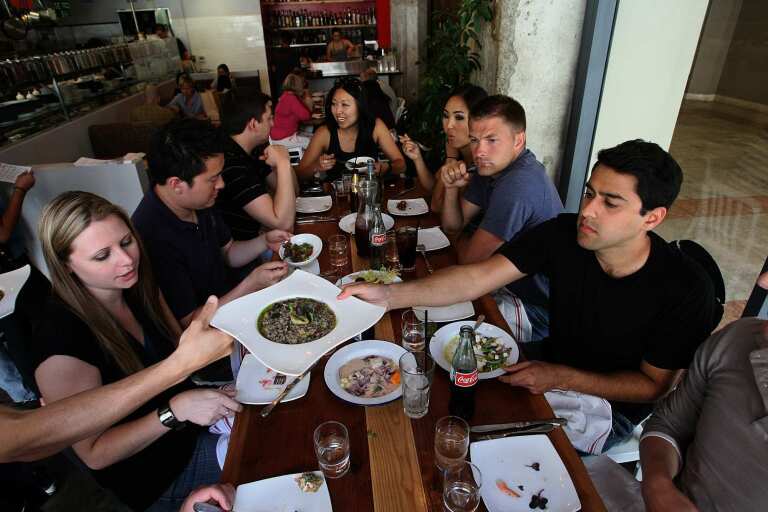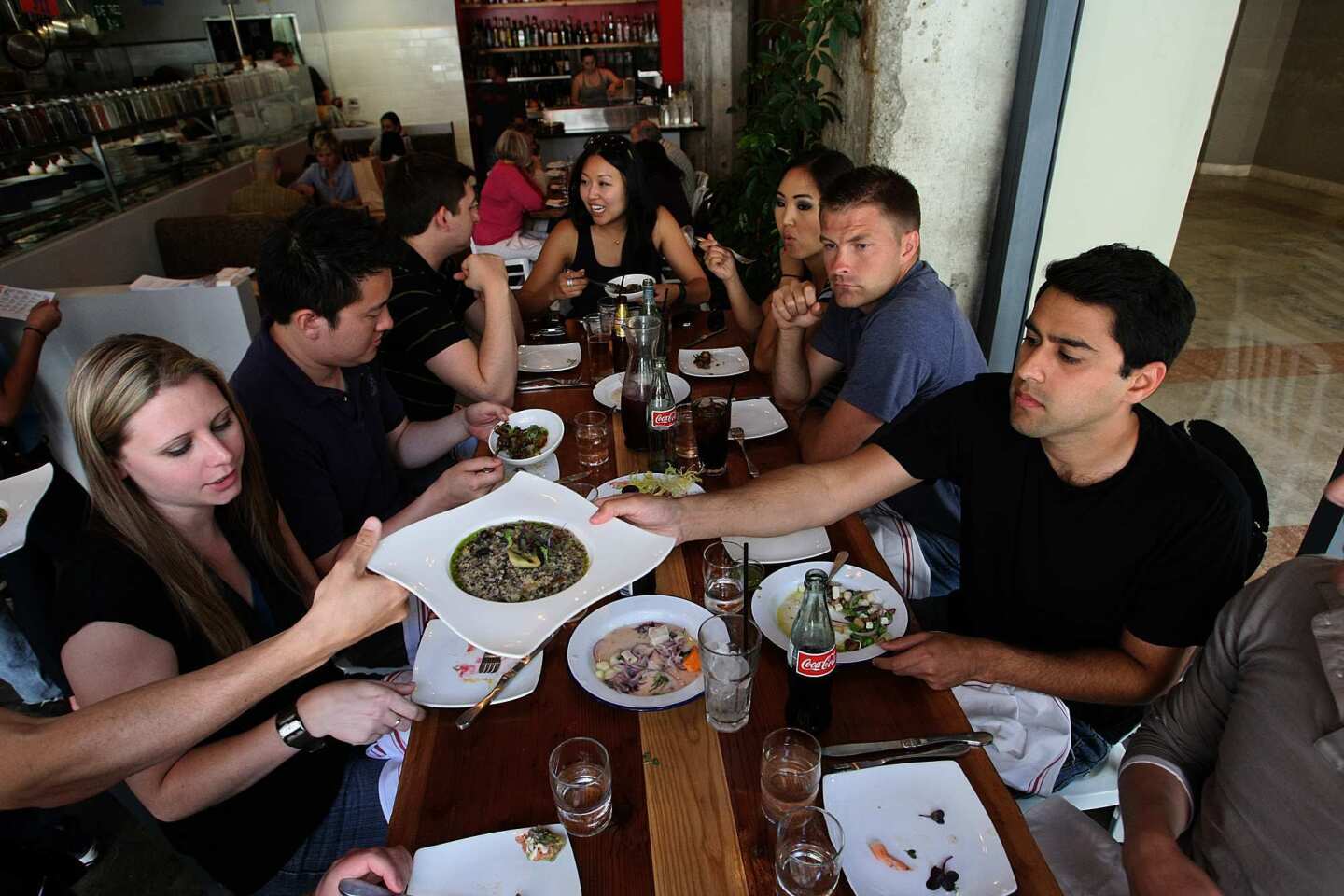 Sahil Chaudry is handed his dish of
quinotto
, a quinoa risotto with wild mushrooms, Parmesan and parsley-infused oil.
(Gary Friedman / Los Angeles Times)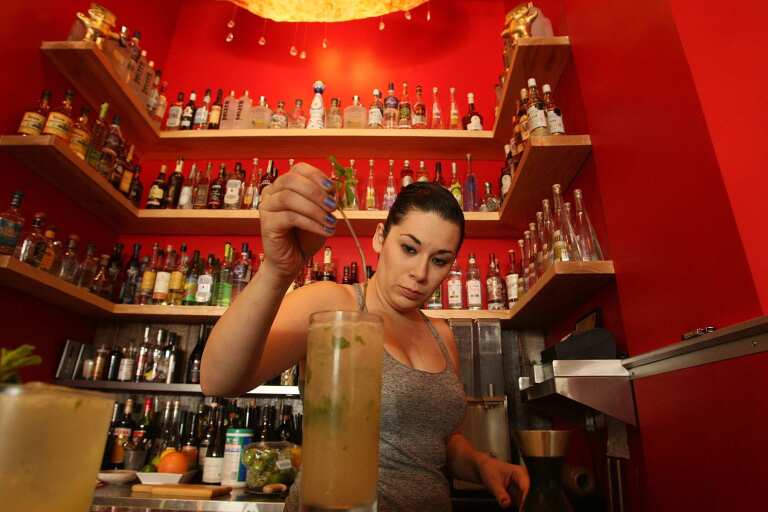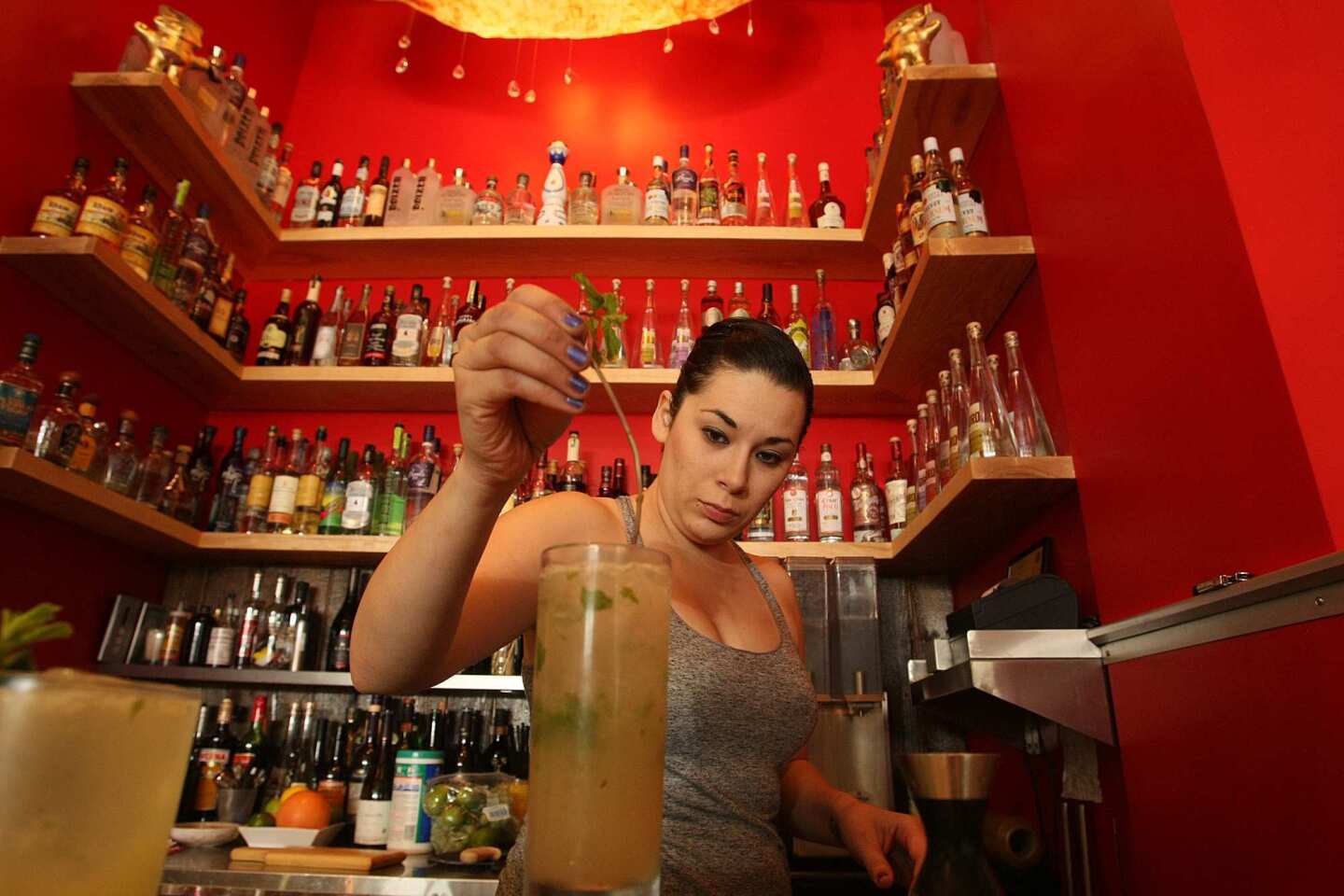 Suzy Franco, a bartender at Mo-Chica restaurant, puts the finishing touches on a mojito.
(Gary Friedman / Los Angeles Times)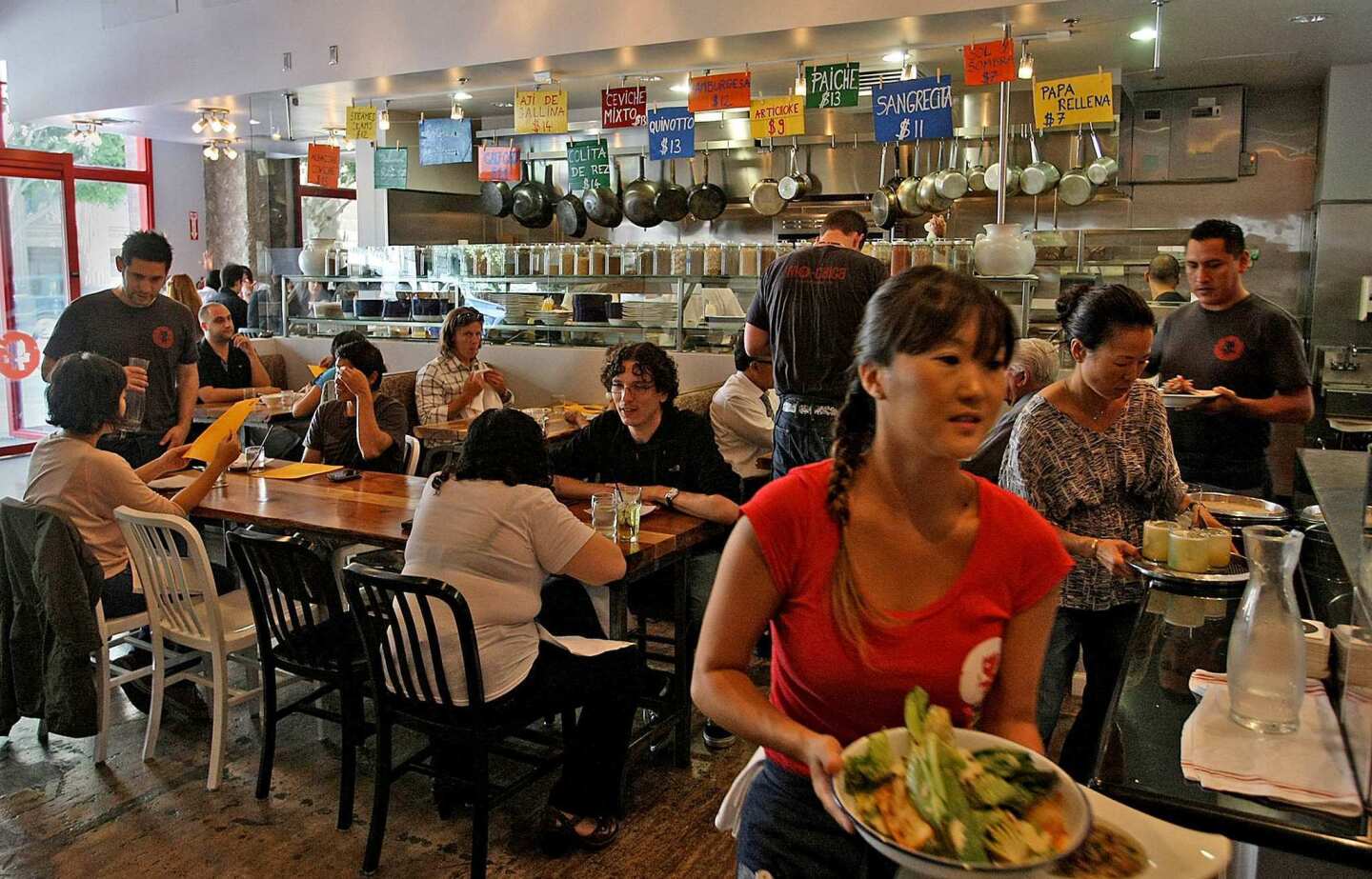 Daily specials are posted on construction-paper signs hung over the counter area.
(Gary Friedman / Los Angeles Times)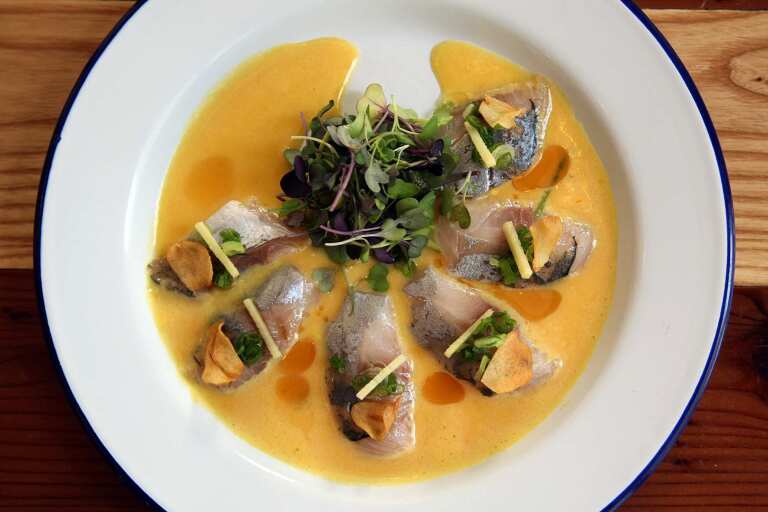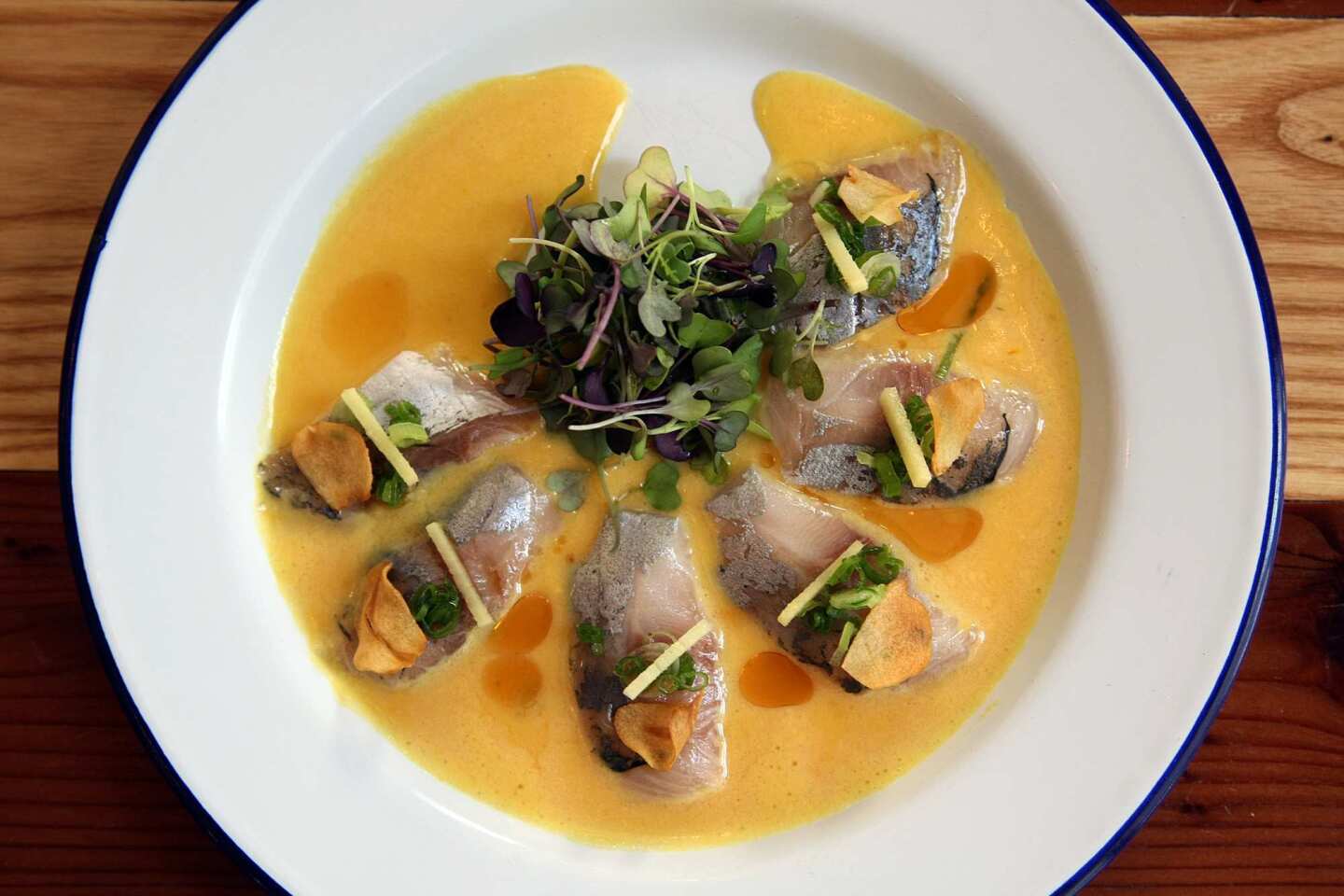 Tiradito de Jurel
(Spanish mackerel tiradito, ginger amarillo sauce, garlic chips and sesame oil).
(Gary Friedman / Los Angeles Times)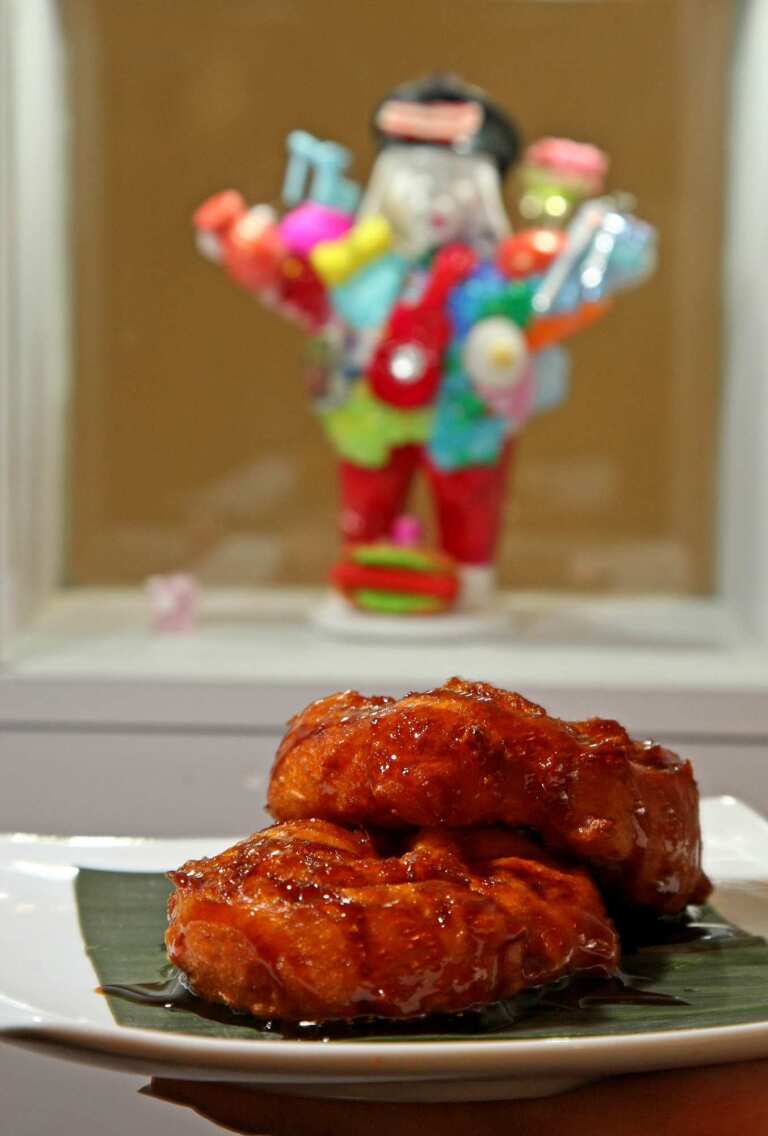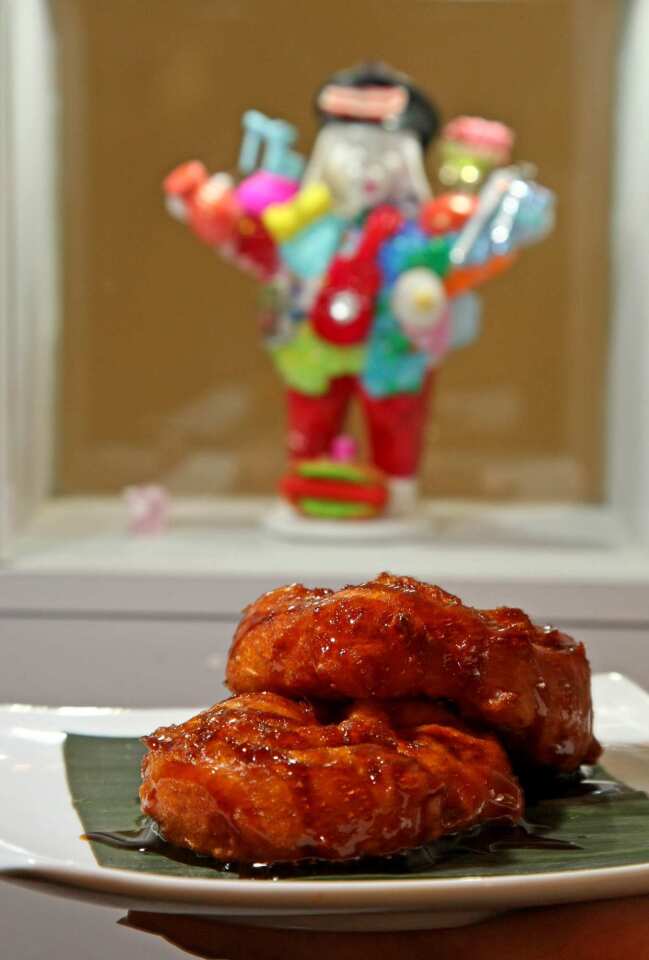 Picarones
made with sweet potato, kabocha Peruvian beignets, star anise, cloves, cinnamon and
chancaca
sauce
(Gary Friedman / Los Angeles Times)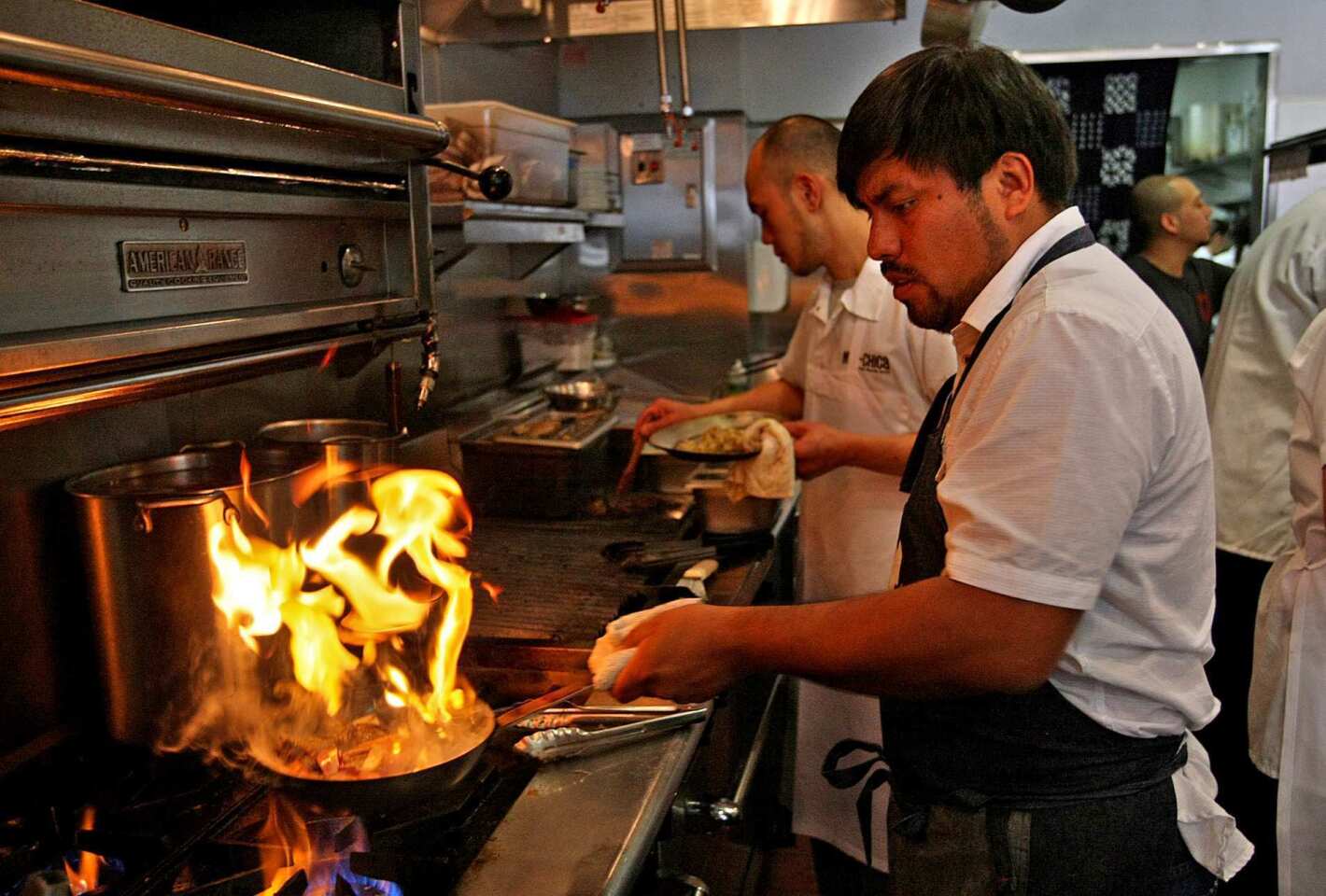 Ricardo Zarate, co-owner and chef of Mo-Chica, prepares
lomo saltado
.
(Gary Friedman / Los Angeles Times)
Los Angeles Times Restaurant Critic
Have you been to the new Mo-Chica? Ricardo Zarate's Peruvian restaurant seems to define the downtown thing at the moment: It's a high-style warren on 7th Street, down the block from Bottega Louie, where the scene is as important as the drinks, and the drinks are as vital as the food.
The salsa music is pervasive — no panpipes here — and the main dining room is dominated by a stage set of a bar where the statuesque mixologist whacks her shaker around like Sheila E with a güiro. Specials flutter from taut wires strung above the open kitchen, like art-directed versions of the construction-paper signs taped to the walls in Eastside dives.
If you want a pisco sour, you're in the right place. The foamy, tart, lightly bitter version of the Peruvian national cocktail flows like water. If what you're looking for is a nibble of ceviche, a beet salad with buratta or a quick bite of Peruvian fried chicken — chicharron de pollo is what it's called here — you will be happy as well.
Zarate is a chef's chef, so you will find artfully deconstructed versions of Peruvian dishes like papas a la Huancaina, which is presented as a bacon-wrapped terrine of neat potato slices lightly drizzled with the traditional sauce of cheese and amarillo chile; or the Chinese-Peruvian stir-fry lomo saltado, reinvented as a construction of sautéed tomatoes, onions and sliced filet mignon supporting a Lincoln Log superstructure of stacked French fries.
But your ultimate opinion of Mo-Chica is going to come down to this: Where do you stand on alpaca? Because while only a couple of the dishes are made with the meat, and the unchallenging taste is closer to that of lean, mild lamb than it is to anything wild, the idea of devouring an animal you probably associate with your softest, warmest sweater is pretty transgressive.
You will order the hamburguesa, and you will probably enjoy the play of the chile-flavored yogurt against the aggressively spiced lamb-and-alpaca patty, but you will giggle uncomfortably as you pass the burger around the table. The gentle alpaca estofado with fried egg and noodles is not exactly the fearsome olluco with fetal-alpaca charqui you hear about on the plains south of Cuzco, but it is exotic enough. (Eddie "Deep End Dining"' Lin tweeted about the alpaca before Mo-Chica had finished its first dinner service.)
Mo-Chica is the first restaurant in town, I think, to serve paiche, a giant Miocene-era species of freshwater fish that is considered one of the largest in the world. (Presumably Zarate is procuring the sustainably farmed fish from the Peruvian Amazon, rather than the endangered wild paiche.) He serves flaky chunks of the ancient fish in a garlicky escabeche of peeled cherry tomatoes — it tastes a bit like Chilean sea bass.
You can also get crisp, roasted pork belly with carapulcra, a stew of the spongy freeze-dried potatoes that were among the Incas' greatest contributions to world cuisine, and if you have ever wondered what sweetly funky blood sausage might taste like spread over melted Brie on toast, this is your chance to find out.
Still, this sleekly modern Mo-Chica replaces one of my favorite restaurants in Los Angeles, and its appearance is bittersweet. The original restaurant, in the La Paloma space east of USC, seemed almost like a miracle when it opened at the beginning of 2009 — an evolved Peruvian food-court stand that used sushi-quality fish in its ceviche.
Zarate, who was chef at the fusiony Venice sushi bar Wabi Sabi and had worked at the well-regarded Japanese restaurant Zuma in London, opened the place as a way of exploring the Peruvian food he had grown up eating in Lima, at a price unwealthy expats could afford.
It was successful. The modest lunch counter made most of the top-10 lists its first year, Zarate was able to quit his job at the sushi bar, and he was named best new chef by Food & Wine, an honor not generally awarded to lunch counters, even great ones. The ceviche, the lomo saltado, the aji de gallina became totems of the standard Los Angeles food itinerary, and tourists flowed into La Paloma despite the uncomfortable food court seating, the restricted hours and the restrictions on alcohol.
Zarate's jump from Venice to South Los Angeles was as brave in its way as Roy Choi's move from big hotel kitchens to the converted taco wagons of Kogi — and it launched him into Picca, his lauded Peruvian grill south of Beverly Hills.
Encountering first-rate tiradito, sushi-grade Spanish mackerel quick-marinated in a sharp amarillo-chile vinaigrette, outside the pricey context of Koi or Matsuhisa, was thrilling, but the same dish on downtown's restaurant row is almost expected. A quick lunch of the minty tripe stew cau cau, a seco of lamb shank with canary beans or a luxurious causa of crab meat and ripe avocado on pillowy mashed potatoes, was worth cramming around a table way over by the juice bar. Rendered half-size, exquisitely plated and served as a succession of small plates, they are not lesser, perhaps, but they may be less meaningful.
The arroz con mariscos — loose, well-herbed rice cooked with shrimp and squid — is better-executed, the grains more distinct, than it was at La Paloma. And the sea bass ceviche with rocoto chile, giant corn kernels called choclo and a hint of Japanese yuzu has a nicely understated elegance.
Zarate's signature quinotto, a rich, intensely flavored "risotto" made with quinoa and wild mushrooms, is finally prepared with the finesse it deserves. His aesthetic of elevating Peruvian recipes with modern techniques and fine ingredients clearly deserves its stage.
Mo-Chica
Ricardo Zarate has moved Mo-Chica. What was once a modest lunch counter east of USC is now a stylish eatery in downtown Los Angeles, but the deconstructed Peruvian dishes remain artful.
LOCATION
514 W. Seventh St., Los Angeles, (213) 622-3744, mo-chica.com.
PRICES
Small plates, $7-$18; desserts, $6-$7.
DETAILS
Open Monday to Saturday, 11:30 a.m. to 3 p.m. and 5 p.m. to midnight. Credit cards accepted. Valet parking after 7 p.m.
---
Get our weekly Tasting Notes newsletter for reviews, news and more.
You may occasionally receive promotional content from the Los Angeles Times.